It's the fourth week in the countdown to the 10th National Flawless Day! Flawless offers more amazing discounts on its popular services this week to thank its loyal clientele for 10 years of unfailing support. From October 24 to 30, drop by your favorite Flawless clinic and grab up to 40% off the Flawless Laser Hair Removal, Smart PL and Body Scrub for this week's promo, Forever Smooth.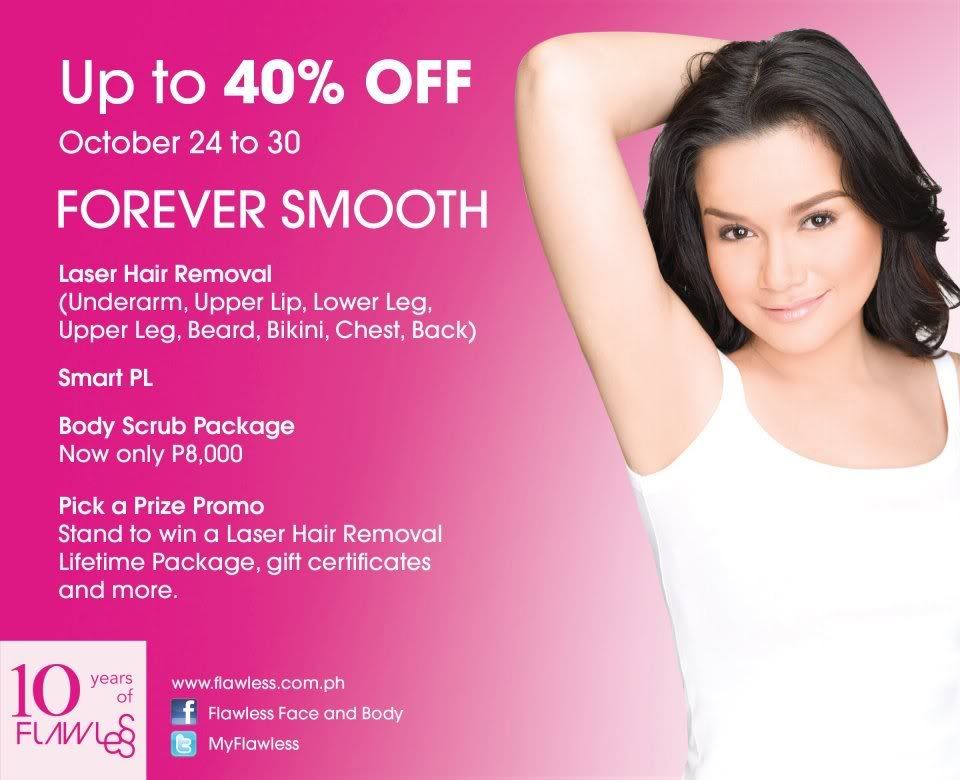 Get that smooth and immaculate skin by permanently removing unwanted hair. Flawless uses the revolutionary Lightsheer Diode Laser for its hair removal – the FDA-approved machine uses the innovative ChillTip to target hair at the root while cooling the surrounding area, making for virtually painless and long-lasting results. Grab discounts on permanent hair removal for the upper arm area, the upper lip and beard area, the entire leg area, the bikini area, the chest and back areas.
Also avail of their Body Scrub Package to exfoliate dead skin cells and give your body a whole new glow.
In addition, every PHP 1,500 spent at Flawless entitles the client to Pick A Prize. If you're lucky, you'll win the Grand Prize, which is a specific Flawless service for absolutely free. Otherwise, you're entitled to several other fantastic options like gift certificates or soap.