For those times I visited Singapore in the past, I've never been to Tanjong Pagar. It's Singapore's business district, but it's not usually part of the must-see places in the country. I, for one, never included the place part of my itinerary whenever I visit Singapore. It was just during my F1 trip that I had to drop by there for my sudden "business" thing. Tanjong Pagar has an own MRT stop, so I didn't had a hard time looking for it. Actually, I find public transport in Singapore relatively easy. Well, of course, taking a cab is the most convinient, but I don't mind riding the bus or the MRT. I learned to love the thrill of commuting whenever I travel. I used to avoid it, reason why I love group tours. Everything is just convenient and stress-free, which, I think, is the point of having a vacation. I don't have to worry a single thing, even transportation! Things changed when I had to live on my own in London. Tour guide no more. I learned to be independent. It was my very first time to travel alone. It was my first time to ride the plane by myself. It was even my first time to use a map! The first time I rode the bus there on my own was even after a night out (because the MRT closed already… LOL!). I remember running to the MRT station just to catch the last train. When I arrived, the doors were closing! I wanted to faint there and then because I haven't tried riding a bus at that time. And early in the morning?! Oh gosh, my heart was pounding so fast! But, I survived! 😀 Since then, I didn't had qualms commuting on my own. Thank God for that experience! 😀 I had the courage to ride public transportation, even on my own, wherever I may be. 😀 Anyhoo, enough of my story. Here's what surprised me as I walked around the place.
I was like in Europe! There were even pubs around. I really love such kind of architecture. 😀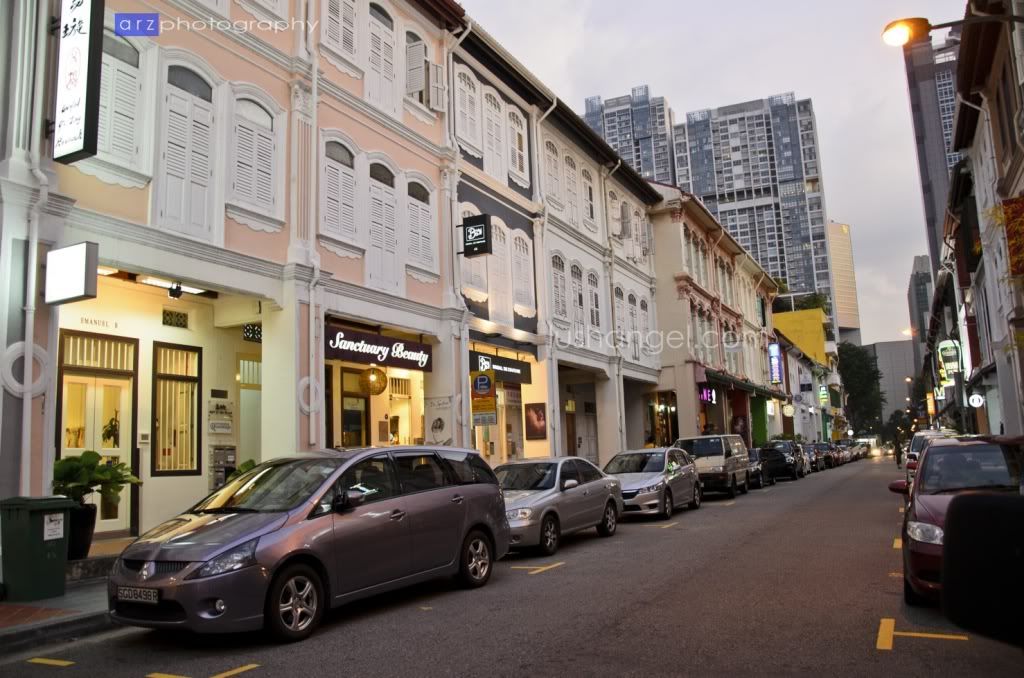 Just imagine my joy when I was asked to stay in this area during my last trip in Singapore. It was like a breath of fresh air from the usual Orchard Street. Hehe! 😀 And it's even near China Town! Quite a long walk, but I didn't mind. Seeing these buildings transported me back to Europe. 😀
 Obviously, I couldn't let this opportunity pass without posing for my outfit. 😀
I'm wearing a sheer polkadot blouse paired with an army green skirt. And my shoes, I bought it on the same day I shot this. LOL! Believe me, I had to buy it. It was a need at that time. More about my shoes in my next post. 😀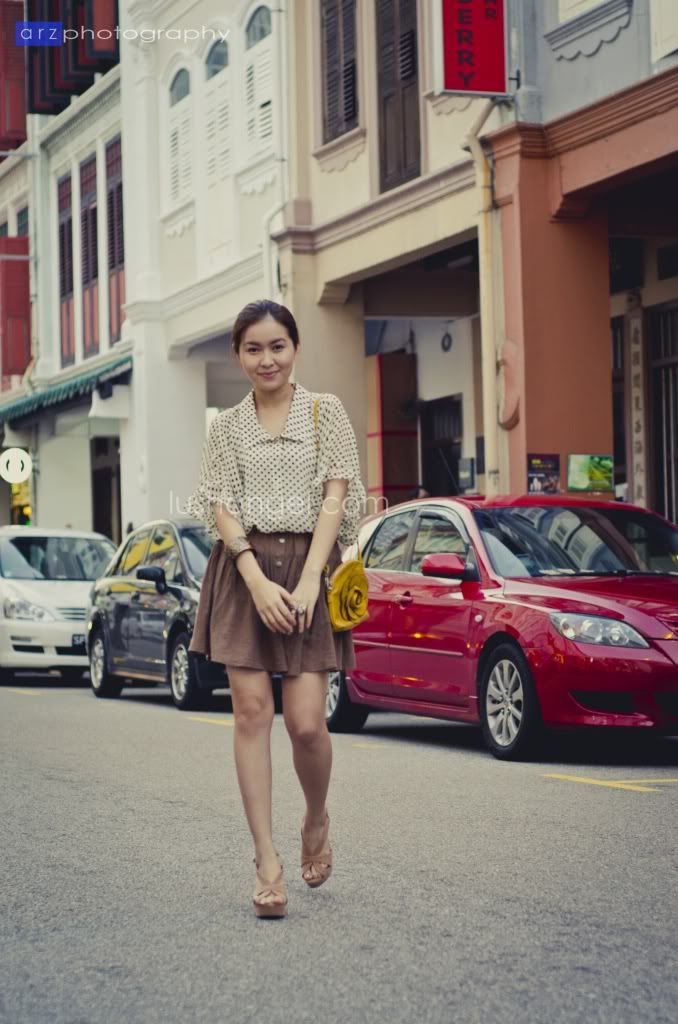 For a pop of color, I used a yellow shoulder bag.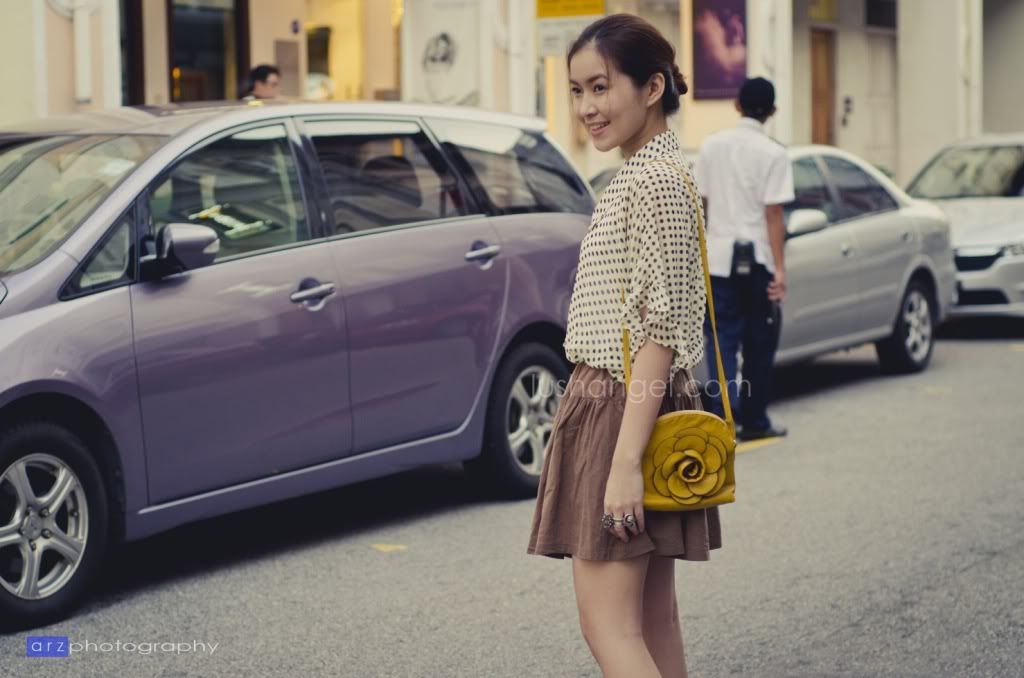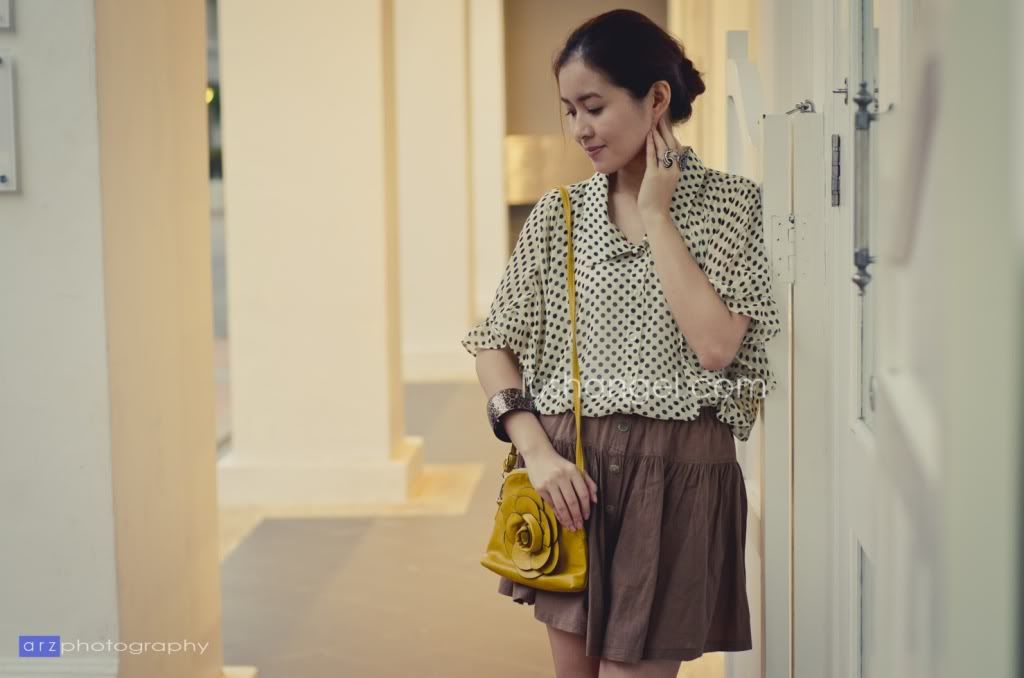 I didn't bring much accessories. A lot of my accessories, especially necklaces, are just too heavy. I don't want my luggage to weigh so much just because of them. Hehe! So to save space and weight, I just brought rings and some bangles! Wearing chunky rings all together are just too cute, don't you think? 😀
Just having fun while shopping… 😀
And if you noticed, I changed to my flats. I just love walking whenever I travel. I start strolling in the morning until late at night. Eating would only be my breaks. I consider it as my best exercise- great excuse to travel, eh?! LOL! 😀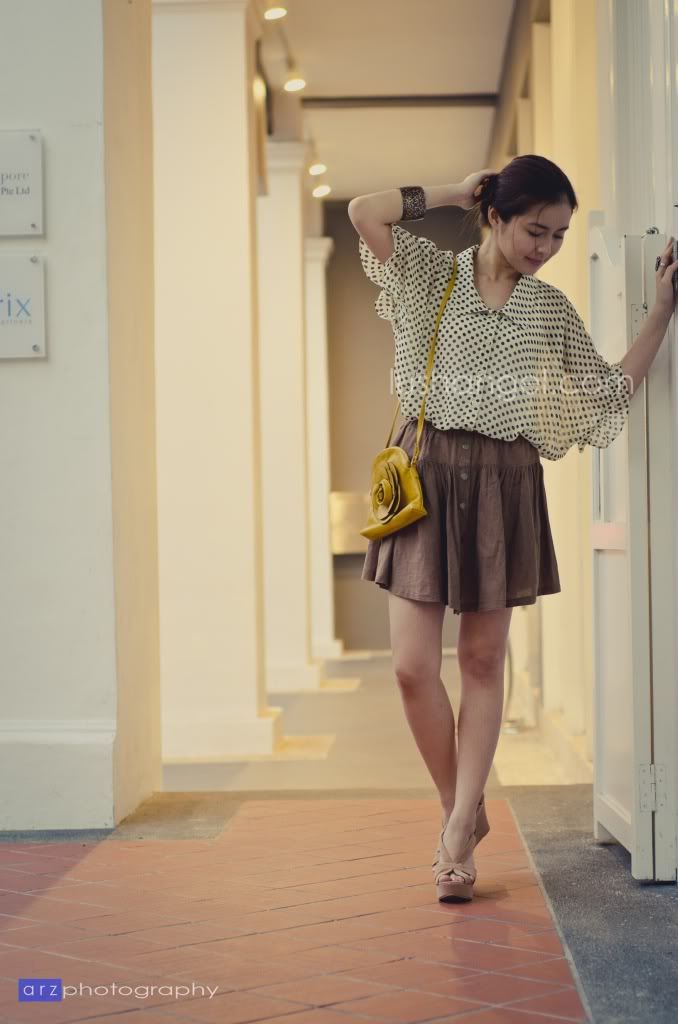 Blouse: from Hong Kong
Skirt: K.A.T. Collection
Bangle: Primark London
Rings: H&M and bazaars
Bag: from China
Wedge: Rubi
Flats: from China