Who doesn't know the world-renowned and award winning Fashion Designer, Michael Cinco? He won the Breakthrough Designer of the Year 2011 award from WGSN Global Fashion Awards in New York and now showcasing his works in America's Next Top Model. He is indeed a Filipino Pride!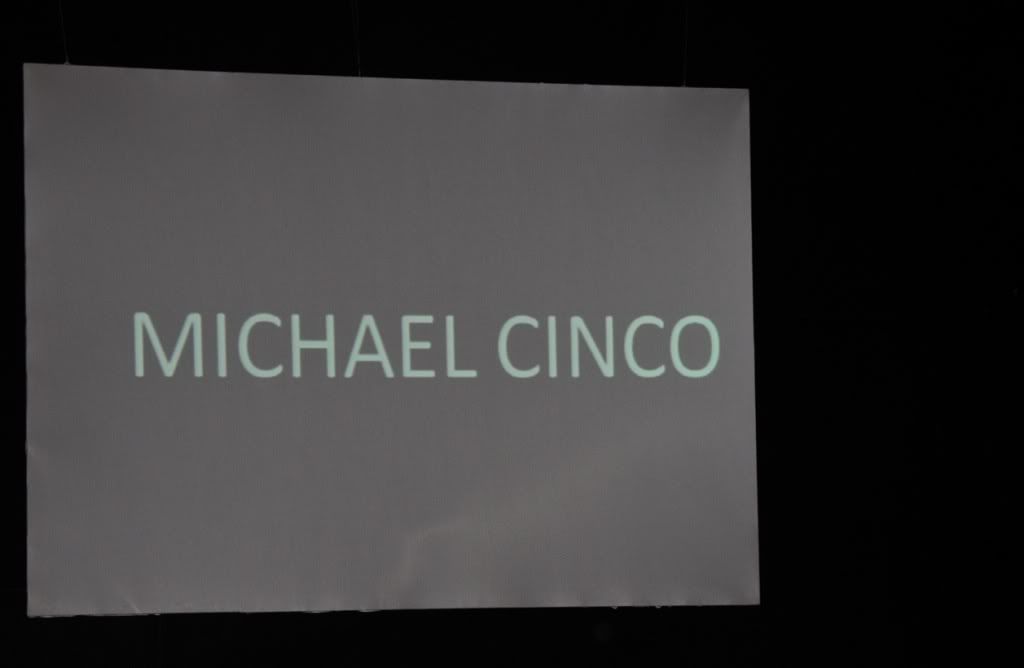 I just couldn't miss his show as L'Oreal Paris presents Michael Cinco in the Philippine Fashion Week last October 24, 2011. I didn't have the best sit during the show, which explains my photos, but seeing Michael Cinco's creations live was so worth it. I have to say, it was the best fashion show production I've seen so far! And of course, his works were all divine! His chosen color palette was inspired by Santorini sunset. The mix of mini dresses and gowns were greecian-inspired. I'm not really into enormous beadwork, but his embellished clothes were just so hard to resist. The brocade pattern and nearly invisible tulle of most of his creations were indeed gorgeous. Those with less embellishments were to die for, as well! The intricate pleats made it look more special. The chiffon dresses looked so light and really flowy, something I'd want for myself too. What I love about Michael Cinco's collection is everything he showcased was wearable. 😀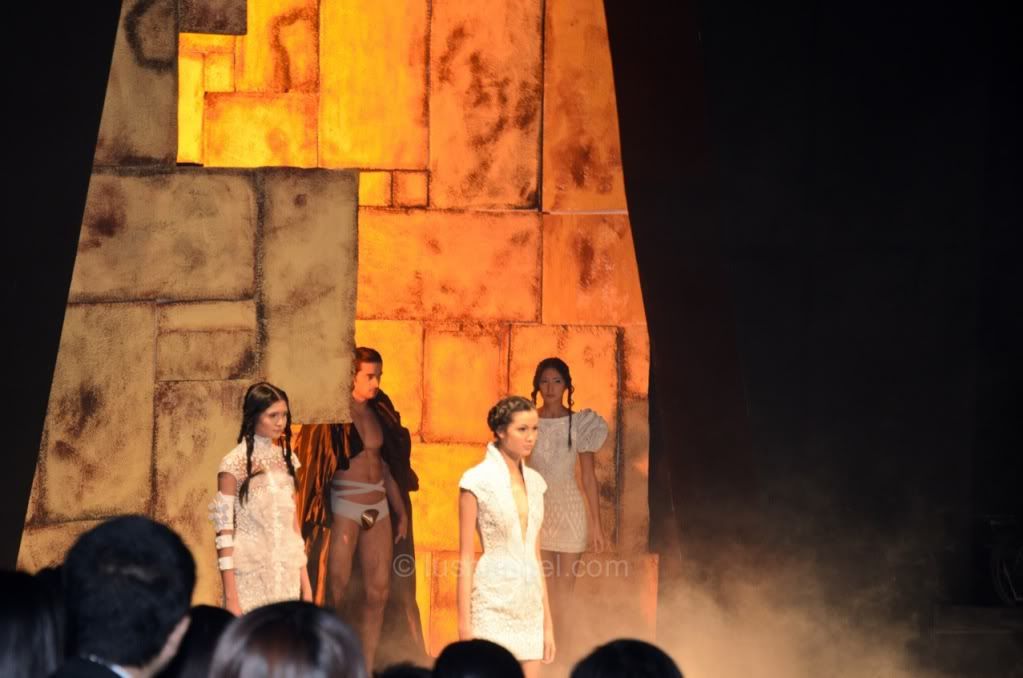 Michael Cinco also included bridal gowns! If there's one reason why I regret watching his show, it's beacuse I now wish he could make my wedding gown! LOL! 😀
And yes, part of the show were the almost naked men!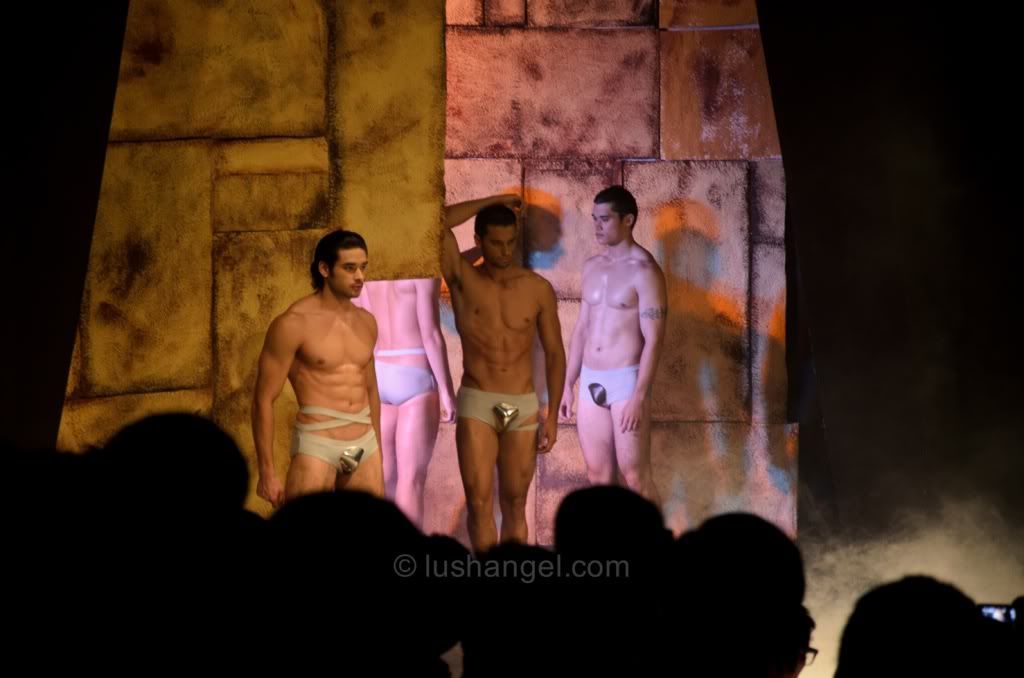 And what surprised us? Water started pouring! "Shower" scene! Unbelievable!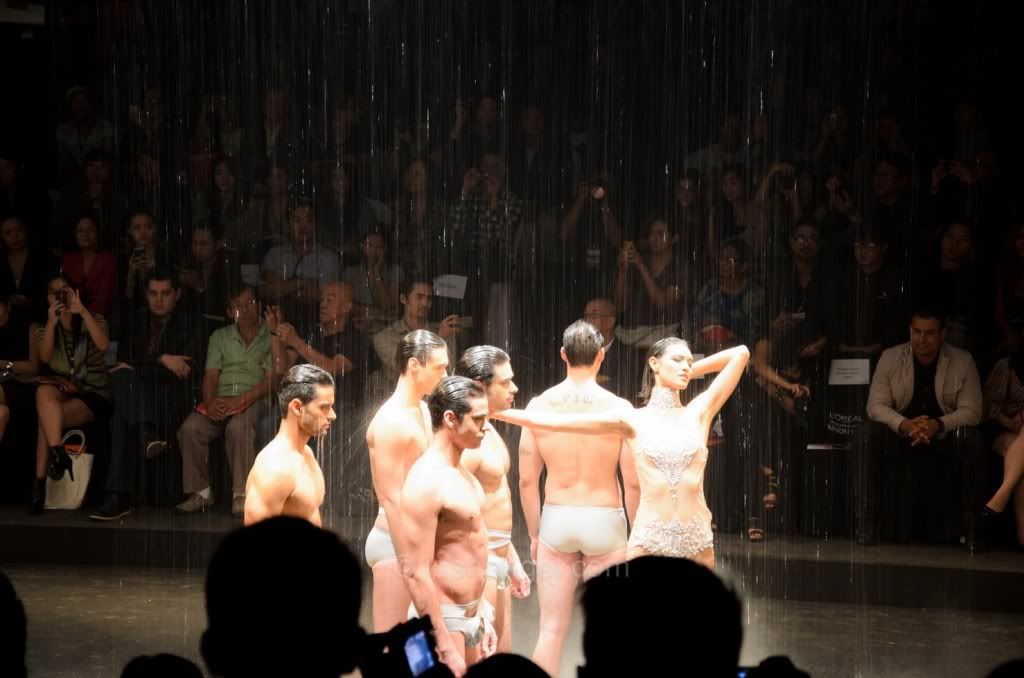 As a finale, Anne Curtis graced the ramp wearing the famous PHP 500,000 red dress! Sorry, I was only able to take a photo of the back. But still gorgeous, don't you think? 😀
For more photos, you can check this website.