Let's start the year right with a giveaway! It's also my way for thanking you all for sticking with me for more than 3 years. 😀 So, what's up for grabs this time? You can snag this Celeteque DermoScience package…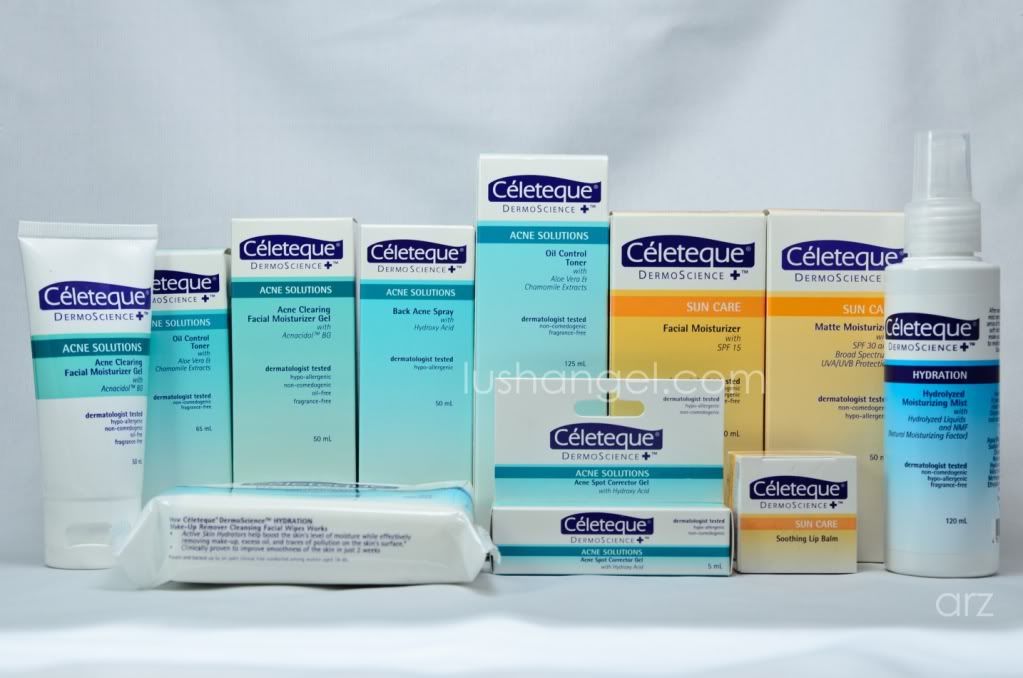 The package includes:
Oil Control Toner 65ml
Oil Control Toner 125ml
2 tubes of Acne Clearing Facial Moisturizer Gel
Back Acne Spray
Acne Spot Gel
Lip Balm with SPF 15
Mattifying Sunblock SPF 30
Facial Moisturizer with SPF 15
Hydrolized Moisturizing Mist
Make-Up Remover Cleansing Facial Wipes
Woot! That's a lot and yes, everything could be yours! 😀 To know more about the products, you can check out my previous post about Céleteque DermoScience Skin Care Lines.
I'd like to thank our friends from Céleteque for sponsoring the giveaway! 😀
Now, here's how to join…
1. Follow Lush Angel on Facebook (http://facebook.com/lushangelblog)
2. Follow Lush Angel on Twitter (http://twitter.com/lush_angel)
3. Share this giveaway on your Facebook wall and tag me: "@lushangelblog is giving away @Celeteque DermoScience products. Visit https://lushangel.com for more info!"
4. Share this giveaway on Twitter and tag me: "PLS RT Win Celeteque DermoScience products from @lush_angel. Visit https://lushangel.com for more info!"
5. Like this post (you can simply click on the "Like" Facebook button below)
6. Leave your name, Facebook and Twitter names in the comment form below. For those who are experiencing problems posting a comment, please e-mail me at [email protected] and I'll be the one to post it in the comment section.
Reminders:
Giveaway will run until January 16, 2012 (Monday).
There will only be 1 winner chosen via random.org.
Winner will be announced here in my blog.
E-mail will be sent out to the winner.
Open to all Philippine residents.
So, what are you waiting for? Join now and spread the love! 😀 Good luck! 😀