Revlon ColorBurst Lip Butter has been in the market for quite some time already. I've read and heard so much raves about this product, making me really curious. Finally, I had a chance to try it out when Eman sent these lippies, together with the new nail polishes of Revlon, as shared HERE. I was given the colors Sugar Frosting (005) and Red Velvet (040) . I tried them for more than a week and here's what I have to say.
Product Information
– Buttery Balm + Shiny Color
– Buttery balm with beautiful shiny color to give you baby soft, healthy glowing lips 94% of women felt lips were softer, smoother, and instantly hydrated.
– Hydrating mango, shea and coconut butter formula boosts lip moisture by 156%
– Pampering gel formula provides super charged hydration and glides on lips buttery smooth
– Sheer to medium colour with buttery shine
– Available in 20 luscious shades
I love it because…
the packaging makes it easier to pick up the color I want. The transparent glass on one end and the cap itself shows the color of the lipstick.
it glides on smoothly on the lips.
it's not drying like a regular lipstick. It's quite moisturizing, considering I have very dry lips.
the color is buildable. You can wear it sheer or simply glide on more to add color.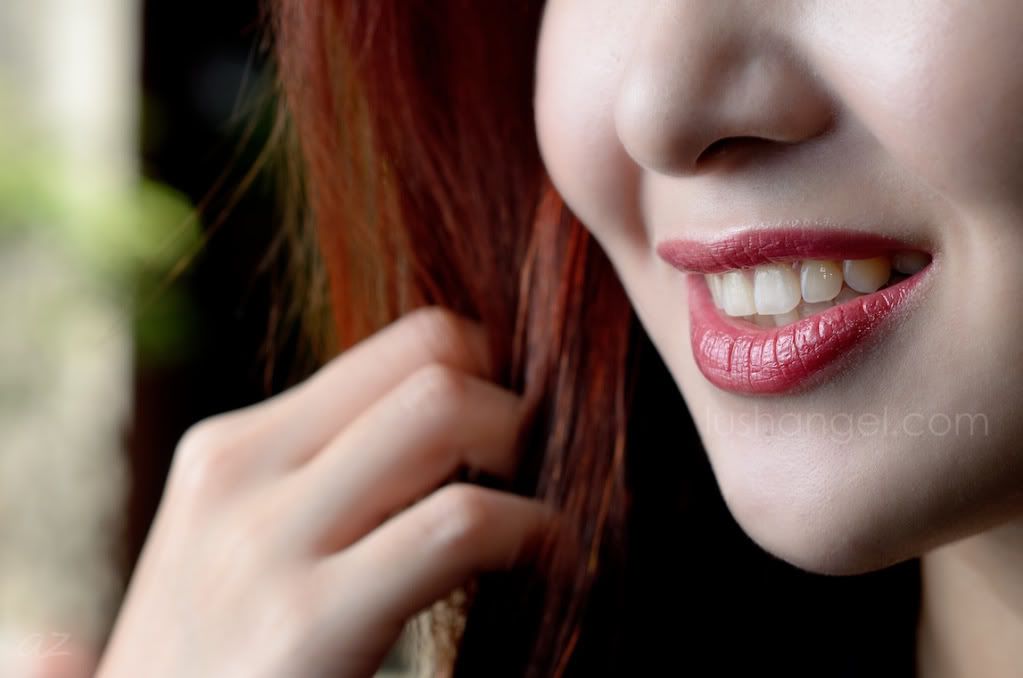 it doesn't feel waxy or heavy on the lips. It's as if I'm just wearing a lip balm.
it has a very light vanilla scent. It's very light that it's almost unnoticeable.
it's shiny as is. It makes lips look fuller. There's no need to wear a gloss on top.
Revlon ColorBurst Lip Butter is available in various lovely colors, ranging from light to dark shades.
I wish…
the packaging looks more luxe. Yes, I do love the idea of the cap having the same color of the lipstick inside, as mentioned above. I just find the entire look too plastic.
it's not hard to open. Since most of the tube is covered by the colored cap, I can only hold a small part of the body when opening.
there's no need to retouch after a few hours, although it's expected just like any other lipsticks. After 3 hours or so, and after eating, retouch is a must.
a tube has 3.5g, like regular lipsticks. Revlon ColorBurst Lip Butter only has 2.55g with a price tag of PHP 525.
Application Tips
Exfoliate lips first before applying Revlon ColorBurst Lip Butter as light frosted colors, like Sugar Frosting, tend to settle in between lines. This can make dry lips more noticeable.
If you have lip balm on, blot it with a tissue paper first to prevent the lip butter from sliding off.
Two glides of Revlon ColorBurst Lip Butter may be enough for a nice sheen. If desired, apply more for a good color pay off.
Overall
I personally love Revlon ColorBurst Lip Butter! They are perfect go-to lipsticks for everyday use, even the dark shades. You can do one or two glides for a sheerer color, or simply apply more for the true pigment to come out. Plus, the shine can make the lines on my lips less visible, making them look healthier. Since I really have dry lips, I just have to exfoliate my lips first, especially when using Sugar Frosting. The frost has the tendency to make dry lips more obvious.
Those who are not comfortable wearing lipsticks due to the feeling of heaviness will definitely appreciate Revlon ColorBurst Lip Butter. It may not give a long lasting moisture as really good lip balms do, but it's not drying as lipsticks.
Samples & Swatches
Sugar Frosting
Red Velvet
Left: Sugar Frosting; Right: Red Velvet
Sugar Frosting
Red Velvet