Macadamia Oil has been such a big buzz everywhere because of its known benefits, such as prevents and repairs damaged hair, promotes hair growth, mimics natural oil of scalp, and leaves hair soft, smooth and shiny. When the brand Macadami Natural Oil invaded the country last year through Piandre Group of Salons, they also launched a 2 in 1 Sulafte-free shampoo and conditioner. This is the same company that offers Straightware by Macadamia, which I tried and shared in THIS POST. Oh, and can I just share? I'm still enjoying the effects of Straightware until now!!! My hair is still very manageable! Love it! That's why when Jaton Zulueta, Sales Manager of Macadamia Natural Oil and Director of Piandre Group of Salons, broke the news that they are bringing in another amazing product of Macadamia Natural Oil, I was really excited! It won't be a fast growing brand in the USA for nothing! Now, Flawless Macadamia Natural Oil is available in the Philippines! Just to give a quick background, it uses an innovative system that combines cleansing, conditioning, and ideal hair refinement in one product. For more information and my review, read on…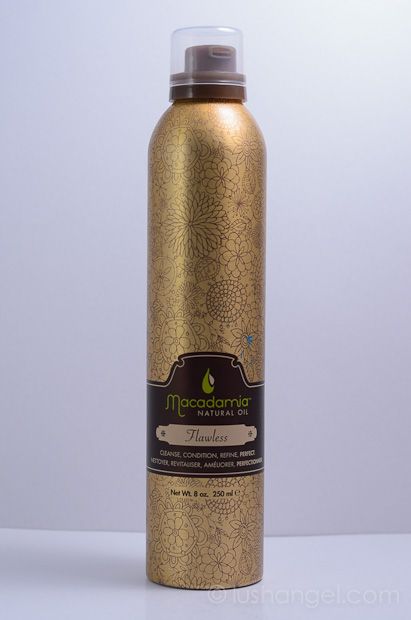 Product Information
Flawless dispenses a unique smooth gel, that is designed to be gently and thoroughly massaged through the hair and scalp for three to five minutes. That relaxing massage eliminates dirt and debris from your hair and deposits essential and restorative fatty acids like omega-3, omega-7, and omega-9. This amazing product also increases hair volume, eliminates frizz, and adds UV protection to reduce color fading.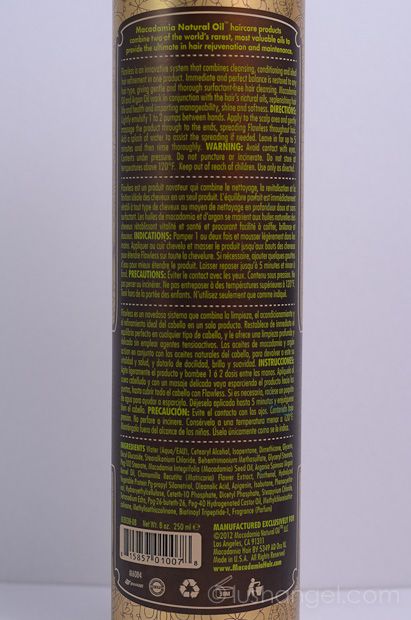 I love it because…
it comes in an elegant gold aerosol can.
it has light floral scent which smells so good!
it cuts my shower time in half! It's very quick and easy to use, perfect for days in a rush!
it leaves hair soft and shiny.
it can eliminate most of my frizz.
it's Surfactant-free and paraben-free.
it's for all hair types.
it doesn't leave any residue. It's very lightweight.
I'm tangle-free all throughout the day.
it makes prep and styling easier. It cuts blow drying time in half!
it's cheap for a salon professional product (but can be pricey for everyday use). It's PHP 1,250 for a 250 ml bottle.
I wish…
it produces a rich lather when massaged onto wet hair. Just like a conditioner, Flawless Macademia Natural Oil does not bubble up since it's Sulfate-free.
I can use it everyday. In relation to my previous comment, since it doesn't bubble up, I have to alternate it with a bubbly shampoo for my cleansing satisfaction. I know it's psychological. In fact, I'm sure Flawless cleanses my hair thoroughly because I don't notice any build up or stickiness even if I use it continuously.
it's not wasteful to use. Again since there's no bubbles, one can have the tendency to use more than what is required. Also, the pump dispenser can be quite hard to control.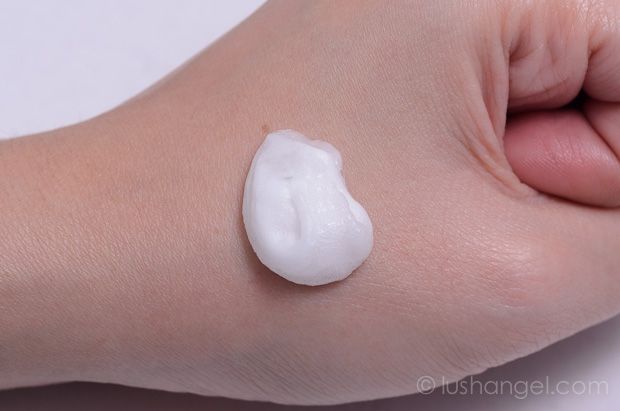 Tips
When dispensing the product from the bottle, use light hand to press the pump. A light pump can produce enough foam.
Since it doesn't produce a rich lather as you massage onto your wet hair, don't be fooled by the feeling that there's not enough product on your hair. After one pump on your palm, put some on your other palm and spread the foam on your entire scalp and hair.
Massage foam through hair and scalp for three to five minutes.
Rinse thoroughly to make sure no residue is left.
Overall
Although Flawless doesn't bubble up like ordinary shampoos, I still appreciate how Flawless can cut down my shower time and styling time. What's even more amazing is how it leaves my hair soft, smooth and manageable. The price can be a downside to some, but for a salon professional product, it's pretty affordable at PHP 1,250 for a 250 ml bottle.
I recommend Flawless Macadamia Natural Oil to all those who love styling their hair and to those who are on the go.
Macadamia Natural Oil is available in Straight and Smooth Salon-Amorsolo St. Makati, David's Salon-Ruby Road, David's Salon-Stana Grove, The List-Fort Bonifacio, Famous Salon at Ermita, Vertu Salon-Bacolod and all Piandre Salons.
Visit the Macadamia Natural Oil on Facebook, Twitter, and macadamiahair.ph.
For instant beauty, fashion, travel, foodie, or random updates from me, LIKE lushangelblog on FACEBOOK, FOLLOW  lush_angel on TWITTER and lush_angel on INSTAGRAM.