About a month ago, I was invited by Straight & Smooth Salon to try out this Macadamia Natural Oil treatment. I had to let this post wait for a while to see if the effects of the treatment would last on my hair. Anyway, I'll talk more about the results later on. 😀
For those who aren't aware, Straight & Smooth Salon, located at Legaspi Village Makati, is also owned by Piandre Salon.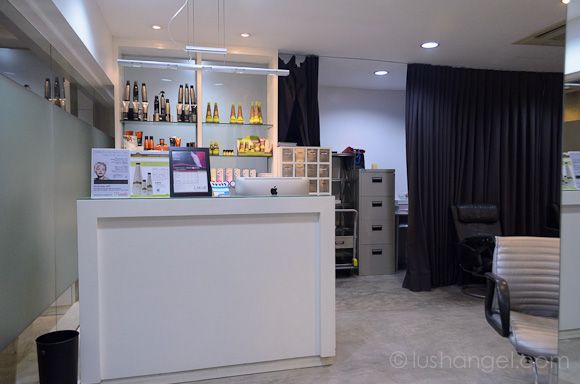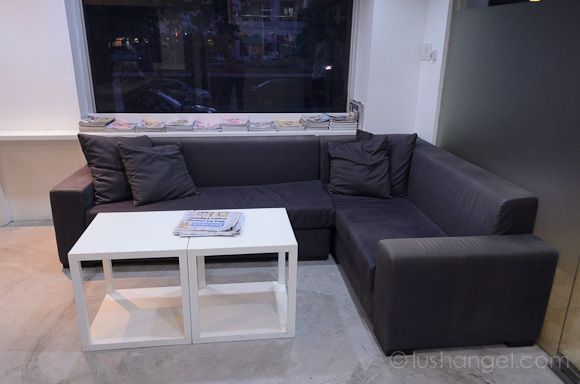 It has clean and relaxing layout- something I'm very keen since I spend hours in a salon. I'm sure a lot of ladies would agree with me that ambiance is very important during a pampering session. 😉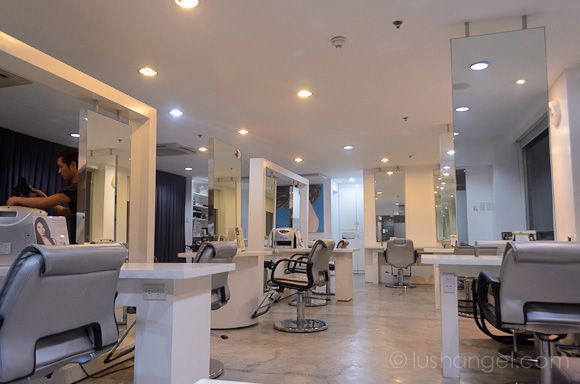 Now, let's move on to the treatment I did. Straightware is from the makers of Macadamia Natural Oil. Healing Oil Treatment and Deep Repair Masque are only some of their famous products. I was actually surprised when I was presented to the wide array of products under the brand.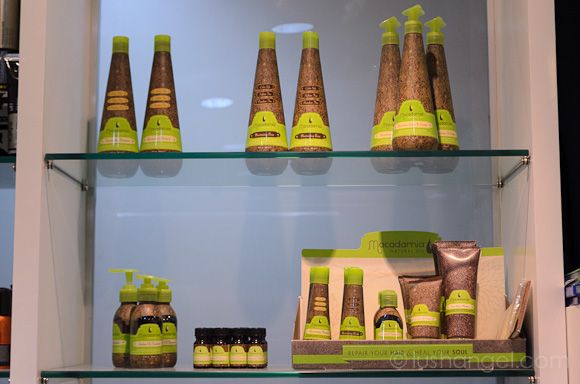 What is Macadamia Natural Oil, anyway? I'm sure you've heard all the raves about Argan Oil. Well, Macadamia Natural Oil is in fact made of Argan Oil and Macadamia Oil.
"Two exotic oils known for their restorative and beautifying effects into a line of professional hair products that embrace all hair types and conditions. Argan oil contains essential and restorative properties beneficial for all hair types, but the key to this combination lies in the Macadamia Oil. The Macadamia Nut itself contains a high amount of Omega 7 fatty acids, which is essential to skin and hair health. Omega 7 Acid is naturally found in our own body for health and protection. Compatibility of this key ingredient with the hair and scalp's natural balance facilitates the infusion of vital nutrients with feather light effects."
Now, what is Straightware by Macadamia? You've probably seen or read about Keratin Complex Treatment. It's practically similar, but this is cheaper! Let me get this one fact straight though, Keratin Treatment, like Straightware by Macadamia, is a hair treatment. It's not really a straightening product like rebond or relax, but it can give that straightening effect depending on the hair type.
Straightware by Macadamia provides Healthy Formaldehyde FREE Hair Smoothing Therapy that lasts up to 4 months while infusing the hair with shine, control and beauty. It has the special blend of Macadamia Natural Oil combined with Quinoa seed and Gingko Biloba that revitalizes hair. It improves moisture and strength, transforms curl and frizz into smooth silky hair. It also intensifies the color and shine of the hair. One downside though, unlike Keratin Treatment, it cannot be used on bleached, gray and highlighted hair.
Here's the step by step process:
They started by shampooing my hair using Straightware Purify Shampoo, which removes the impurities of the hair and prepares it for the Smoother application.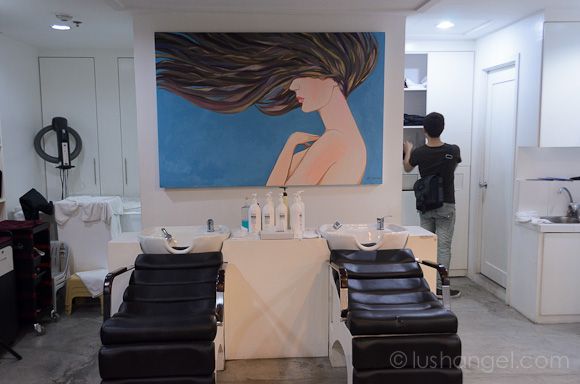 The Straightware Smoother treatment was applied on my towel-dried hair. My hair was continuously comb after every application to ensure even distribution of the treatment.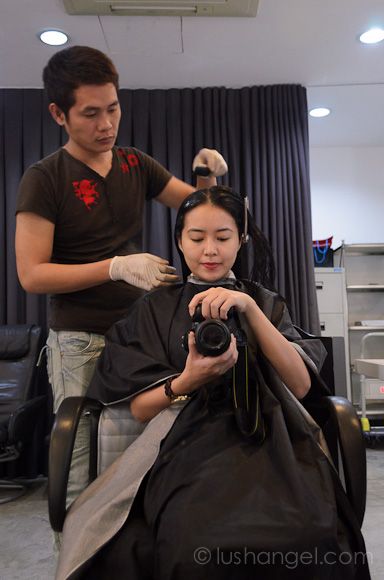 Then, my hair was wrapped for 20-30 minutes.
Without rinsing, my hair was blow dried.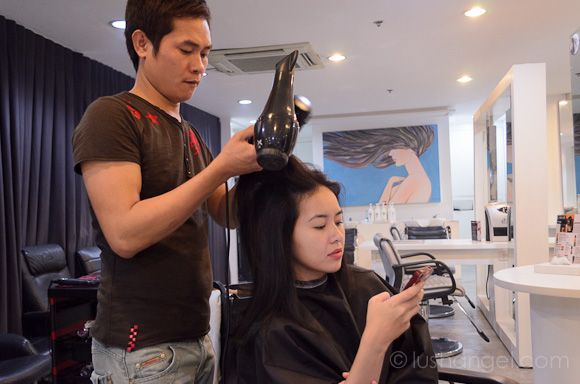 And the last step, my hair was ironed to seal in the treatment, making it more effective.
The aftercare can be a bit of a pain since I couldn't shampoo or wet my hair for 3 days or 72 hours. I couldn't pin or tie my hair nor could I tuck it behind my ears. I was told that if my hair gets wet accidentally, I have to blow dry it as soon as possible and iron at least once. Well, I was able to survive three days with the help of a dry shampoo, which I'll be sharing in a different post. 😀
Anyway, below is my hair after the treatment. As expected, it's very straight since it was ironed. It looks very shiny and healthy, huh?!
But I'm sure you're more curious what happened days or even a month after the treatment?
After a month, my hair is still soft and shiny as if I just had the treatment done. I don't get any tangles too, even when my hair is wet. I've been frizz-free for almost a month now, making me really satisfied with Straightware. Similar to Keratin Complex Treatment, maintenance is needed by using a sulfate-free shampoo and conditioner. I've been using Macadamia Natural Oil Rejuvinating Shampoo and Macadamia Natural Oil Moisturizing Rinse Conditioner for my maintenance. They are color safe, paraben-free and sulfate-free, which helps in prolonging the effects of the Straightware treatment. Don't worry, the Macadamia Natural Oil Shampoo and Conditioner is not too expensive as compared to other salon products. If I'm not mistaken, it's about PHP 800+ for the big bottle.
As to how straight my hair is, it's still straight but definitely not as sleek straight as it appeared on the photos above. I can see few waves coming out already. Well, I don't really have curly hair to start with. It's just a bit wavy, which can be unruly and hard to manage, especially when I don't get the chance to dry it properly. What I love about this Straightware treatment is that I don't even have to dry my hair with a blow drier or electric fan. I just let it be and my hair dries perfectly! Seriously, skipping the blow dry saves me a lot of time! I hope this can last me for a few more months!
I strongly recommend Straightware by Macademia to those with dark, dry and frizzy hair (as said earlier, it can't be used on bleached, gray and highlighted hair). This treatment just magically revives dull and damaged hair in an instant! 😀 Straightware Treatment starts at PHP 3,500-onwards, depending on hair length. For my hair length, it's about PHP 4,500.
Here are some products of Macadamia Natural Oil:
Macadamia Natural Oil Rejuvinating Shampoo and Macadamia Natural Oil Moisturizing Rinse Conditioner
Macadamia Natural Oil Nourishing Leave-In Cream
Macadamia Natural Oil Healing Oil Treatment
I like using this on top of the Leave-In cream. My hair looks shinier and healthier!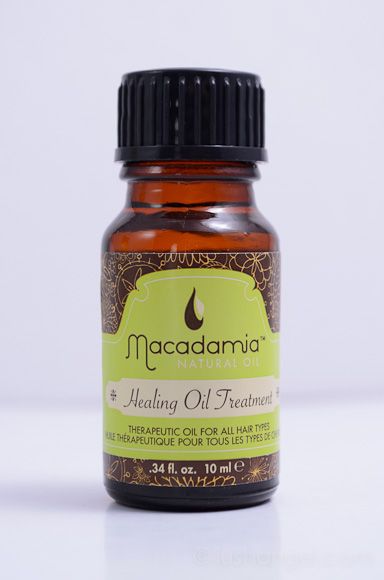 Macadamia Natural Oil Deep Repair Masque
And Macadamia Natural Oil's newest product, Flawless! It's a conditioner that cleanses like shampoo. It's like a shampoo and conditioner in one bottle. I've been using this ever since I ran out of the Rejuvinating Shampoo and Moisturizing Rinse Conditioner and so far so good! I'll be posting a full review about this golden bottle soon. 😉
Macadamia Natural Oil is now available in Straight and Smooth Salon-Amorsolo St. Makati, David's Salon-Ruby Road, David's Salon-Stana Grove, The List-Fort Bonifacio, Famous Salon at Ermita, Vertu Salon-Bacolod and all Piandre Salons.