At one point in our life, most of us, if not all, have experienced getting a scar- whether it be a battle scar when you were a kid, scar from a surgery, scar due to a pimple, scar from your favorite red pumps, or scar from just mere carelessness. If you don't know what a scar is or what it looks like because you haven't ever been scarred, please present yourself to me. I'd love to meet a flawless person like you. Kidding! 😀 But seriously, I'm quite sure most of us have looked for a way to remove, or at least lighten, our scar/s. I admit. When I started to become conscious of my physical appearance in my teen years, I think I tried all sorts of scar removal creams, serums and scrubs seen in grocery shelves or even in television (who doesn't know Home TV Shopping, huh?!). Yes, I was that desperate! Haha! Unfortunately, there comes a point that you have to realize and accept that only time (and expensive machines, of course) can heal scars. For several years now, I have accepted that sad fact already. Recently though (after my minor surgery fully healed), I went back to my search for a scar removal product. I found this particular scar solution from Switzerland very promising. Honestly, having gone through all my attempts to remove or lighten my scars, I was a bit doubtful of this new product at first. Although thinking about it, science may have invented some new solution that actually works after so many years. Also, hearing that they wanted me to document my use of this gel means they believe in this product so much. I then thought it's worth a try!
So, what is this scar solution I'm talking about?
Product Description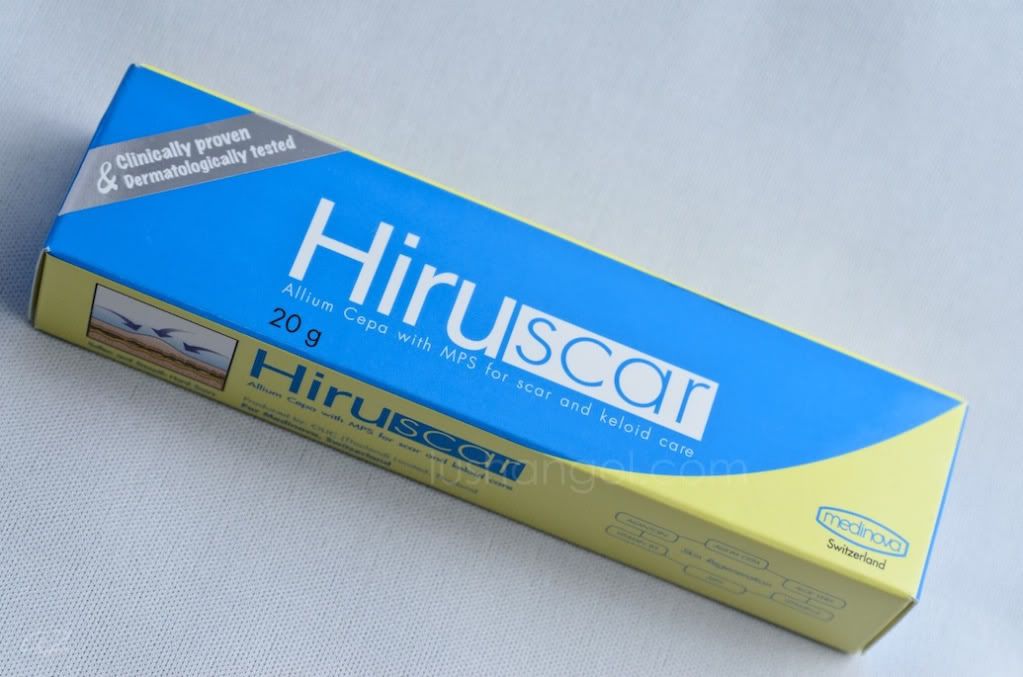 Hiruscar is a hypoallergenic non-greasy gel that helps lighten, smoothen and soften scars on both the face and the body. With its quick absorption rate, application is fast, hassle free, and is ideal for all skin types.
Ingredients: It has 6 natural ingredients namely Aloe Vera, Vitamin E, Vitamin B3, MPS, Allium Cepa Extract, Allantoin- that penetrates into your skin and helps improve and reduce scar visibility
Efficacy: Average scar healed is 93% at the end of 12 weeks. (Proof of Efficacy of Hiruscar from 34 experience users by Info Focus Company Thailand)
Application: Hiruscar can be used on depressed and raised scars that are caused from injury, accidents, burns, as well as pimples. For existing scars, massage gently unto healed wound 3-4 times daily. To protect against scar formation, massage gently unto the healed wound 2-3 times daily. Hiruscar is an effective solution to new and old scars of less than 2 years of age. Continual application will help scars to appear less visible, smoother and softer.
Here's my review:
I love it because…
it comes in a tube. It's travel-friendly.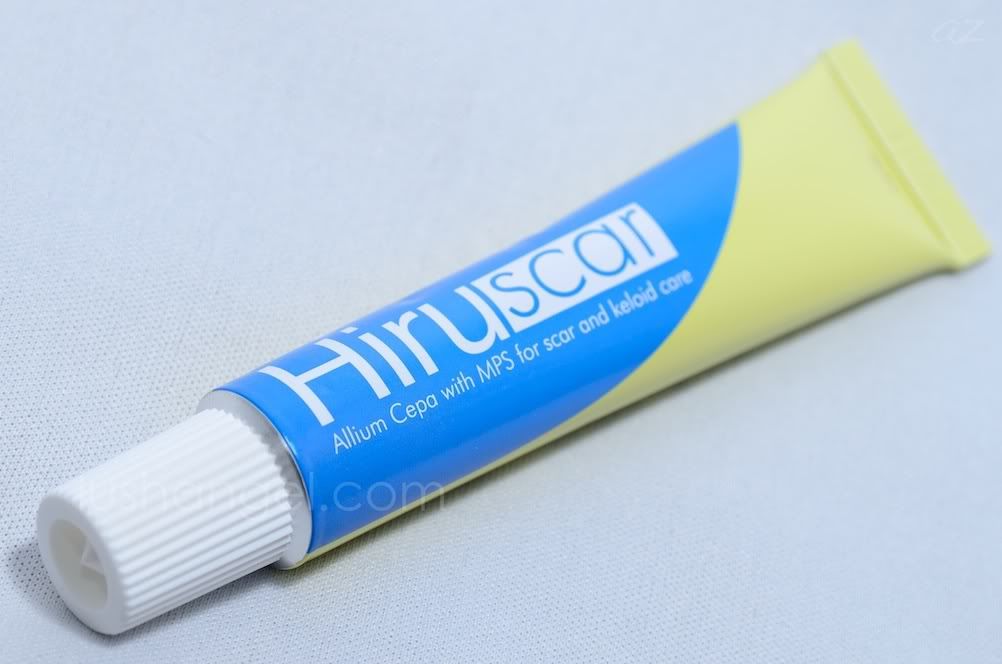 it has a very light pleasant floral smell. This can be a turn off to some who prefer using unscented products on the skin.
it's in gel formula. No greasy feel. It's very light, as if I didn't put anything at all.
the gel absorbs quickly on the skin. I don't really need to wait for it to dry up.
a little goes a long way. Just like any ointment, I don't need to apply much on my scars.
it's surprisingly affordable for an anti-scar product. 5g tube is PHP 319; 20g tube is PHP 852. It's definitely way, way cheaper compared to dermatologist's laser sessions.
I wish…
there's no need to keep on re-applying. As seen in the directions above, there's a need to apply the gel almost 3 times daily. This can be quite hard to do, especially when you're not at home. There's always that tendency to forget reapplication within the day.
Now, let's get to the question that has been popping in your head- Does Hiruscar work?
I tested the gel on several scars for a week, but I'll be documenting two specific scars- a newly formed scar on my ankle due to my carelessness and a friend's battle scar from childhood that formed to a keliod. Here are photos of the two scars before applying Hiruscar and after continuous application for a week.
Ankle Scar BEFORE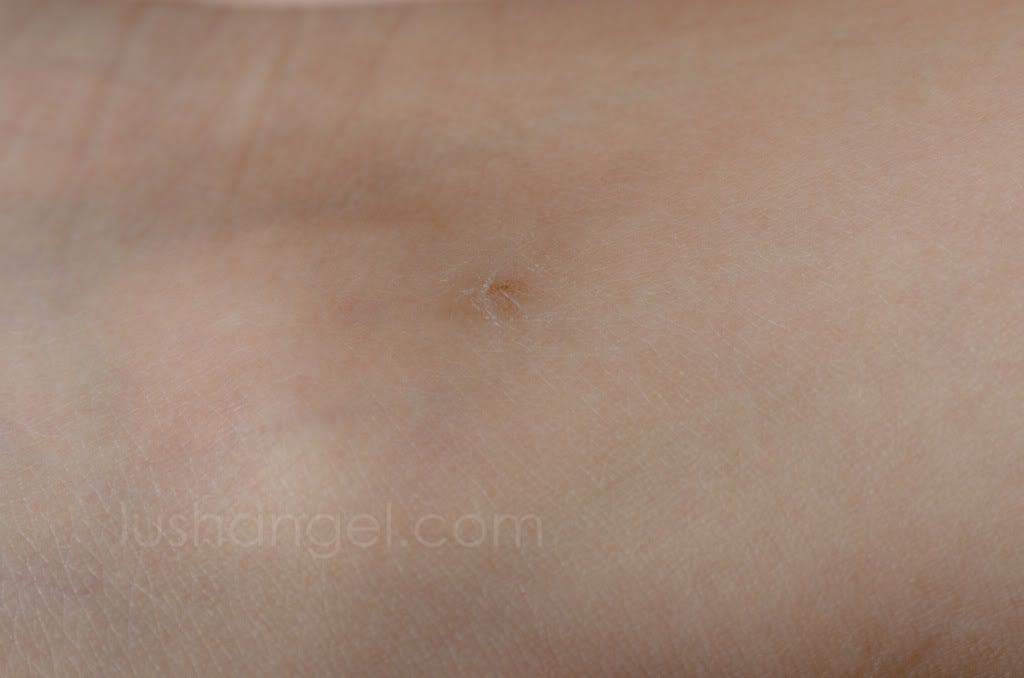 Ankle Scar AFTER
Keloid BEFORE
Keloid AFTER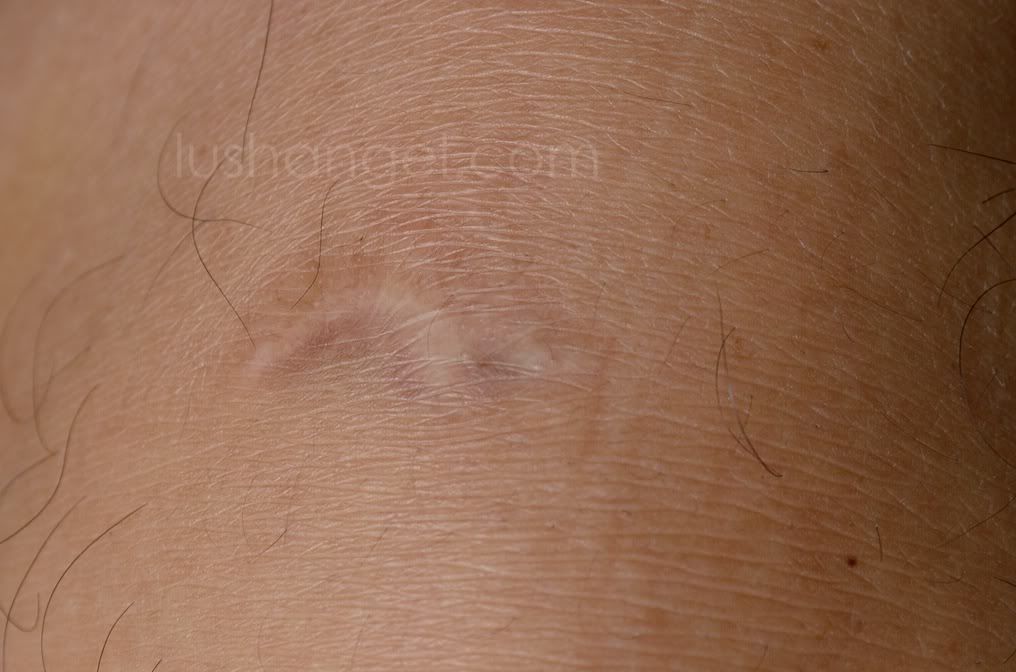 Overall
To cut the long story short, yes, Hiruscar worked! My newly formed scar on my ankle appears lighter and smoother now, while the keliod is a little bit smoother. As said earlier, these results were documented after one week of Hiruscar application 2 to 3 times daily. Obvious improvement can be seen with my newly formed scar. As for the keloid though, I initially thought there was no difference from what it looked like before. I was surprised to see the before and after photos that the surrounding wrinkled skin smoothen and flattened a bit. I haven't seen any improvement on my stitches from my surgery and old, deep scars though, but it's enough for me to know that there's an anti-scar product that actually works now at an affordable price. With the results, I believe I just have to diligently use Hiruscar to at least lighten my existing scars. Take note though that I can't vouch for complete scar removal with this product, but it can at least lighten and smoothen scars, based on my experience.
Hiruscar can be purchased in Mercury Drugstores, Watsons Pharmacy, and South Star Drugstores.
For more information, check them out at www.facebook.com/Hiruscar.ph