Some facts about me
I am not into extreme adventure.
I have great fear of heights- really great that I get cold feet or dizzy just by looking down the lower floors in a building. I couldn't even step on CN Tower's (the highest structure in Toronto, Canada) clear glass flooring at its viewing deck.
I know how to swim, but I have great fear of deep waters. Yes, this is ironic since I love to surf. I always survive, even when I'm swallowed by huge waves. I know, it's all in the mind.
So now you're wondering, how did I survive cliff diving? I, myself, can't believe it as well.
Getting there
To get to Ariel's Point, we had to ride the "party boat". We call it "party boat" because of the unlimited drinks and the party music on the way! And if you're wondering, yes it includes alcoholic drinks. As they say, the more you drink, the more you jump! LOL!
The party boat was pretty big so it can't dock as near as the small boats used for island hopping and paraw. To my luck, it was high tide at that time. This means the water was deep where the boat usually stops. Lucky me, huh?! A small boat had to get our things from the shore and swim on our own. Swimming warm up it is! Haha!
The 40-minute boat ride was smooth and relaxing. The drinks kept my mind away from the jump. In all honestly, I was determined to just accompany my friends and not to jump at all! As I would tell them, I was just there to support and to eat buffet! 😀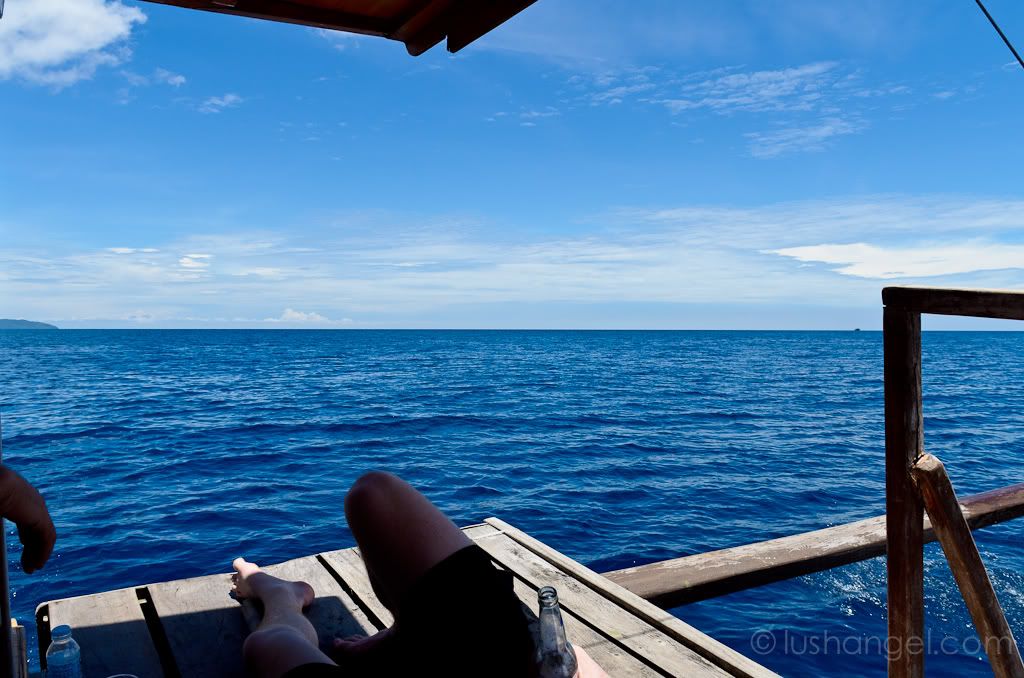 When we started seeing the cliff from a far and the diving boards, the first thing that came to my mind was "That's it? I can do it then! I'm going to jump!" (ang yabang lang!)
When the boat was nearing though, my mind was changing. Okay, ang taas pala! Haha! Stupid me to judge the height from a far! Feelingera lang ako! LOL!
Ariel's Point
Here's the entrance going up to the cliff. There was a little swimming again since it was still high tide! Just my luck, really!
The moment people reached the top, all of us were staring at the diving boards and the water for a few seconds. Later on, people started jumping from the 5-meter and 8-meter boards.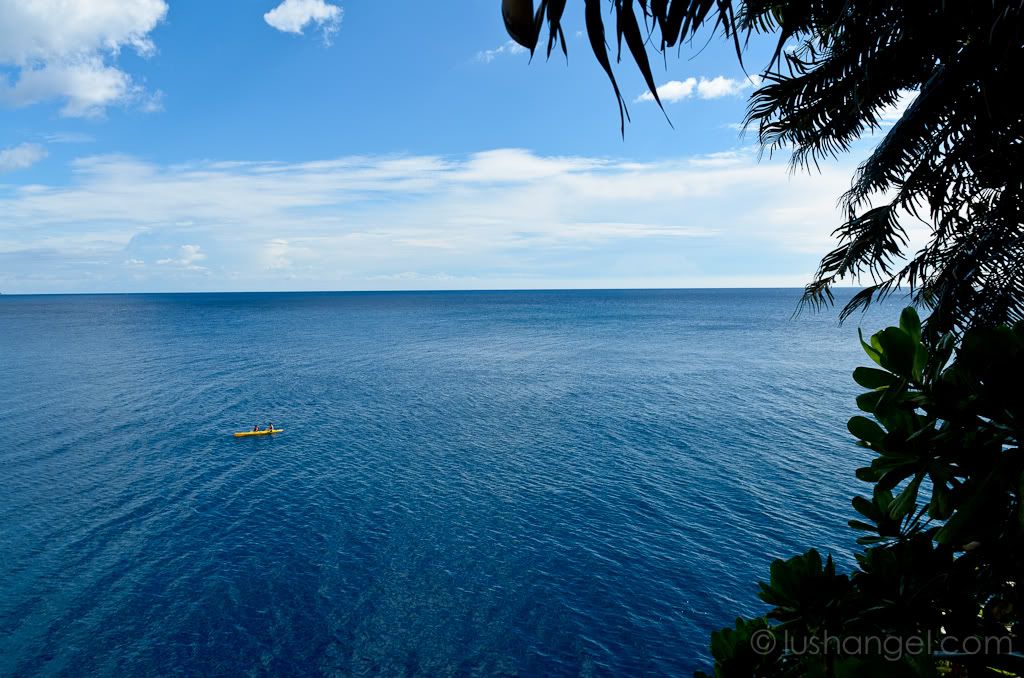 There are actually 3 diving boards in different heights- 5 meters, 8 meters and 15 meters. There were also 2 lower jumping points without a board (the white round platforms below). The first is about 1 to 2 meters high and the second is about 3 meters.
While waiting for the lunch buffet, almost everyone were jumping- except from the 15-meter board. I was one of the few who stayed behind to take photos and to munch on some chips and fruits. That's what you call, delaying tactics! Haha!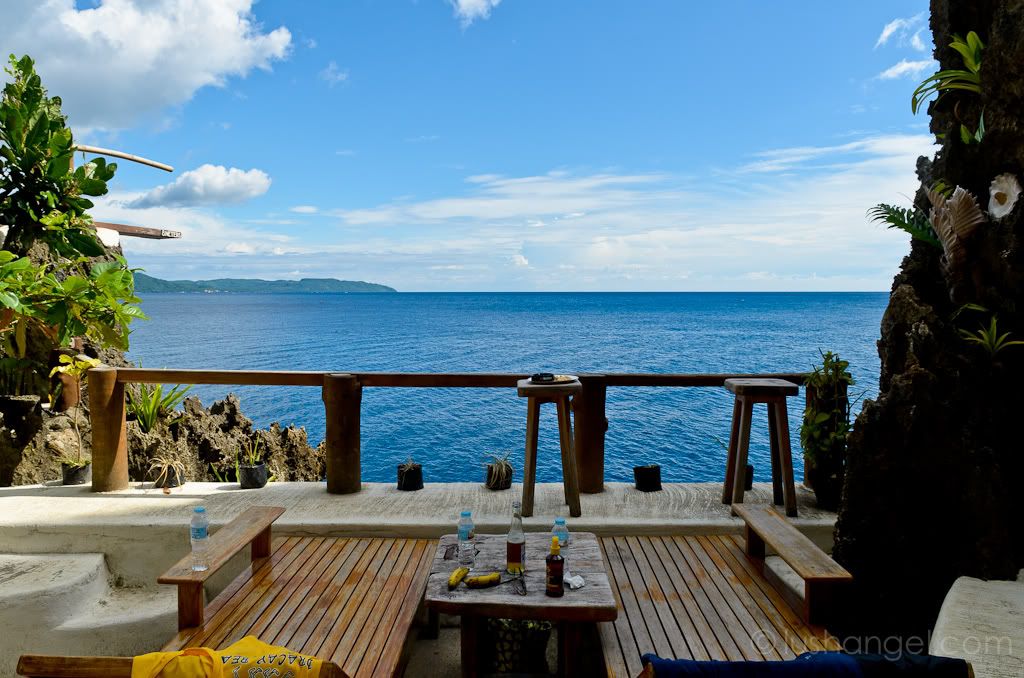 For those who really don't want to do the plunge, there are also other activities available aside from eating. LOL! There's also snorkeling and kayaking.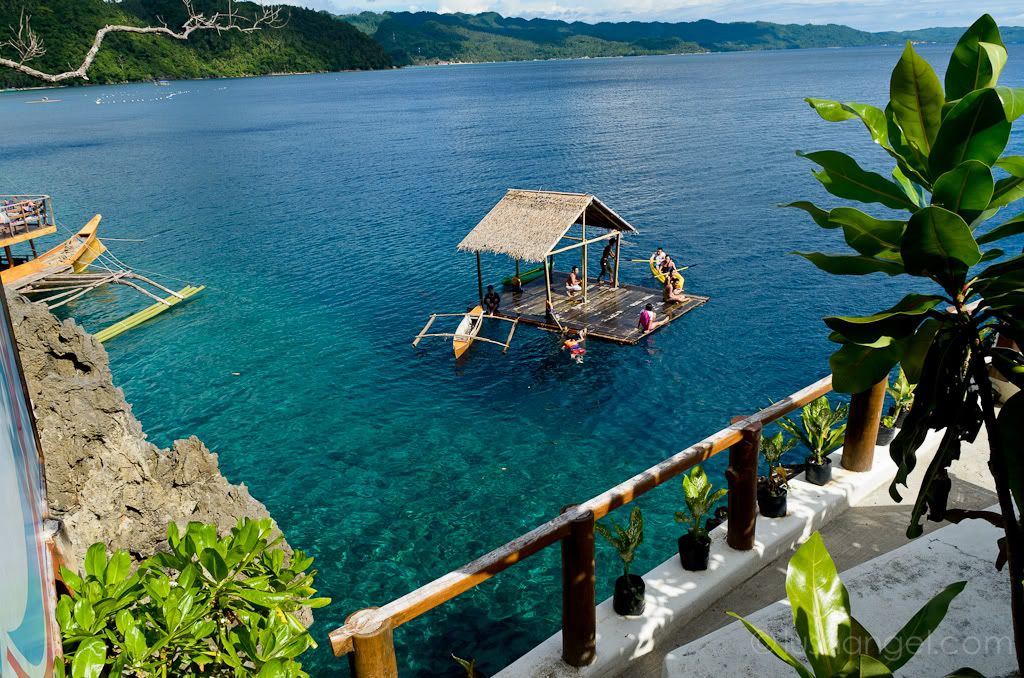 The Cliff Diving Experience
A few more minutes, my friends were encouraging me to jump. The next thing I knew, I was already standing on lowest jumping point. The height wasn't bad at all. My only fear was the deep water. Well, you can actually wear a life vest, except for the 15-meter ledge. I was just scared that it would be more painful to have a life vest on. Anyway, the ending, I jumped. I realized my swimming skills weren't bad after all. I became more confident and thought of jumping the second level. Feelingera nanaman!
When I stood on the second platform, whoa… the view was different!!! I didn't know that 1 to 2 meter/s can make a lot of difference! I wanted to back out already. I was just pressured because my friend was swimming and waiting for me to jump. He was already getting tired. That tactic was so effective that I ended up jumping again. It wasn't as good as the first one though because with its height, a wrong jump can be painful. My legs folded before I hit the water. It's as if I landed on a cemented ground sitting down.
Right after buffet and a few drinks, my friends were on a jumping spree again from the 5- and 8-meter boards. I thought of checking out the view from the 5-meter ledge. Of course, I didn't had any plans of jumping. The height is just too much for me. This was definitely justified when I tried to peek from the board. I felt like getting sick. Just when I was trying to take a few steps back to get off the ledge, my friends and some foreigners (who became our friends there) blocked the way! And they all said, "There's no other way out, unless you jump!" What?!
I guess it's time for me to stop and let the photos do the talking…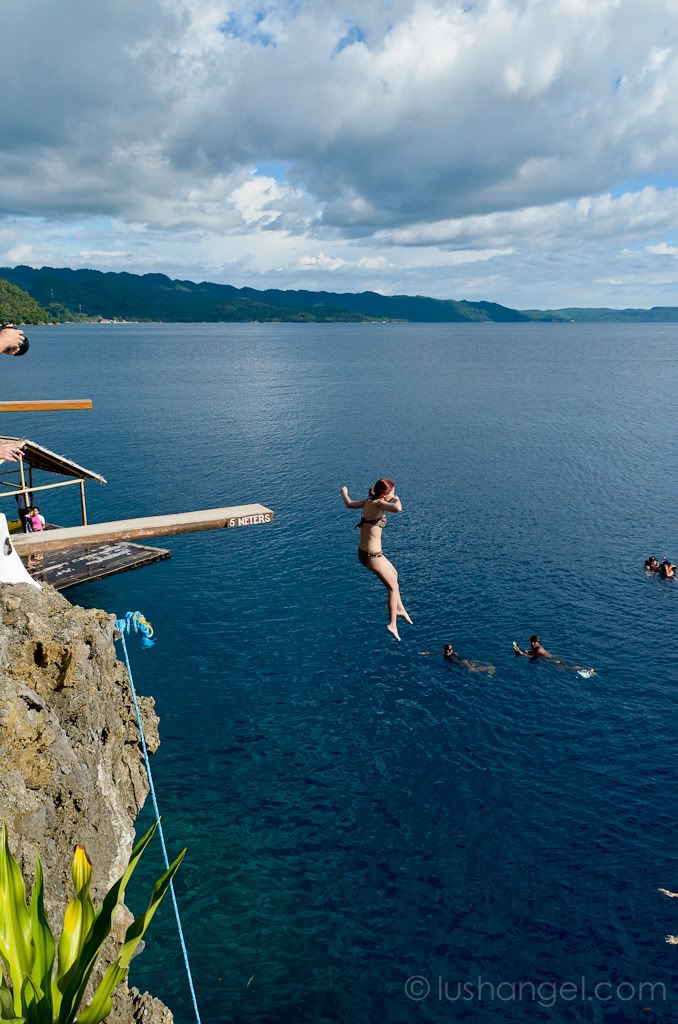 OUCH!!! Again, just before I hit the water, my legs folded. No matter how much I try to keep them straight, my body was going with the wind on the way down. The back of my thighs were so red, which became purple the next day. It's as if I was paddled! Yes, it's that painful too!
The last few minutes before we were asked to go back to the boat, my friends went for the highest diving board- 15 meters! Whoa! Obviously, I can't do that anymore! Only very few tried it and my friends were one of them! I salute them for being so brave!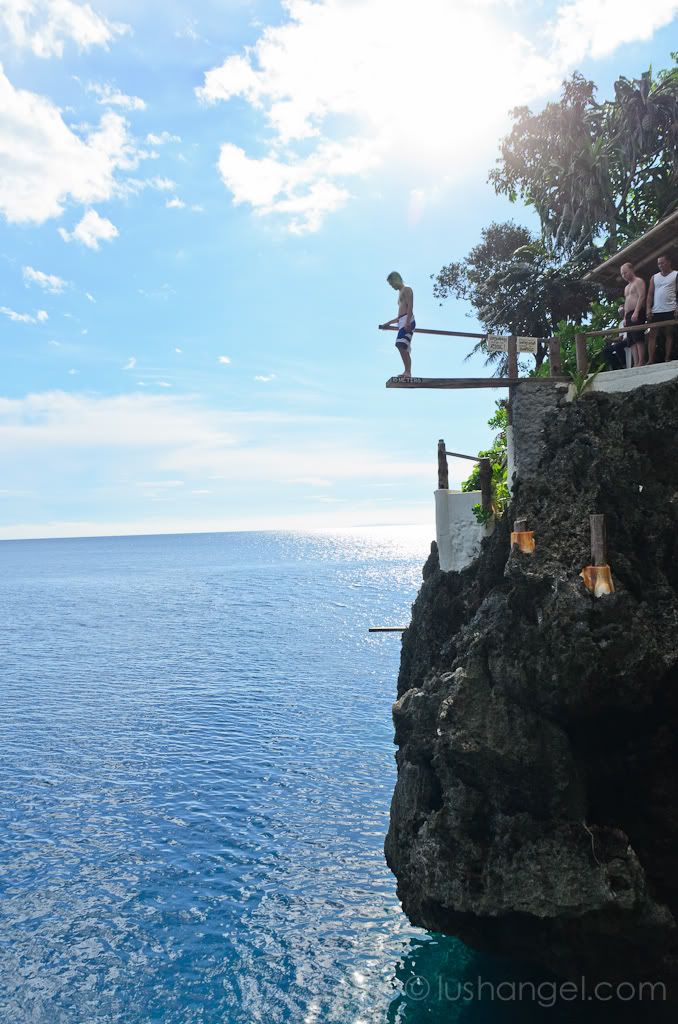 See the difference of my jump and his?! I'll explain later on why it's so important to keep still!
They said, it feels like forever before they hit the water. It was really a one of a kind experience. No harness. No time limit. Just savor the moment. It's all up to them when or if they will jump. For me, that takes a lot of courage.
Realizations and Tips
Landing on water is not 100% safe. The danger and injuries is almost the same as landing on a cemented ground. The best way to avoid any accident is NOT to dive head first if you're not a professional diver. When jumping, keep your legs straight and arms down.
You can also opt to hold your nose to keep water from coming in.
The moment you walk the board, jump without any hesitations!
If you have great fear of heights, jump right away. Don't even attempt to look around as you walk. The longer the time you're on the board, the more you would feel scared.
Again, the impact of the water can be as painful as hitting the ground. Make sure to keep everything straight to avoid any injuries or bruises. As their warning below, "cliff jumping is at your own risk".
How much and where to book?
It's PHP 1,500, inclusive of the boat rides back and forth, drinks (water, beer and mixed drinks), lunch buffet, and other activities in Ariel's Point – snorkeling and kayaking. Yes, so everything is actually included!
* Prices may change without further notice.
You can book from Trondz. Contact numbers: 0922-8876639 or 0920-9060466. 
It's advisable to book a day/ days before your planned date. Boat leaves at around 11:00am at station 1 and you'll be back by 4:00pm. Yes, you'll have to allot a whole day for this activity!
Will I do it again?
MOST DEFINITELY, without hesitations! 😀 This may sound weird, but I felt good about myself after every jump. I can say, I've somehow conquered my fears. I won't deny, the facts about me above remain to be facts until now. But having to experience cliff diving, at least I could say I can really conquer my fears. When I go back, I'd definitely try the 8 meters. As for the 15 meters, ummm… let's see! 😀