Last Saturday, I was invited in the unveiling of the newly renovated Estee Lauder counter in Shangri-la. I must say, with a brighter and even more glamorous counter, a beauty enthusiast like me would definitely be magnetized to go in and try out their products. They even have a lounge where clients can relax while they "play". It's a beauty haven indeed! 😀
They also relaunched their Double Wear line, which came with a makeup tutorial. Their makeup technique is known as the Estee Lauder Signature. Fact is there's no one specific way to apply makeup. Every brand and every makeup artist can possibly have a unique way of applying makeup. In this afternoon of beauty, I surely learned a lot- the Estee Lauder way. Let me share them with you.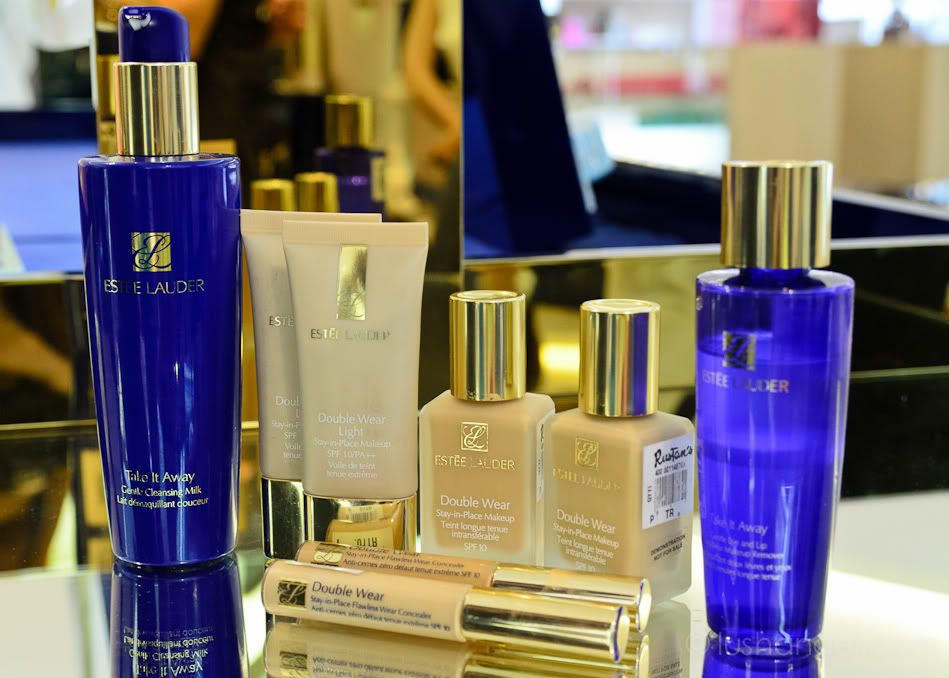 First of all, let me just clarify. Gone are the days when Estee Lauder is known to be used by our moms only. They now have vibrant colors of makeup. The anti-aging ingredients in their skincare line promises that you'd age gracefully. When it comes to skincare and makeup, Estee Lauder has now tapped the young, like me! LOL!
Estee Lauder 5-Step Face
1. Skincare to Prepare
Start with Advanced Night Repair Serum. Liz, Estee Lauder Brand Coordinator, demonstrated the proper way of applying the serum. Place small dots on each finger, then tap and massage onto your skin in gentle, sweeping strokes. This step will keep skin hydrated, protected and healthy looking.
2. Foundation Flower
First, find the right foundation through Estee Lauder's Eye Match. This tool will help you find your undertone and intensity level of foundation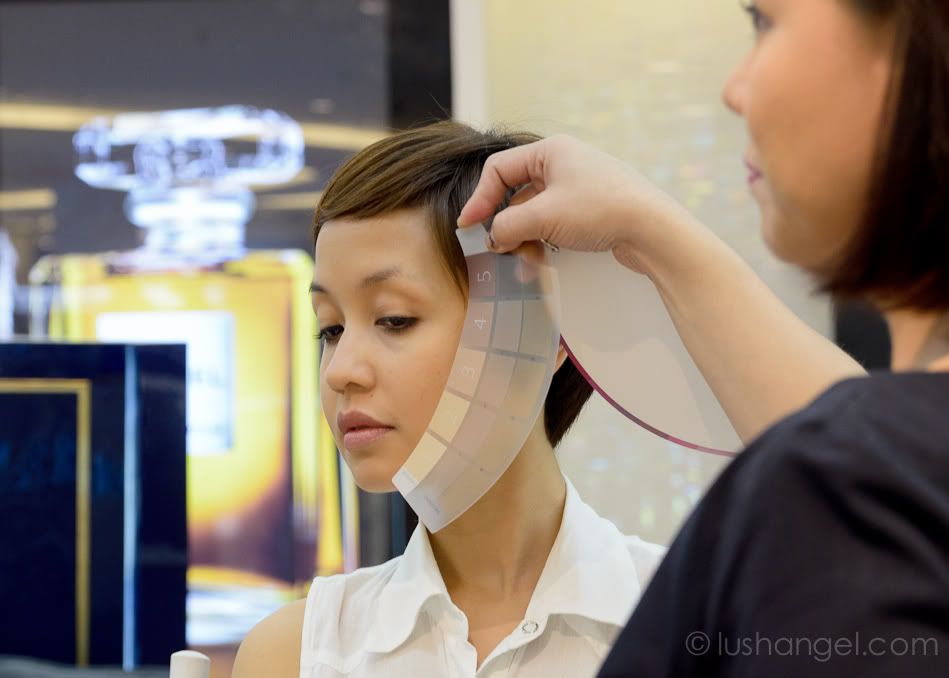 Remember that Estee Lauder's foundation application signature is dividing the face into quadrants with the nose as the center of a flower and the forehead, the cheeks and the chin as petals. This is why the step is called "Foundation Flower".
Warm foundation by placing a small amount on the back of the hand. Start applying foundation where there is most redness, which is usually the center of the face (or center of the flower). Then, apply foundation to the petals of the face, one area at a time. Blend outward in the direction of petal growth.
3. Fatigue Fighter
This is the concealing part, which is another exciting and unique technique from Estee Lauder.
On the back of your hand, mix Advanced Night Repair Eye with a small amount of Disappear Concealer. Don't worry, I asked and the concealer won't slide off or crease. I will also try it myself and give a review. 😉
Use your finger to apply mixture under the eyes. Gently pat and blend into the skin.
Using a concealer brush, apply extra concealer at the inner and outer corners of the eye. Blend to soften the edges. Brighten the entire eye area by patting a little additional concealer under the brow arch. From the outer corner of the eye and also on top of the cheekbone.
4. Powder Roll-on
Set the foundation and concealer through another Estee Lauder Signature, Powder Roll-on technique. Sweep one side of the powder brush on the loose or pressed powder and tap off excess. Apply powder by rolling the powdered part of the brush onto your skin. This technique avoids excessive powder on the face, making it look dry.
5. Define Features
Fill in the brows.
Line the upper and lower lashline with Estee Lauder's Double Wear Stay-in-Place Eye Pencil. Oh, I love this pencil! It has a smudging tip on the other end, which can easily soften lines. 🙂
To open up the eyes even more, mascara was brushed on the lashes.
A blush was  lightly swept on the part of the cheeks where the sun touches the face.
The beauty bloggers present got excited with this new shade of blush. It's Estee Lauder's Pure Color Blush in Sensuous Rose. It looks so natural!!!
And that's it! It's that easy! Now, what if you're going for a night out with your girlfriends? Our lovely friends from Estee Lauder showed us a simple smoky technique.
Estee Lauder Simple Smoky
1. With a generous amount of eyeliner, draw a circle on the back of your hand about an inch across.
2. Add a small amount of Double Wear Concealer onto your hand, and blend with the liner until the base is creamy smooth.
3. Using your finger, place a little of the base onto the lid, blend over the entire lid from the lashes to just past the crease.
4. Before it dries completely, apply your eyeshadow over the base, pressing it into the base. This helps set the smoky look for hours.
Smoky is not limited to black or gray. You can also try using bright or shimmery eye shadows, whatever suits your taste. 😀
Here's our beautiful Julia! 😀 Hello dear! 😀
Of course, I won't leave without trying out Estee Lauder Signaure Services too!
The steps above were applied on me, with my eyes having that soft brown shade- great for day 'til night.
Here I am so fresh and ready for a date night! 😀 Oh, if you find the color of lips so gorgeous, it's Estee Lauder's Pure Color Lasting Creme in Fuchsia Fever. It's so pretty!!! 😀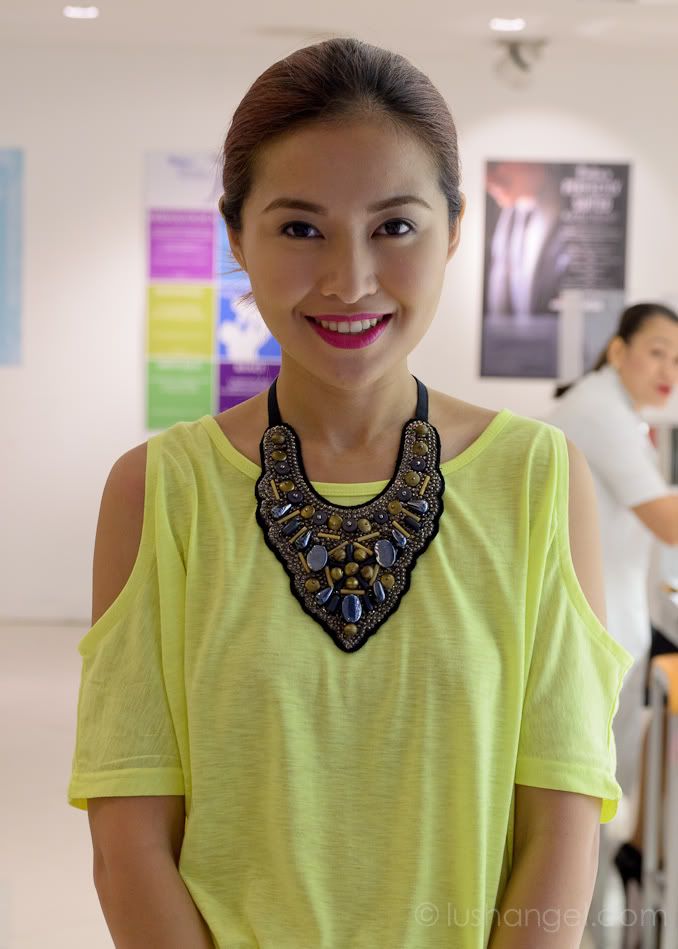 It was an educational and a fun afternoon of beauty! 😀 Big thanks to Liz and to Estee Lauder Philippines! I had so much fun! 😀
Here are more photos during the event…
Who said rainy days would stop us from wearing bright colors?!
with the cheerful, as always, Nikki Tiu
More details of my outfit in my Stoplight post.
with Shen, Liz and Corky
Corky and Liz
Thank you Estee Lauder Philippines!