I believe I mentioned in one of my previous posts how much I love perfumes. I used to collect various perfumes in different scents. I'm not really drawn to one specific scent since my choice would always depend on my mood. 🙂 Early this week, Emily Sia-Koa, Brand Manager for Midas Brand Management, sent a nice surprise and you smelled it right! I mean, you guessed it right! LOL! It's the new fragrance from Benetton, specifically Benetton Bianco! 😀 Thank you, Emily! 😀
BENETTON BIANCO AND BENETTON NERO
Benetton already have four existing fragrances in this line red, yellow, green and blue, which were inspired by the colorful world of Benetton. Now, they released two new scents in white and black, named Bianco and Nero respectively.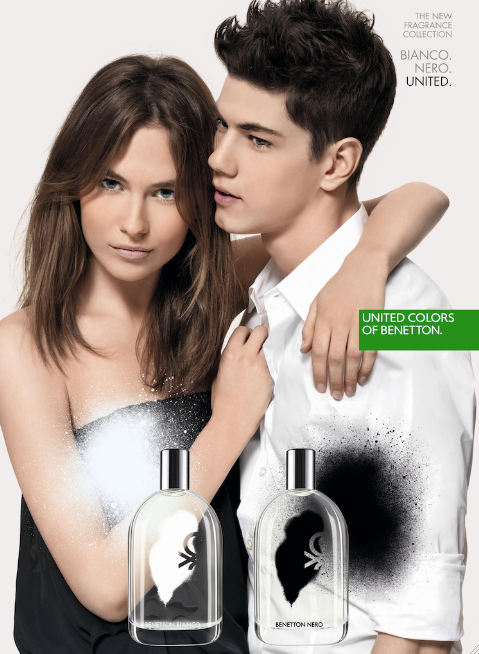 So, for whom are these?
Men and women from 15 to 25 years old
Young & Trendy
Self-confident
With Fashionable style
Who want to change fragrances like they change clothes, according to their mood.
Men and women who like the Benetton Fashion for its minimalist passion for colors, its urban style, its casual attitude.
Of course, consumers are not limited to those above! It's definitely for everybody, depending on your taste. 😀
Packaging
Packaging looks simple, yet classy. The iconic Benetton wool stitch logo, inspired by street art that also evokes the act of spraying fragrance on the skin, is stenciled on the clear glass flask.
Benetton Bianco
From the bottle or initial spray, Benetton Bianco has that strong mix of floral and fruity scent. It then becomes rosy, but a few minutes later, it turns to a soft and sweet musk scent. It's feminine, at the same time, fresh.
Woman: sparkling and feminine

Just as white blends all the colors in the spectrum into pure perfection, so Benetton Bianco Woman fuses fruity and floral fragrance essences into a seductively sparkling composition. In the top note, luscious lychee pulp is complemented by bamboo sap and white mulberry, evolving into a feminine heart of white rose, grape flower and dewy jasmine. The dry-down is soft and sweet, infused with notes of cocooning cotton musk, vanilla and white patchouli.
Benetton Nero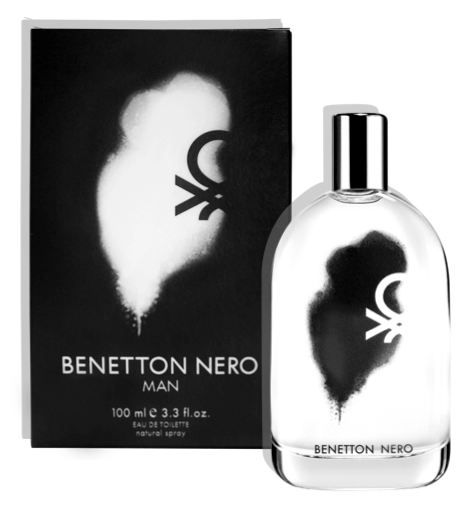 Man: vibrant and virile

Cool and clean, fresh and forthright, Benetton Nero Man is a citrus woody scent that debuts with sparkling notes of blood tangerine, peppermint and grapefruit zest. The coolness lingers through a spicy heart of mace, juniper berries and lemon tree wood, lending depth to the fragrance, then evolves towards a darkly vibrant dry-down of Indonesian patchouli, ebony wood and black musks.
Benetton Bianco and Benetton Nero are priced at PHP 1,350.00 for 100ml and PHP 850.00 for 30ml. They are available in all leading department stores and FReSH Fragrance Bar Stores nationwide.
Hot&Cold Fragrances
United Colors of Benetton also released their new Hot&Cold Fragrances. Who would ever forget these bottles?! Created in 1997, the Hot&Cold franchise is the best-selling line of Benetton fragrances.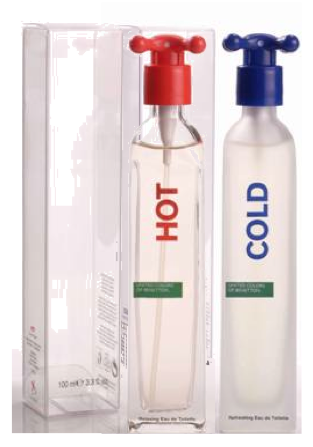 Now, it's more modern and sophisticated, inspired by the gold and silver precious metals- Hot Gold for women and Cold Silver for men. Of course, they still have their witty tap-shaped caps.
Hot Gold for Women
Its Latin name aurum – meaning shining dawn – gives a hint of the multiple evocations of gold. Gold is light and love, hope and happiness. Hot Gold for women captures these associations in a light and elegant fruity floral fragrance which opens with a bright bergamot note, rounded out by touches of golden apple and yellow peach. The delicate heart blends star fruit and radiant rose with soft hints of mimosa, developing into a sensual dry-down of sandalwood, solar musks and golden amber.

Cold Silver for Men
Sleek and sophisticated, silver is associated with design, technology and ultra-modernity. Cold Silver for men translates this cool, clean elegance into a virile fougere fragrance that immediately asserts its presence with dynamic top notes of yuzu, coriander and ginger. In the heart, aromatic silver sage is spiced with a pinch of cardamom seeds. The woody dry-down blends silver moss, mineral amber and vibrant musks, creating a strong, unmistakably masculine signature.

Hot&Cold Fragrances are priced at PHP 1,350.00 for 100ml. They are available in all leading department stores and FReSH Fragrance Bar Stores nationwide.