You think strong gust of wind, non-stop rain, flood and traffic would stop beauty enthusiasts to savor the sweetest experience from Shu Uemura? Hmmm… I guess not! You can probably call us this…
Last Tuesday, July 31, 2012, beauty bloggers, together with their special friends, headed to Chocolate Fire Makati for Shu Uemura's 2012 Fall/Winter launch. The entire second floor was reserved for the event. We were immediately greeted by their cute photo wall…
Through those colored eyeshadows, we rated how amazed we are with Shu before having our photos taken. Obviously, we all are in NIRVANA!!! 😀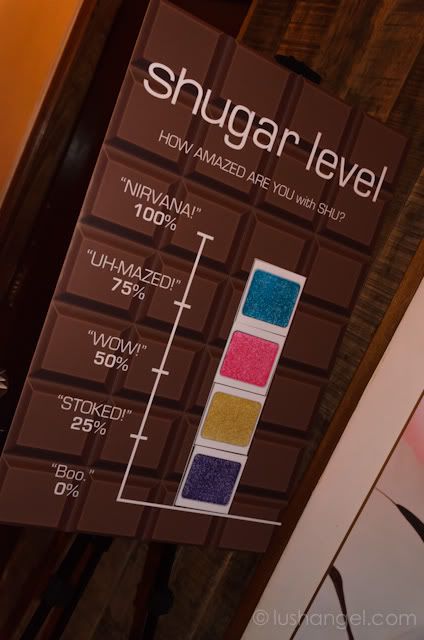 The event hasn't even started and here we are posing at the photo wall already! LOL! 😀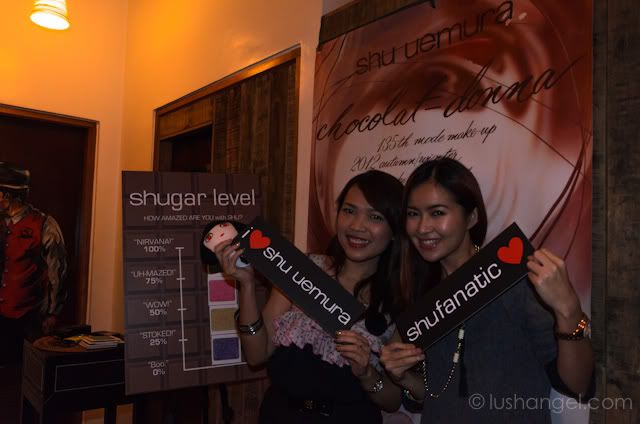 I won't be here if not for Nikki. I'm her special guest! Yay! Thank you dear!!! I'm so touched *teary-eyed*! LOL! 😀 But seriously, thank you from the bottom of my heart. 😀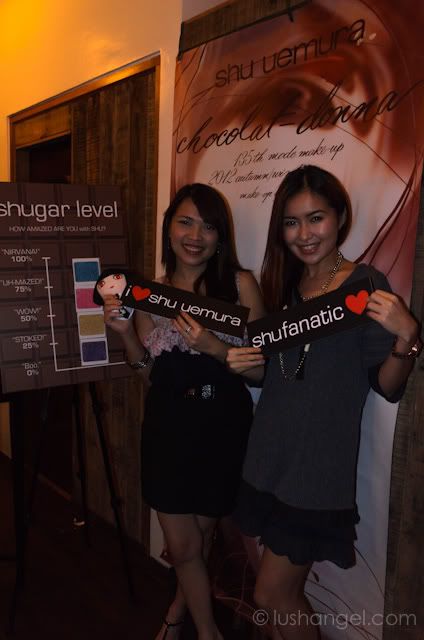 Now, let's get down to business!
Here's one fact about me that I think most of you do not know yet- I can finish a family size chocolate in one day (no sharing). I can skip meals as long as I munch on my chocolates. I usually have chocolates inside my bag. In short, I'm a chocolate lover! So when I heard about Shu Uemura's chocolate-inspired collection, I was ecstatic! Of course, I know I can't eat them, but just the thought of chocolate-inspired makeup excites me. Yes, I'm indeed a chocolate lover! LOL! 😀
Shu Uemura presents to us their 2012 Fall/Winter Collection, Chocolat-Donna, the 135th mode make-up by Shu Uemura's Creative Director Kakuyasu Uchiide. So, why chocolates? They can represent special milestones in our lives, symbolize bittersweet memories and precious moments, and evoke passion, love, and delight.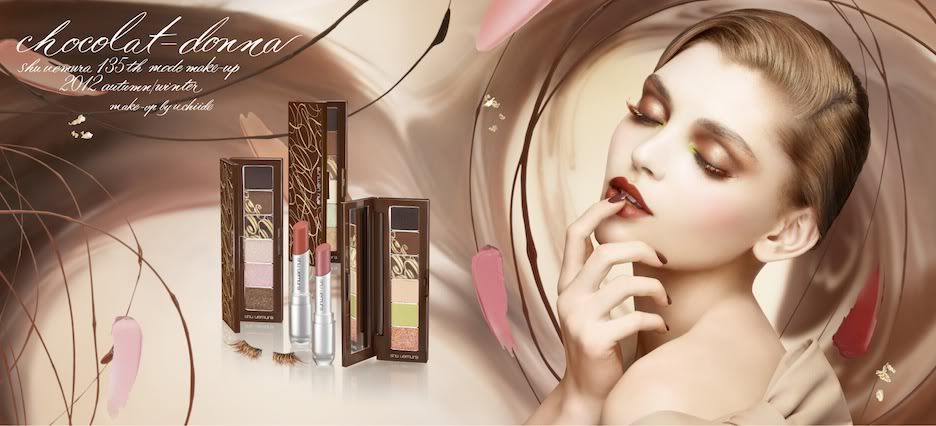 Chocolat-Donna collection includes Glow On Blush in Apricot and Framboisier, False Eyelashes in Choco-lash, and Nail Color in Dark Chocolate and Icing Glitter. All these are limited edition!
Rouge Unlimited Supreme Matte Lipsticks ranging from Milky Beige to Hot Cherry Pink are also part of the 2012 Fall/Winter collection.
The collection won't be complete without these 3 limited edition Eye Shadow Palettes- Orange & Pistachio, Mint & Vanilla, and Raspberry & Mocha. All are delectable, including their refillable cases! Yum!
And of course, who doesn't know Mr. Shu Uemura's cleansing oil? Now, Shu Uemura brings us Ultime8 Sublime Beauty Cleansing Oil!
The Shu Uemura research center has further upgraded its advanced formula, with empowered Ultime8 Complex, a fine combination of 8 exquisite botanical origin oils. Ultime8 is designed to target 8 different skincare concerns and not only thoroughly cleanse, but also make skin clear, smooth, and nourished for supreme skin complexion.

Immediately after usage skin looks moisturized, more transparent and radiant; after 4 weeks of usage skin looks suppler, more refined, and revitalized.
Nina Solano, Brand Manager of Shu Uemura, also introduced to us the newest member of the family- Mon Shu Girl, the latest creation of Karl Lagerfeld! Remember her video I posted HERE? She was with us LIVE! LOL! 😀 She's such a cutie!
And here's the jolly Karen from Shu Uemura inviting us to take photos at their photo wall!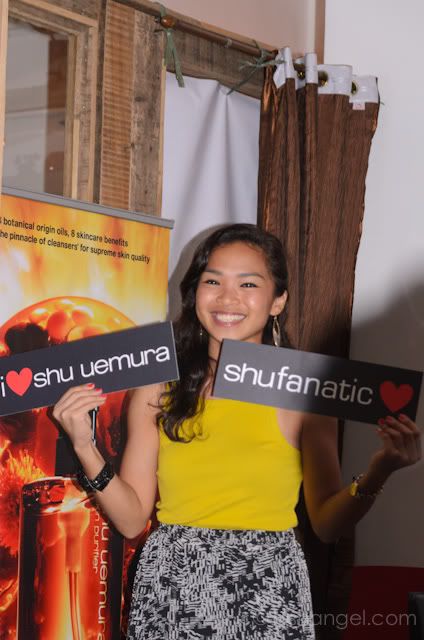 To complete the sweet experience, we had some chocolate fondue! 😀
I can't leave without a photo with the adorable, Mon Shu Girl! I'm sure everyone's as excited as I am with this greatest collaboration of all time. I know, I've mentioned about it here in my blog several times. Sorry, I just can't wait!!! It's something to really look forward to this holiday! But to keep us calm, let's indulge first with some choco-donna! 😀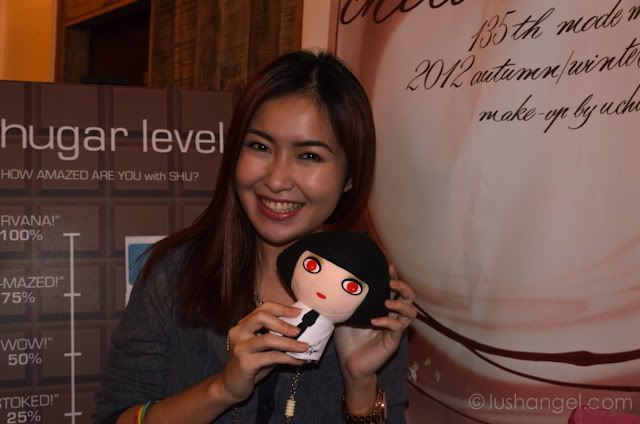 Big thank you Shu Uemura Philippines, Nina Solano, Karen and Nikki for letting me savor the sweetest experience from Shu Uemura! I really had a wonderful time! 😀 😀 😀