It has been more than a year now since I've been to Tokyo and yes, I know, I've posted only a few photos. I haven't even started with my Euro trip. Sorry!!! 🙁 I'm about to organize my  pictures so hopefully I can go on with my travel posts again soon. Going back, I can clearly remember how excited my mom was weeks before we left for Japan. She kept on telling me that Japanese food here in Manila is different from theirs. I can't seem to understand her that time. I love Japanese food and there are quite a few good Japanese restaurants already here in Manila. How can a simple Tempura or Tonkatsu be any different?! I then understood her when I had my first meal in Tokyo. Yes, it was different. I can't completely explain how or why, but it was extra yummy! The meat seemed to melt in my mouth. Sounds weird, but that's how I would describe it! 😀
When I first heard about Yabu, I didn't give much attention to it. I thought it was just some fad. To be honest, I'm not even into Katsu. I find it too dry. I usually go for Tepan or Teriyaki when I'm in a Japanese restaurant. The only Katsu I liked and got addicted to is the one I tasted in Japan. Since then, I felt nothing can ever come close to the real thing. One day, a friend asked me to accompany her for dinner. We ended up at Yabu since she wanted to try it for the longest time. Being a good friend, I said yes! Haha! Well, there's always a first. 😀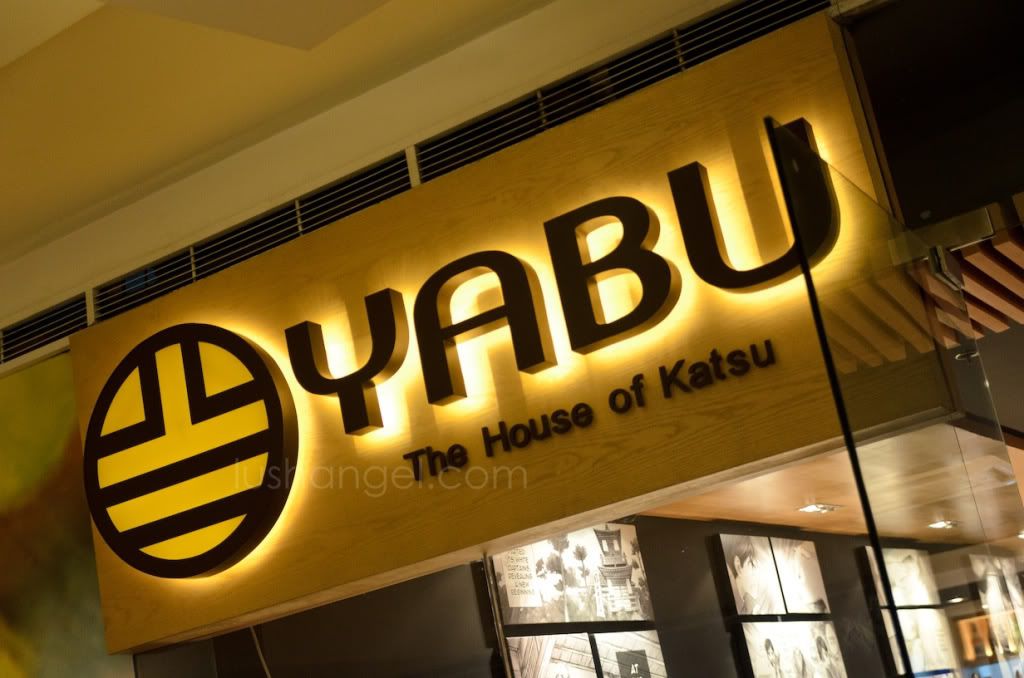 It has minimalist interior, with wooden walls and tables. And see those Sake bottles displayed near their kitchen? Ahhh, I felt like I was transported back to Tokyo! 🙂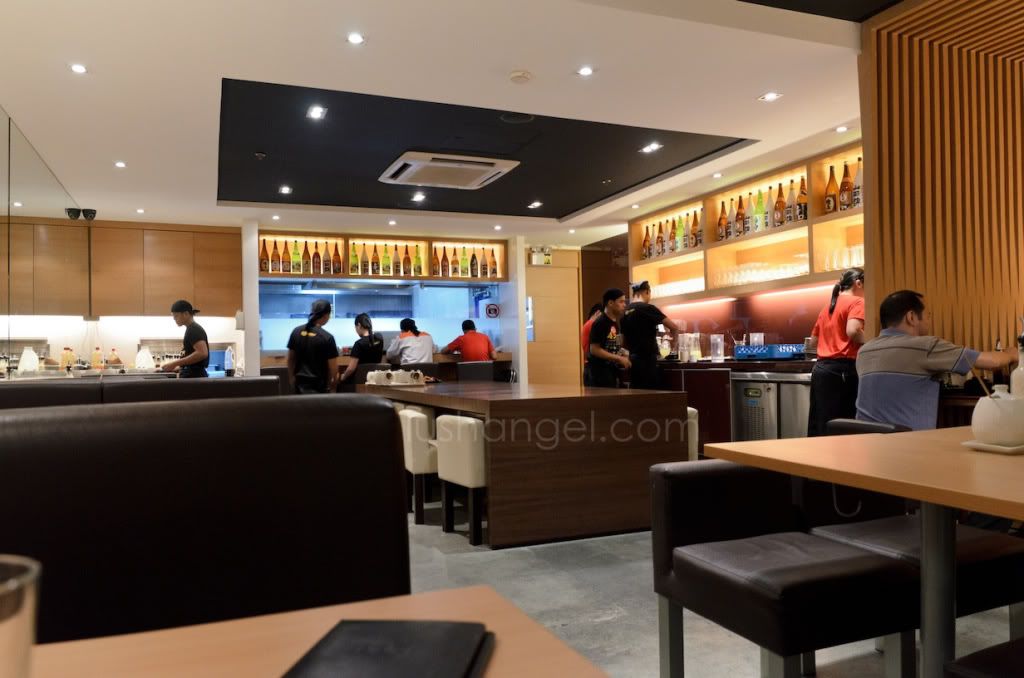 There's a comic strip wall on one side, giving a modern vibe to the dining area.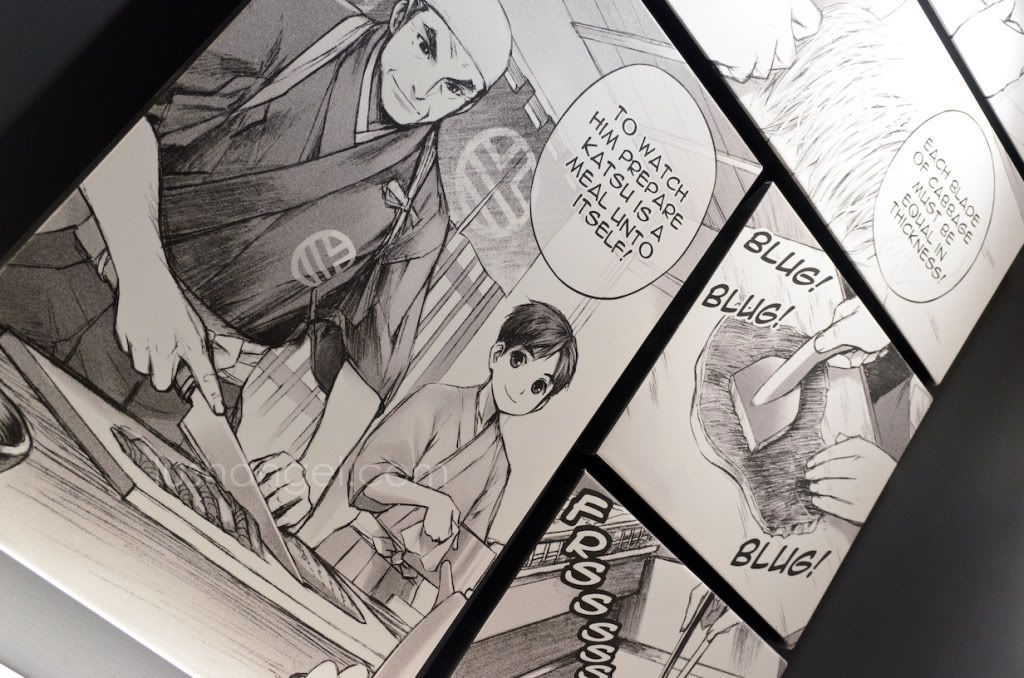 Am I the only one who gets bored while waiting for an order in a restaurant? Haha! I guess, it's my anticipation that keeps me uneasy. Well, there's no idle time here! The moment I gave my order, I was given this bowl with sesame seeds for my Tonkatsu sauce!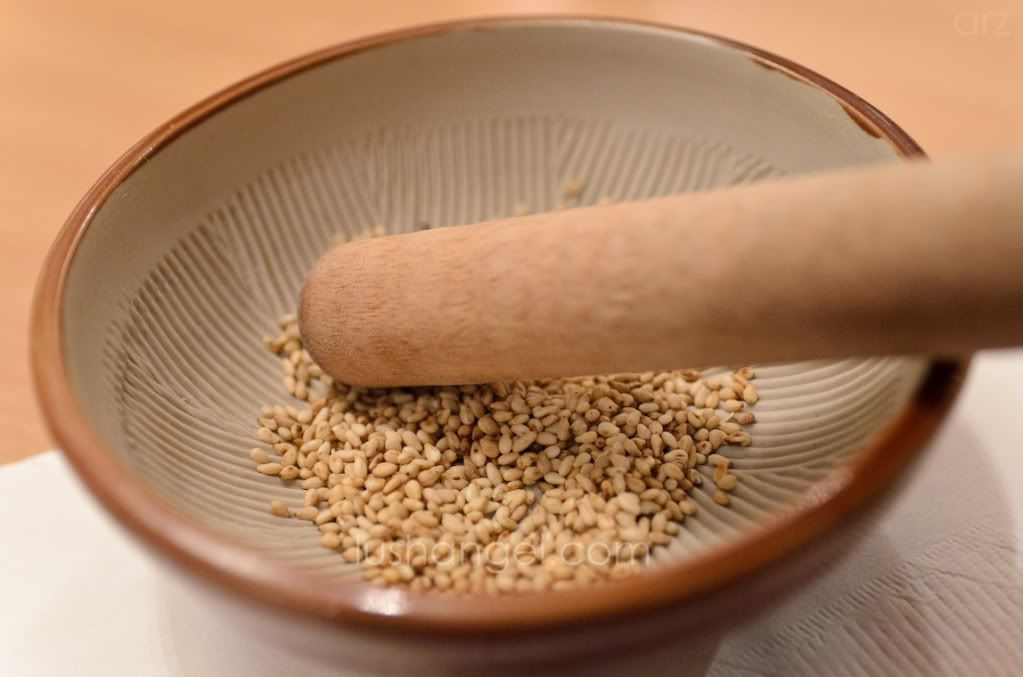 With the help of the griddled bowl, I mashed and pounded the sesame seeds.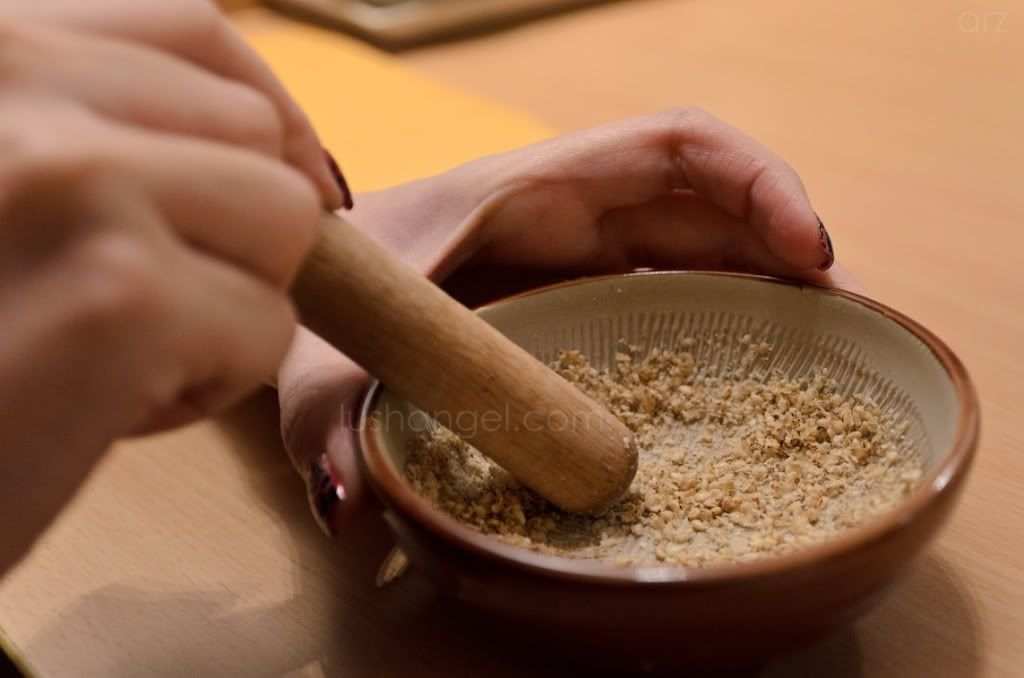 Oooh, nothing beats freshly pounded sesame seeds! 😀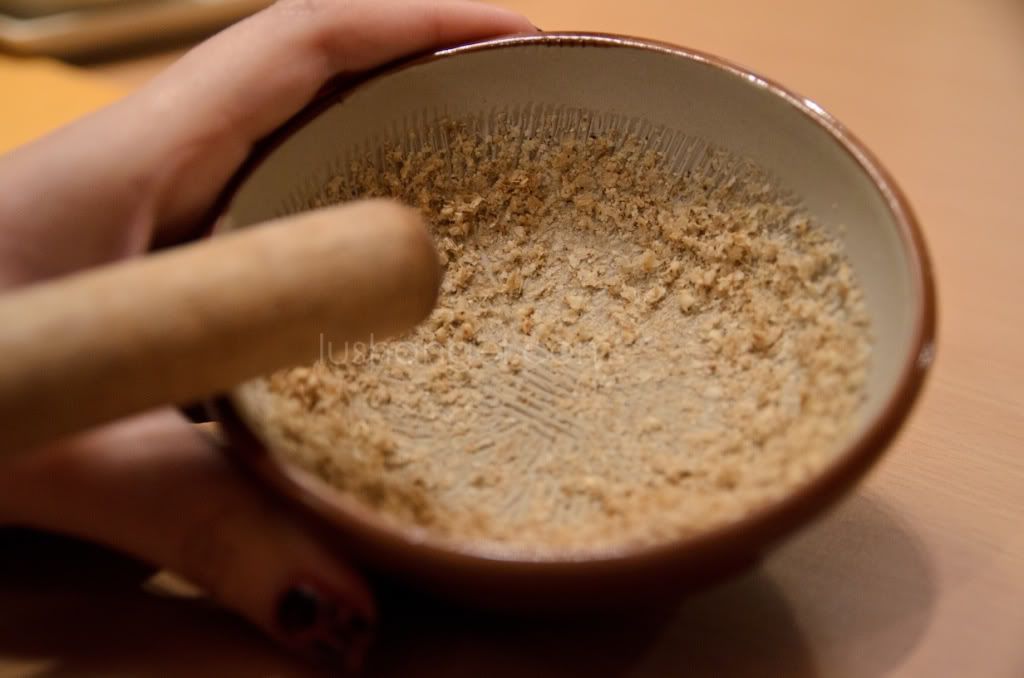 Then, I poured and mixed their thick Tonkatsu sauce!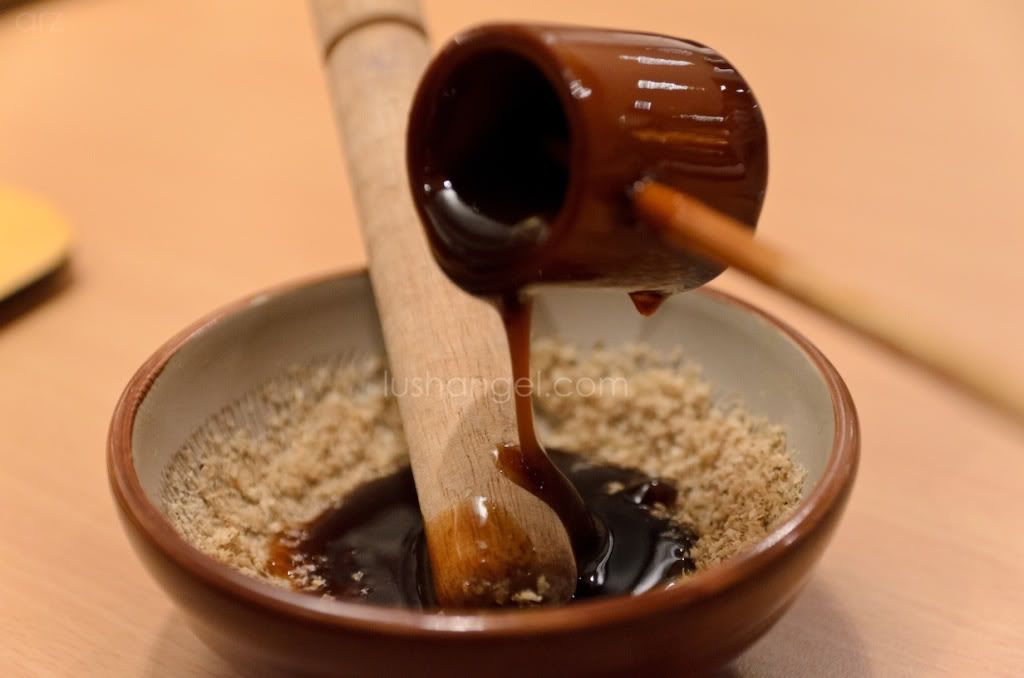 Right after I finished my freshly made sauce, my order of Tonkatsu set arrived.
Tonkatsu Set which is served with Japanese rice, miso soup, Japanese pickles, unlimited cabbage with sesame dressing and a bowl of fruit. They have Rosu (Pork Loin) sets and Hire (Pork Tenderloin) Sets. What's the difference between the two?
Rosu is 3/4 inch thick and juicy. "Rosu" is Japanese for Pork loin, wherein the slice of pork has a trimming of fat with it.
Rosu 180g PHP 365
Rosu 120g PHP 320
Rosu 90g PHP 280
Hire is  3/4 inch thick and flaky. "Hire" is Japanese for pork tenderloin, where the pork has no fat attached to it.
Hire 150g PHP 365
Hire 100g PHP 295
Since it was cheat day for me and a little bit of fat is always delicious, I got the Rosu 90g set. Hehe! And when it comes to Japanese rice, I can't afford to skip it! Forget about diet when you're here, seriously! 😀 I could even eat Japanese rice alone! I can still remember when my family and I got stranded for a day at Disney Sea during the tsunami. They served us with hot Japanese rice for dinner and that was it! We didn't even complain since the rice alone was really delicious! 😀 As for the unlimited cabbage, the sesame dressing is really my favorite! A must-try! The entire meal is very filling. In fact, I wasn't even able to finish my 90g!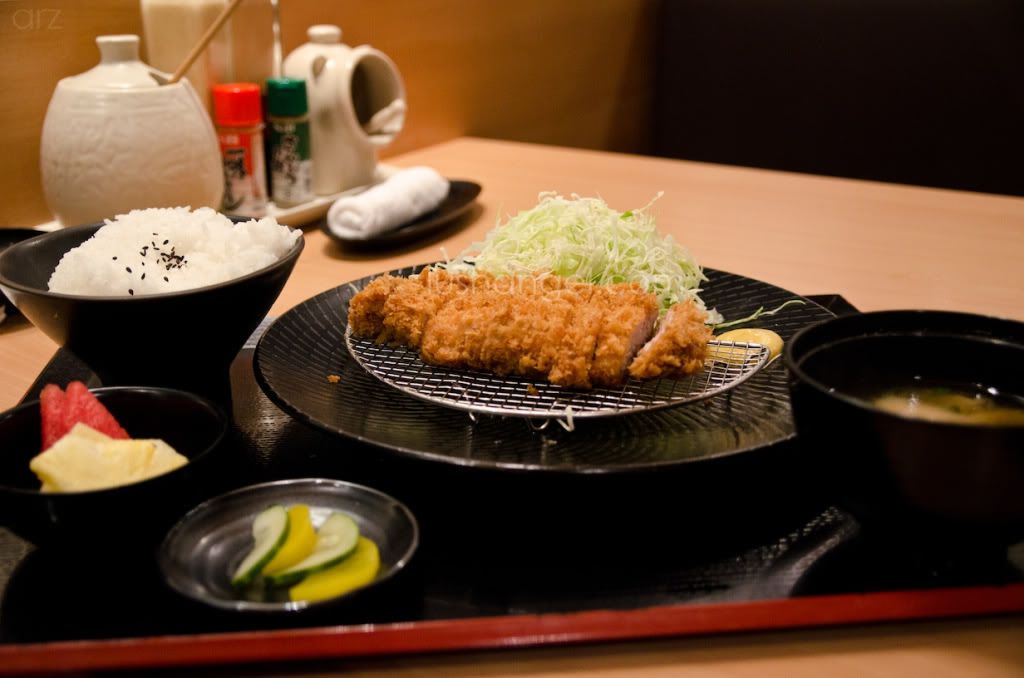 And of course, how about the star of my meal, Rosu Tonkatsu? As soon as I had my first bite, I wanted to melt together with my food! Haha! This is definitely IT! Just a simple Tonkatsu brought me back to my Tokyo memories! The crumbs on the outside was so crispy and the pork inside was so soft- as if it could melt in my mouth!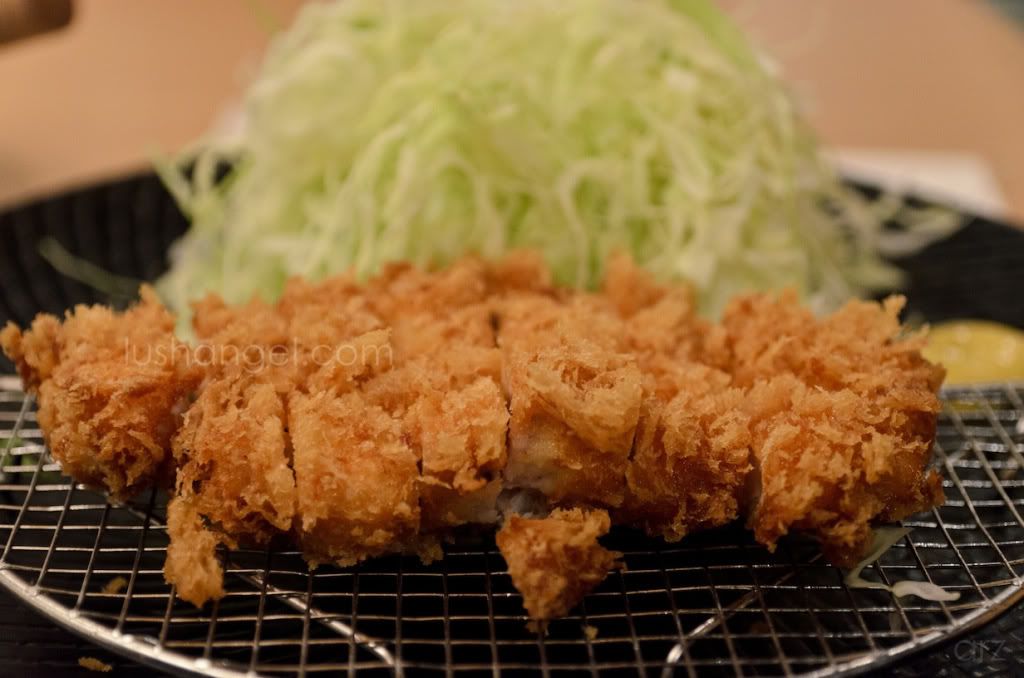 They also have Premium Tonkatsu Set, which is also served with Japanese rice, miso soup, Japanese pickles, unlimited cabbage with sesame dressing and a bowl of fruit. The server mentioned Kurobuta Pork Set 120g (PHP 515) is one of their best-sellers. It's a 3/4 inch, juicy, flaky pork. Kurobuta, also known as the Black Berkshire pig, is the world's finest pork. It is called the "kobe beef" of pork, due to its rich marbling, softness, and flavor. Aaaah.. I think I'd have to try this on my next visit! I can't imagine a Tonkatsu even yummier than Rosu!!!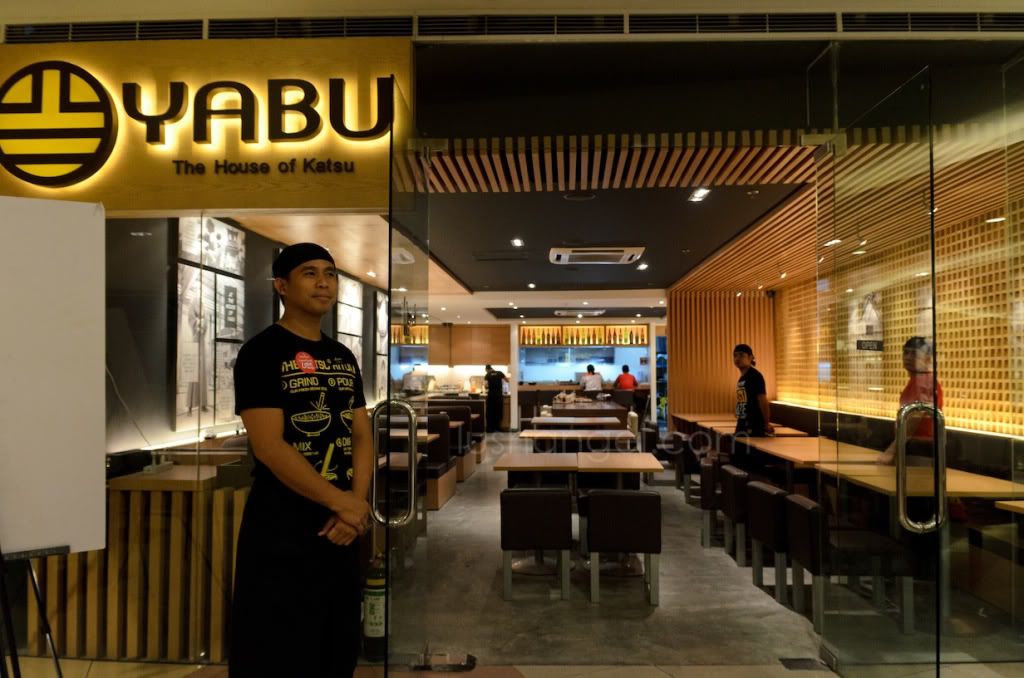 'Til my next visit, Yabu! 😀
* This restaurant visit was early this year, so prices may have changed without prior notice.