For the past weeks, I've been asked several times about my hair color. Finally, I colored my ugly roots! I've been dying to touch my hair when my roots started growing. Due to some pending projects, I just have to let it be. For the past 6 months, I've been sporting a red hair, which is not really my choice. Don't get me wrong. I looove red hair! Back in high school and college, it was always my choice of hair color. I find it hard to maintain though since it fades so quickly! 🙁 So when my hair was colored red for a shoot early this year, I got really excited. It has been a while! 😀 Now, it's time to refresh my color!
I visited Entice The Salon by WW, a relatively new salon in Ortigas (near Pearl Drive), two weeks ago. Big thanks to Marj for introducing me to this salon. When I saw it from the outside, I already knew I would have a great time.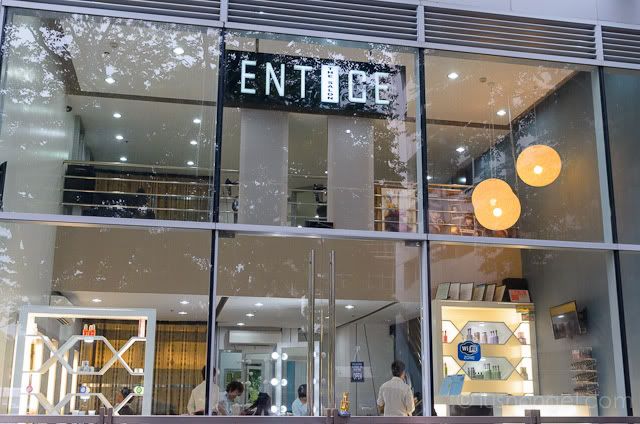 It has modern interiors that immediately reminded me of salons abroad. It's squeaky clean and very neat-looking, a place where I definitely want to get pampered.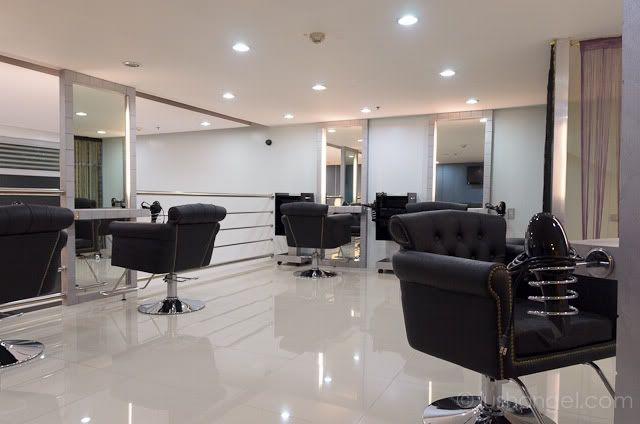 I was surprised how big the salon is. There are more chairs at the second floor, plus a private room for their waxing services.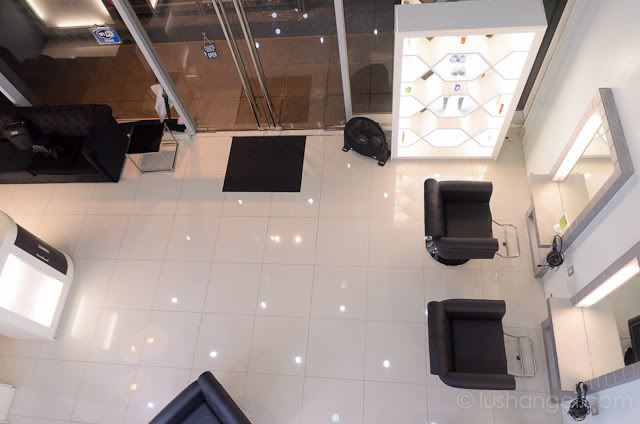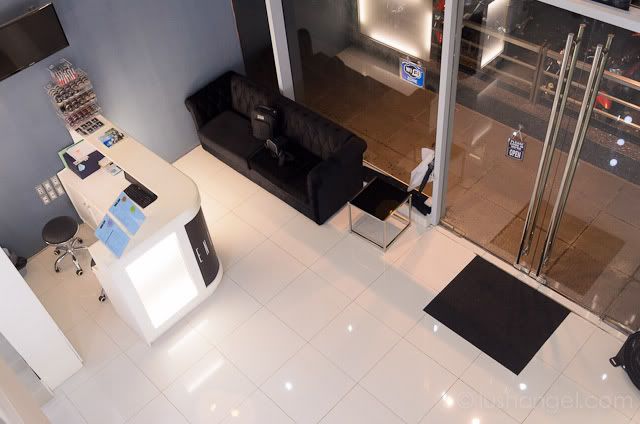 Wondering why it's Entice The Salon by WW? "WW" for William Wong is the man, their international creative director. I just let him do his magic. He first gave me a cut, which I badly needed!
I love how he really took time cutting every inch of my hair despite having so much clients that day. Aside from layering, he also did some texturizing to lessen the volume of my hair. It's just exactly what my thick hair needs! 😀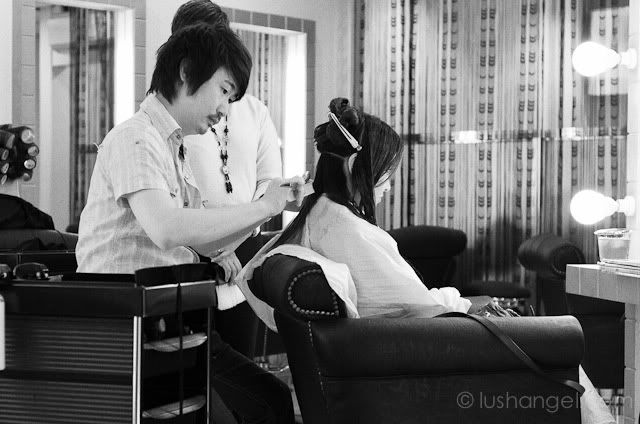 Then, color came next! For those asking for my specific color, it's Loreal 7.43, a reddish copper shade. William wanted a redder shade, which I actually love too. I'm just afraid it would fade faster. If you wish to be a red head, he'll do exactly what you want. He's good in mixing colors!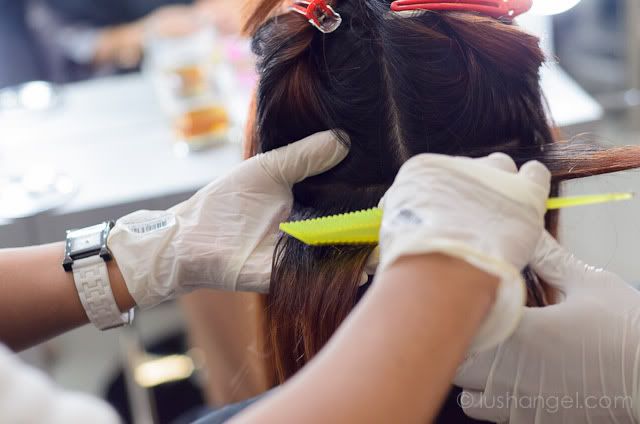 Here comes their unique looking steamer while the dye stays on my roots…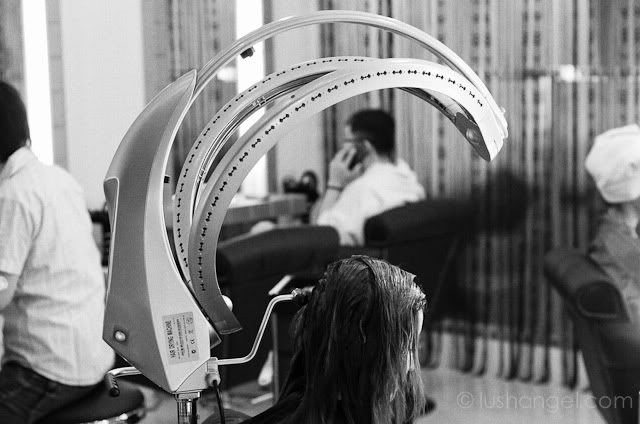 A few minutes after, my entire hair was colored and steamed using this machine…
Not all salons have this technology. They use distilled water for better results. This steamer opens up the hair cuticle even more for the color to sip in and last longer. They used the same machine for my hair treatment. Of course, treatment is extremely important after every color. You need to bring back the moisture lost from the chemicals used.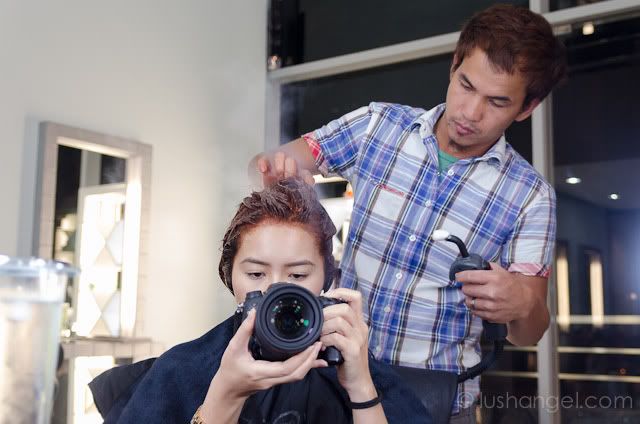 Oh and can I just say, I got the best back massage ever here at Entice The Salon! I never liked getting a massage in hair salons. I find them so-so. I'd rather get a massage in a real spa. While having my hair treatment, I was given a back and hand massage. I thought it was just the usual massage while waiting for the treatment to be rinsed off. Dear, I almost fell asleep! I learned that a lot of clients go there for the massage too. They only have one masseuse so request for him please! It's ultimately relaxing!!!
After about 4 hours, here's Mr. William Wong doing the finishing touches! 🙂
Thank you William and Entice the Salon! I'm loving my hair so much!!!! 😀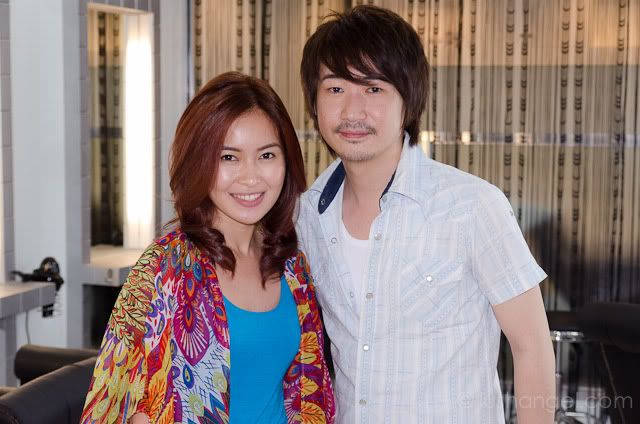 For those who want a make over and who are looking for a really good colorist, drop by Entice the Salon. Hair Color starts at PHP 1,500. Cut by Mr. William Wong is at PHP 1,500 (female) and PHP 1,200 (male). They also offer other services like makeup, rebonding, perm, treatments, hair extensions, threading, waxing, nail services, and massage.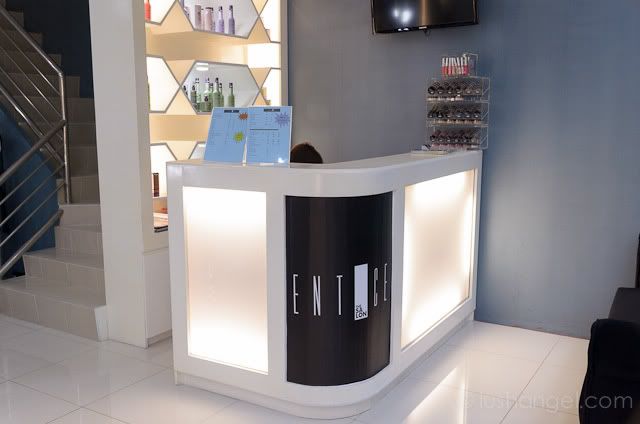 To check on the promos of Entice The Salon by WW, add them up on Facebook.
Entice The Salon by WW
Hanston Square Building Gold Loop San Miguel Avenue, Ortigas Center (near Pearl Drive)
Contact number: (02) 654 12 83
Monday to Saturday 10am to 8pm; Sunday 9am to 6pm
For instant beauty, fashion, travel, foodie, or random updates from me, LIKE lushangelblog on FACEBOOK, FOLLOW  lush_angel on TWITTER and lush_angel on INSTAGRAM.