One makeup step that's usually taken for granded is the application of primer or under base. What does it do, anyway? It may look transparent on skin, but it prepares the skin for makeup application. Sounds simple, but it is essential. Depending on your primer or what your skin needs, it can correct skin tone, lock in moisture or control oiliness.
Shu Uemura has several kinds of UV Under Base Mousse, which differs in shade, coverage, and finish. During the launch of Tsuya Skin, which I shared in THIS POST, Shu Uemura introduced their newest Tsuya Skin UV Under Base. Can it really achieve that youthful radiance it promises? Let's see…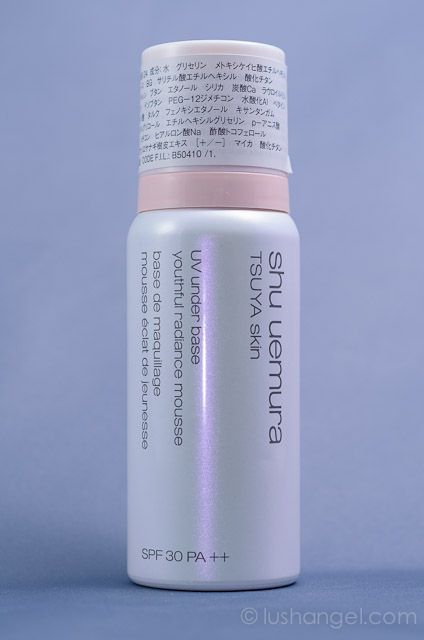 Product Information
Discover TSUYA UV under base mousse by Shu Uemura- the new mousse primer for radiant, youthful looking skin. Our new anti-aging mousse with SPF 30 helps to improve the skin's appearance and overall condition whilst providing a natural cover which helps conceal dark spots, blemishes and scars. Designed for all skin types and tones, the unique mousse formulation delivers hydration and coverage with an aero-light texture.
I love it because…
it really gives my skin that youthful radiance. My skin looks dewy and glowing since the mousse has that pearl-like finish.
it blurs out pores and fine lines.
it has SPF 30 PA ++.
it's good for all skin types. It says it's actually for dry skin, but I was surprised that it could also work for my oily skin (see tips below how).
it's moisturizing. It has mousse-to-cream formula, which provides rich hydrating sensation.
it's not too sticky once it sets.
it contains anti-aging active Rhamnose.
I didn't break out nor get allergic reaction.
it has a nice rosey scent. This can be a con to those who prefer unscented products.
it feels light on skin.
I wish…
it's easy to get a small amount of product. Since it's mousse in pump packaging, it's quite hard to control the amount product coming out. The trick is to keep hand very light. It takes a bit of practice. 😉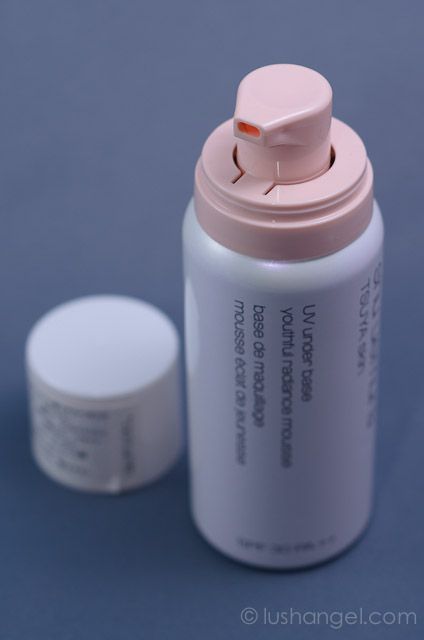 it's cheaper. It's priced at PHP 2,250, but it's expected with Shu Uemura as a luxury brand.
Tips
Despite having sunblock and being moisture intensive, apply sunblock and moisturizer still before the UV Under Base.
For oily-skinned individuals like me, don't use much Shu Uemura Tsuya UV Under Base- try a very small cherry-sized mousse ball. Concentrate on the apples of the cheeks, where you want that dewy finish, and blend from there.
For normal to dry skin, half pump is enough for the entire face.
Before applying foundation, let the Tsuya UV Under Base set. Wait for about a minute or until face is not too sticky anymore.
You can use a foundation brush, a wedge sponge, or your fingers to apply the under base.
Overall
Although I have oily skin, I love having that dewy, glowing skin. The problem? Most products that give dewy finish cannot control my oiliness. In just an hour (or even less), I can look like a frying pan. LOL! The first time I tested Shu Uemura Tsuya Skin UV Under Base at the back of my hand, I doubted it would work for my oily skin. I thought it would be too moisturizing for me. In fact, I was too scared to try it that I didn't use it right away. The first time I tested it, I made sure I wasn't going to any events that day. To my surprise, I find myself not blotting oil on my face that often. I then tried using it in events and even in whole day affairs. Of course, I still get oily, but it's not what I expected. What's best is I get that dewy, glowing skin! 😀 Seriously, I'm in love! The pearl-like finish brings instant magic on my face.
Here's one more story I have to share. I had to do a shoot without makeup on recently. Take note, no make up at all- not even an eyebrow mascara or a lip gloss. To keep my face looking fresh, I just applied Tsuya Skin UV Underbase. It served as my moisturizer and sunblock that day. Since it's very sheer, it's like real skin. Well, it really is as my blemishes are still there. The difference? My skin had that instant glow! Even the photographer had to look at me up close to check if I really didn't have foundation on. Since then, I realized this Shu Uemura Tsuya Skin UV Under Base should be a permanent product in my make up case.
I recommend Shu Uemura Tsuya Skin UV Under Base to those looking for a product that can give youthful radiance. Although it's especially great for those with dry skin due to its intensive moisture, normal to oily skin can also use it by applying minimal product on the face. It may look pricey at first glance, but I find it really worth it!
Swatch
good enough for my oily face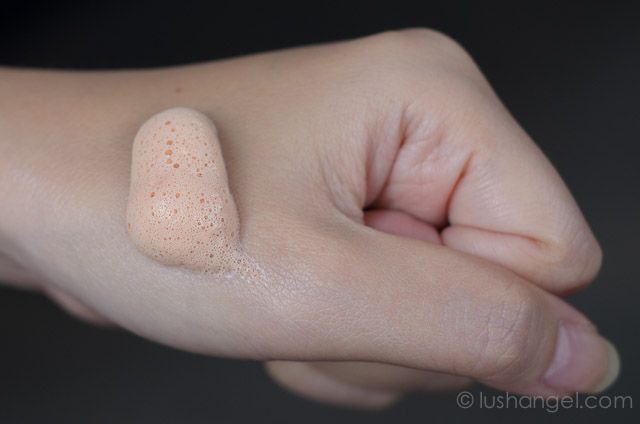 When blended, it looks very natural. Once the light hits the skin, you'll see the glowing effect.