What makes up an ideal skin? Shu Uemura researched on this and came down to 6 key parameters: smoothness, porelessness, translucence, even tone, fine texture, and good skin color. When all these factors are present, skin becomes "ideal". In Japanese translation, it's called "TSUYA skin". The question is- Can we actually have tsuya skin? Interesting… Read on!
My 1st of September started out really great as Shu Uemura launched their newest line, TSUYA skin. It was no ordinary Saturday night for me as I spent it with the beautiful ladies. 😀 The event was held at Picasso Boutique Hotel.
We first had a sumptuous dinner at one of my favorite restaurants, Brasserie Boheme. I remember doing a review about it HERE and it's great to be back!
starters
Beef Stroganoff Pasta
Right after our dinner, we were ushered at the 8th floor of Picasso. We didn't know that we were in for an even greater surprise! The loft was perfectly decorated to introduce the Shu Uemura products. Everything's perfectly arranged! Now, this is zen!!! 😀 Can I live here?! Congrats to the Shu Uemura team for the unique set up! The mere sight of the loft is relaxing!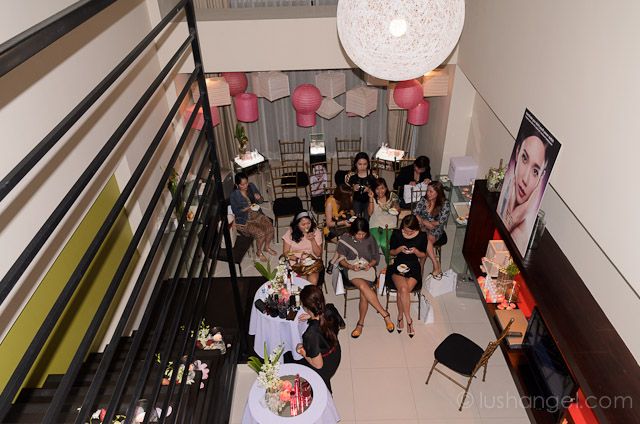 After a tour around the loft, Sharon, Shu Uemura makeup artist, gave a quick skincare and makeup demo. Of course, as Mr. Shu Uemura would say, "beautiful make-up starts with beautiful skin." Cleansing the face is of utmost important! Sharon used their newest cleansing oil, Ultime8, which I reviewed in THIS POST. It's worth checking it out. She also spritz some Depsea Water to emulsify the cleansing oil.
Then, she went on applying the new Shu Uemura TSUYA skin.
TSUYA skin is Shu Uemura's most powerful serum to date. It's ranked #1 in Japan's most popular beauty website, cosme.net. The skin's cell regeneration slows down as we age, which results to dulness and wrinkles. Although we can't stop aging, the skin is said to have that "youth power switch". With the help of TSUYA skin, we can actually reactivate cell regeneration! This means ideal skin is POSSIBLE! You can get porcelain-fine, petal-soft, translucent glowing skin in 7 days. Now, that's amazing!
I've tried it for a few days already and here are my initial thoughts: The serum is on the watery side, making it perfect for my oily skin. It's not sticky at all and it gets absorbed by my skin easily! Hooray! 😀
TSUYA skin youthful radiance generator (PHP 3,250)
Next, Sharon applied Shu Uemura's newest UV under base from the TSUYA skin line. It's a youthful radiance mousse. It gives instant glow, instant smoothing effect on pores/ lines, and instant replenishing moisture. It's not just an ordinary makeup base since it's skincare too! It contains anti-aging active Rhamnose, intensive 24H skin moisturizer, and SPF30/PA++.
To be honest, the "intensive 24H skin moisturizer" made me afraid to try it. I thought it's not for my skin type at all. But I have weakness when it comes to products that make skin glow, and so I tried it. Initial thoughts? It works for me! My in depth review of this product coming up soon! 😀
UV under base TSUYA skin (PHP 2,250)

After a few minutes, Sharon finished the TSUYA skin inspired makeup. Here's Cara Manglapus, all fresh and glowing! 😀
Shu Uemura believes that "purify" (cleansing oil), "re-activate" (TSUYA skin) and "protect & optimize" (UV under base) is the 3 essentials for ideal skin.
Here's moi trying to have TSUYA skin! Hahaha! 😀
see my outfit details in my previous post
Thank you Shu Uemura Philippines for the TSUYA night! 😀
So, how about you? Do you want to have that TSUYA skin? 😉