When it comes to cleansing oil, Shu Uemura would probably make it to the top list. It's Mr. Shu Uemura's masterpiece. I bought a bottle a month ago, but I haven't had the chance to use it. Maybe it's my fear of liking it too much, which would lead me to incorporating it in my daily regimen permanently. Everyone knows it's not that cheap. Another reason is my oily skin. I was thinking, a product made of oil would just leave my skin even oilier! Then, Shu Uemura Ultime8 Sublime Beauty Cleansing Oil came and I felt the need to try it! It's said to be the pinnacle of cleansers! After weeks of using it, did my fears materialized? Let's see…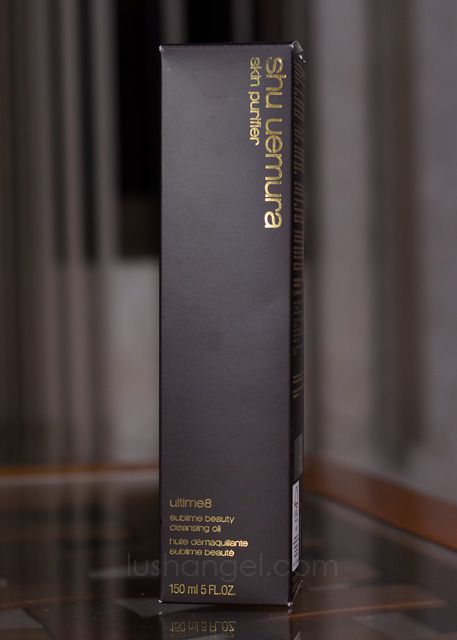 Product Information
The Shu Uemura research center has further upgraded its advanced formula, with empowered Ultime8 Complex, a fine combination of 8 exquisite botanical origin oils. Ultime8 is designed to target 8 different skincare concerns and not only thoroughly cleanse, but also make skin clear, smooth, and nourished for supreme skin complexion.
Immediately after usage skin looks moisturized, more transparent and radiant; after 4 weeks of usage skin looks suppler, more refined, and revitalized.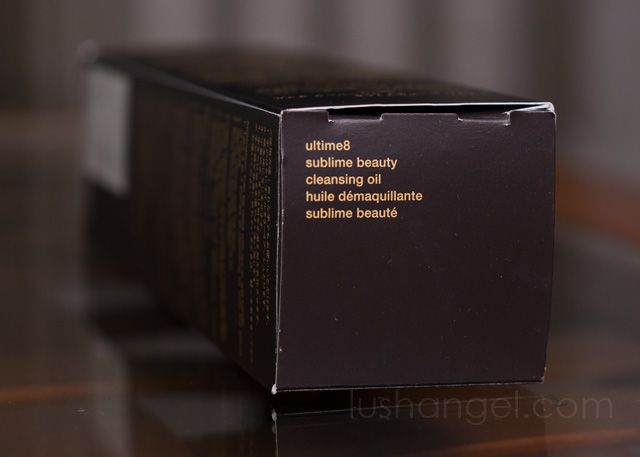 I love it because…
it comes in an elegant transparent pump bottle in amber.
it's easy to dispense the right amount of oil needed with its newly designed pump. It has drip-free nozzle and suck-back pumps to prevent the product from leaking.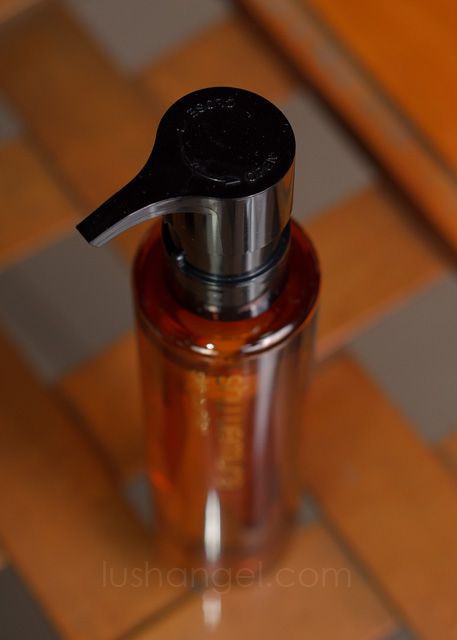 it has a very soothing and light floral scent.
it removes dirt and makeup easily- even those waterproof and hard-to-remove mascaras and eyeliners.
it's easy to rinse.
it leaves skin bright and super soft. I see the difference right after rinsing with water!
it leaves my skin moisturized, but not greasy.
it can be a makeup remover and cleanser in one.
I didn't break out.
1.5 pump is enough for my entire face. I use max of 2 pumps when I have heavy makeup on.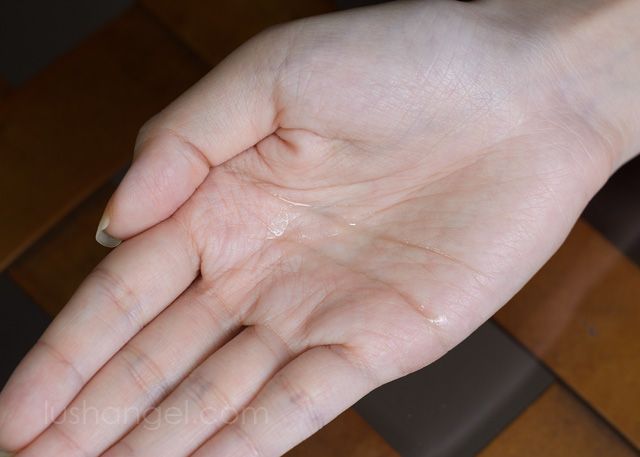 it has 8 botanical origin oils- Jojoba (skin renewal), Olive (anti-oxidation), Ginger Root (anti-wrinkle), Camellia (nourishing), Safflower (skin barrier), Soy (vitalizing), Corn (hydration), and Shea Butter (brightening).
it can be used with wet hands. Other cleansing oils emulsify in an instant with water. Shu Uemura Ultime8 Cleansing Oil can hold more water before it turns into a milky emulsion.
it's great for all skin types- even for oily skin!
I wish…
it's more affordable. It's priced at PHP 6,200 (450ml) and PHP 2,500 (150ml). You get your money's worth though with its performance.
it doesn't sting my eyes, although this is not a biggie. Just be careful when removing eye makeup. Keep eyes closed as you massage lids and remove mascara.
Tips
Use with either dry or wet hands.
Dispense the right amount of oil and smooth over the face and eyes.
Take your time massaging until you feel the makeup melting. If you're wearing mascara, you'll feel it sliding off. Close your eyes through out this process to avoid product getting into your eyes.
Wet face to emulsify the cleansing oil, then rinse thoroughly with water.
If some product gets in your eye, simply run through with water.
Although it can be a cleanser as is, you can also use your favorite facial wash right after. I still prefer finishing it off with a facial cleanser to ensure no makeup or oil resude is left.
Overall
I'm impressed! Shu Uemura Ultime8 Sublime Beauty Cleansing Oil is really worth raving about! I'm very particular with my face being so clean before going to bed. You know how O.C. (obsessive compulsive) I could get? I use a makeup remover twice or until I don't see any trace of makeup on my cotton pad. I wash two to three times or until I feel my face is ultimately clean. The amazing thing about Shu Uemura Ultime8 Sublime Beauty Cleansing Oil is that I do the process once and that's it! I don't even feel the need to use a facial cleanser right after, even with my oily skin. Well, I'm O.C., so I still do. LOL! But seriously, right after rinsing, my skin instantly feels so soft and smooth. When I look at the mirror, it's as if I'm glowing! To answer the question above, my fear of liking the product happened. I guess it's more of "love" as I'll have to include it in my daily regimen permanently!
If you're willing to spend, I would certainly recommend Shu Uemura Ultime8 Sublime Beauty Cleansing Oil! It won't be called "ultimate" for nothing. While it would seem expensive, a huge bottle would last you for several months! I'd say it's really worth the investment.
Tests
 a swipe of Shu Uemura Ultime8 Cleansing Oil on eyeshadow swatches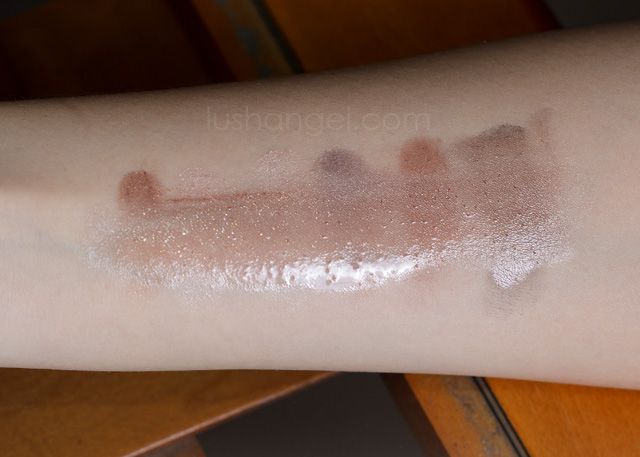 with a bit of massage…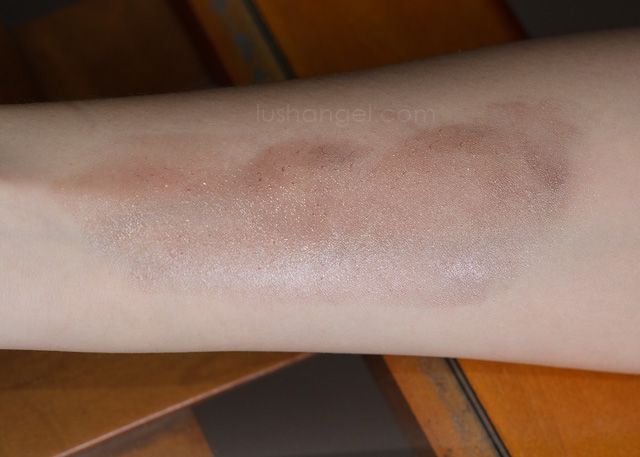 using Shu Uemura Ultime8 Sublime Beauty Cleansing Oil on a swatch of long-wear lipstick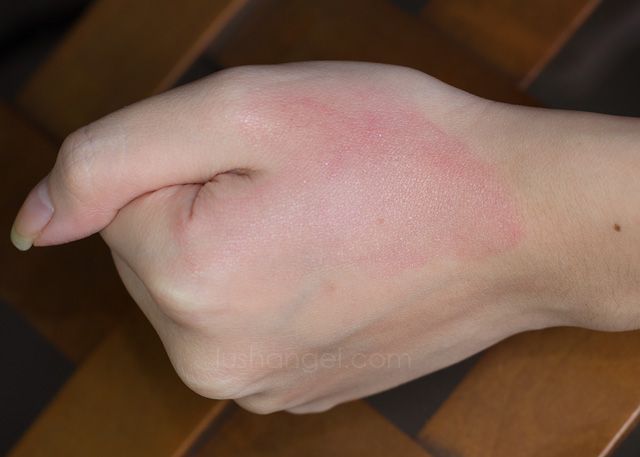 For instant beauty, fashion, travel, foodie, or random updates from me, LIKE lushangelblog on FACEBOOK, FOLLOW lush_angel on TWITTER and lush_angel on INSTAGRAM.