TSUYA skin created a big buzz in the beauty industry since it was launched here in the Philippines last September 2012. The promise of "ideal skin" made all beauty enthusiasts rush to their nearest Shu Uemura counter. I actually discussed about TSUYA skin in detail in this post: Shu Uemura Makes Ideal Skin Possible: TSUYA Skin. Finally, after months of using this power serum day and night, here's my full review.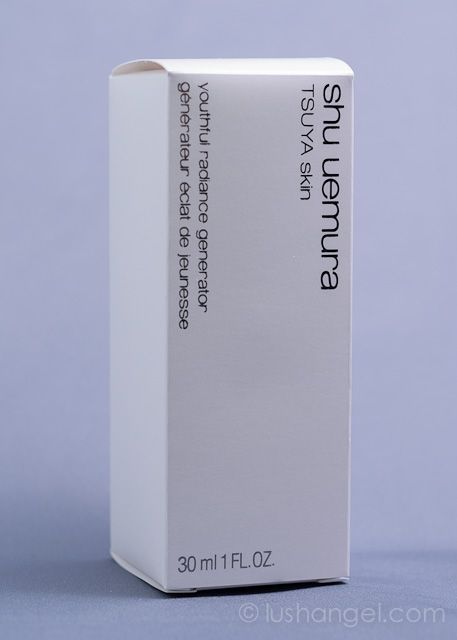 Product Information
the cells in an ideal skin have the power to naturally protect and restore its structural components day after day. with age, the skin's function for self-regeneration is subject to "power cut" causing skin structure depletion and cellular disorganization.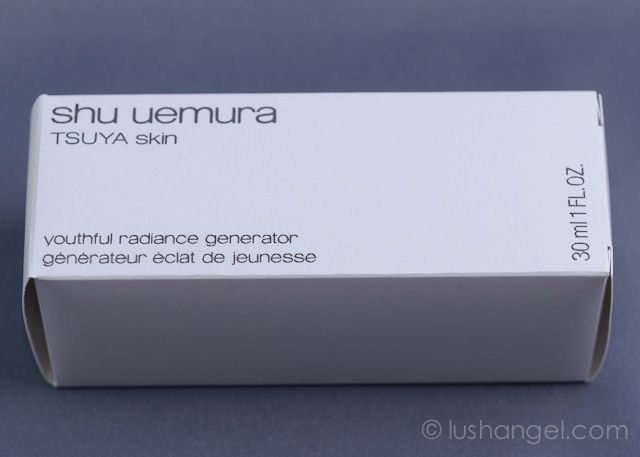 a miracle molecule to reactivate* the skin's "youth power switch"
inspired from "secret" of Enju flower's longevity & persistence, shu uemura research center selected Rhamnose, a high tech molecule able to reactivate the skin's youth power switch and awaken self-regeneration in all fundamental levels of the skin.
switch on skin's youth power for beautiful skin in just 7 days
flawlessly even and smooth skin texture. soft as a petal, plumped, toned, ideally translucent glowing skin. the ideal skin preparation for a beautiful make up.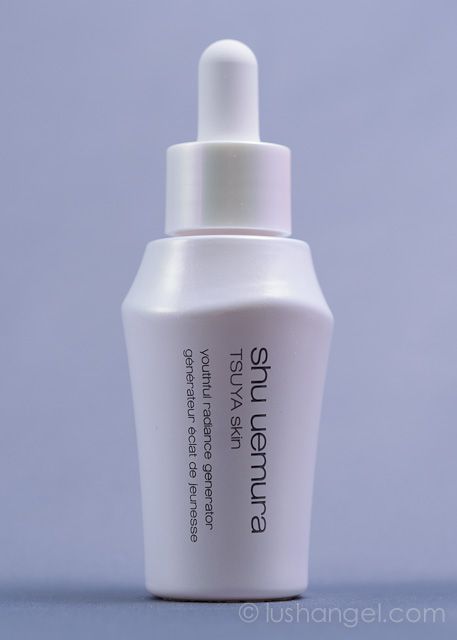 I love it because…
it comes with dropper. Like pump containers, it's more hygeinic than dipping fingers in a jar.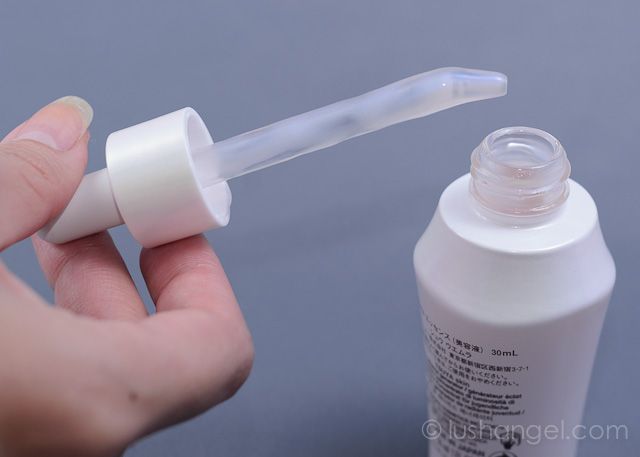 it has nice rosey scent. This can be a con to those who prefer unscented products.
it has that pearly finish, giving an instant glow on my face once applied.
it doesn't feel sticky.
it's for all skin types.
I don't oil up quickly. I can use it day and night.
it's fast absorbed by my skin.
it's lightweight. It's as if I don't have anything on.
I don't need much for my entire face.
its price is reasonable for PHP 3,250 30ml bottle. Other luxury brands have more expensive serums.
I wish…
I didn't breakout. It's normal though whenever skin is still adjusting from a new product. When it comes to skincare, I suggest giving it a week of continuous use before doing your verdict. Skin adjusts to newly introduced products so a few breakouts here and there is acceptable. If there are still new breakouts after a week, then it's probably safe to say that a product is not working for you. 😉
Application Tips
Apply serum after cleansing and toning the face.
Use the dropper to transfer serum from the bottle to your fingertips.
Start with a small drop and apply on face and neck. Add more as needed.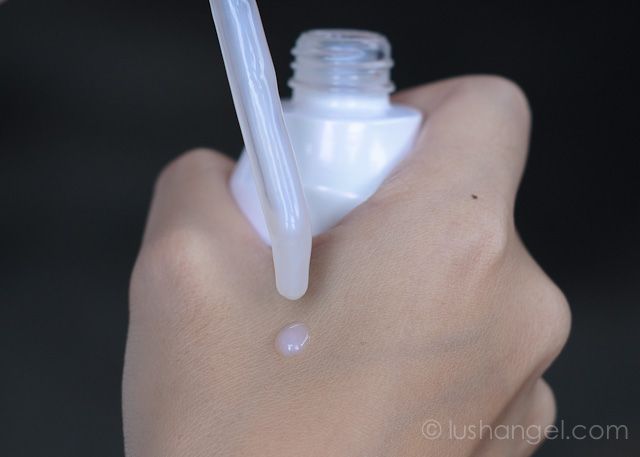 You can opt to add moisturizer on top as serum greatly helps in the absorption of your moisturizer.
If rashes or allergic reactions appear, discontinue use.
Overall
I've always been hesitant to use moisturizers and serums because of my oily skin. As much as possible, I apply them only at night as I get too greasy. Amazingly, TSUYA skin works for me both day and night. The liquid-y texture is fast absorbed by my skin, which doesn't feel sticky at all. For some reason, it can also control my oilies! Of course, I still get oily but not as fast without the Tsuya. As for its claims of smoothness, porelessness, translucence, even tone, fine texture, and good skin color, I can't really vouch on it as I don't see huge noticeable difference. I see though that my skin looks more glowing when I have Tsuya on.
I recommend Tsuya to those with dry, oily, and combination skin. It's also for those who want that added glow on skin. You can apply as is or with moisturizer on top. Serum helps in absorbing the moisturizer to enjoy its full benefits rather than letting the moisturizer settle on the skin's surface only.
Swatch
notice the pearly serum
when applied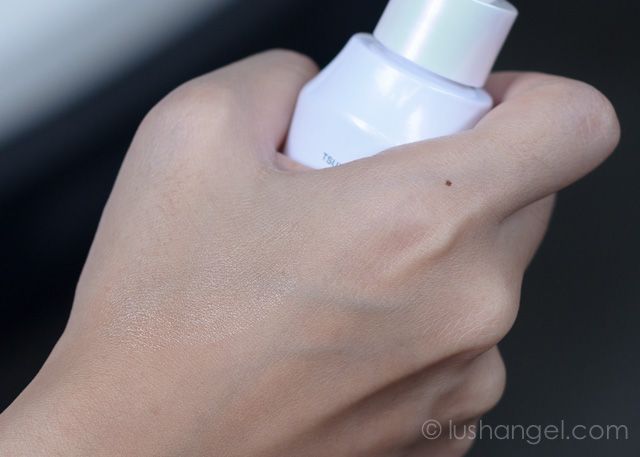 after it dries up, notice the glowing portion where Tsuya skin was applied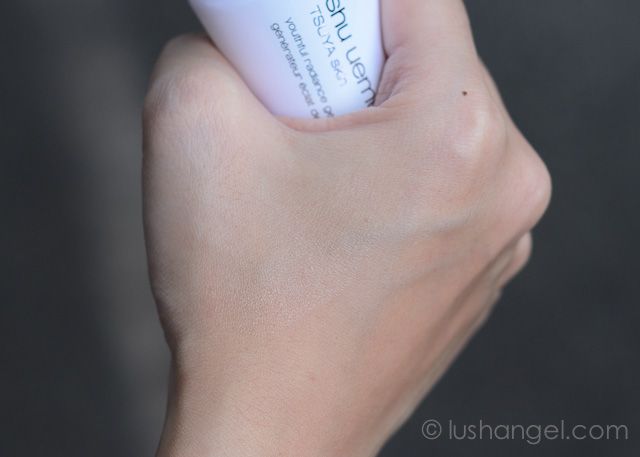 For instant beauty, fashion, travel, foodie, or random updates from me, LIKE lushangelblog on FACEBOOK, FOLLOW  lush_angel on TWITTER and lush_angel on INSTAGRAM.