Have you been to any Laura Mercier counter lately? Oh dear, it's feels like Christmas! They have A LOT of new products and holiday sets- ranging from makeup, tools, body and bath, and even home! I was introduced to all of them during a bloggers event. Let me round them up for you, which I'm sure will excite you by the end of this post. LOL! 😀 Are you ready???
I've actually shared the Art Deco Muse Holiday 2012 Collection in one of my previous posts. Good news, it's now available in their counters. They have the Illuminating Eye Color, Graphic Liquid Eye Liner, Lip Lacquer, Lip Glace, Nail Lacquer, Faux Lash Mascara, Caviar Eye Liner, Second Skin Cheek Colour, and Creme Smooth Lip Colour. I've actually made a review of this amazing lippie. Check it out HERE.
To know more about the Art Deco Muse Holiday Collection, let me direct you to my previous post HERE.
Now, the Holiday Colour Collection includes makeup sets, palettes, and tools. Everything's so lovely, perfect for gifts or for personal use. 😀
Laura Mercier Petite Baked Eye Colour Trio (PHP 1,250)
Petite, portable palettes of soft shimmering metallic give eyes a flawlessly festive look.
Golden Metallics (shades include Gold Leaf, Black Karat, Emerald)
Smoky Metallics (shades include Silver Ice, Gunmetal, Black Onxy)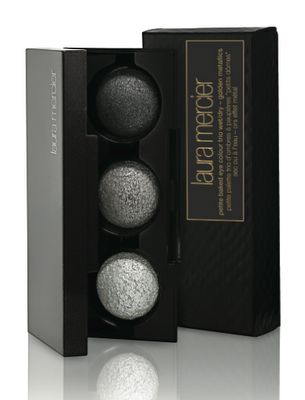 Laura Mercier Glamour Wardrobe Dual Decker Eyes, Cheeks & Lips (PHP 4,350)
The ultimate holiday accessory in one super-luxe two level palette (includes 8 eye colours, 5 lip glazes, 4 sheer creme cheek colours, and 4 brushes)
Laura Mercier Colour-To-Go Portable Palette for Eyes, Cheeks & Lips (PHP 2,250)
Portable and purse friendly, this new double decker design features a full size mirror along with all of your colour essentials.
Cool Neutrals
3 Eye Colours (Diamond Pink, Plum Smoke, Provence Purple), Tightline Cake Eye Liner (Violet Asphalt), Bronzing Pressed Powder (Golden Bronze), Second Skin Cheek Colour (Heather Pink), Lip Glace (Raspberry)  
Warm Neutrals
3 Eye Colours (Ballerina Pink, Rose Taupe, Cocoa Brown), Tightline Cake Eye Liner (Ground Espresso), Bronzing Pressed Powder (Soft Bronze), Second Skin Cheek Colour (Pink Lotus), Lip Glace (Baby Doll)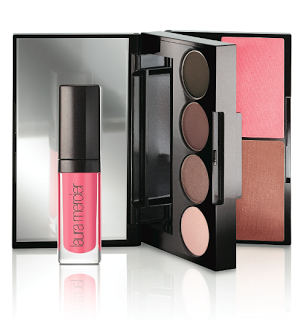 Laura Mercier Smoky Effects Mini Kohl Eye Pencil Collection (PHP 1,950)
This complete collection of eight deluxe mini Kohl Eye Pencils give you infinite ways to line, define and get Laura's signature smoky sultry eye.  Features seven of Laura's best-selling shades, plus NEW exclusive Jet Black.
Black Violet, Brown Copper, Stormy Grey, Black Gold, Black Turquoise, Black Navy, Antique Jade, Jet Black
Laura Mercier Mini Glace Collection (PHP 1,950)
Give lips extra holiday sparkle, gloss and shine, with these collections of five colour coordinated Lip Glaces. 
Rich Berries
violet, rose,  cerise, sangria and brownberry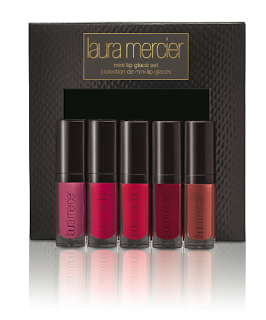 Soft Nudes
Bare pink, sweetheart, bijoux, bare baby and bare blush
Laura Mercier Artist's Palette for Eyes (PHP 2,950)
Laura's hand-selected palette features twelve Eye Colours, in shimmer and matte finishes, to give you endless eye looks and unique colour combinations for every occasion.
shades: Chocolate, African Violet, Sable, Guava, Cameo, Sunlit, Vanilla Nuts, Plum Smoke, Cafe au Lait, Coffee Ground, Deep Night, Rich Coffee
Laura Mercier Artist's Luxe Liquid Liner Fine Point Liner for Eyes (PHP 4,950)
includes  Refillable Fine Point Liquid Eye Liner Pen  (Laura Mercier brown, weighted pen), 3 Liquid Eye Liner Cartridges (packaged in satin snap pouch), and  Chic, reusable slider box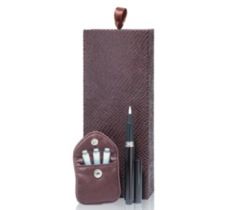 Laura Mercier The Flawless Face Book  (PHP 2,650)
Flawless Face essentials in one portable, take everywhere complexion palette. This chic, slim-line compact features new Tinted Moisturizer Crème Compact SPF 20, plus two targeted concealers (Secret Concealer for under-eye coverage/brightening, and Secret Camouflage to cover blemishes and imperfections) and Mineral Pressed Powder to finish and set the look. It comes in three shades- Nude, Sand, and Tan.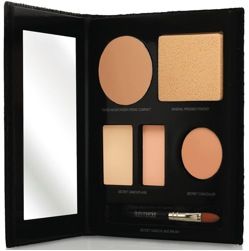 Laura Mercier Deluxe Travel Brush Collection (PHP 3,950)
includes all over eye colour/ ponytail, secret camouflage/ camouflage powder brush, brow definer/ brow grooming brush, flat eyeliner/ smudge brush, and full size cheek colour brush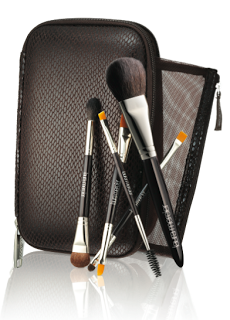 Laura Mercier Signature Brush Collection Wenge Wood Limited Edition (PHP 14,500)
Laura's Signature Brush Collection features ten of Laura's essential brushes that ensure the most flawless application for face, cheeks, eyes and lips.
Finishing Brush, Cheek Colour Brush, Camouflage Powder Brush, Secret Camouflage Brush, Pony Tail Brush, Eye Colour Brush, Crème Eye Colour Brush, Smoky Eye Liner Brush, Flat Eye Liner Brush, Lip Colour Brush, Chic, Vanity Case with Removable Easel-Back Tray
Laura Mercier is not all about makeup. They also have Bath and Body Holiday Sets, which all smell amazing and relaxing.
Laura Mercier New tarte au Citron Bath and Body Duo (PHP 2,250)
Relax and indulge in Laura's luxurious Tarte au Citron Body & Bath Duo, featuring Honey Bath and Soufflé Body Crème.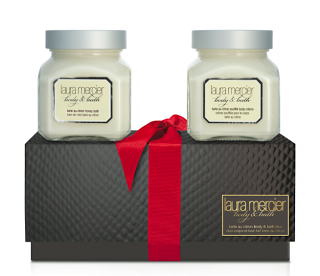 Laura Mercier La Petite Patisserie Quartet (PHP 2,250)
Now, you can enjoy Laura Mercier Body & Bath favorites wherever you go…it's the ultimate travel luxury.
Laura Mercier La Petite Patisserie Quartet in Crème de Pistache
Laura Mercier La Petite Patisserie Quartet in Almond Coconut
Laura Mercier Souffle Body Crème Sampler (PHP 2,950)
Laura Mercier's Soufflé Body Crème Sampler presents a quartet of Laura's favorite ultra-rich Soufflé Body Crèmes in new Ambre Vanillé, plus best-selling favorites Almond Coconut Milk, Crème Brûlée and Fresh Fig.  Blended with the finest gourmande notes, each delectable body crème contains active ingredients in a silky smooth super-whipped soufflé formula that instantly nourishes the skin with vitamins and protein derivatives, while Shea Butter and Macadamia Nut Oil provide conditioning benefits. Ideal for travel, each scent is packaged in a non-breakable 4 oz jar.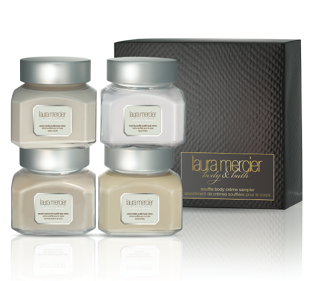 Laura Mercier Body and Bath Trio (PHP 2,650)
Relax and indulge in Laura's luxurious Body & Bath Trios, featuring Crème Body Wash, Body Scrub and Soufflé Body Crème.
Almond Coconut
Crème Brulee
Fresh Fig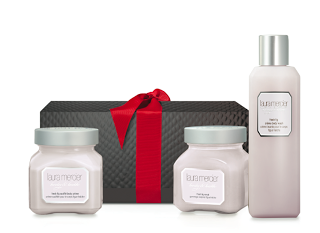 Laura Mercier La Petisserie Smapler (PHP 1,950)
Laura Mercier's La Petite Patisserie Sampler – Hand Crème Quartet features our luxuriously hydrating hand crème in Laura's four delicious gourmande fragrances. This ultra-rich crème leaves hands velvety-soft and hydrated, never greasy.  Making the perfect gift for anyone on your list, each collection features four, perfectly portable 1 oz. tubes stacked in a stocking-friendly slim-line clear tube.  Includes Laura's four iconic fragrances – Almond Coconut Milk, Crème Brulée, Crème de Pistache and Fresh Fig.
And to complete the holiday mood, Laura Mercier has Signature Candles.
In 7.5 oz. rich, chocolate brown glass tumblers, each candle features Laura's signature style with a tone on tone snakeskin inspired deco. Available in three tantalizing scents – classic Crème Brûlée, holiday bring-back favorite, Warm Roasted Chestnuts and NEW Fresh Fig.
Whew! I meant it earlier when I said Laura Mercier has A LOT new and exciting products for the holidays! Anyway, during the event, Kwa, resident makeup artist of Laura Mercier, did a makeup demo. He used Laura Mercier's Holiday 2012 Collection.
Can you spot the Flawless Face Book and Artist's Palette for Eyes? Ahhh… these two are my favorites! 😀 😀 😀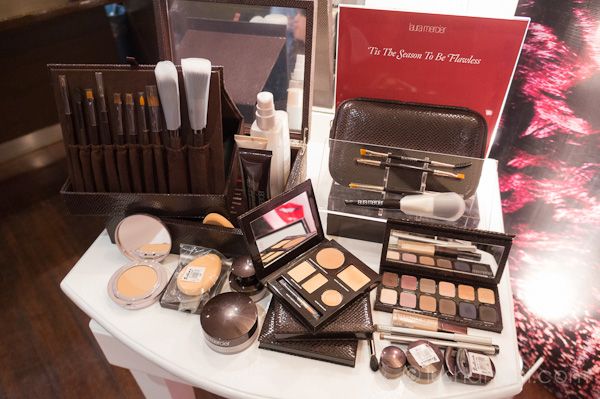 Here's the finish look of the model- flawless skin, well-defined eyes with a bit of shimmer, and bold and sexy lips. It's a simple but very elegant look.
Okay, I'll have to end this post now because I'm pretty sure you can't wait to rush to the nearest Laura Mercier counter! Enjoy shopping! 😀
Laura Mercier Holiday 2012 Collection is now available in all Laura Mercier counters located in Rustan's Malls.