Let me just start this post by giving my short background on theaters (if you wish to jump to the actual review, just skip this paragraph), so at least you'd know where my review is coming from. Four years ago, nobody could drag me to any theater plays. It just  wasn't my thing… Not until I set foot in London. West End show is a usual tourist activity there so I thought watching at least one is a must. Plus, it got me curious how most theater plays are shown everyday, all year round, and yet they're full house! Not reserving a ticket will end you up outside the theater or buying the most expensive seats! I found it unbelievable back then, so I thought I had to watch at least one. You could probably guess what happened next. The "trial" became bad for my pocket. LOL! After watching Les Miserables, the next thing I knew, I was online reserving for Wicked. Have I had more time, I would be watching more. My experience watching in London definitely made me look at plays differently- totally different that I now enjoy watching. 😀 What's with the ultimate transformation? To say it's magical, spectacular, or awesome is an understatement. Honestly, I'm not sure how to describe it, but I remember my eyes were wide-open, with my jaw dropped as I watched. Back here in the Philippines, I still had some hesitations watching theater plays. Can we actually pull off something so grand and magical on stage? I'm not doubting our actors. It's the stage, the set up, and the props that I'm worried about. Will I get my money's worth? I never had the courage to watch a theater play again here in Manila until The Phantom of the Opera came. Although I wasn't able to watch it in London, curiosity pushed me.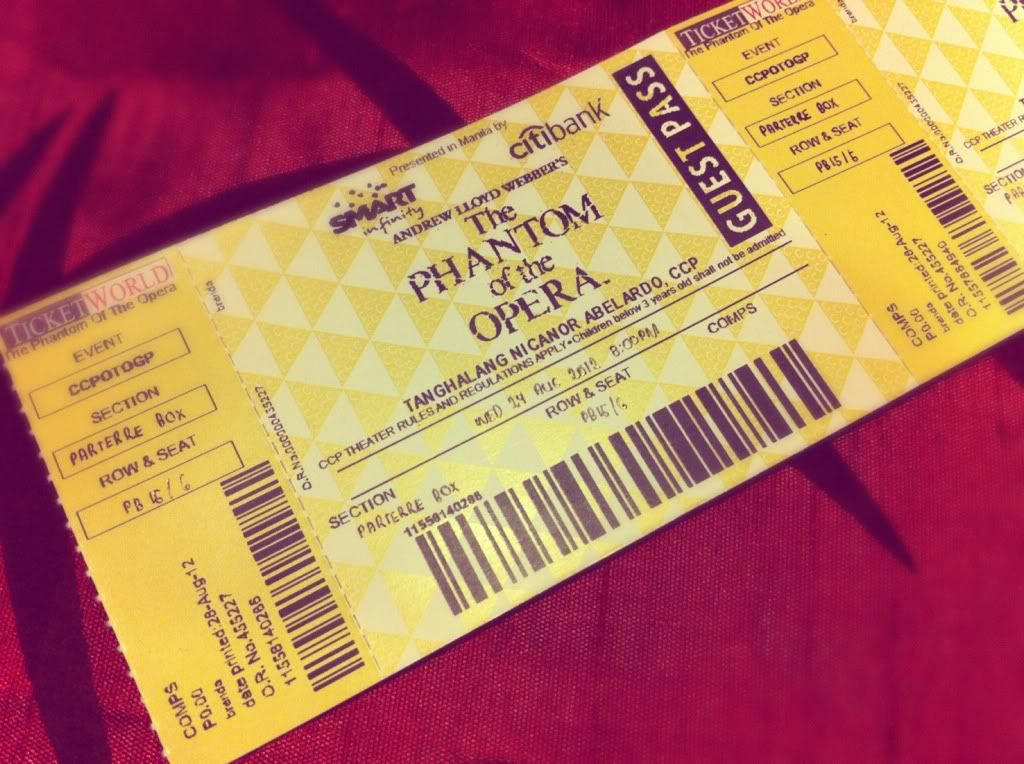 The Phantom of the Opera is a heart-wrenching story of the mysterious, hideously disfigured Phantom who lives beneath the Paris Opera House, and his obsession with the young singer Christine. Disguised as the "Angel of Music" he devotes himself to creating a new opera star, and winning her love from his rival Raoul, while exercising a reign of terror over the Opera House.
Despite being tragic, it's not a surprise why The Phantom of the Opera is considered to be the world's most successful and popular musical, and longest running show on Broadway.
All 130 cast, crew, and orchestra members did a great job. Timing was precise. Choreography was perfect. Lines and songs were delivered with clarity. Each role was excellently executed. Emotions were all felt by the audience. Jonathan Roxmouth succesfully portrayed his ghost-like role as The Phantom. A mix of terror, love, and passion can be felt as he sang the popular songs like Phantom of the Opera, Music of the Night, and Angel of Music. The angelic face and voice of Claire Lyon fits the role of Christine Daae perfectly. She's mesmerizing and charming. One of the most applauded at the end of the play is Andrea Creighton, who played the role of Carlotta Guidicelle. Her powerful voice definitely signified that she's the Opera Diva. And if you're wondering if a Filipino is part of the cast, it's a proud YES! 😀 Dondi Ong plays as Ubaldo Piangi (the male counterpart of Carlotta) in some shows. Bravo!!!
The costumes used were grand, which was especially evident in my favorite colorful masquerade scene. If there's one thing I was really worried about, it would probably the set, props, and effects all together. It was one of the reasons that transformed me from a non-watcher to an instant fan of theater plays. Could we actually pull off such backdrops and effects here in Manila? Can it be comparable to how it's done in West End shows? Although I wasn't able to actually watch Phantom of the Opera elsewhere, I was truly impressed on how creative the sets were. Effects were magical, especially the boat scene where candles would seem floating. I was left wondering how they were able to do this and that. One more thing that's worth mentioning is the transition from one scene to another. Everything was quick. In just a matter of seconds, backdrops were changed seamlessly.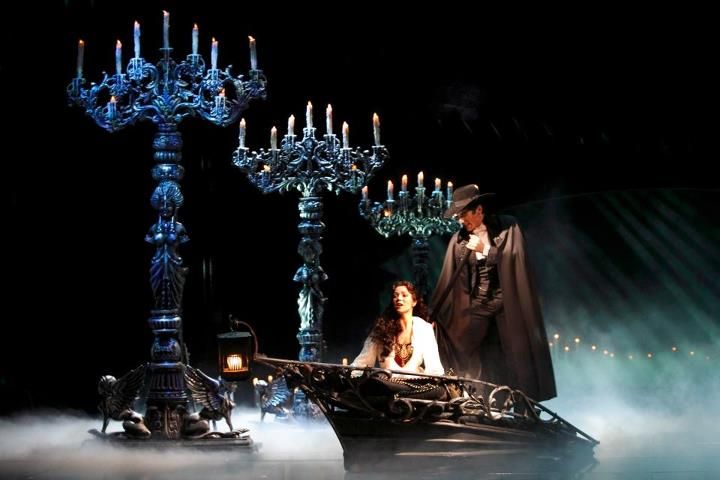 As for the music, they fit perfectly in every scene. Phantom of the Opera, All I Ask of You, Think of Me, and Angel of Music are only some of the popular songs of the show. They were engaging, keeping audience's emotions high. Of course, credit also goes to the actors.
The Phantom of the Opera is not made of purely emotionally-heavy scenes. A few comedic lines were injected here and there. A particular line that made everyone smile (and laugh) was the mention of a famous place here in the Philippines.
It's not a surprise that at the end of the show, the cast received a standing ovation. Everyone that made The Phantom of the Opera here in Manila a huge success deserves it! Congratulations! If you would ask me, watching the show is worth the time and the money. Hands down. You don't need to be a theater-lover to appreciate and be impressed by it.
The Phantom of the Opera will run until October 14, 2012 at the CCP Manin Theater. Tickets are available at Ticketworld.
*Some photos grabbed from The Phantom of the Opera Manila Facebook Page.
*Visit Wheninmanila.com too for The Phantom of the Opera Manila review.
For instant updates from me, LIKE lushangelblog on FACEBOOK, FOLLOWlush_angel on TWITTER and lush_angel on INSTAGRAM.