Okay, let's go back to my beauty-related posts. Hey, let me just clarify. I am no expert here. I'm not talking here as if I know everything. I just wanna share what my make-up artist friends have taught me and what make-up products work for me. What sucks about beauty products is that what works for one person doesn't mean would work for others as well. Results vary as we have different skin types. As a tip, if you have found the beauty products that work best for your skin, stick to them. Trust me, it is so hard to find them unless your skin isn't too picky. For people like me who have sensitive skin, it's like a process of trial and error. It is definitely a waste of money whenever I try on something and my skin reacts to it. It can be frustrating! Hehehe!
Anyway, enough of my blabber. I have shared here two of my new found bestfriends, Smashbox Foundation Primer and Make Up For Ever Liquid Foundation. Now, wondering how I apply them on my face? I use this…
It's Japonesque Pro Angled Foundation Brush. I got it in Beauty Bar for PHP 1,500. They also have a travel size angled foundation brush for PHP 1,450. It is a bit pricey, but I tell you, you really get what you pay for! 🙂 Read on the following to learn more about the brand, Japonesque, and this Pro Angled Foundation Brush. This is taken from the text written at the back of the box. Again, I'm not paid to advertise their brand or their product. How I wish! Haha! 🙂 I'm just a satisfied customer. 😉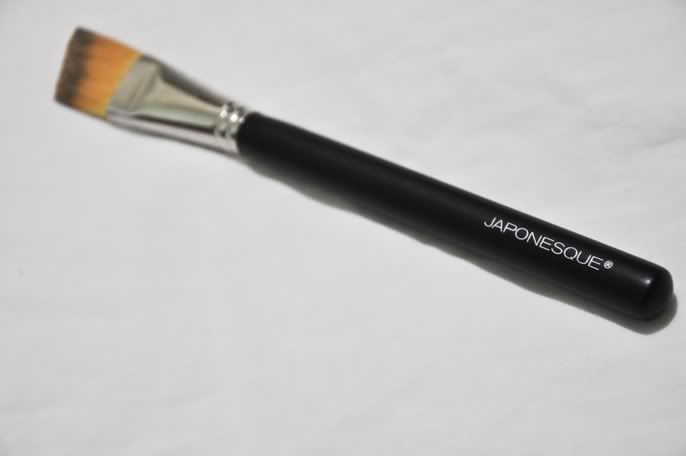 Designed with the professional mind, Japonesque beauty products are precision crafted, using only the highest quality materials. Preferred by celebrated makeup artists and beauty professionals worldwide, Japonesque products are an essential for the beauty enthusiast who desires expert results.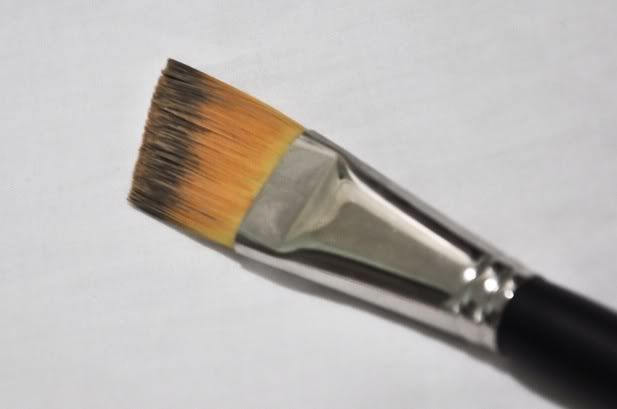 *** Sorry for the pictures. I haven't cleaned my brush yet. LOL! ***
A make-up artist favorite, the Japonesque Professional Angled Foundation Brush is an essential tool for creating a truly flawless foundation finish. The distinctive tapered edge allows for precision application around the eyes and nose while the flat brush shape smooths out cream or liquid foundation minimizing facial pores and fine lines. Perfect for full coverage in targeted areas or sheering out color for transparent coverage. Synthetic bristles easily wash clean while maintaining their shape.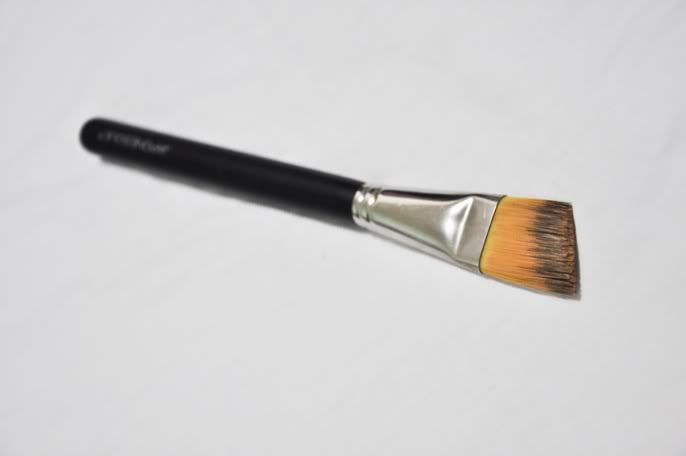 Tips in using the Pro Angled Foundation Brush
– Tap dots of foundation on the nose, center of forehead and on the apple of cheeks
– Use brush side to create a smooth, even finish blending outward.
– Use angled edge to detail foundation around eyes, nose & mouth.