In my previous post, I've already shared my new found concealer. Well, the concealer itself works well in hiding those dark circles around the eyes, pimple scars, or basically anything you want to cover. As I said in my post though, I bought two other products for better, or shall I say BEST results. 🙂 Oh, make that three now since I recently purchased another important beauty tool right before I left for Bangkok. Hehe! 🙂 Anyway, to get that ultimate flawless complexion, check out this beauty product that I find essential, but is usually neglected.
I have read and heard a number of professional make-up artists talk about primers, but I never really paid much attention to it. I know I am not alone. Some ladies out there probably skip the primer as well right after applying your trusted moisturizer. Recently, I had a beauty talk with my friend, who is a freelance make-up artist. She did my make-up once for a final casting call. Geesh, yes I was pushed to go for a casting! Now I'm shy! Hahaha! 🙂 Anyway, moving on… I really liked what she did for my natural look and my make-up did not wear off even after several hours! In addition to this, my skin did not oil too much, which is a miracle! 🙂 When I went out with her again, I really had to ask for the products she used on me. At the back of my mind, I definitely have to buy them! Me not having an oily skin after several hours on full make-up is a miracle! LOL! 🙂
And what's the secret to a flawless complexion?

A foundation primer!
What brand of foundation primer?
I have talked to three of my make-up artist friends and they mentioned only one brand. I'm not sure if others would agree, but I started using it and I am satisfied with it. What is it?
It's Smashbox!
What are the benefits of Smashbox Foundation Primer?
Smashbox Foundation Primer has a silky formula that minimizes the appearance of fine lines and pores, while leaving skin velvety-smooth, creating the perfect canvas for foundation application. When worn under foundation, Smashbox Foundation Primer also helps increase its longevity. You can also wear it alone for a velvety-smooth finish.
What kind of foundation primer should you choose?
Smashbox offers various kinds of primers to cater to every skin type and concern. They have primers with SPF 15 and anti-aging formula, color correcting to counteract discoloration and even out skin tone, and bronzing.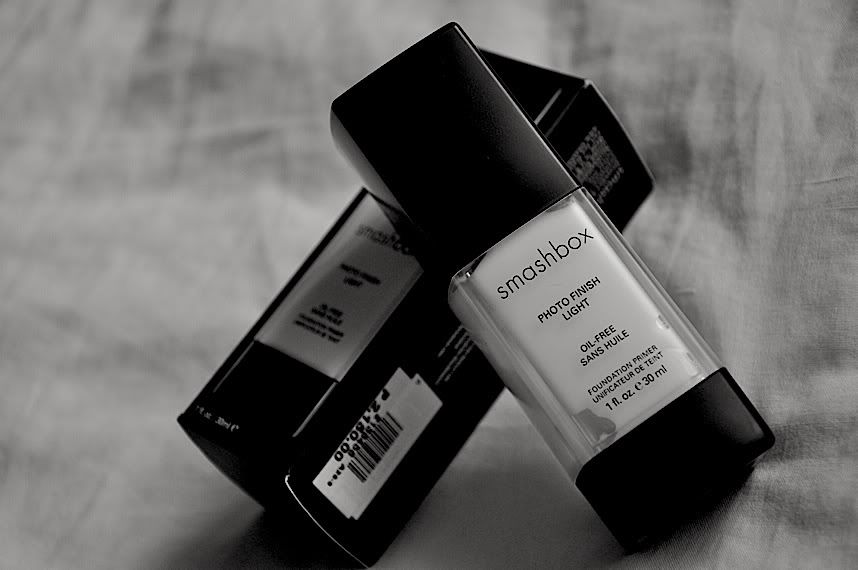 I chose the Photo Finish Foundation Primer Light since this has oil-free formula, which is perfect for oily, acne-prone or sensitive skin. This 60% water-based foundation primer refreshes on contact while oil absorbers provide a smooth matte finish all day. Light diffusers minmize the appearance of imperfections while vitamin C and peptides even skin tone for a flawless feature.
How much is it?
I bought it at Beauty Bar for PHP 2,150. It is a bit pricey, but if you want to have a flawless finish, a foundation and a concealer combination cannot do the job alone. Well it can, but not as smooth as putting on a primer.
How do you apply a foundation primer?
It should be the base before you put on any other make-up. That's why it is called a primer! 🙂 Well of course before putting on the primer, we should do our usual regimen first, that is facial wash – toner – moisturizer. You can also opt to wear Smashbox Foundation Primer alone since it already helps in minimizing fine lines and pores, creating a velvety-smooth finish. Apply 1 pump to clean or moisturized skin using fingertips or a liquid foundation brush. I personally use a foundation brush to make the application even.
Learning about Smashbox Foundation Primer's benefits and seeing its results on my face, I cannot leave the house without wearing it anymore. 🙂