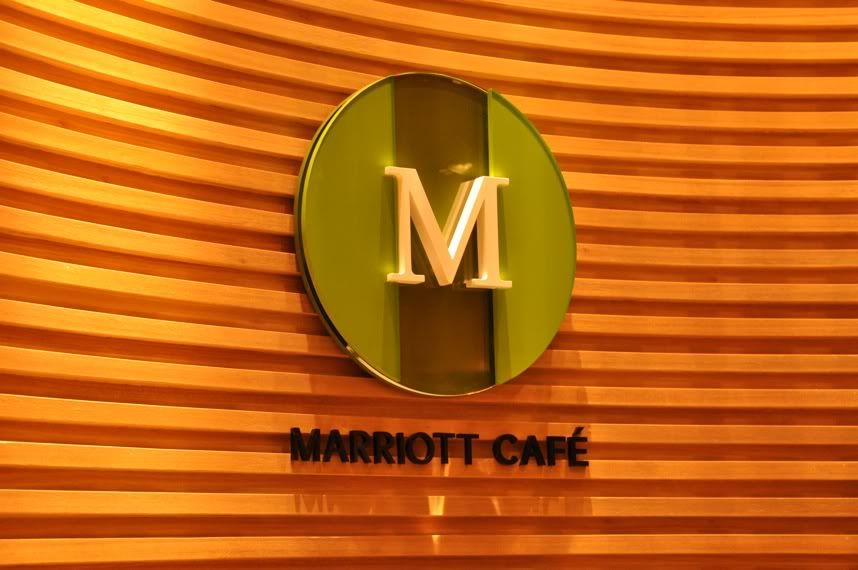 In my previous article, I posted all the details of Marriott Hotel Manila's month-long promo, Thai Food Festival. Today, I'll be sharing my experience eating there since last Wednesday, I had the chance to try out Marriott Hotel Manila's buffet, featuring Flavors of Thailand at Marriott Cafe. Thanks to the marketing team of Marriott Hotel Manila and to my dear friend, Flaircandy! 🙂
I arrived a bit late for the event since it was raining and as expected, traffic was damn terrible! I was already having second thoughts of going, thinking the event would be finished by the time I arrive. Thank God I still decided to go, or else I won't be able to have a taste of Marriott Cafe's buffet! Yum! Yum! Yum! 🙂 I love to eat hotel buffets, though I'm not really a big eater. I just love the variety. From time to time, especially when there is an occasion, my family and I would eat at Circles of Makati Shangri-La or Heat of EDSA Shangri-La. I never knew that Marriott Hotel Manila has a buffet already.  Now that I know, at least I could bring along my family so they could try something new at last! Hehehe! 🙂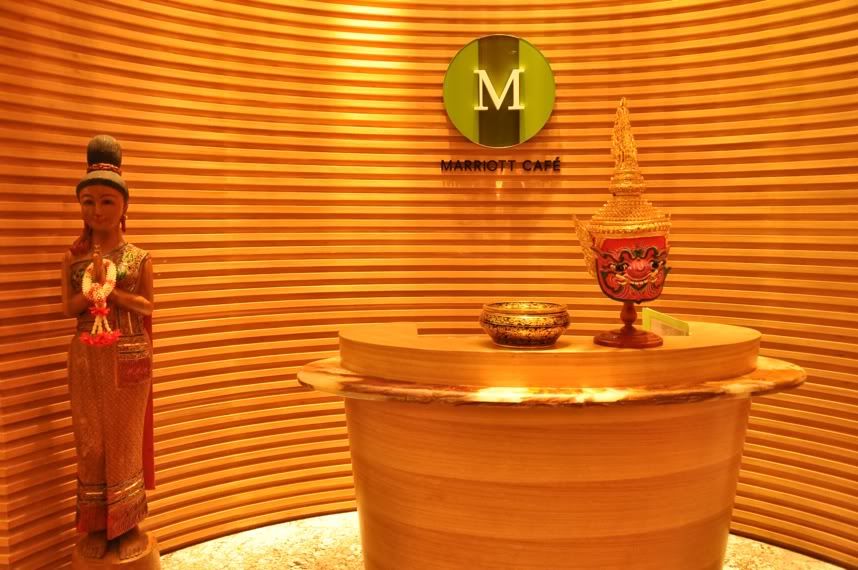 Anyway, as I was entering Marriott Cafe, I was already greeted at the reception by two ladies dressed in Thai costumes. Ooooh, Thai Festival indeed! 🙂 Hehehe! Take a look at them…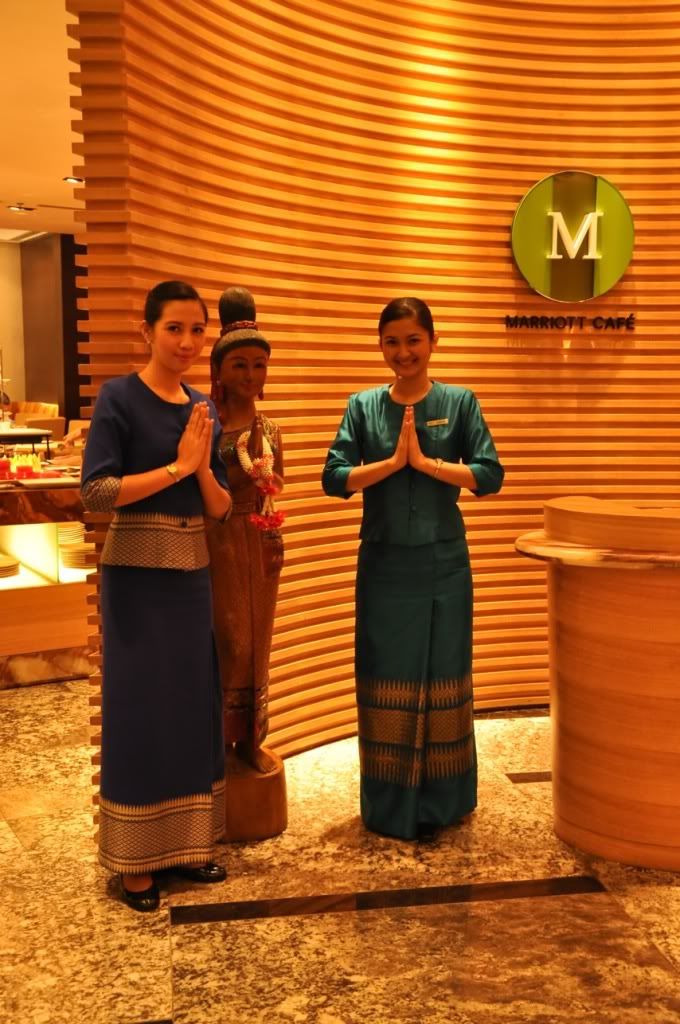 The moment I was given a seat, Kristel and I checked out the buffet. Here's what they've got….
Of course, they have a table for starters. They have cold cuts, make your own salad and different kinds of breads.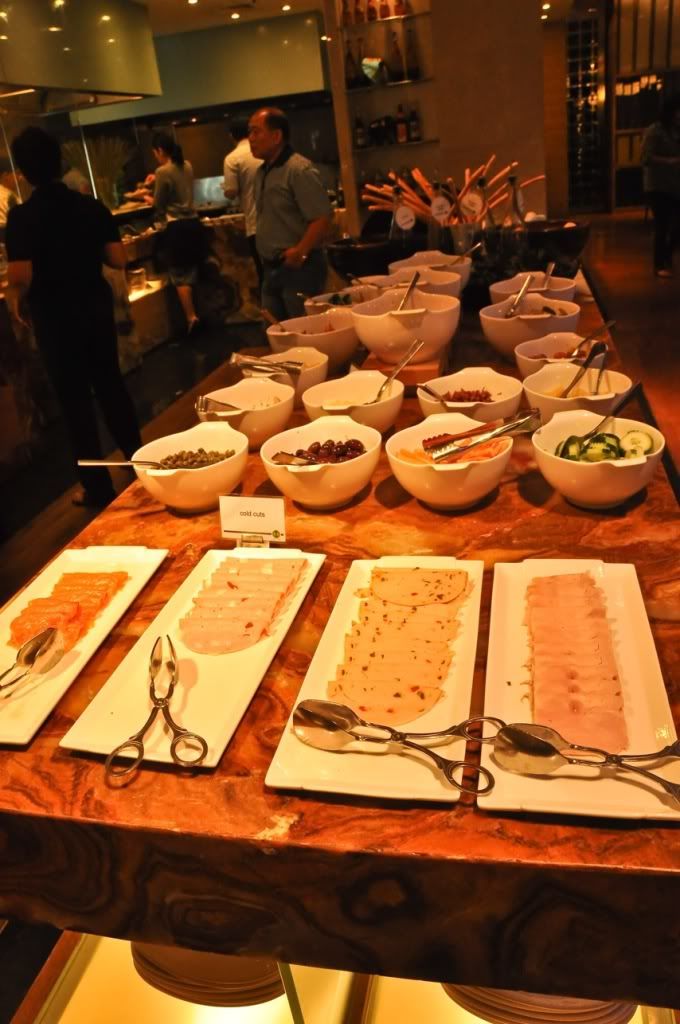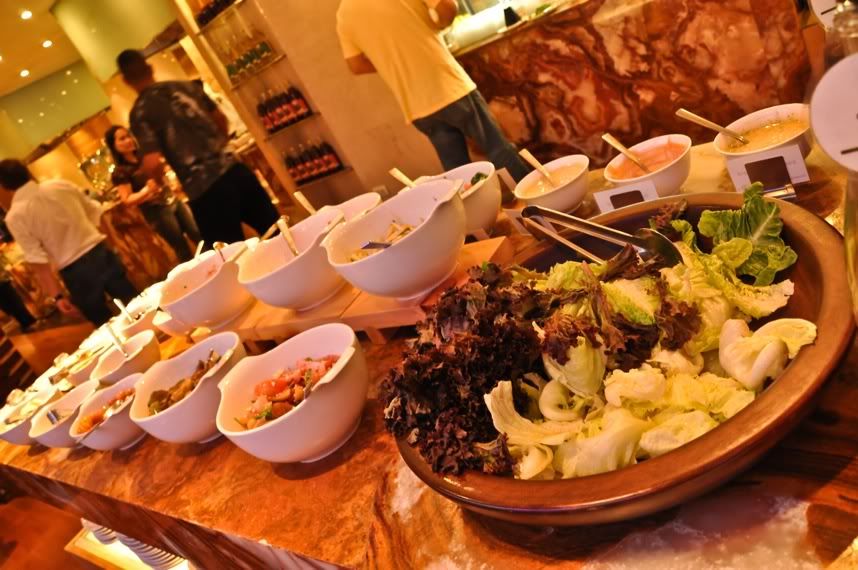 Since Marriott Hotel Manila has this month-long promo (August 1 – 31, 2010), Flavors of Thailand, there is a dedicated station for Thai food. At that time, they were serving Green Curry w/ Chicken, Thai Fried Rice w/ Shrimp, Deep Fried Pork Canapes, Spicy Wok-fried Seafood, and Phad Thai. Too bad they weren't cooking Tom Yam at that time, instead, they served this coconut based soup. I didn't try it though since I really do not eat coconut. Hehehe!
Green Curry with Chicken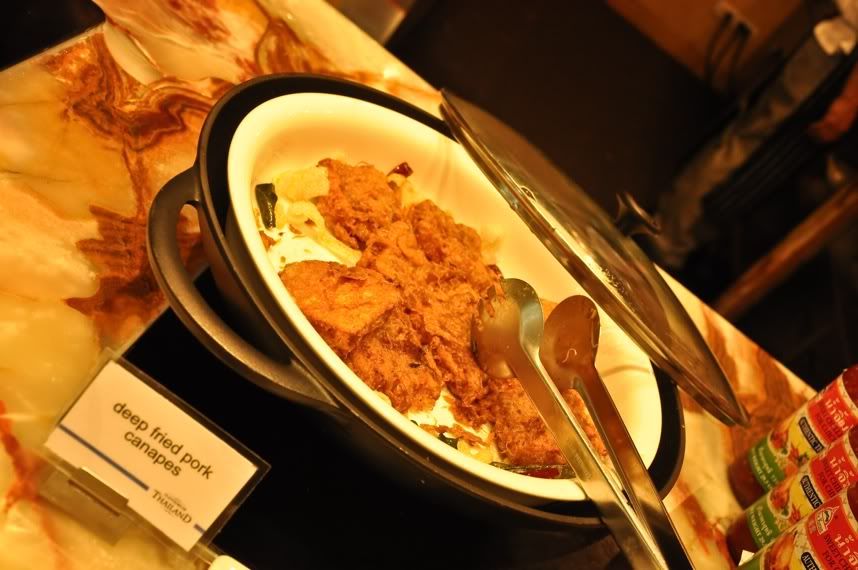 Deep Fried Pork Canapes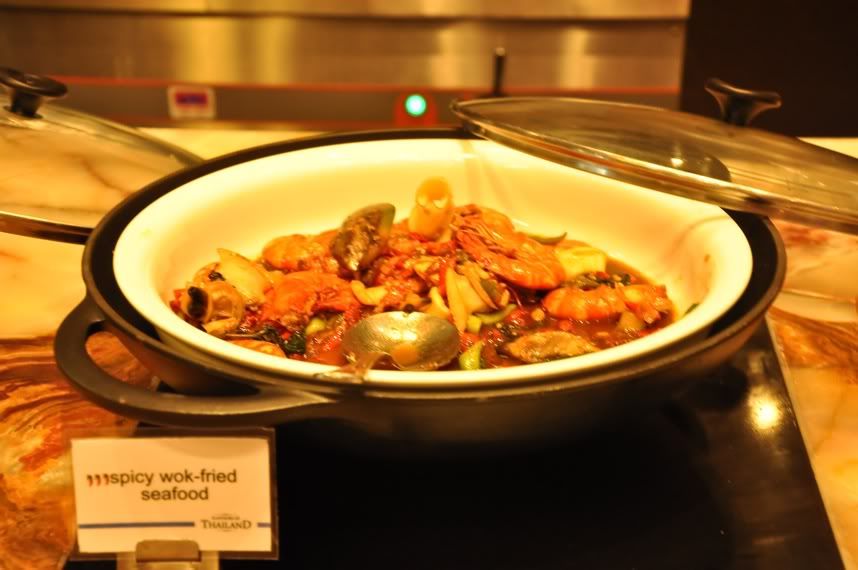 Spicy Wok-Fried Seafood
Phad Thai Live Station
Kristel and I stopped at the Phad Thai Live Station and started getting some food. For my first round, here's what I got… 🙂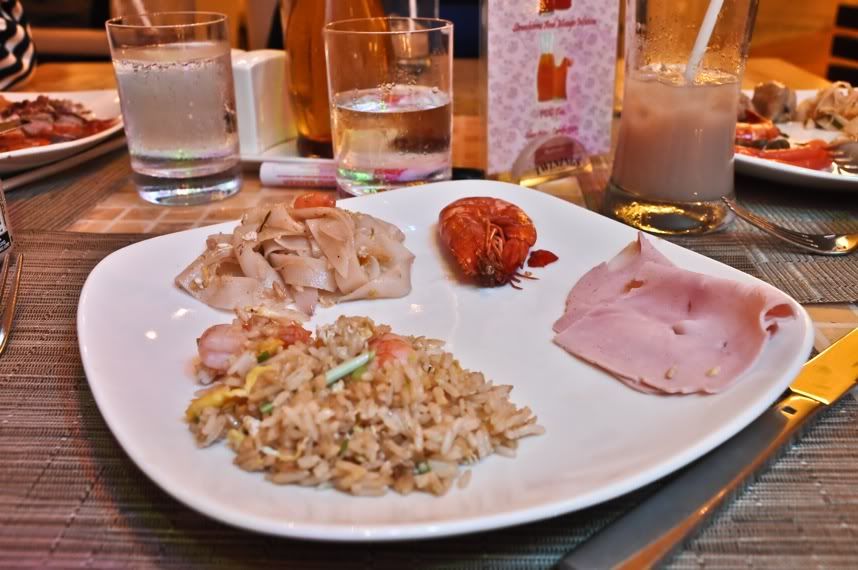 My plate only has some cold cuts for starters, Thai Fried Rice w/ Shrimp, Spicy Wok-fried Seafood (That's the shrimp! Hehehe!), and Phad Thai. I didn't get the Green Curry w/ Chicken since I also don't eat curry. Thinking about it, I should have tried it since Kristel said, it doesn't really taste too curry-ish. Hehehe!
The Thai Fried Rice w/ Shrimp is a bit spicy, as expected in any Thai food. Those who like pepper would love it. 🙂
As for the Phad Thai, surprisingly, it was not spicy. I didn't taste any hint of peanut too. Well, good for me 'coz I really do not like peanuts. 😉
For me, the Spicy Wok-fried Seafood is the champion! Champion in spiciness and champion in deliciousness! Hahaha! 🙂 I don't like eating spicy food since i just end up drinking and drinking a lot of water. This dish though is different! It's so flavorfull. It has a mix of sweetness and spiciness. I even ended up getting more on my second plate. 🙂
Oh, but before I got my second plate, my glass of Thai Milk Tea arrived. Oh, I love!!! 🙂 You just don't know how many glasses of Thai Milk Tea I drank in my last trip in Bangkok! I'm like a monster! That's how much I love milk tea! Hehe! 🙂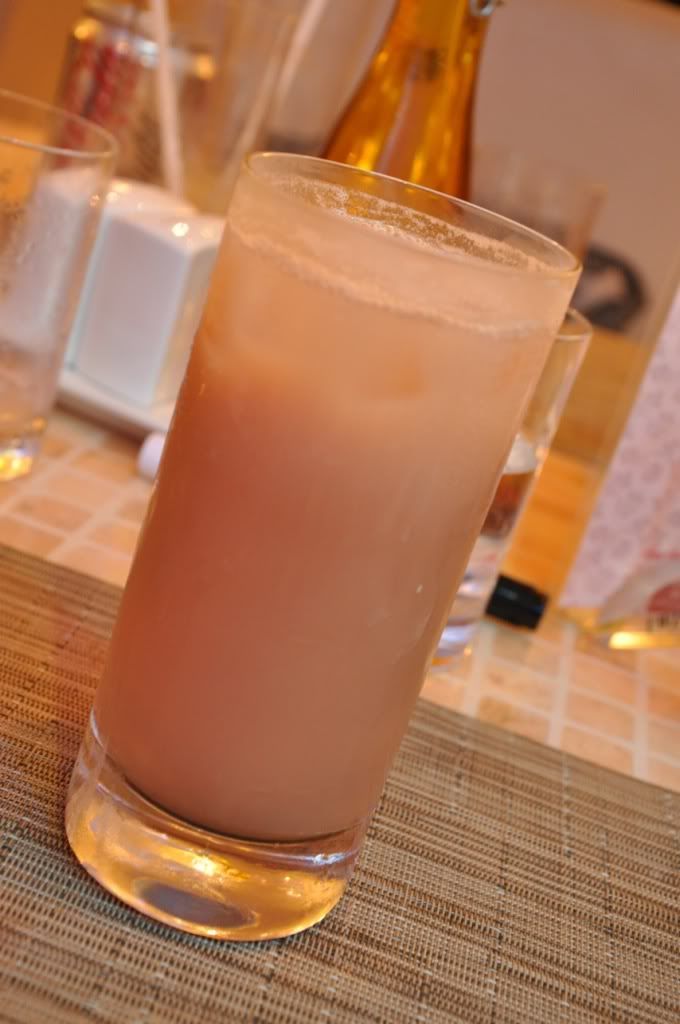 After "sipping" my milk tea, we went around again to see the rest of the buffet.
Ooooh, there's fresh seafood…!!!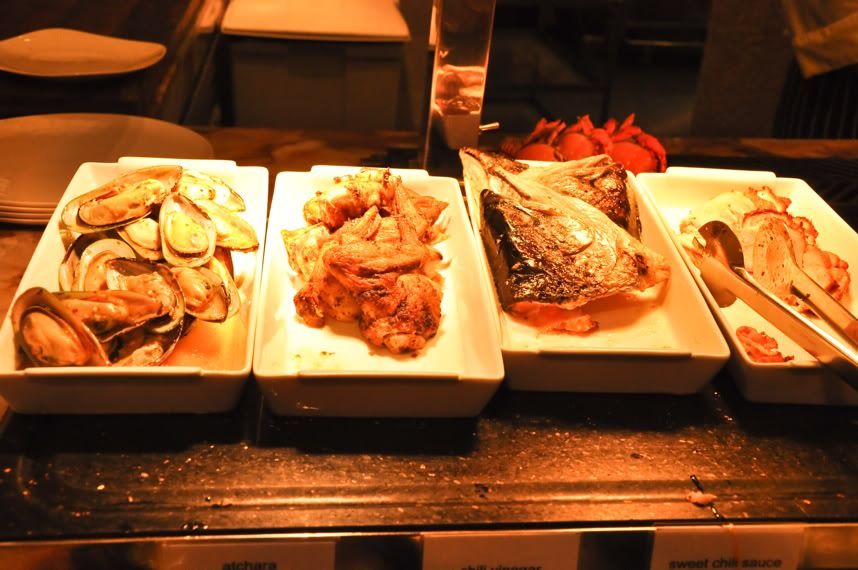 They also have a Japanese station! Weeee! 🙂 They have different kinds of Sushi, Vegetable, Shrimp and Fish Tempura, and Miso Soup (which I wasn't able to take picture… eeeek!).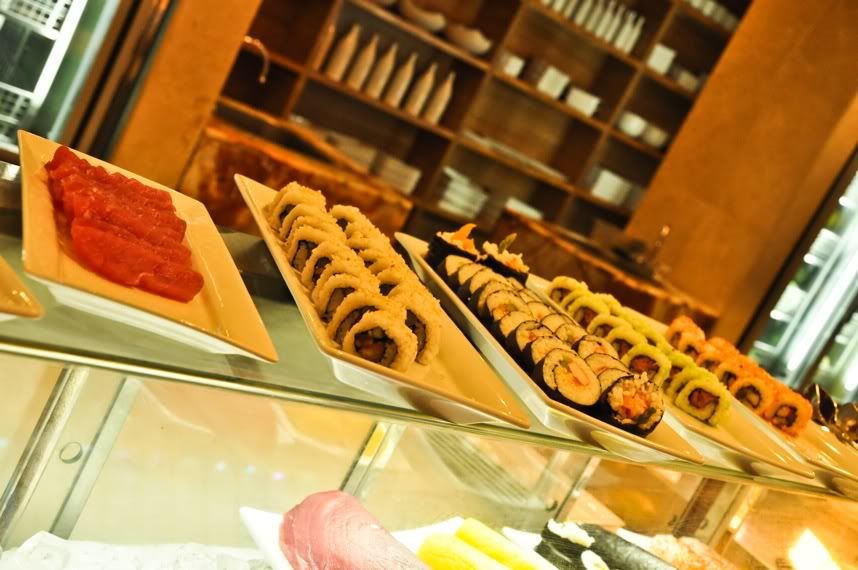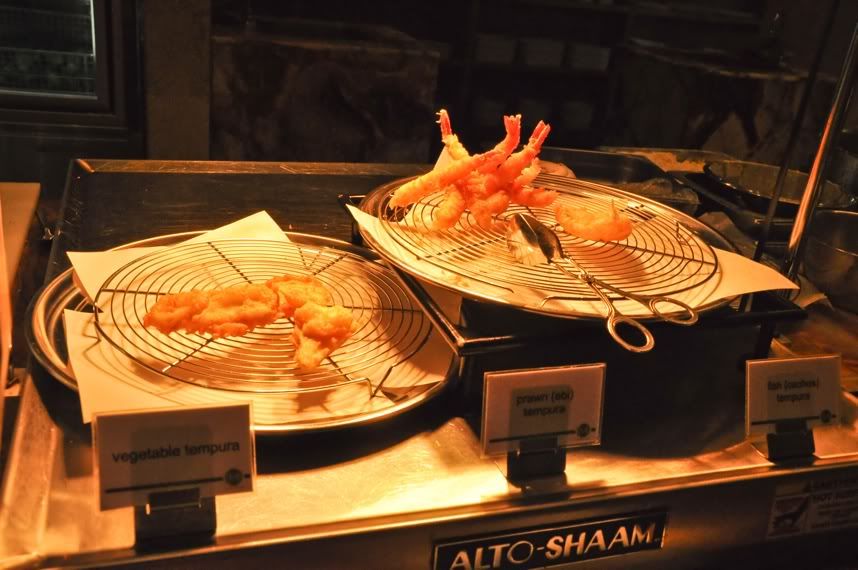 And of course, they have the very tender US Rib Steak! For the sauce, you can choose from Peppercorn Gravy, Mushroom Gravy and the famous A1 Steak Sauce. I chose Mushroom Gravy, my fave, for my steak. 🙂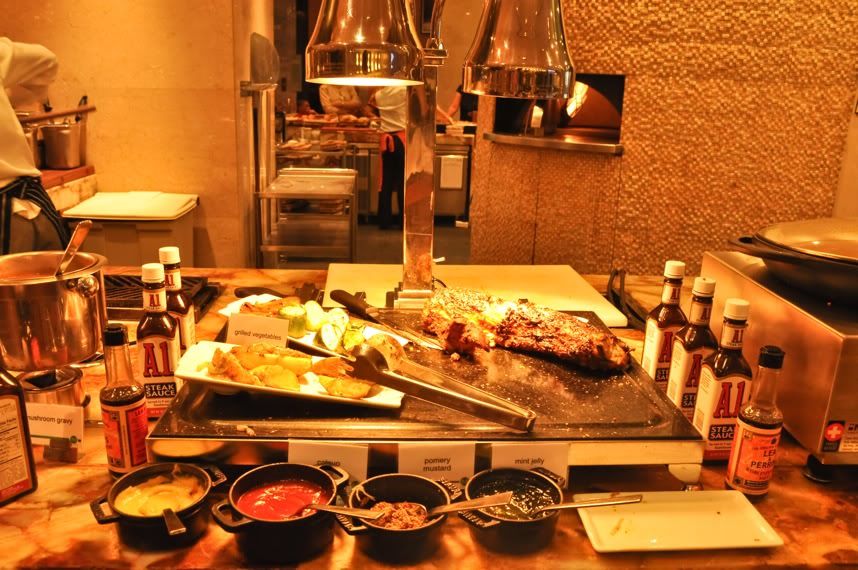 My second plate looks like this… *faints*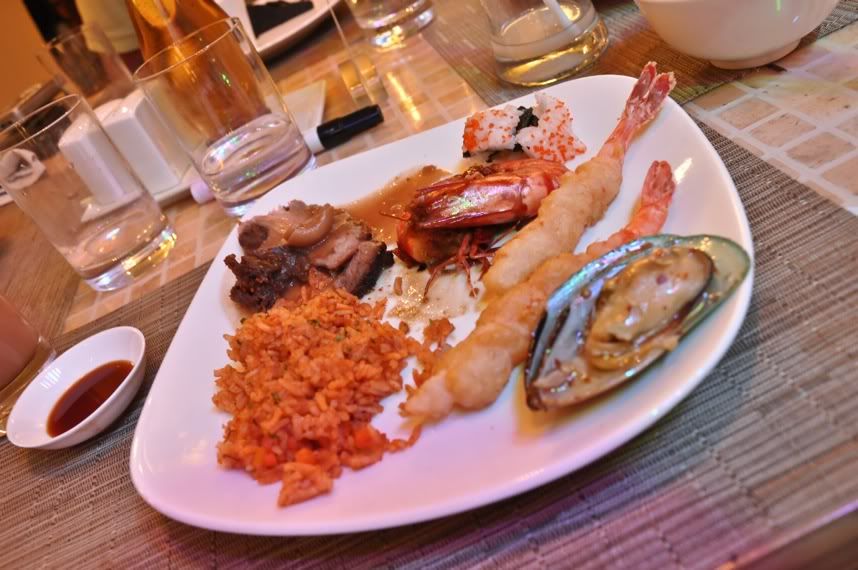 I tried out the Seafood Rice, which is a bit peppery in taste.
I looove the buttered garlic mussels. The sauce is just so perfect for my taste! 🙂
As for the Shrimp Tempura and California Maki, I guess you'll never go wrong with it. 🙂 I like how the Shrimp Tempura was cooked- not too many flour! Hehehe! You know how some restaurants cover the shrimp with a lot of flour/ breading, then you end up messing up your plate with every bite? Oh, I hate that! Marriot Cafe's Shrimp Tempura isn't like that. I love it! 🙂
And of course, being a meat lover, I looove the beef! I find it so tender and tasty. It's a bit well done, the way I like it, but it is still juicy. The mushroom gravy sauce goes well with it. 🙂
As you can see, I got the Spicy Wok-fried Seafood again, which explains why before I finished my second plate, I'm on my second glass of Thai Milk Tea! LOL! 🙂
I'm not over peeps! 🙂 My favorite part of the buffet has yet to be revealed! Hahaha! Obviously, those with sweet tooth, like me, would love their desserts. They have various kinds of cakes, pastries and fruits. We tried a few of their cakes and I just looove all of it! 🙂 I wasn't able to get the names though because as you can see in the picture, all of them somehow look alike. LOL! Most of them are chocolates, which is why I obviously love them! Hahaha! 🙂 Oh, heaven!!! 🙂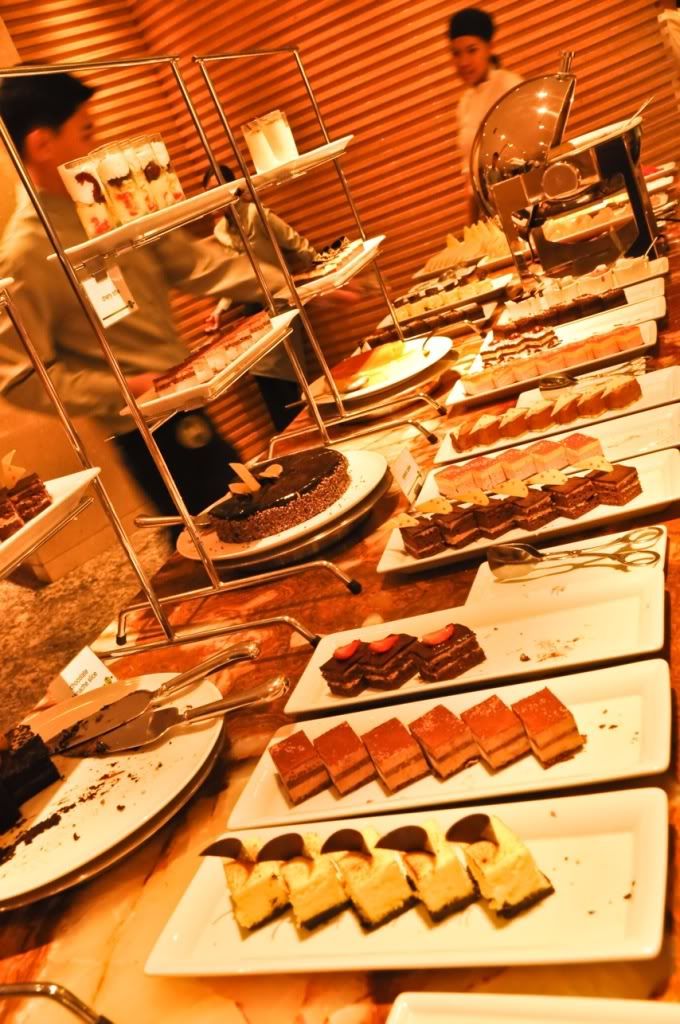 Of course, I didn't pass on their homemade ice cream! 🙂 Yes, it is homemade and it is yum-yum!!! 🙂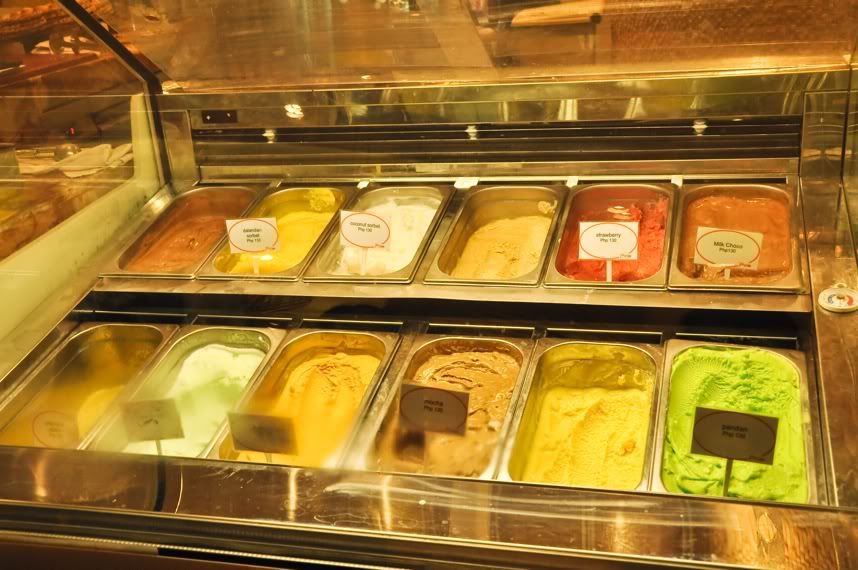 We were actually told that the Lime and Lemon flavors of ice cream are Thai's desserts. I'm not so adventurous when it comes to ice cream so I ended up with the Dark Mocha Ice Cream, with some mallows on top. 🙂 The consistency of the ice cream is really, really rich, making it very sweet. 🙂 It's definitely for the sweet tooth, like me. 🙂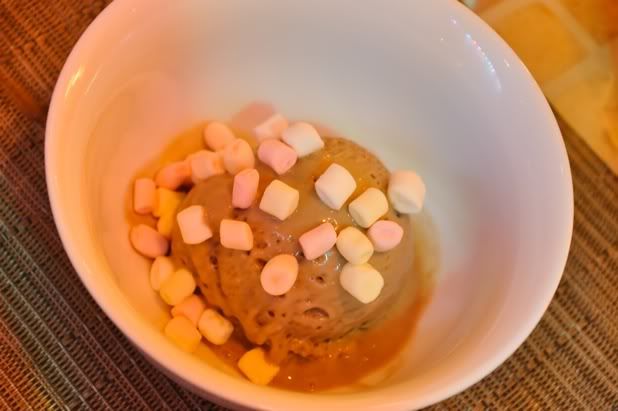 Kristel, on the other hand, tasted the Lemon Ice Cream with some chocolate toppings. 🙂 I had a taste of it and I was surprised to like it as well. This one is a refreshing dessert. I'd say, it's a perfect way to end a meal. 🙂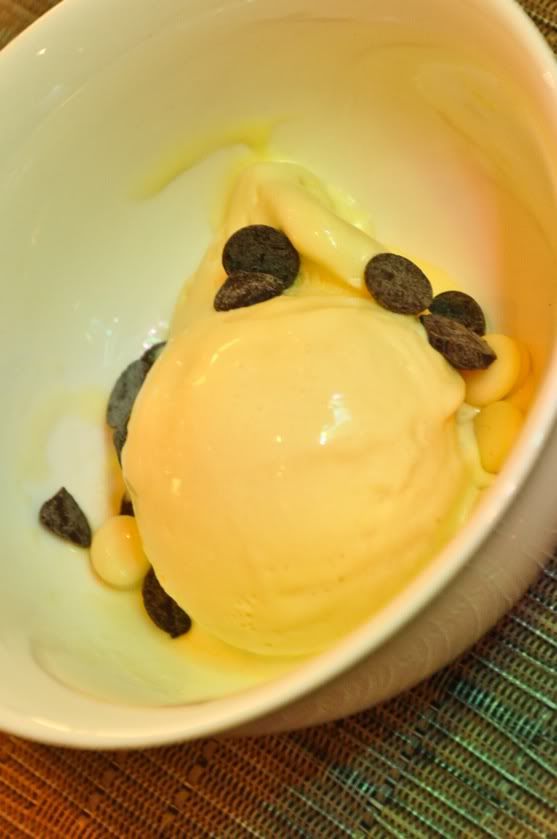 Of course, our night wouldn't end without meeting Chef Thanatorn Krobsuay, the man behind Flavors of Thailand!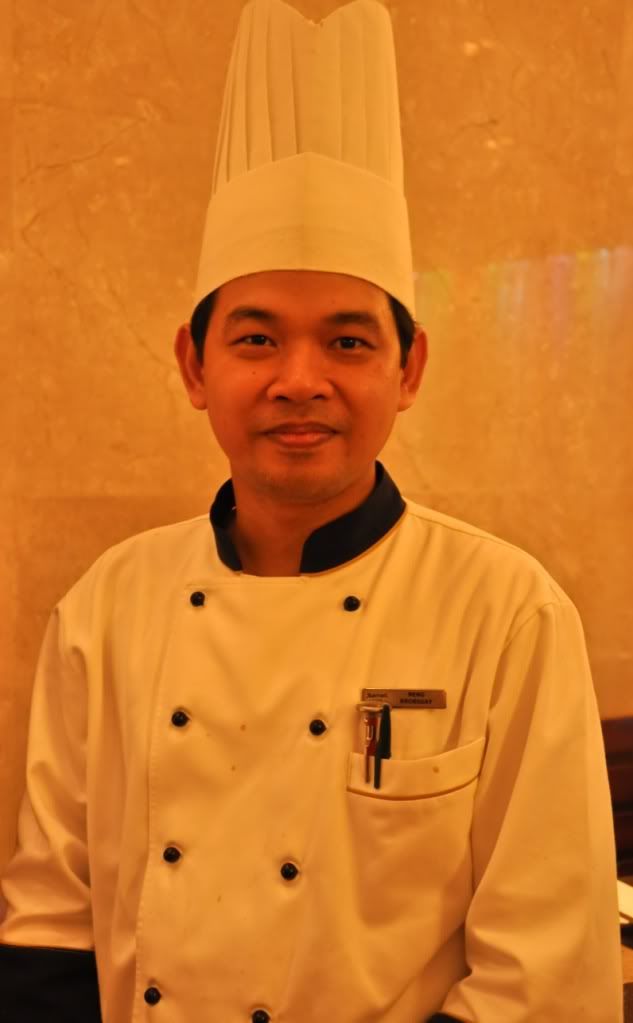 Thirty year old Chef Thanatorn Krobsuay joined the JW Marriott Bangkok in 2002 and has been the official Thai food ambassador of Marriott Café since then.  He has also visited Marriott Hotel properties such as Marriott Wuhan China, Renaissance Dubai, Ritz-Carlton Singapore and Istanbul where he shared his expertise in Thai cuisine in several food festivals and events.
He also presented some authentic Thai dishes, as seen below.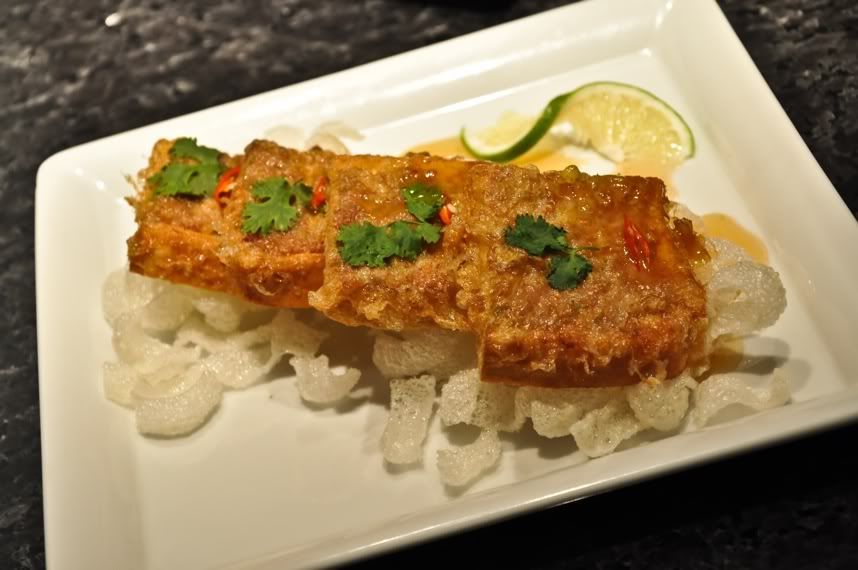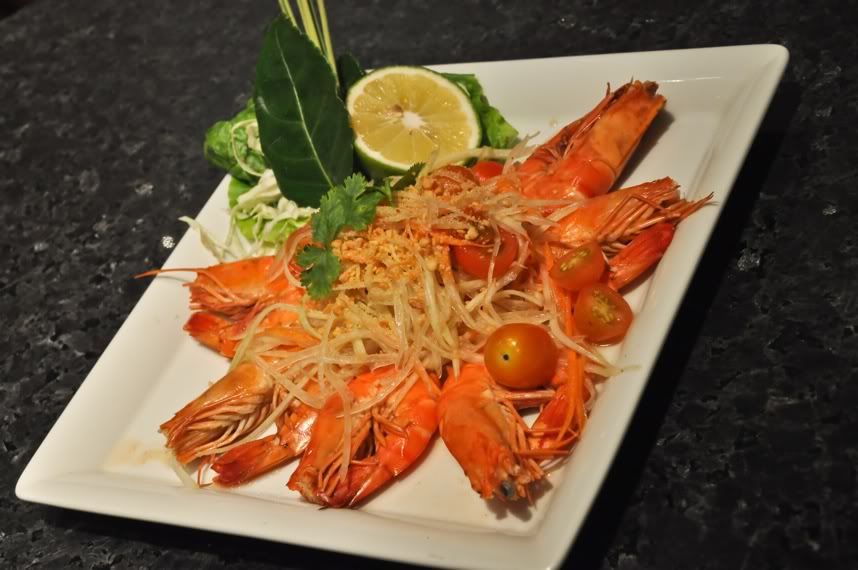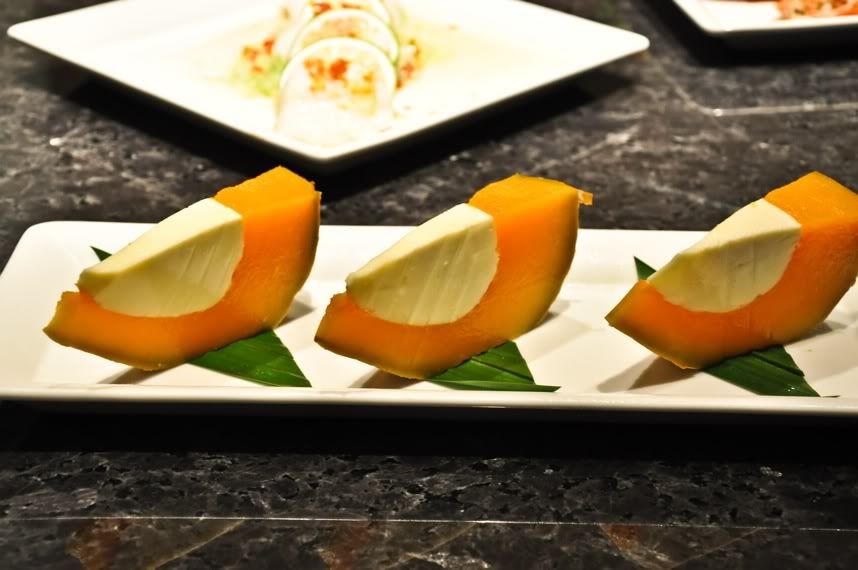 I'm sure all my fellow bloggers who were there went home with a happy tummy, just like me. Hehehe! 🙂 Thanks again to my dear friend, Hannah! I miss you dear! 🙂 And of course, Thank you to the management of Marriott Hotel Manila for the wonderful dinner! 🙂
So will I be back for Marriott Cafe's buffet again? Oh, DEFINITELY! Now that I know that there's a good buffet in Marriott, I will drag my family here soon. 🙂