Since I've already started sharing what I was up to when I was in Boracay here and here, I finally thought of posting my dining experience at Zhu Asian Cuisine, which has been sitting on my drafts for the longest time! It was my first time to eat here when I went to Boracay with my family last April 2010. Well, as I said in my previous post, Boracay is a food haven for me. 🙂 Imagine- Jonah's shake, Zuzuni's Chocolate Sin, fresh seafood at Talipapa, Choriburger, Sizzling Bulalo of Smoke, Garlic Crispy Chicken of Island Kebab, Adobong Pusit of Big Mama,… and the list just goes on and on! 🙂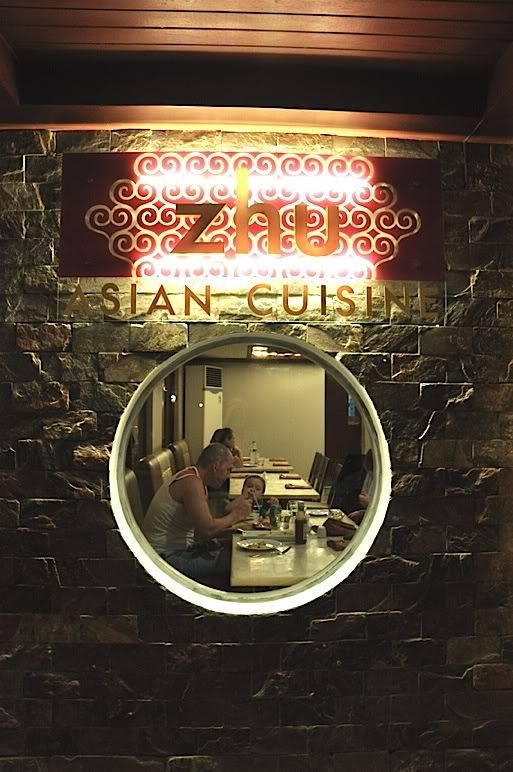 Zhu Asian Cuisine is located at Boracay Regency. I see this restaurant whenever I passed by Regency, but I never had the craving to eat in a Chinese restaurant when I'm in the island. Probably it's because I'm so used to eating Chinese food when I'm in Manila. When I see the beach, I just want to eat island food. Okay, Zhu does not only serve Chinese cuisine. Obviously, its name says it all- "Zhu Asian Cuisine". Hehehe! I just can't help associating it with a Chinese restaurant because of its interior, as seen below.
Anyway, since I was with my parents, they wanted to try out everything. I got curious as well since it was only that time I noticed that there were actually a lot of people dining in there. Here's what we tried out:
Oh, before anything else, we were served with some complimentary prawn crackers. It was perfect for our growling tummies, while we waited for our orders. Hehe! 😀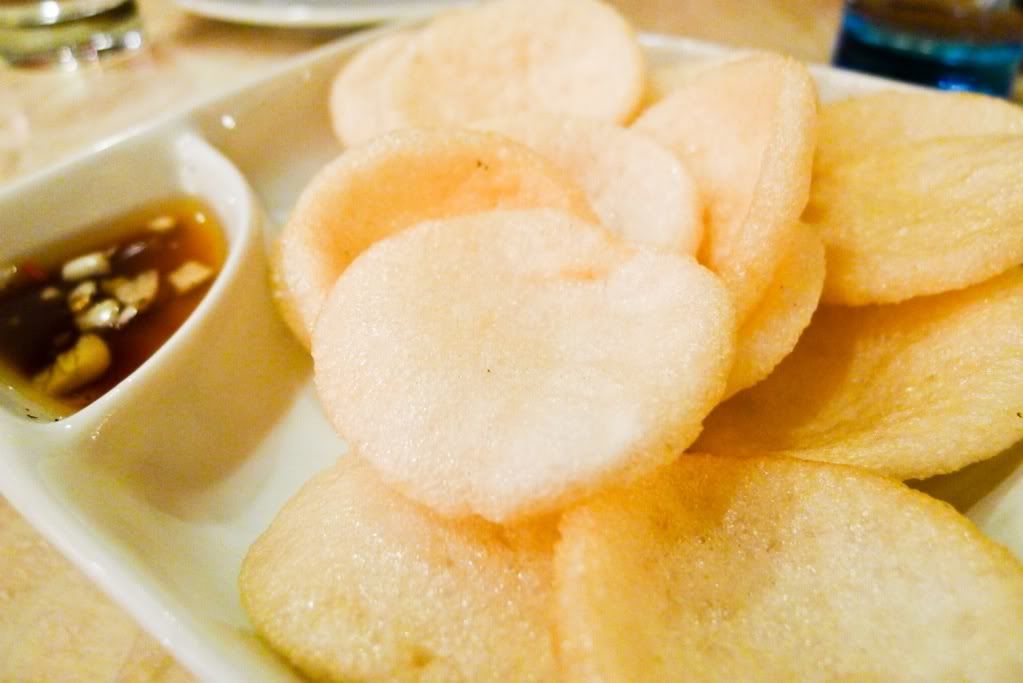 Shrimp Fried Rice Thai style (PHP 150)– It's Siam style fried rice with shrimp and fried egg. It was not as flavorful as the famous Thai Bagoong Rice, or as salty as the Chinese favorite, Salted Fish Fried Rice. It was somehow similar to another famous Chinese dish, Yang Chow Fried Rice, just with fried egg on top. I actually liked it. It's not common to serve fried rice with fried egg on top, unless you're eating the usual Filipino favorites, such as Tocilog (sweetened pork with egg), Tapsilog (dried beef with egg), and the likes. Hehehe! Shrimp Fried Rice is worth trying out. 🙂 Serves up to 3 pax.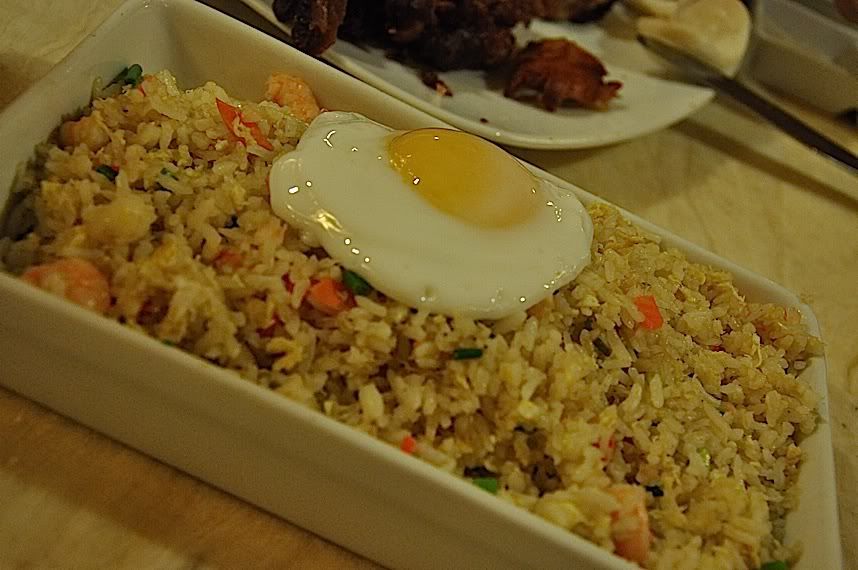 Sweet and Sour Pork (PHP 180)– It's the usual pork with tangy sauces of sweet and sour. There was nothing really special with Zhu's version of Sweet and Sour Pork. We just had to order it since it's my sister's favorite. An ultimate favorite that there was even a time we had to order this dish every Sunday, which means we had to eat in a Chinese restaurant for our family dinner. Ugh! Now, you can probably understand why I don't eat any dish with sweet and sour sauce anymore. Hehe!
Szechwan Crispy Chicken (PHP 210)– You'll never go wrong with deep fried chicken. Kids would definitely love it, especially with the crispy crackers that come with it.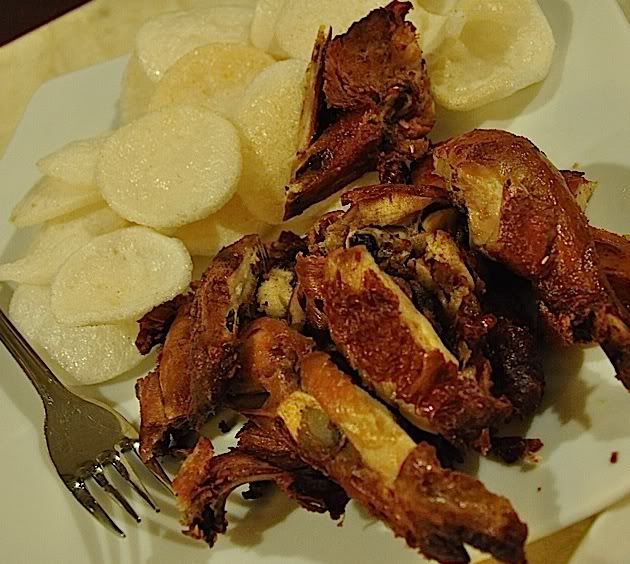 Salt and Pepper Squid (PHP 160)– This isn't the usual salt and pepper squid you can eat in other Chinese restaurants. It's not as dry as how others cook it. This fried squid had some mild chili in it, and of course, some salt and pepper. It was very flavorful. I'm not really a fan of spicy food, but hey, I can eat this dish! I just set aside the diced red chilies, of course.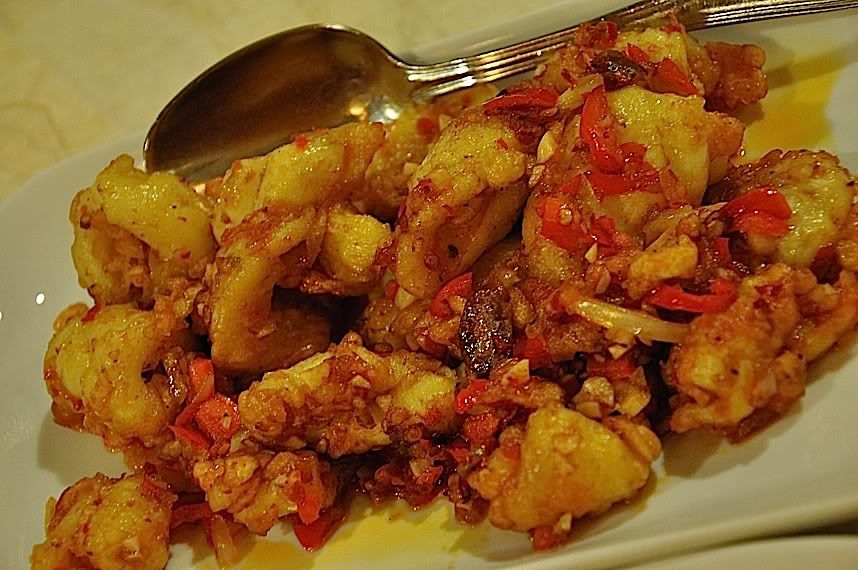 Egg Noodles Special Canton (PHP 210)– Noodles is always part of our meal when I'm with my parents. This braised egg noodles is mixed with seafood, pork and vegetables. There was nothing really special with its taste. The sweet-salty sauce is similar to the canton noodles that you can order in other Chinese restaurants. I just love how generous they were with the toppings. Let's face it, other restaurants serve this dish as if you ordered plain noodles! LOL! Okay, I'm exaggerating. Hehehe! But I know you do get my point. 😉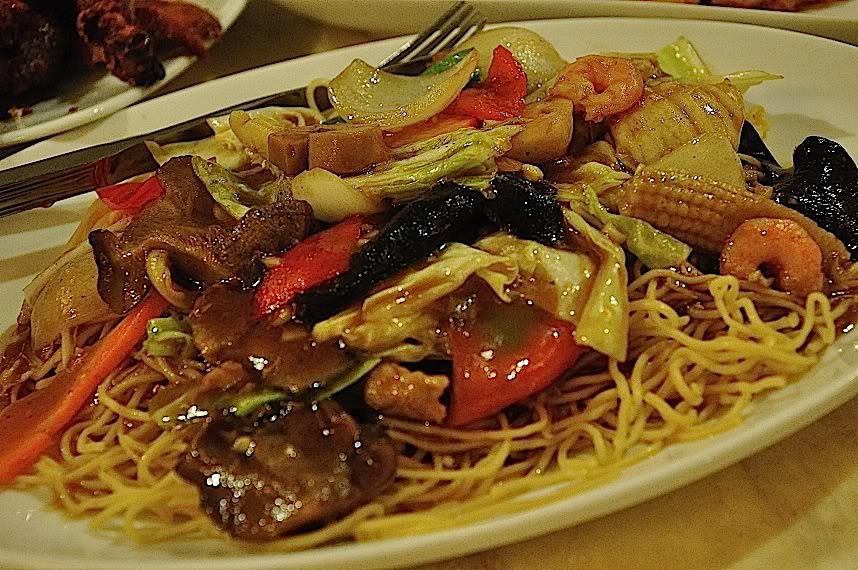 Overall, there's nothing really spectacular with Zhu's dishes, but I still loved my dining experience here. Good food, generous serving, classy ambiance- you get all these without having to hurt your pocket. 🙂
* Prices are subject to 12% government tax and 10% service charge.