Who is Elie Saab?

Elie Saab is a self-taught fashion talent born in Lebanon. He started making clothes at a very young age.  At 18, Elie Saab opened his own Couture House in Beirut with more then a dozen seamstresses.  The country's golden boy was among the first to win over the Middle Eastern market, and its wealthy clientele became his faithful followers. He presented his Haute Couture collection in Paris in 2000.  He was elected an honorary member of the Chambre Syndicale de la Haute Couture in 2006, alongside Valentino and Armani. He then became a personal designer to many princesses and international celebrities.
Elie Saab is most famous for the Couture gowns that have been sought after by red carpet sirens; but Elie Saab also lends his incredible talent to ready-to-wear – which he has shown in Paris since October 2005. The ready-to-wear collection expresses a subtle yet restrained opulence with more simplicity, but with no less glamour.
From Couture to Perfume
In 2011, Elie Saab's universe continues to expand.  He now invites all women who dream of wearing ELIE SAAB to slip a touch of magic and absolute femininity into their lives with ELIE SAAB Le Parfum.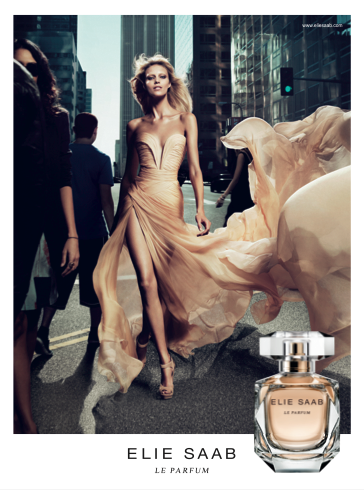 A Jewel of Glass and Light
Elie Saab, a man passionate about design and architecture, made sure to be very hands on with the bottle's design. It went through a lot of revisions until his dream glass bottle was achieved.
 "I wanted something simple, straight lines, the rigor of a cube and the sensation of an object made to be held in the hand, but with the density of beautiful objects.  And as always, light as the overarching theme.  For me, light is eternal strength,"
The Fragrance
From the first notes, the soaring brilliance of the orange blossom sets the tone for this olfactory spell. A solar evocation of armfuls of Mediterranean petals, whose luminosity comes from the rays of the sun at its zenith.
The heart is amplified by the most sumptuous quality of jasmines – absolutes of jasmine grandiflorum and sambac – the fragrance enriches its sensuality with the gentle shading of a very pure "patchouli heart."
The tone of the white flower bouquet is filled out voluptuously by a cedar woody accord, which gives the floral notes a new density. The trail unfurls, infinitely elegant and enveloping, borrowing its addictive notes from rose honey.
Thoughts
It starts a bit strong with floral and sweet scent. It's very elegant and feminine. After a few minutes or even hours, I find it very addicting. I couldn't stop sniffing my wrist on my way home from the event. The floral scent mellows down and becomes a bit woody. It's magical, magnetic, captivating, and radiant. And yes, the fragrance is lasting. Ahhh… At first spritz, I'm instantly transported to dreamland. I must say, the fragrance is uniquely enchanting.