From their name itself, Browhaus can definitely do wonders to our eyebrows. It's where I have my regular threading, which I shared in this post. Browhaus is not all about eyebrow threading though. They offer several services such as Modern Tweezing, Color Tweak, Brow Resurrection, Lash Extensions, Lash Curl Up and Lashgraphy color.
Last weekend, I visited Browhaus to have a lash curl up. I even shared some pictures in my facebook page (to receive regular updates from me, just click on "LIKE" in this link). I'm not really into eyelash extensions or curl. One, I don't do extensions because I already have long lashes. Two, as for the eyelash curl, personally, there's really no need to spend on it since I can always use my ever-reliable Shu Uemura Eyelash Curler to open my eyes. I just gave in for one reason- mom bought a lash curl up package that will expire soon, so we need to use up everything. So how was my experience?
The entire process takes about an hour. You aren't allowed to open your eyes the whole time; therefore the best time to do this is when you're sleepy. Hehe! In my case though, it took them almost 2 hours to curl my lashes. Their first attempt wasn't successful. They used a wrong size of rubber (or whatever that white thing is in the photo below), I think, that held my lashes to place.
*sorry for the blurry photo… took this from my iPhone*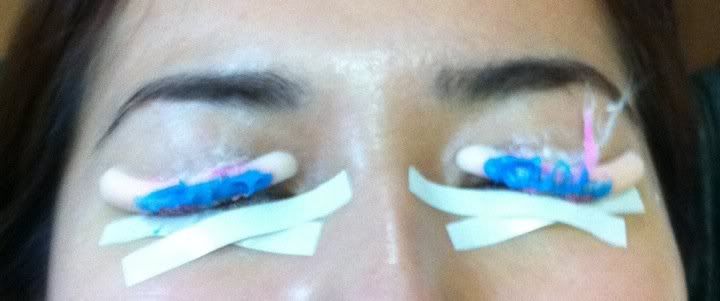 I also have long thick lashes, which is why it takes a while to curl it up. After the first attempt, my lashes were still straight as if I haven't had that lash curl up service. I have to commend the staff of Browhaus for being honest about it and they even presented to repeat the entire process again. 🙂 I agreed and the result…
Tada!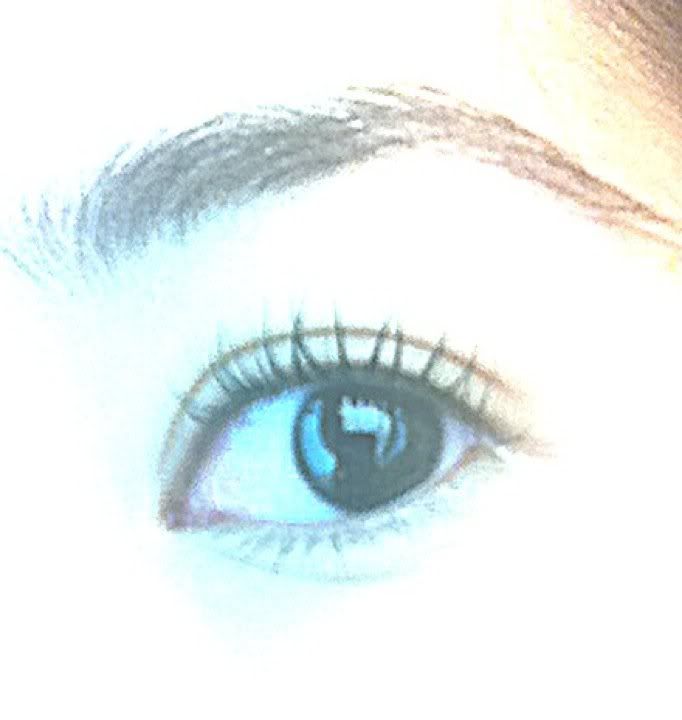 Love it! 😀
It wasn't actually my first time to avail of this service from Browhaus. My last was I think late last year. The lash curl is supposed to last for 2 to 3 months. It lasted for just about 2 months in my case. Well, they are selling this eyelash conditioning product (similar to a transparent mascara) that's supposed to help in prolonging the lash curl up. I find it too pricey though 'coz they are selling it for about PHP 3,900 plus. Eeeek! That's too much for me! It's even more expensive than availing one session of Lash Curl Up, which is PHP 2,200. It's also a bit expensive, but mom availed of the Lash Curl Up package. It's priced at PHP 4,650 for 3 sessions, good for 1 year from date of purchase. You save PHP 1,950- almost one session free. 😀 It is definitely cheaper to get their packages. Mom and I have been getting brow threading packages too. Instead of paying PHP 580 each time we visit, it becomes PHP 380 per session (if I'm not mistaken).
Now, the million dollar question- Is the Lash Curl Up worth it? I'm sorry Browhaus and to those who love having their lashes curled in salons but I personally think, it's not. Don't get me wrong. I love how my lashes look right now. I love how Browhaus did it. I love everything about Browhaus. They have never failed me. Every time I leave their salon, there's always a smile on my face. 😀 I always go home happy and contented with their services. 😀 It's just that, I have yet to justify the need to spend for a lash curl up. Yes, you can save time from not curling your lashes everyday. But hey, how much time do you really need to use an eyelash curler? Less than a minute, I guess? And to spend PHP 2,200 or PHP 1,550 (if you availed of their package) good for about 2 to 3 months just for 1 hour to 1.5 hours total savings (1 minute x 30 days in a month x 2 or 3 months)…??? Hmmm… I'll have to think twice, thrice, or even forever if I'm going to avail of that service. Hehe! Well, that's just me. If you have the moolah to spend or if every second of your life counts that curling eyelashes everyday costs you too much, why not? 😉 This is just my opinion. Hey, this doesn't mean I'm not going back to Browhaus anymore! I trust them 100% with my eyebrows so I'd still be back every month or two. 😉 Their brow technicians are still the best for me. 😀