You may look dashing with your makeup, but it won't be complete without the perfect hairstyle. Problem? A lot of ladies have a hard time creating hairstyles for different occasions. Finally, a personal hair styling workshop is here! Thanks to Studio SnR Workshops, L'Oreal Professionnel, Tokyo Posh and Nippon Esthetic Solutions for collaborating and launching Mane Style Series: A Personal Hairstyling Workshop.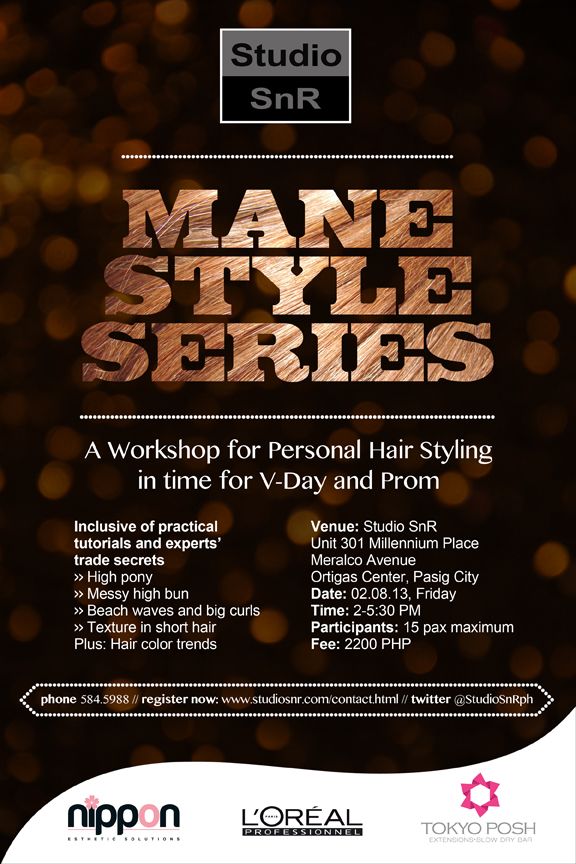 An interesting mix of Parisian and Japanese know how learned from the experts, this limited slots class will do wonders for beauty enthusiasts, budding hairstylists and those interested in DIY hair art. Simple and straight forward, attendees will have an influx of tell all on how to achieve stars' most coveted hairstyles! Bonus features include personal consultations on the newest hair trends suited for your skin tone.
With the success and much sought after Beauty High Tea Series from 2011, we invite all interested parties to this new series. The Mane Style series: A Personal Hair Styling Workshop will be offered quarterly. Attendees should expect a hands-on workshop in a relaxed environment is always a positive way to really gain the focus and loyalty of each consumer.
Venue: Studio SnR
Date: February 8, 2013 (Friday)
Time: 2:00pm to 5:30pm
Participants: 15 pax maximum each workshop
Lessons Covered: Basic Hair Care Introduction – Introduction to Hair Color (What suits skin tone)
Hair Styling such as sleek high pony, messy high bun, beach waves/soft curls framing the face, tools know how, texture in short hair and more!