Almost every cosmetic brand has its own technique in applying makeup. I guess, the same can be said for makeup artists. This is why whenever I get to attend makeup workshops, I still get excited. I always learn something new, which I really value as a makeup artist. When I received an invite for an exclusive makeup workshop with Angela Boh, Regional Training Manager of Shiseido, it was surely a "YES"!
Aside from learning more makeup techniques, I really wanted to know more about the brand. I've been using some of their makeup, especially their shadows, but I haven't really explored everything they have. I thought it was a perfect time for me to experience more of Shiseido. Here's a fact: Shiseido was founded in 1872 as Japan's first Western-style pharmacy in the upscale Ginza district of Tokyo! Now you know why Shiseido is one of the leading Japanese brands and why most of our mom's are an avid fan.
I got really excited when this event area in Greenbelt (beside Adora) was turned into a classroom setup. Each table had our names on it with some brushes and makeups. Oooh… I'm back to makeup school- something I've been really missing! 😀 And my classmates that day? Beauty enthusiasts from the press and the blogsphere.
One of the first few things we touched the moment we sat down is Shiseido's famous Perfect Foundation Brush, which you can see on the right. It's known to create a perfect natural finish with great coverage. It can also be used with any type of foundation, emulsion or powder. I'll get more into detail when I do a review about it.
After a short catch-up with friends, the event started. Here's Angela Boh, Shiseido's Regional Training Manager in Asia…
Angela started off with the application of Shiseido's primer all over the face to erase imperfections and to improve the wear of foundation.
Then, she applied foundation, concentrating on the cheeks. She used the three effective application techniques to achieve a pro-quality finish using the Perfect Foundation Brush.
Pat On the brush on areas that need full coverage (usually the cheek area).
Press Down the brush for moderate covering power and close-fit finish. This is usually done on the forehead, nose, chin, and lids.
Blend Outwards on the borders of the face and neck for a natural-looking finish. The gradation effect makes the face look slender.
An interesting product used by Angela is Shiseido's newest Radiant Lifting Foundation. For Shiseido's Autumn/ Winter 2012 Collection, they are launching products that can achieve that natural, glowing and flawless look. The Radiant Lifting Foundation has that Radiant Reflective Complex which applies the light-bouncing and illuminating effect of a reflective board used by most photographers.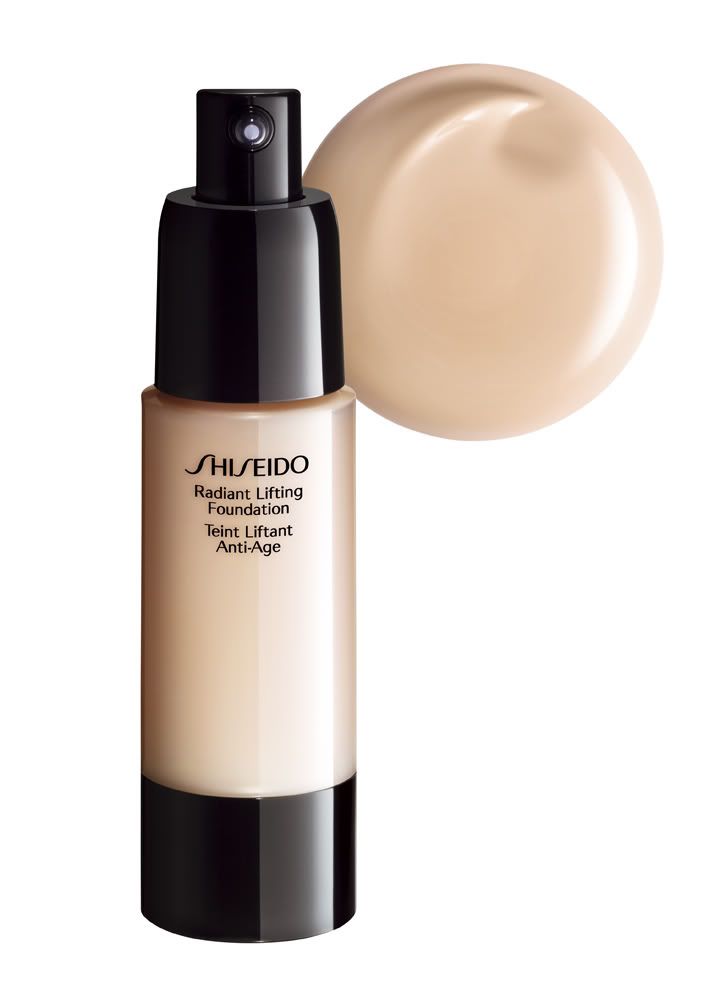 The first feel at the back of my hand? As I was blending the foundation, I initially thought it has quite thick consistency. I was surprised though how natural and light it felt a few seconds after. There was no sticky-feel as well.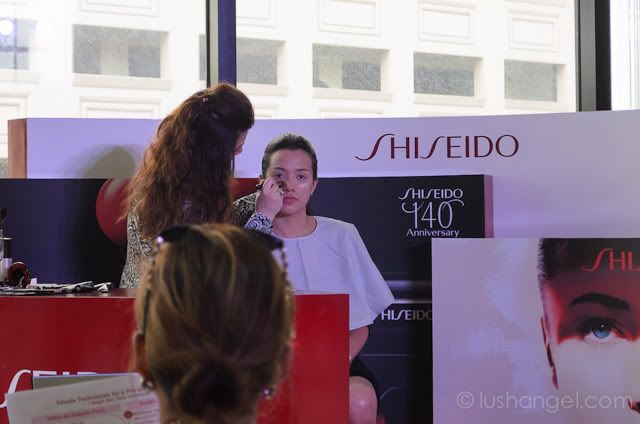 To define the features, concealer was applied to the corners of the eyes, sides of the nose, and corners of the mouth.
For that radiant finish, Angela applied concealer under the eye and on the bridge of the nose. Using Shiseido's Camellia Compact, which is also part of their Autumn/Winter Collection 2012, she added color and highlights on the model's face. The Camellia Compact comes in three shades-  Rich Rose, Spring-Petal Pink, and Icy-Cool Platinum. She used Spring-Petal Pink on the apples of the cheeks, while Icy-Cool Platinum under the eye and on the T-zone.
Angela gave the model a modern elegance look using Shiseido's Cream Eye Color in green shade. Of course, she also curled the lashes and defined the brows. She finished off the look with their newest lippie, Lacquer Rouge Collection.
Lacquer Rouge is a collection of pigmented liquid lip colors. It has the simplicity of a lip gloss with the color intensity of a lipstick. It comes in twelve gorgeous shades, from subtle nudes to bold plums.
The finish look…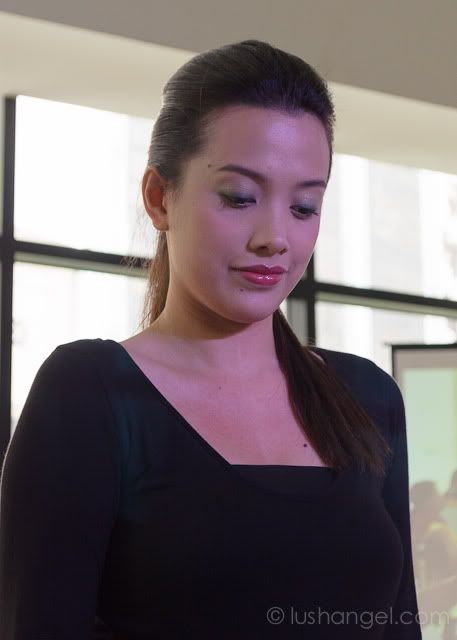 All the participants also had a chance to experience the Shiseido way of makeup application. We were all given models and to make it even more exciting, they announced that the Shiseido team will pick two winners- one from our media friends and one from the bloggers. And the prize? A Shiseido shopping spree! The criteria was 70% glowing skin. The contest was surely exciting, but I honestly didn't think of it as a competition. I guess we were all there to learn and to have some fun! 😀
Here's my model with bare face…
Here are a few photos in action grabbed from Whimboy Echaves…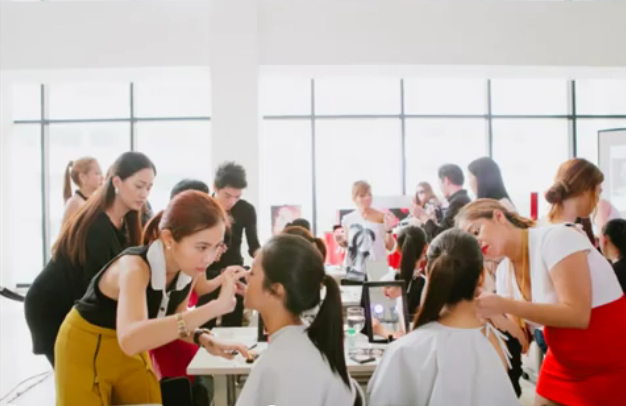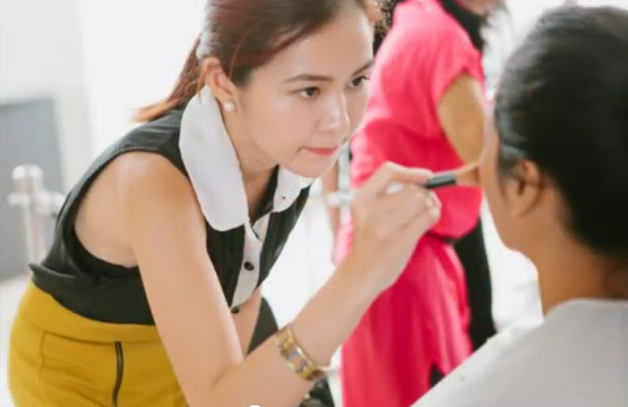 I tried the techniques that Angela taught us that day. For the eyes, I went for a sophisticated nude look using Shimmering Cream Eye Color in beige and in black. I brightened up her eyes and gave her a fresh, glowing face. Here she is after…
All models were equally beautiful. I think everyone did a really great job! 😀 For those who are following me on Facebook, Twitter, and Instagram, I guess you already know who won. 😀 😀 😀 It was the Third Week of September and I think luck was on my side. 😀 Well, of course, it wasn't just sheer luck. I did the best I could and most importantly, I was having fun! 😀 It's what I love to do! 😀
photo from Whimboy Echaves
Right after the workshop, I headed to the Shiseido boutique in Greenbelt for some serious shopping!
I spent almost 2 hours choosing from their makeup and skincare lines! It was heaven!!! 😀
Ooops, and yeah I did a lot of testing. Hehe! Thanks Whimboy for this photo! 😀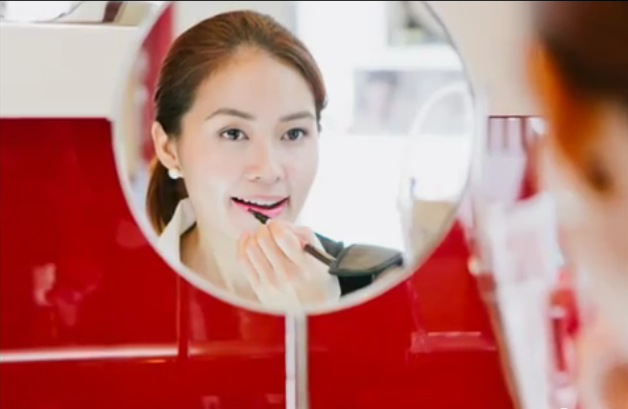 And here are Shiseido's skincare lines…
Confused which one is for you? Take their skin analysis test in their boutique to know your skin's current condition.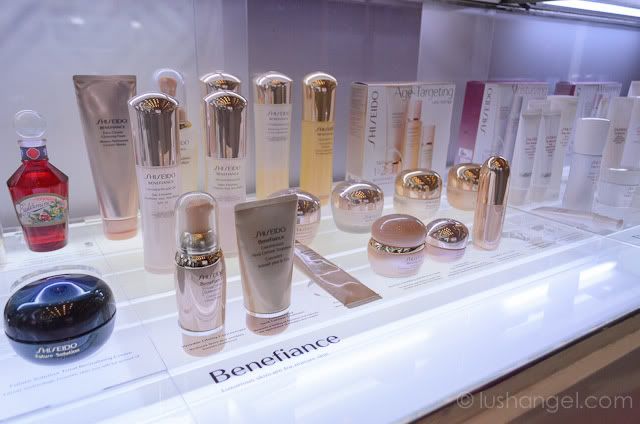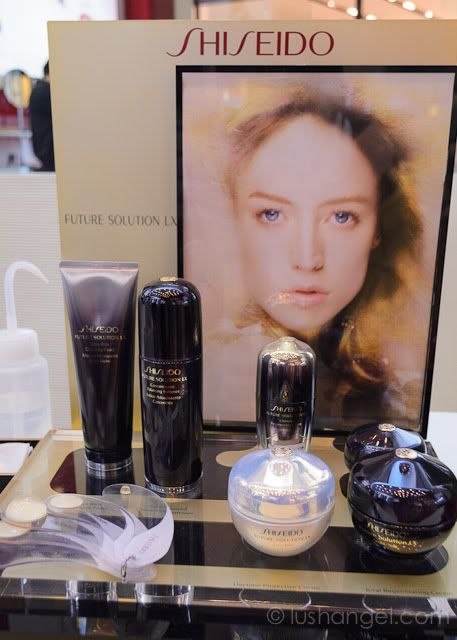 It was really one great day with Shiseido! 😀 Thank you for sharing the Shiseido techniques and for an amazing shopping experience!!! 😀 I'm truly grateful! 😀
with Celeste Echaves (Training Manager for Shiseido), Jen Jimenez-Yalung (Product Manager for Shiseido), and Angela Boh (Regional Training Manager of Shiseido)
To sum up the event, here's a video from Whimboy Echaves. Enjoy watching!
To get instant updates from Shiseido Philippines, add them up on Facebook (ShiseidoPH) and Twitter (ShiseidoPH).