Yes, we all know Strip is a waxing boutique, but what's that "something sweet" they are offering?
Vanilla? Cupcake? Okay, just put them together and that's what Strip Manila is offering now! Yes, Vanilla Cupcake! In fact, let's make it international- It's New York Vanilla Cupcake!
I was invited when Strip Manila introduced their newest wax, New York Vanilla Cupcake. This is how it looks when stored…
Looks yummy, eh? When it melts, it's seriously like white chocolate. Even the smell makes me crave for something sweet.
Here's Tab Abad from Strip Manila explaining to us their newest wax. It's good to know that it's safe even for those with sensitive skin! Before introducing New York Vanilla Cupcake to their clients, she made sure to try it herself. Tab has very sensitive skin. Any allergy or irritation would react on her entire body. Good news- It's mild enough that she didn't get any rash.
All the bloggers present were invited to try out this new wax. Yup, it's time to get stripped! LOL! But before the session, we were all given a morning surprise treat prepared by Monique Jamlang, Strip Manila's Sales and Marketing Head…
Vodka shot with lemon and cinnamon to give everyone the courage to go hairless! LOL! I think I've got high pain tolerance, nevertheless, I took the shot. Haha!
Here's something I'd like to share when it comes to waxing. Yes, I still feel pain whenever I get stripped. I just try to put my mind off it during the session by talking to my Strip Expert, using my mobile phone, or anything that could distract me. And remember, more than vanity or feeling sexy, it's for hygiene, so you'll just have to do it! 😀
And who would get nervous while walking along the streets of New York?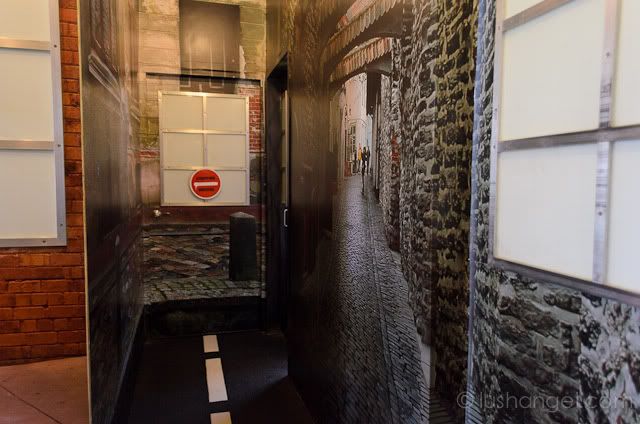 They've got such pretty interior! Do you know that Strip boutiques around the world have different themes? They choose various places like Amsterdam, New York, etc.
Anyway, this is how the room looks…
A wax pack with sealed wet wipes, spatulas, tissue paper is given to every client. Oh, and look who's on the bed… Meet Jenny, their stress ball! You're free to squeeze him while you get waxed! LOL!
Words of encouragement around you…
Strip lives by their HSQ mantra: HYGIENE, SPEED and QUALITY. Simply put, there is absolutely no double dipping. Each Stripette receives their personal hygiene wax pack. They use the best of the best waxes and their Striperellas Strap on (their latex gloves) and Strip Off (the wax) in 15 minutes flat!
We were also given Peace+, an upgraded version of their Peace ampoules. It's said to delay hair growth and helps in making hair strands thinner.
VERDICT: How was the New York Vanilla Cupcake Wax? Currently, they have other two kinds of wax, Chocolate and Strawberry. The Chocolate wax, which I tried before, would be my comparison. I thought New York Vanilla Cupcake felt softer and smoother, which helped me think it was less painful. BUT I learned from Tab after my session that all three waxes are THE SAME! They just differ in terms of color and scent. It's probably a matter of perception that caused me to think and feel it was better. The white color can be associated to something smooth, calming, and pure. Well, whatever it is, New York Vanilla Cupcake is now my favorite! The downside? It's only available while supplies last! So, while Strip Manila has it, I suggest you try it out!
For more information, visit Strip Manila on Facebook.