Who are the 3 lucky winners of Lactacyd White Intimate gift packs???
Winners were chosen via random.org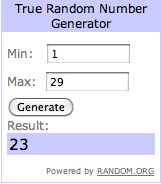 Congratulation to the 17th, 21st, and 23rd commenters- Carmi Compasivo, Leizle Demaisip, and Mayla Lagrimas!
For the winners, please drop me an e-mail at [email protected] on how to claim the gift packs.
Thank you to all those who joined! More giveaways coming soon! 😀