Shiseido Perfect Foundation Brush has been quite a big buzz among beauty gurus and editors. I first had the chance to try it during the Shiseido Makeup Workshop with Angela Boh. After using it several times on myself and clients, I can finally share my thoughts on this foundation brush.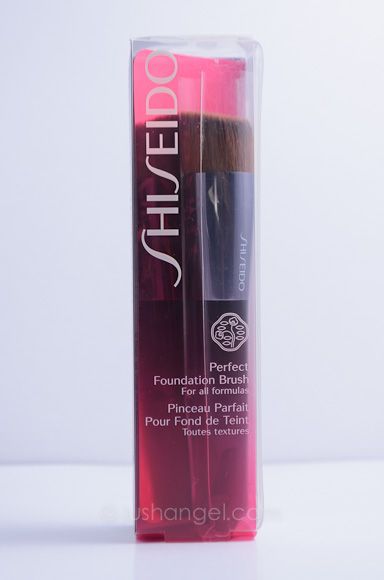 Product Information
Finally, a foundation brush for use with all formulations – liquid, cream or powder. Shiseido's innovative technology combines with traditional Japanese brush-making techniques to create the perfect foundation finish. Excellent pick-up of all types of formulas for a uniform application and impeccable finish. Gently tapered strands create an angled slant that best allows bristles to reach all facial contours. Short handle allows for precise control during application and portability for travel.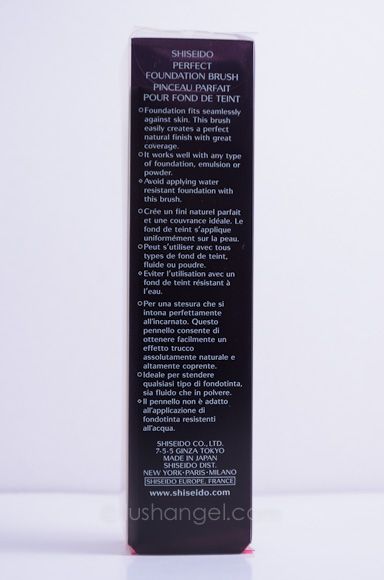 I love it because…
it can be used to apply liquid, cream, or powder products.
it has firm and densely packed synthetic bristles. It can easily grab the right amount of product.
its flat surface can produce flawless and even airbrush finish. Blending foundation is very easy, not leaving any streaks.
it doesn't shed nor bleed even after several washing.
it's very soft on skin- no scratchy-feel. Even my clients love how it feels when I use this on them.
it can quickly create light to medium to heavy coverage depending on the application technique. Use a dabbing motion for heavy coverage, pat lightly on the skin for moderate coverage, and move the brush outwards while blending for light coverage. Of course, you have to use an appropriate amount of foundation to suit the preferred finish. More application techniques shared on my Shiseido Workshop post.
it's angled, allowing the brush to fit the contours and folds of the face- even the corners of the nose and the eye area.
it has short handle, which makes it very handy. It also allows me to have better control of the brush during application.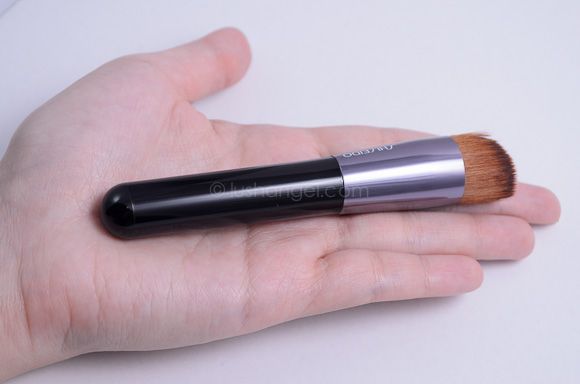 I wish…
it's easy to clean. Like any foundation brush, it's harder to clean the brush completely since liquid/ cream products are difficult to remove. See tips below how to clean the brush.
it's cheaper since it's priced at PHP 1,500 (USD $30).
Tips from Shiseido
Wipe off excess foundation with tissue every after use.
To wash, immerse brush in lukewarm water with a small amount of mild detergent and move the brush back and forth lightly. Rinse thoroughly and remove excess water by dabbing the brush hair surface on a dry towel or tissue several times. Then, lay the brush sideways in a well-ventilated shaded area to dry completely before use.
Do not put a damp or wet brush in a makeup bag.
For optimal application, use a clean brush. A dirty brush doesn't take up the foundation well.
Do not use the same brush for liquid and cream foundation and powdery foundation without washing and drying it completely. It may cause powder caking.
Since water resistant formula is difficult to remove, avoid applying it with this brush.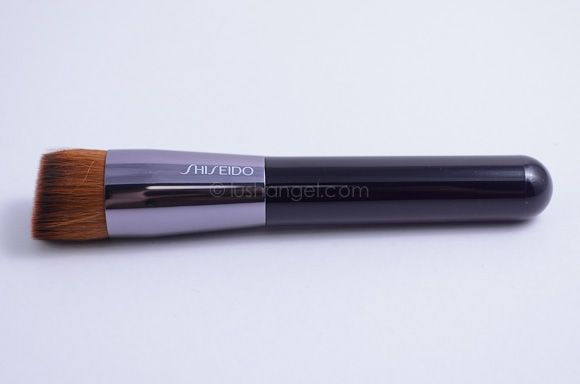 Additional Tips
Wash the brush upon purchase.
If the brush is used with cream or liquid products, you can use a drop of oil cleanser first before using your trusty brush cleanser.
Overall
I'm pretty sure some would be hesitant to buy a single makeup brush for PHP 1,500 (USD $30). I'd probably be one of them IF I have zero knowledge about the brush. Beauty enthusiasts won't create a buzz if it's nothing though. True enough, having tried Shiseido Perfect Foundation Brush made me realize it's worth every cent. It's not something you'll have to purchase every now and then, anyway. As long as you take good care of it by cleaning it properly, it could probably last you forever.
Shiseido Perfect Foundation Brush works like magic, indeed! It picks up and distributes product evenly, creating an airbrush finish. When I first saw the brush, I had two initial reactions. The handle is too short and the bristles are too packed, which might give me heavy coverage only. I spoke too soon without even trying. The short handle actually allows better control of the brush. As for the firm and densely packed bristles, getting light to moderate to heavy coverage can actually be done in less time, especially with the Shiseido technique of applying foundation as shared in my Shiseido Makeup Workshop post.
I recommend Shiseido Perfect Foundation Brush to those who are willing to shell out for a really good quality foundation brush that can give flawless airbrush finish.