I had a day of pampering at Jing Monis Salon recently. They currently have three branches- Bellevue, Greenbelt and Maxims. Since I wasn't able to go to the launch of Velvet, the Jing Monis Salon branch at Maxims, I thought of trying out their service.
It's a small, but very luxe salon. The white tables and chairs bring a very relaxing vibe.
Since my hair was dyed dark brown (almost black) two months ago for a shoot, I opted for a light hair color. I love how they really took their time in coloring my hair. I can't take it whenever a few streaks are left just because the hair technician is in a hurry. Thanks to the hair experts at Jing Monis Salon for being so patient with my very thick hair! 😀
It's always important to have hair treatment after a hair color since the chemicals can dry out your hair. Make sure too that the treatment works best for colored hair. Remember, some products can cause fading of hair color. They used Schwarzkopf Color Freeze treatment on me, which is really good for color-treated hair.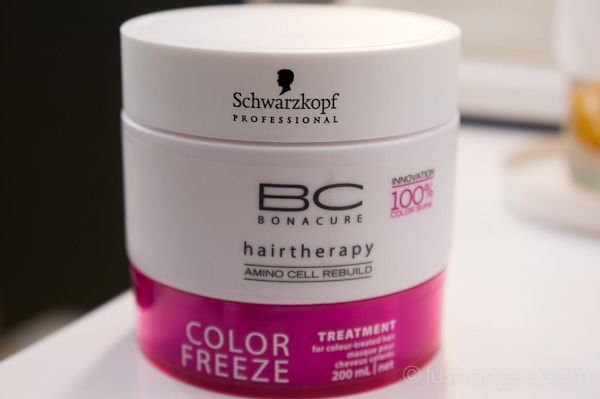 Here I am with the Velvet team. My hair is still not that light since I was informed that it's quite hard to do a drastic change on my hair with my previous color. Well, there is a way but that would involve bleaching my hair, which I'm trying to avoid. My hair has been so stressed out for the past years already and I don't want to add to that anymore. Haha! Again, thank you to the wonderful Jing Monis Creative Team! I had a great time! 😀
So, with all the Christmas parties to attend here and there, you know where to go! 😉
For more information, visit their website (http://www.thejingmonissalon.com/) or follow them on Facebook (https://www.facebook.com/jingmonissalon) and Twitter (http://www.twitter.com/jingmonissalon).
The Jing Monis Salon contact numbers:
MAKATIl: 8934098 (+63917) 8306515
ALABANG:5550963 (+63917) 5214480