When I introduced the ultimate whitening pair, Shiseido White Lucent Intensive Spot Targeting Serum+ and Shiseido White Lucent Power Brightening Mask, in THIS POST, I also mentioned I was going for Shiseido's 7-day skin challenge. I used the serum every morning and night for 7 days and one mask on my last day. Finally, here's my review of the ultimate whitening pair and the result of the challenge.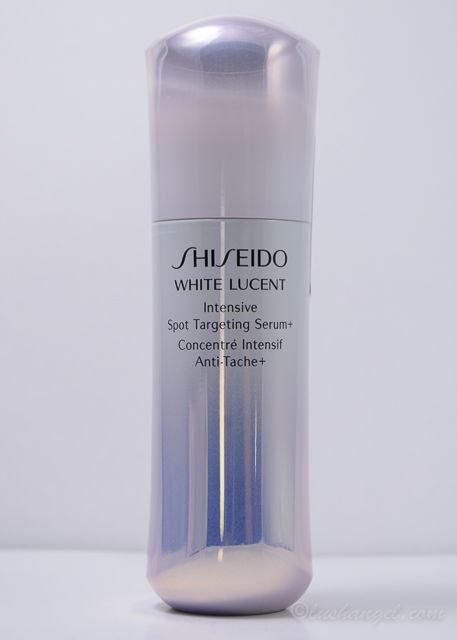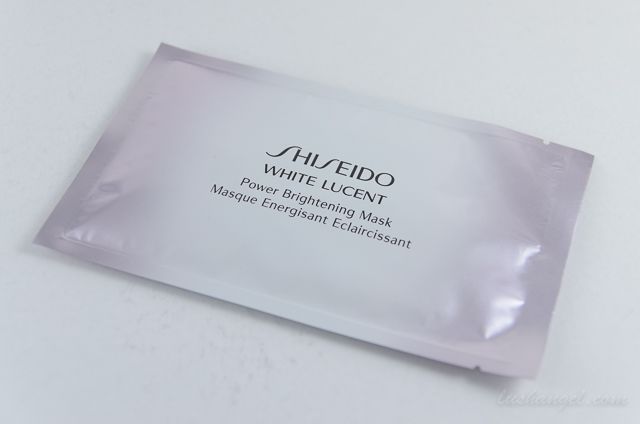 Product Information
Shiseido White Lucent Intensive Spot Targeting Serum+
A super brightening serum created to diminish stubborn dark spots in 10 days and prevent future pigmentation from appearing. Formulated with smoothing and re-texturizing ingredients to enhance clarity and radiance for flawless, perfectly even-toned skin.
Developed with advanced Shiseido Multi-Action Brightening System+, targeting all types of hyper-pigmentation and their causes: dark spots, age spots, acne scars and uneven skin tones.
Contains ME Complex (Yomogi Extract and Angelica Root Extract) to accelerate cell turnover and diminish and eliminate melanin pigment.
Shiseido White Lucent Power Brightening Mask
An original brightening mask inspired by iontophoresis, a beauty treatment that saturates skin with a generous amount of brightening ingredients. Through the power of Ion Force Technology, the brightening ingredients are absorbed deep within the skin for highly effective results. Remove the mask and se your skin refreshed, bright and even toned.
The unique shape of our mask is the result of a long and meticulous design process that led to its simple and effective form. Made with highly elastic new materials, it fits any face perfectly, allowing the formula to reach deeply into every part of the skin.
Pros
The serum is in a pump bottle- easy and sanitary way to dispense the product.

The serum has watery texture, perfect for oily-skinned individuals like me. Of course, my skin is still oily, but my oiliness didn't aggravate because of the serum even when used during the day.

The serum feels super light on skin.

The 30ml serum will last me for quite a while since I only use 1 pump for my entire face. The watery texture is easily spreadable.
The serum doesn't sting.

The serum is quick absorbing. I don't feel anything in a matter of seconds! No greasy or sticky feel at all.

I noticed my skin is brighter in just 7 days!

Some of my acne marks appear a bit lighter.

The mask feels cold so it's really relaxing to use.

Right after removing the mask, I feel my skin is super soft and hydrated!

The mask has instant brightening effect. Skin looks glowing right after.

The mask is stretchable so it fits the face perfectly. I could multitask and do other things while I have the mask on. It doesn't fall off.
The ultimate whitening pair didn't cause me irritations, allergic reactions, or break outs.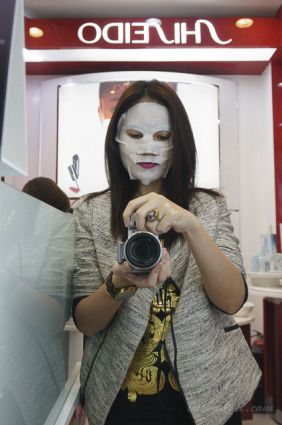 Cons
With the printed bottle of the serum, it's hard to know how much product is left.
Both the serum and the mask can be quite pricey. The 30ml serum is PHP 5,650 while the Brightening Mask is PHP 3,200.
My face feels a bit sticky right after removing the mask probably because it contains very potent ingredients. I don't mind though since I use the mask at night, before going to sleep.
Tips
Apply serum everyday- day and night after cleansing and toning.
For those with normal to dry skin, extra moisturizer on top of the serum is needed.
It is recommended to use the mask once a week for best results.
Apply serum before putting on the mask.
After removing the mask, massage face and let your skin absorb the product from the mask.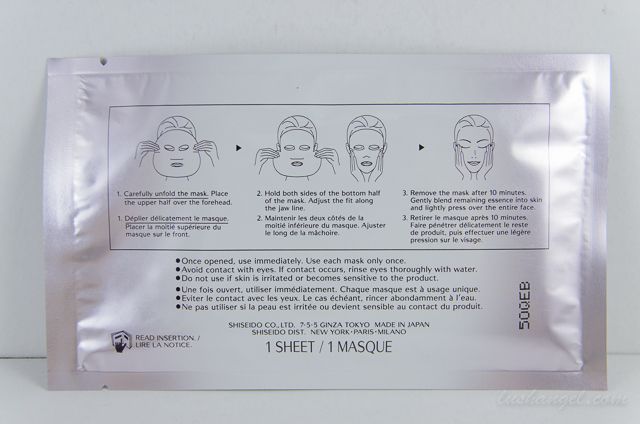 Overall
Shiseido White Lucent Intensive Spot Targeting Serum+ has the perfect consistency, even for those with oily skin. It's more on the watery side so I can use it both day and night. It doesn't cause me to be extra oily at all! I use it as is during the day, while I apply extra moisturizer on top at night. Since Shiseido White Lucent targets dark spots, you can use another product on top to address other skin concerns like dryness, fine lines, wrinkles, etc.
Shiseido White Lucent Power Brightening Mask is indeed an instant skin brightener and it's noticeable right after removing the mask. I love how my skin feels so hydrated and supple.
It's amazing how this ultimate whitening pair (Shiseido Intensive Spot Whitening Serum+ and Power Brightening Mask) made my skin look brighter in just seven days! I have very light acne marks, as seen in my before photos below. I noticed at the end of the challenge, my acne marks on my left cheek is even lighter! You can also see from my after photos that my skin is brighter and more glowing. Take note that I used the same camera and flash settings on these photos. Also, photos were not edited. I only placed my watermark at the bottom of the pictures. Although this ultimate whitening pair may look quite pricey, I have to say every cent is worth it as I saw instant effects right away. 🙂
Before (wearing black) and After 7 days (wearing white)
The after photos were taken right after removing the mask. There is instant glowing effect, which is more obvious on the cheeks and forehead. Sorry, it's pretty obvious on my after pictures that I didn't had enough sleep the night before. Eeeek!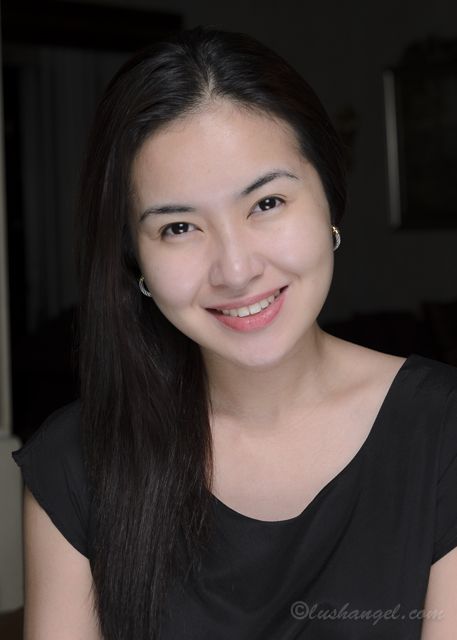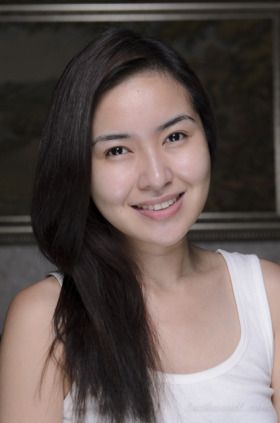 acne marks on my left cheek appear lighter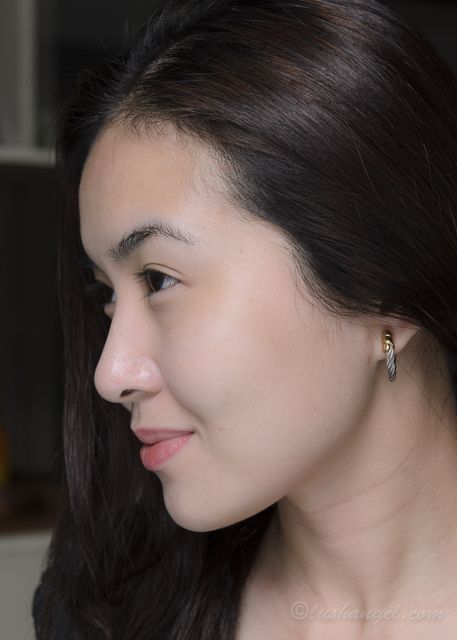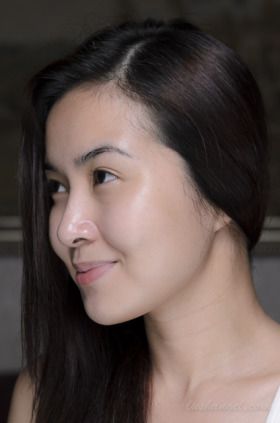 acne marks on my right cheek looks the same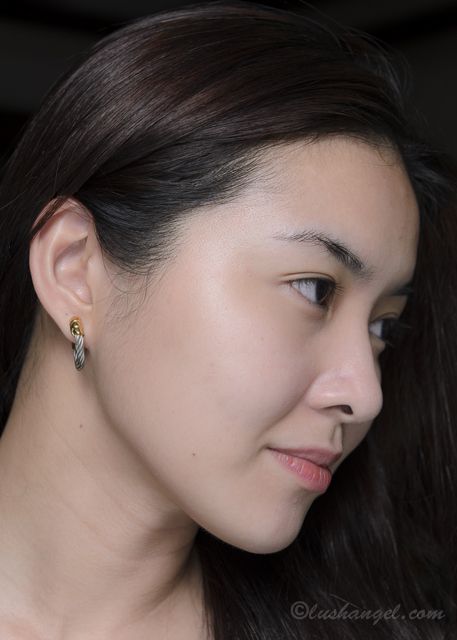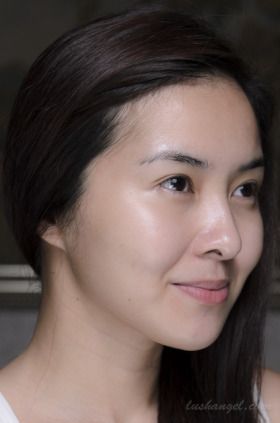 Shiseido Intensive Spot Whitening Serum+ and Power Brightening Mask are available in all Shiseido counters.
To be updated with Shiseido's latest products and events, follow them on Facebook (https://www.facebook.com/ShiseidoPH), Twitter (@shiseidoph), and Instagram (@shiseidoph).
For instant beauty, fashion, travel, foodie, or random updates from me, LIKE lushangelblog on FACEBOOK, FOLLOW  lush_angel on TWITTER and lush_angel on INSTAGRAM.