Cure Natural Aqua Gel is  an exfoliant, like a facial in a bottle. It is the most popular skincare product in Japan and has been in the market for 10 years! It is considered as the "Legendary Product" in Japan and "Monster Product" or "Million Dollar Product" in Singapore. Let's see how and why! Here's my review.
Product Information
Traditional exfoliations such as chemical peeling, gommage and scrubs are strong and damaging to the skin. Exfoliation also makes a huge difference on the result of our skin care regimen. Lotions, serums or moisturizer will be absorbed by the skin more!
Accumulated dead skin layer slows down skin turnover which then causes pimples, dry skin, oily skin,dull skin, skin pigmentation, dark spots and signs of wrinkles. That's why we need to exfoliate regularly!
Cure gently removes (0.01mm) dead skin which make-up remover and facial cleanser cannot.
90% of ingredient is water

preservative free
artificial fragrance free
mineral oil free
coloring free
I love it because…
it's in a transparent pump container. It's easy to know if I'm running out of product. Plus, the product inside the bottle is left sanitized since there's no need to dip fingers inside the container. There's also an extra cap in the middle of the pump to avoid spillage, making it great for travel as well (although the bottle can be a too bulky).

there's English instructions at the back of the bottle.
I can really see dead skin coming off. As I gently rub Cure Natural Aqua Gel onto my skin, I see and feel the build up of white particles.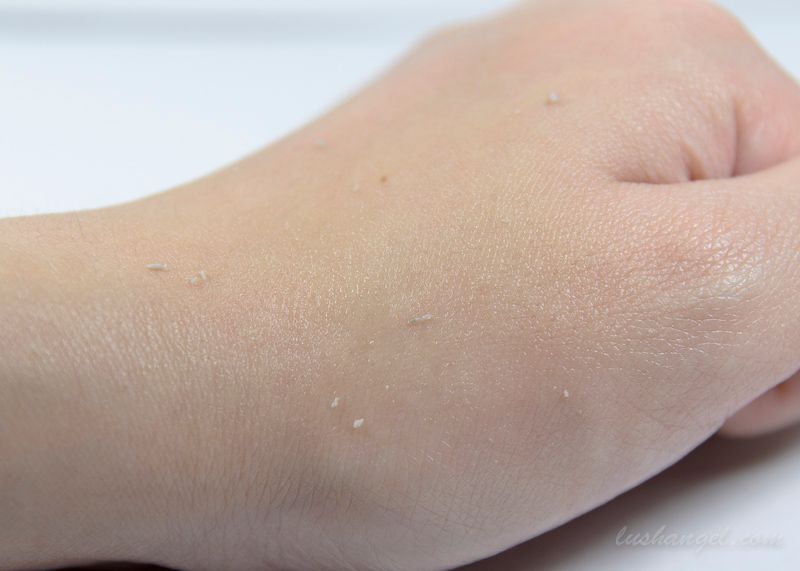 skin feels really soft and smooth right after.
it effectively removes my dry flakey skin around the nose area.
I didn't experience any irritations on my skin.
it doesn't have strong scent.
I can use it in any part of my body- elbows, knees, feet, etc.
it retails at PHP 1,500 for 250 grams bottle. It can look pricey at first, but you only need to use it twice a week. One pump is enough for my entire face so a bottle can last me more than 6 months! Besides, if you think about it, the price is just about 1-2 facial sessions in a dermatologist.
I wish…
it doesn't leave the skin dry. I have oily skin, so I really do not have any problem with this. For those with dry skin, just don't forget to moisturize after.

it doesn't have the tendency to leave sore dry patches. This can happen if you rub the product too hard against your skin. 

the texture is not too runny since it's mostly made up of water. I have to gently rub the gel against my skin right away to avoid dripping.
Tips
Patch test first to make sure your skin won't react to the product. You can use it first on your hand. If the product did not react, try the chin area next before using for the entire face.
Apply on clean and dry face. Cure doesn't work well under wet and cold conditions. Store at room temperature and make sure hands and face are dry during use.
Pump a dab of gel on your fingertips and apply on your face in circular motion for 30 seconds to 1 minute. Remember, you do not need to rub too hard as the dead skin/ white particles will come off even if you do it gently.
Rinse face with water after and follow with your daily skin care routine- tone, moisturize, etc.

Don't forget to use sunscreen right after, especially if you use Cure in the morning. Remember, newly revealed skin can burn easily.

Do not over exfoliate. Only use once or twice a week.
Overall
I rarely exfoliate my face at home. I rely on my regular facial at least once a month. The first time I tried Cure Natural Aqua Gel, I honestly thought the white particles that build up were just the product itself. I couldn't believe it was actually my dead skin. But after washing my face, I tried exfoliating again with the same amount of product. I was surprised that there were only few white particles. And on my third try, nothing came off. If those white particles were just the product, it should build up every time I rubbed the gel. I then realized that those white particles are actually my dead skin. Amazing! 😀
I love how it makes my skin feel soft and smooth right after. Since I also use a peeling cream every night, I get dry flakey skin around my nose area, which doesn't look good on makeup. When I use Cure Natural Aqua Gel, dry skin comes off easily, making my skin ready for makeup! It also dries my oily skin a bit, which I really need. Those with normal to dry skin can apply moisturizer after to keep skin hydrated. I haven't really seen its whitening effect, but if it actually removes dead skin every time you use it, dark spots will eventually lighten. It just takes a little bit of time for it to be noticeable.
I recommend Cure Natural Aqua Gel to those who love to exfoliate, minus the painful scrub. It's also great if you have dry, flakey skin.
Cure Natural Aqua Gel is available in the Philippines exclusively through Beauty Bar stores. Add them up on Facebook and Twitter to get instant updates.
For instant beauty, fashion, travel, foodie, or random updates from me, LIKE lushangelblog on FACEBOOK, FOLLOW  lush_angel on TWITTER and lush_angel on INSTAGRAM.