Yesterday, I dropped by Rockwell Tent to experience the much talked about Make Your Own Havaianas (MYOH). I've always wanted to design my own flip flops, but I've never got the chance. This year, I almost did not make it again, but good thing I came back from my vacation right before this annual event ended! Woot! Woot! Finally!
Although Rockwell Tent was packed, there were a lot of Havaianaticos to help us out! Havaianas Philippines really prepared for this huge annual event, I must say! 😀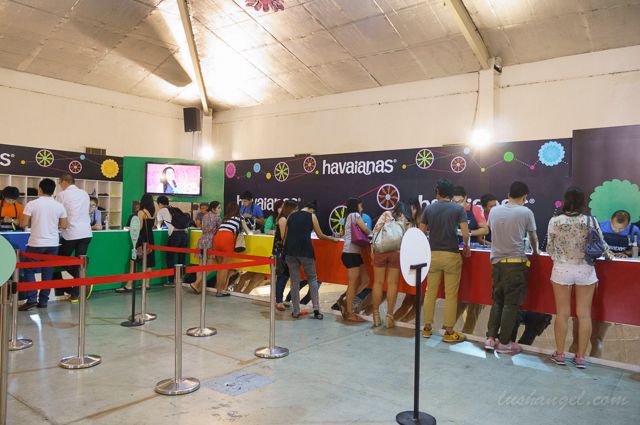 There were a lot of soles and straps to choose from!!! I went crazzzy! Haha!
For this year, Havaianas collaborated with Dan Matutina, a Filipino illustrator, for the first Make Your Own Havaianas glow-in-the-dark commemorative pair. Dan Matutina + Havaianas, available in carbon blue sole, features spacemen with space markers connecting the stars to form images—representing how Havaianas enables everyone's creativity and imagination to take off to greater heights. I wanted one for myself, but unfortunately, they don't have my size anymore.
Since I still have beach hangover, I ended up with a cool, summer pair- light green sole and salmon strap.
To complete the summer feel, I added sun pins!
Nadine helped me out in making my Havaianas flip flops. Thank you Nadine for being so patient!!! First, she placed the pins on the straps.
She then inserted the straps. It looks so easy, so I tried doing it myself!!! Yes, I tried to insert the strap and pull the sole. Oh my, it was hard!!! LOL! I didn't had much energy that time. It took me a few minutes to put on the strap properly, while Nadine can do it in seconds! Haha!
Awwww… Isn't my pair look sooo cute? Incidentally, it's pretty much the same color as my blog's layout! Yay! 😀 Looking at my pair of Havaianas makes me want to go back to the beach again. I miss the island life already! 😀
Excuse my nail polish as I just came back from my 7-day beach trip. Hehe!
Anyway, you still have today to Make Your Own Havaianas! Run to Rockwell Tent NOW!
Here's another great news! In the ultimate celebration of self-expression that every Havaianatico has come to know, Havaianas will be intensifying this year's Make Your Own Havaianas experience by recognizing everyone's creativity through You + Havaianas.
You + Havaianas is the brand's first major crowdsourcing contest where everyone will be given the chance to submit a winning design, which will become a limited edition style for the 2014 Havaianas Collection.
You + Havaianas is launched on-ground together with Make Your Own Havaianas on May 2-5, 2013 at the Rockwell Tent, with simultaneous executions in Laoag, Subic, Batangas, Naga, Cebu, Bacolod, Boracay, CDO and Davao. Entries can also be submitted online until June 9, 2013. For more information, visit www.youandhavaianas.com.
Follow Havaianas Philippines on Facebook, Twitter (@havaianasph), and Instagram (@havaianasph).
For instant beauty, fashion, travel, foodie, or random updates from me, LIKE lushangelblog on FACEBOOK, FOLLOW  lush_angel on TWITTER and lush_angel on INSTAGRAM.