With our hot and humid weather, we always want to smell fresh. I recently discovered this fragrance that can perfectly be described as F-R-E-S-H! Presenting, John Galliano Parlez-Moi d'Amour Eau Fraiche, which I call freshness in a bottle! LOL!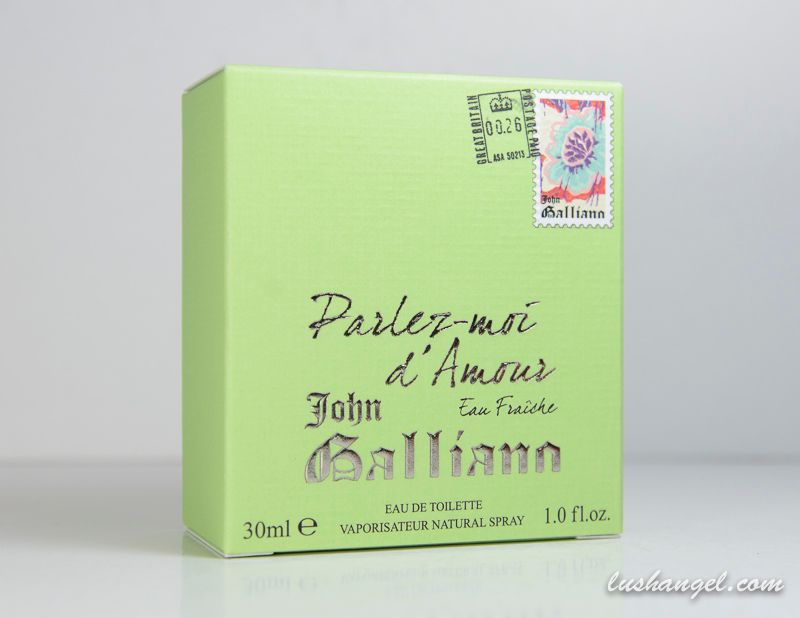 Inspired by the house's own renowned spirit of adventure, the 'fraîche' chapter of Parlez-moi d'Amour is once again createdby internationally celebrated 'Nose' Aliénor Massenet: "For Eau Fraîche I wanted to capture the freshness of a waterfall with the Parlez-moi d'Amour signature. I built around a musky femininity, and created a light more luminous mood."
The result is a striking scent that mirrors the creative sparkle of Galliano to craft an evocative new essence that is unforgettable and utterly irresistible. "Using Parlez-moi d'Amour's musky 'rock chick' femininity l'Eau Fraîche invites you on a journey where at sunrise fragrances of fresh flowers and citrus fruits reveal all their luminous and light facets."
The fragrance is in a letter shape bottle. The letter symbolizes the unpredictable, the care for others, the inspiration, and the surprise. A letter nowadays is a rare object, thus it's a precious one. It also has the new waterfall flower stamp from Galliano fashion collection. The green color of the packaging brings freshness, radiance and sparkle to the line.
It has a new silver signature cap to bring modernity and branding.
The first spritz can be a bit strong, but as it dries down, it lightens. It's fresh, sparkling and zesty. It's a floral fruity musky fragrance. It has sparkling notes of a fresh ginger illuminated by radiant and delicate zesty facets of a grapefruit flower.
At its heart is a feminine and floral signature of the seductive duo rose/jasmine, emblematic of Parlez moi d'Amour, which becomes radiant, brightened up by unexpected white currant slightly acid.
Then, it dries down soft and refined trail with the sharp woody accent of the cypress absolute intermingled with musks.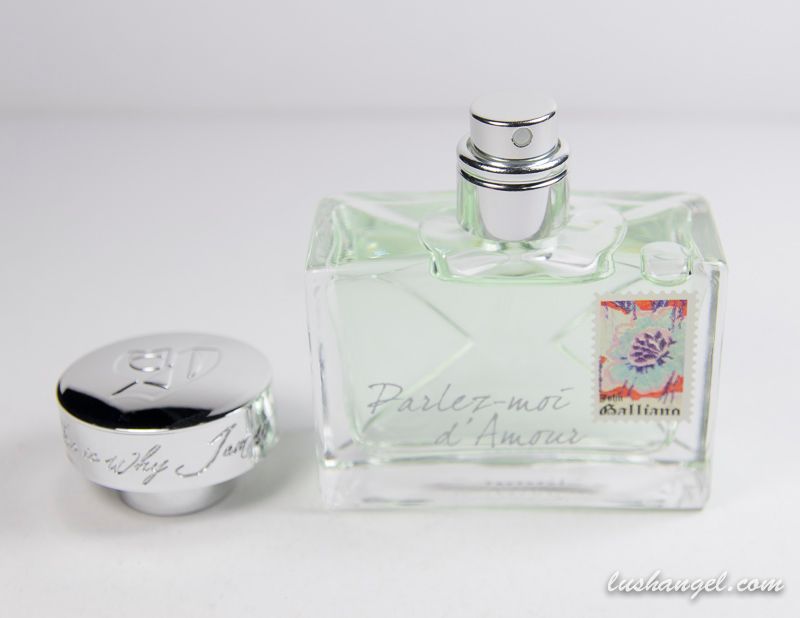 I find myself reaching out for this bottle after a fresh shower or during a hot, humid day. If you're into light, fresh, zesty and feminine scent, I'd surely recommend John Galliano Parlez-Moi d'Amour Eau Fraiche! 😀
John Galliano Parlez-Moi d'Amour Eau Fraiche is available in leading departments stores in these sizes and prices:
30ml – PHP 2,700 (approximately USD 64)
50ml – PHP 3,700 (approximately USD 88)
80ml – PHP 4,400 (approximately USD 105)
For instant beauty, fashion, travel, foodie, or random updates from me, LIKE lushangelblog on FACEBOOK, FOLLOW  lush_angel on TWITTER and lush_angel on INSTAGRAM.