The iconic fashion brand, Fiorucci, came out with a super delicious perfume, Icy Fantasy. If you think the outerpack of the fragrance already looks yummy with the glamorous red mouths and pink rounds, wait until you see inside!!!
The packaging is indeed made irresistible with the frosted round glass, revealing the nice color of the fragrance, and the cap, which is like an ice cream cone dressed in a luminous metallic gold. The entire idea of a seductive and tempting ice cream was caught in this surprising bottle.
The sweetness is not all about the packaging. The inspiration of this perfume is "girls just want to have fun". It's fresh, fruity and floral- very girly! The first sniff, I immediately thought of Escada, but probably even sweeter. The perfume accords were worked around red and juicy fruits such as strawberry and peach to give a touch of sweet extravagance. The first spray, all I noticed was its sweetness because of some touches of raspberry lollipop on its top notes to magnify the gourmand delicacy of the fragrance. A combination of Vanilla, Musk and Sandalwood make up its base notes.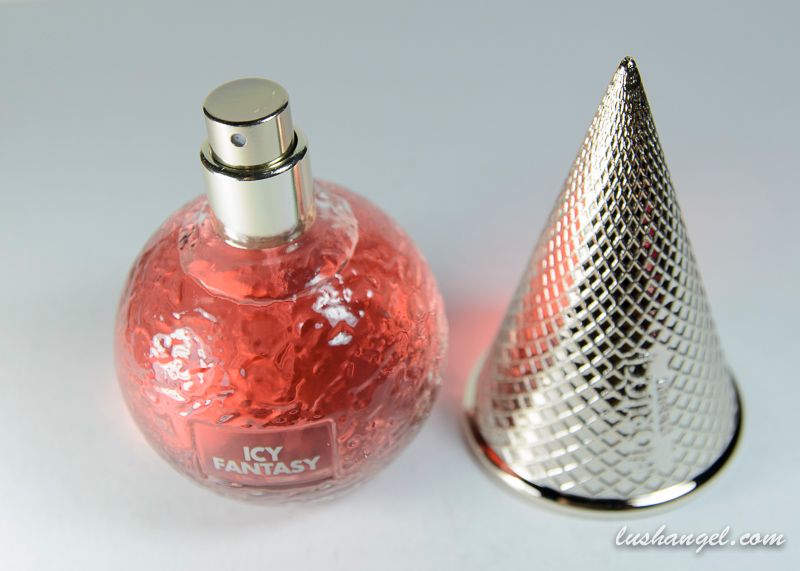 To perfect this new synergy between the fashion collection and the Icy Fantasy fragrance, a dress was exceptionally designed by Fiorucci stylist department for the perfume advertising shooting and will be part of the 2013 fashion collection.
I recommend Fiorucci Icy Fantasy to all the young ladies who are into sweet and fruity scent. It's definitely for the playful and charming, nothing serious. By the way, don't be fooled by its name. "Icy" doesn't mean it's actually cold. In fact, it's warm, just like other perfumes. 😉
Fiorucci Icy Fantasy 50ml is priced at PHP 2,500 (approximately USD 59) and it's available in all leading department stores nationwide.
For instant beauty, fashion, travel, foodie, or random updates from me, LIKE lushangelblog on FACEBOOK, FOLLOW  lush_angel on TWITTER and lush_angel on INSTAGRAM.