I actually had this K-Palette 1 Day Tattoo Real Lasting Eye Pencil for quite some time now. In fact, when I got it, I immediately used it. Who wouldn't get excited when it says it's a 1 day tattoo real lasting eye pencil?! And we all know how amazing K-Palette eyeliner pens are as seen in my reviews HERE and HERE. I just wasn't able to do the review for this pencil immediately as I've had love and hate relationship with it. Eventually, I found ways how to let it work on my oily lids. Here's my review.
Product Information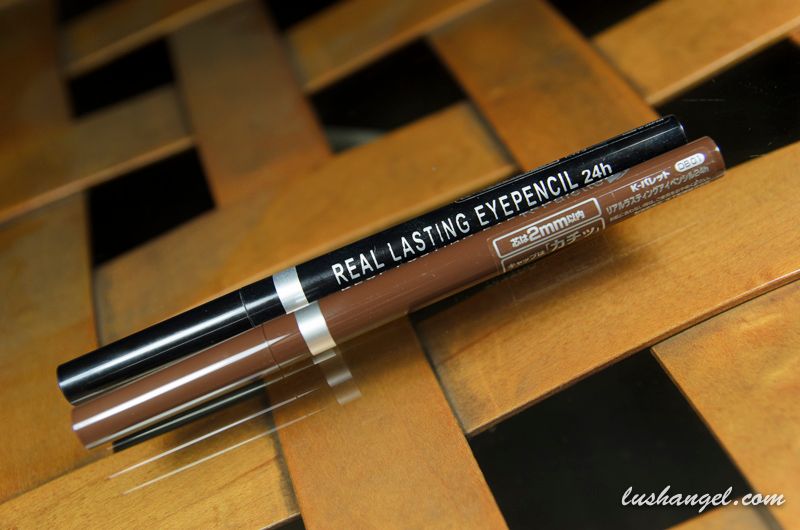 Enhance your eyes with long lasting and smudge-proof eye pencil!
Longer lasting & instant drying!- improved formula increases durability, smudge resistance and waterproof function; repels water, sweat and oil on skin all day long

Softer lead- softer lead enables smooth glide on and ease of filling up gaps between the lashes; no more tugging on your delicate eyelids
3 types of beauty essesnce- care for the delicate area around your eyes while you glide on your eyelines; Hyaluronic acid Na, water soluble collagen & Swertia Japonica essence (Suitable for sensitive skin)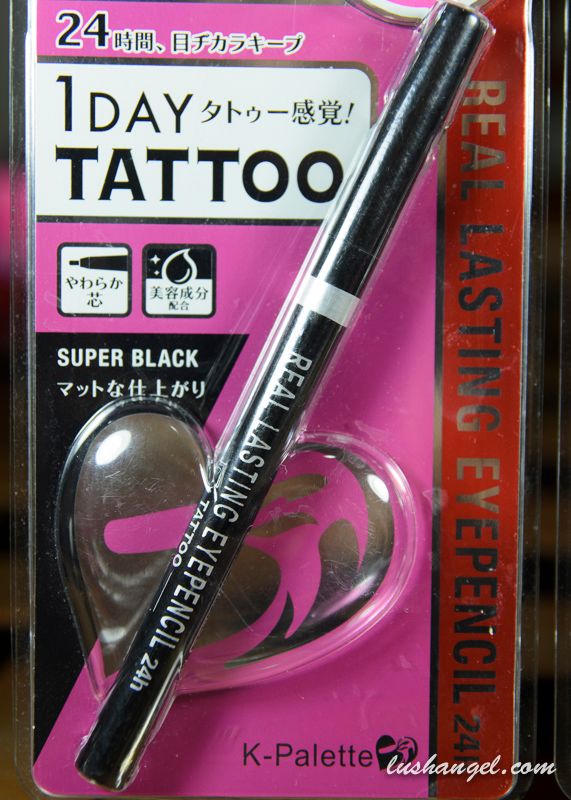 I love it because…
the back of the packaging comes in English information, as with any other K-Palette products in Beauty Bar.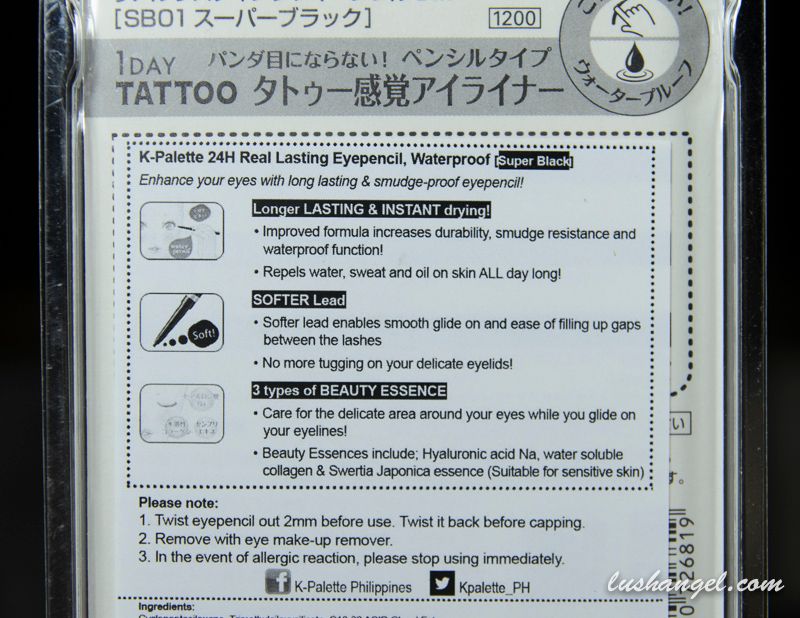 there's no need to sharpen. It's an automatic liner.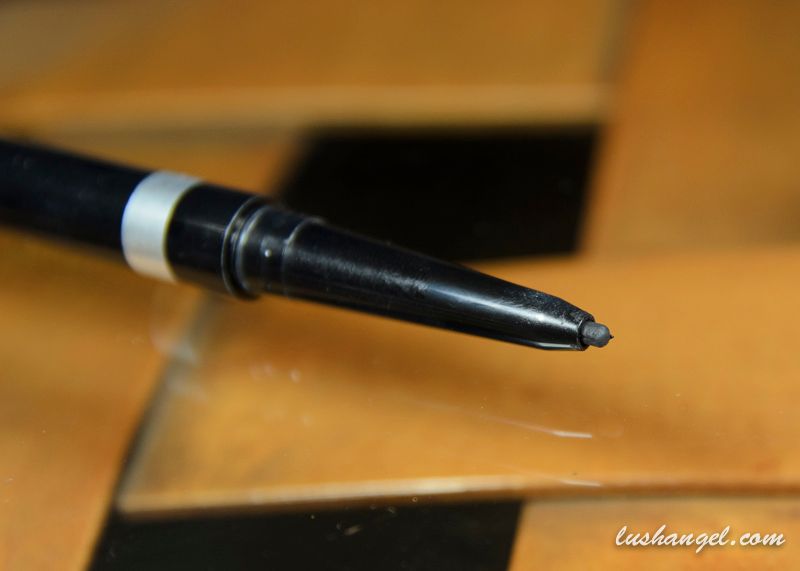 it can draw a consistent, even color.
it can be used for the waterline or to tightline.
it can last on me without smudging when I use it for normal, thin line or when I use a primer on my lid.
it's waterproof.
it's very pigmented. All it takes is just one swipe!
I wish…
it doesn't tug my lid as I glide the pencil. See tips below to help avoid this.
it doesn't have the tendency to smudge or transfer to my lid. Note that I have oily lids so rarely can an eye pencil alone work on me. Although with K-Palette 1 Day Tattoo Real Lasting Eye Pencil, this only happens when I draw a quite thick line. A natural thin line can last me a day without smudging. See tips below on how to avoid smudging and transferring pigment.
After a few hours, notice the faint pigment that transferred on my lid.
It's quite hard to remove with just soap and water. You'll need an eye makeup remover.
Tips
For a more natural looking line, you can opt to use brown pencil.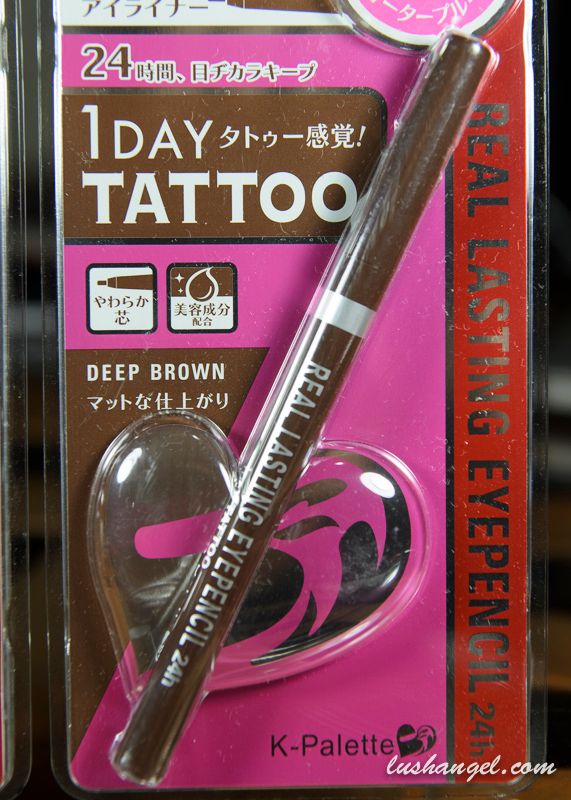 For those with super oily lids, you can set the pencil with an eyeshadow on top. Also, apply an eyeshadow primer all over your lid to help prevent the pencil from transferring to your crease.
When you feel the pencil tugs your lid, draw  lines at the back of your hand to warm up the tip. Also, you can use a dotting motion first when drawing a line. Don't worry, K-Palette 1 Day Tattoo Real Lasting Pencil is really pigmented. Just glide the pencil later on for a more precise line.
For a softer look, smudge the pencil a bit using a pencil point brush.
Use gel or liquid eyeliner for a more defined line.
To remove the eye pencil, use an oil-based make up remover.
Wait for the eye pencil to completely dry or set before curling your lashes.
Expose only 2mm of the lead when using. Longer lead can cause the pencil to break because of its creamy formula.
Overall
Eye pencils are my fave liners for my lazy days. It's the easiest and fastest way to line the eyes. The problem, with our hot and humid weather, eye pencils may not last long enough. The first time I tried K-Palette 1 Day Tattoo Real Lasting Eye Pencil, I was actually impressed. It stayed put from morning until night without smudging. The next day, I tried to thicken the line with a small wing and I then experienced the smudging problem. In less than half a day, I already had lines on my crease and smudges on the sides of my eyes. After several tries, I realized this pencil can last on my oily lids if I apply an eye primer all over my lid to prevent it from transferring on my crease. Setting the liner with powder can also prevent it from smudging. On bare oily lids like mine, it can only last for a few hours.
I recommend K-Palette 1 Day Tattoo Real Lasting Eye Pencil to eye pencil users with normal lids. To those looking for a waterproof and really pigmented automatic pencil, this is worth a try. To those with oily lids, I personally prefer K-Palette liquid eyeliner pens as I can use it on bare lids without experiencing any smudging, even for 24 hours. But as said earlier, K-Palette 1 Day Tattoo Real Lasting Eye Pencil can still work on oily lids as long as you apply a good primer on your lid.
Super Black and Deep Brown swatches
worn for a few hours on bare lids…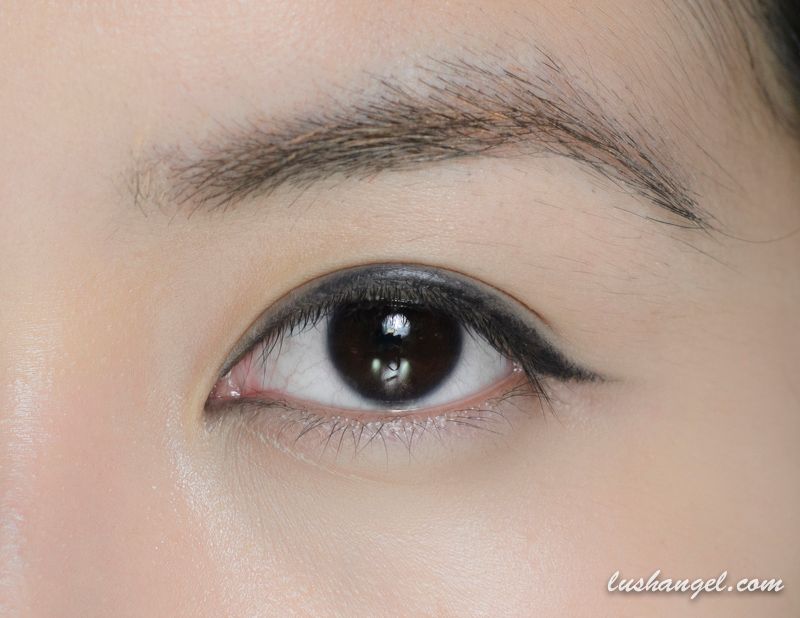 K-Palette 1 Day Tattoo Real Lasting Eye Pencil is available at Beauty Bar boutiques here in the Philippines for PHP 795 (approximately USD 19).
For a full review of K-Palette 24H Real Lasting Eyeliner, click HERE to get directed to my post and for K-Palette Real Lasting Eyeliner Waterproof Micro, click HERE.
To get updates from K-Palette Philippines, add them up on Facebook (K-Palette Philippines) and Twitter (@Kpalette_PH).
For instant beauty, fashion, travel, foodie, or random updates from me, LIKE lushangelblog on FACEBOOK, FOLLOW  lush_angel on TWITTER and lush_angel on INSTAGRAM.