When I see models in magazines wearing an all white outfit, I can't help but give a second look. It's simple. It's pure. It's elegant. It's classy. I'm sure you get what I mean. Not all though are comfortable in wearing an all white outfit. A lot of us feel it's not something that everybody can pull off. Well, why not go for off-white instead of paper white? Here's an outfit idea…
One of the most common reasons why people try to avoid wearing white is that it can make you look fatter. Try to wear something that can cut the silhouette of your body, like a blazer. Leave it open and it can give an illusion of thinner torso.
I paired my blazer and chiffon blouse with tattered shorts. Mixing formal and casual pieces brings that not-so-dressed-up and not-so-dressed-down vibe, which I think is just perfect for a casual day.
I was actually thinking of going all white/ off-white. But I've always loved pop of colors, so I went for tangerine pumps and bag.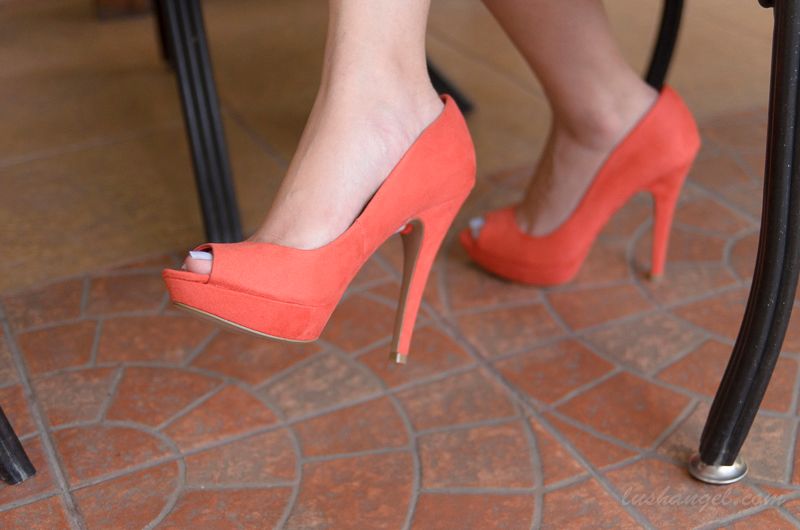 If you're not so comfortable wearing all white, then bring out your fave colors in your accessories. White goes with anything, but make sure to keep all your accessories in the same color family. You don't want to ruin the classiness of your ensemble by wearing orange shoes, barbie pink bag, green bangle, and so on.
Again, white will always be classy, so to keep it that way, I made sure to keep my accessories minimal. I just wore a long necklace with few touches of colors.
So, what's your take with all white outfit? Are you digging it? Will you wear it? Let me know! 😉
Clothes and accessories: Mango
For instant beauty, fashion, travel, foodie, or random updates from me, LIKE lushangelblog on FACEBOOK, FOLLOW  lush_angel on TWITTER and lush_angel on INSTAGRAM.