Finally, I'm sharing my full review of the Aveda Invati Advanced System. I made a poll in my Instagram stories a few months ago and apparently, a lot of people (mostly, women) are experiencing excessive hair fall or hair thinning. And yes, I'm one of them. I'm pretty sure a lot of you are waiting for the actual results of these products that I've been sharing on Instagram. Warning: This post is pretty long and detailed. I made sure to share my full experience to answer the most common questions I get—Does Aveda Invati Advanced System work? and Is Aveda Invati Advanced System worth the investment? Read on.
Aveda Invati Advanced System Product Information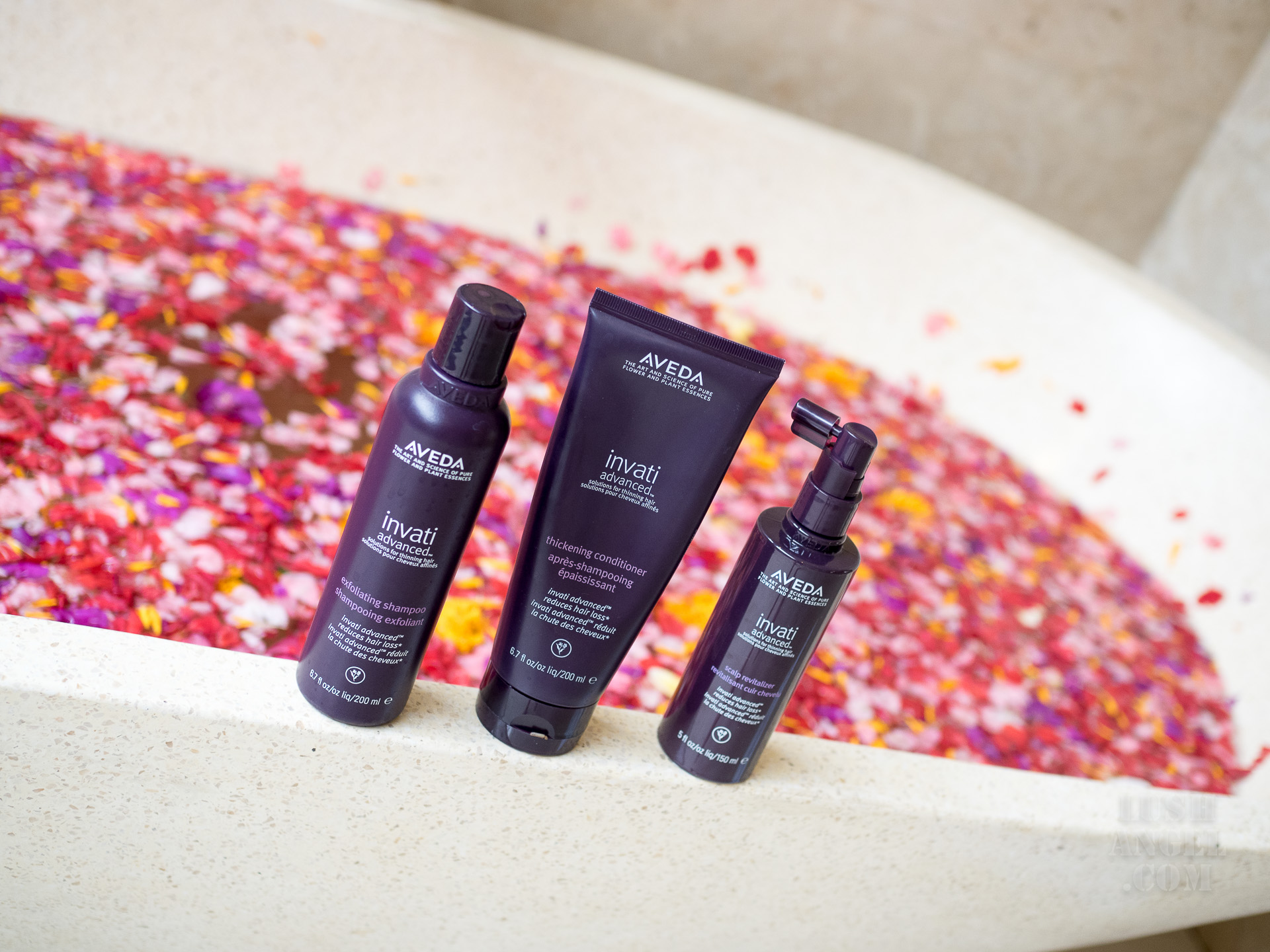 Invati Advanced™ Solutions for Thinning Hair is an innovative system that reduces hair loss by 53%* and instantly thickens the hair when applied once daily. Inspired by Ayurveda – the ancient healing art of India, this 98% naturally derived** system, featuring an invigorating blend of Ayurvedic herbs, helps keep the hair you have longer.* Our patented bio-fermented blend plus our Ayurvedic herb blend with ginseng and certified organic turmeric invigorates the scalp when massaged in, while certified organic amla instantly thickens the hair.
*Due to breakage from brushing, after using the invati advanced™ system for 12 weeks.
**From plants, non-petroleum minerals or water.
Aveda's own pure-fume™ aroma with certified organic lavender, rosemary, geranium and other pure flower and plant essences.
How Aveda Invati Advanced System Works
Each pore in our scalp should have more than just one strand of hair. So what Aveda Invati Advanced System does is stimulate the pores to produce more hair—as long as the hair follicle is still alive.
Aveda Invati Advanced System is a 3-step system that includes shampoo, conditioner, and scalp revitalizer. The set for men only comes in 2-in-1 shampoo and scalp revitalizer.
Step 1: Exfoliate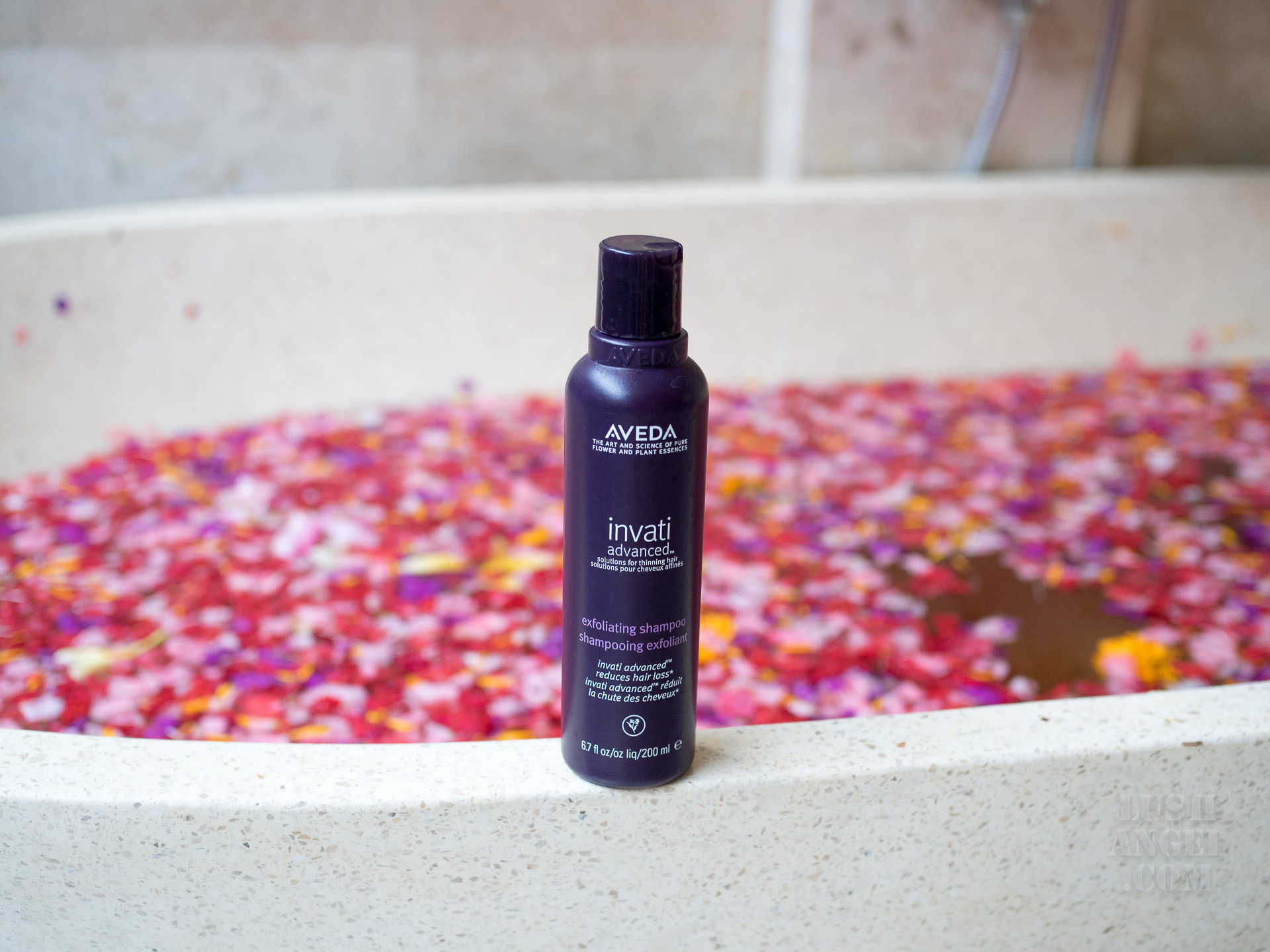 The first step, which is the shampoo, gently exfoliates and cleanses the pores. Clogged pores can prevent hair from growing so the wintergreen-derived salicylic acid in the shampoo helps remove any build-up. The nourishing formula also helps protect from breakage during shampooing, creating an optimal foundation for thicker, fuller hair.
Step 2: Thicken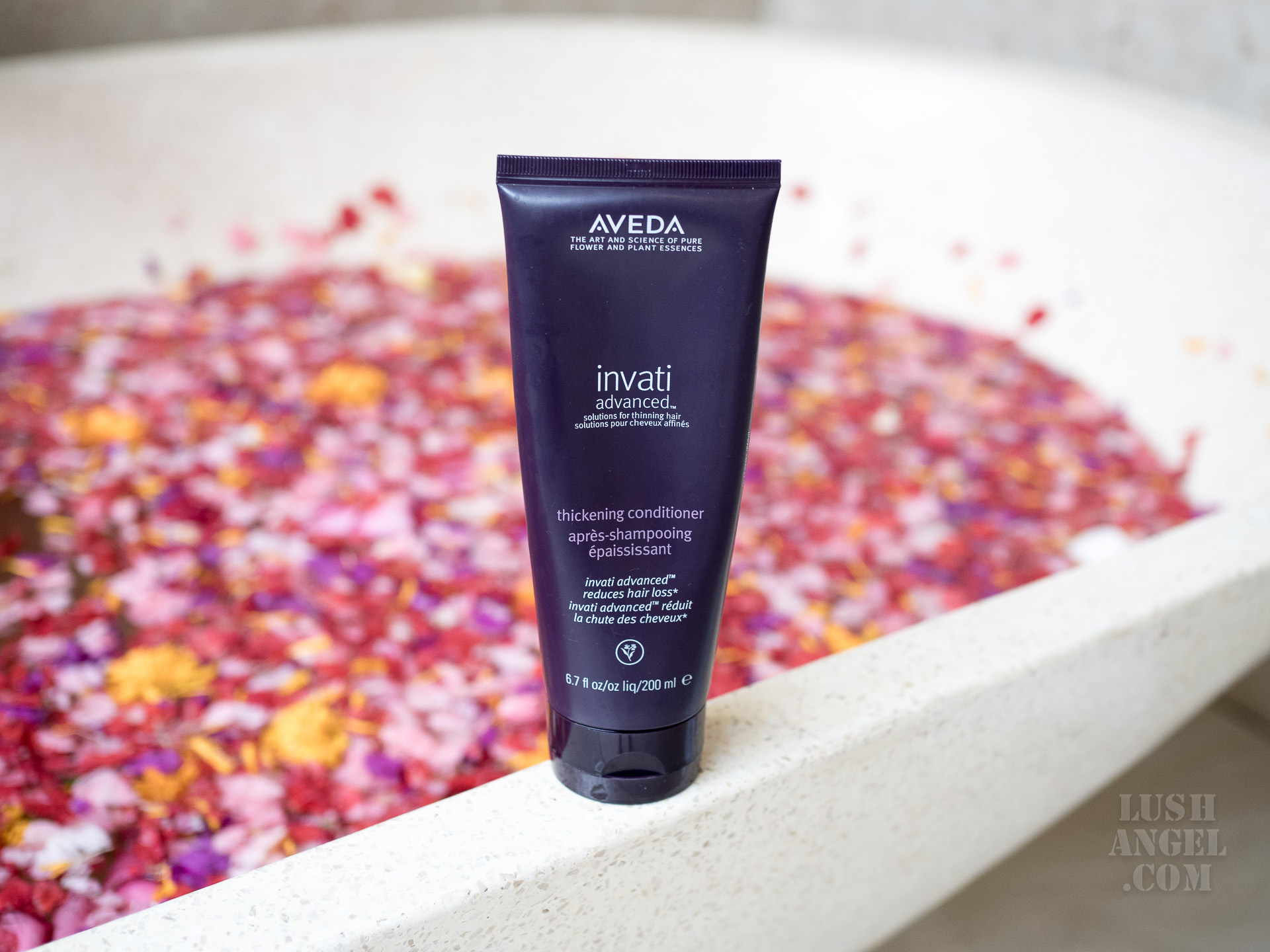 The second step is the conditioner, which instantly thickens and delivers weightless conditioning to help protect the hair from breakage. It strengthens hair from roots to ends.
Step 3: Activate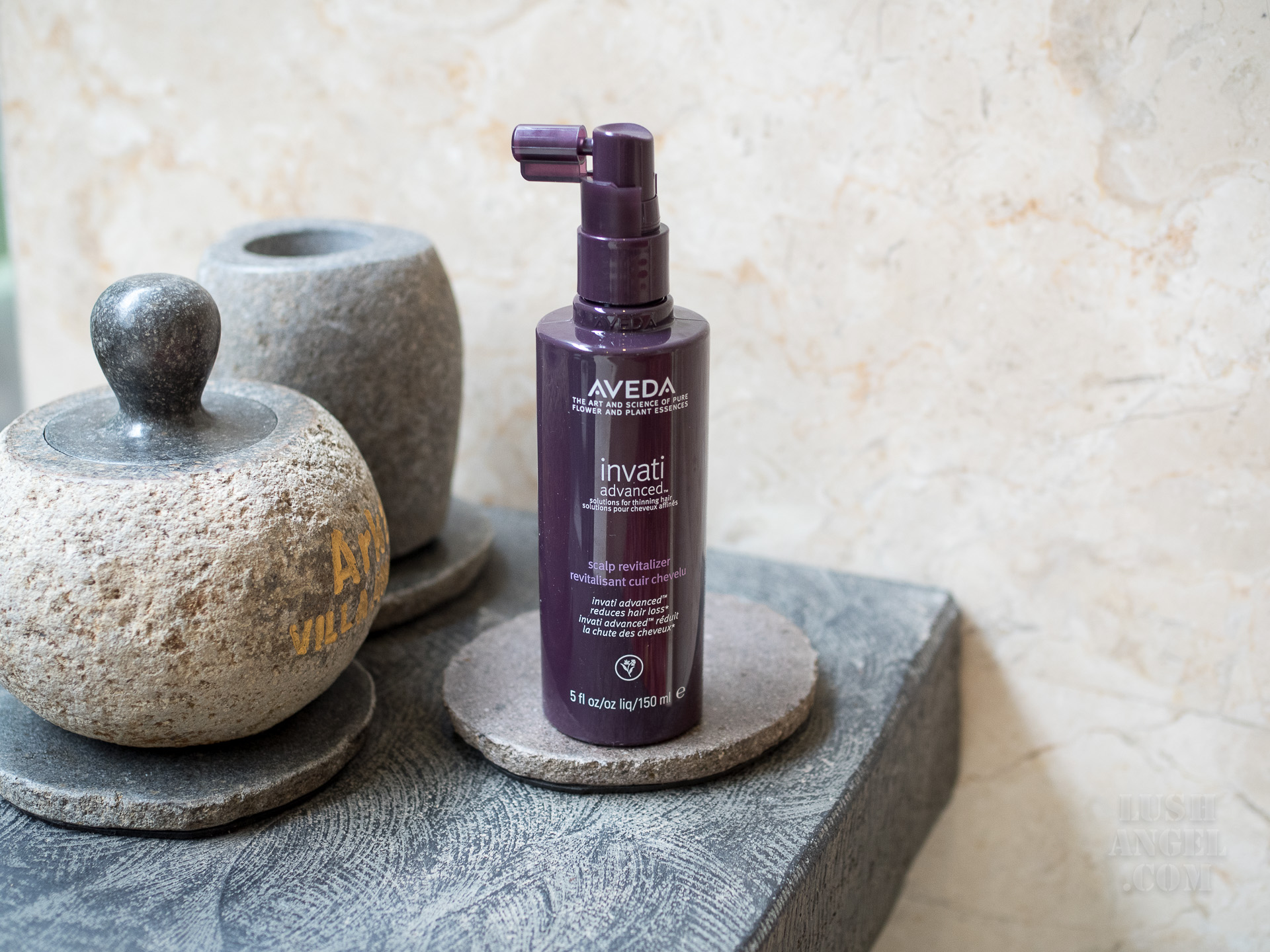 The last step is the scalp revitalizer, which helps reduce hair loss (due to breakage). The invigorating formula penetrates to help support hair's natural keratin and it also instantly thickens to help lift hair at the root
My Hair Condition before using Aveda Invati Advanced System
My hair is naturally thick– in terms of density and hair strand. It's a little coarse and dry—blame it to my love for hair coloring. And my hair fall? It's really bad. It's normal to lose 100 stands a day and I'm pretty sure mine is way above. I can see it when I wash and brush my hair (I'm sharing a photo later.) Sometimes I wonder how come I don't have a bald spot yet, but let's not get into that. I'm just really thankful it hasn't come to that point. The only thing that makes me not so stressed out about this hair fall dilemma is that I still see a lot of baby hair. At least, that's a good sign that my hair is still growing back!
But obviously, I cannot relax and wait for a bald spot to come out. Although my hair is still thick, it's not what it used to be. This is why I've been looking for solutions for more than a year now (yes, my hair fall problem has been going on for over a year now—in fact, maybe 2 years?)
These are just some of the things I did before using Aveda Invati Advanced System:
I did not wash my hair everyday, especially if it was just a stay-at-home day. (When I was introduced to the Aveda Invati Advanced System, I just learned that you should actually wash your hair everyday to remove any build up that can hinder hair growth!)
I refrained from combing my hair, especially when wet.
I seldom tied my hair.
I tried several anti-hairfall shampoo—only one worked but resulted to pimples so I had to stop.
I also visited Aveda in Greenbelt 5 for a scalp consultation. Apparently, I have dry scalp! This was a shocker since all this time I thought I have oily scalp. But good thing it's not the dry-flaky kind that causes dandruff.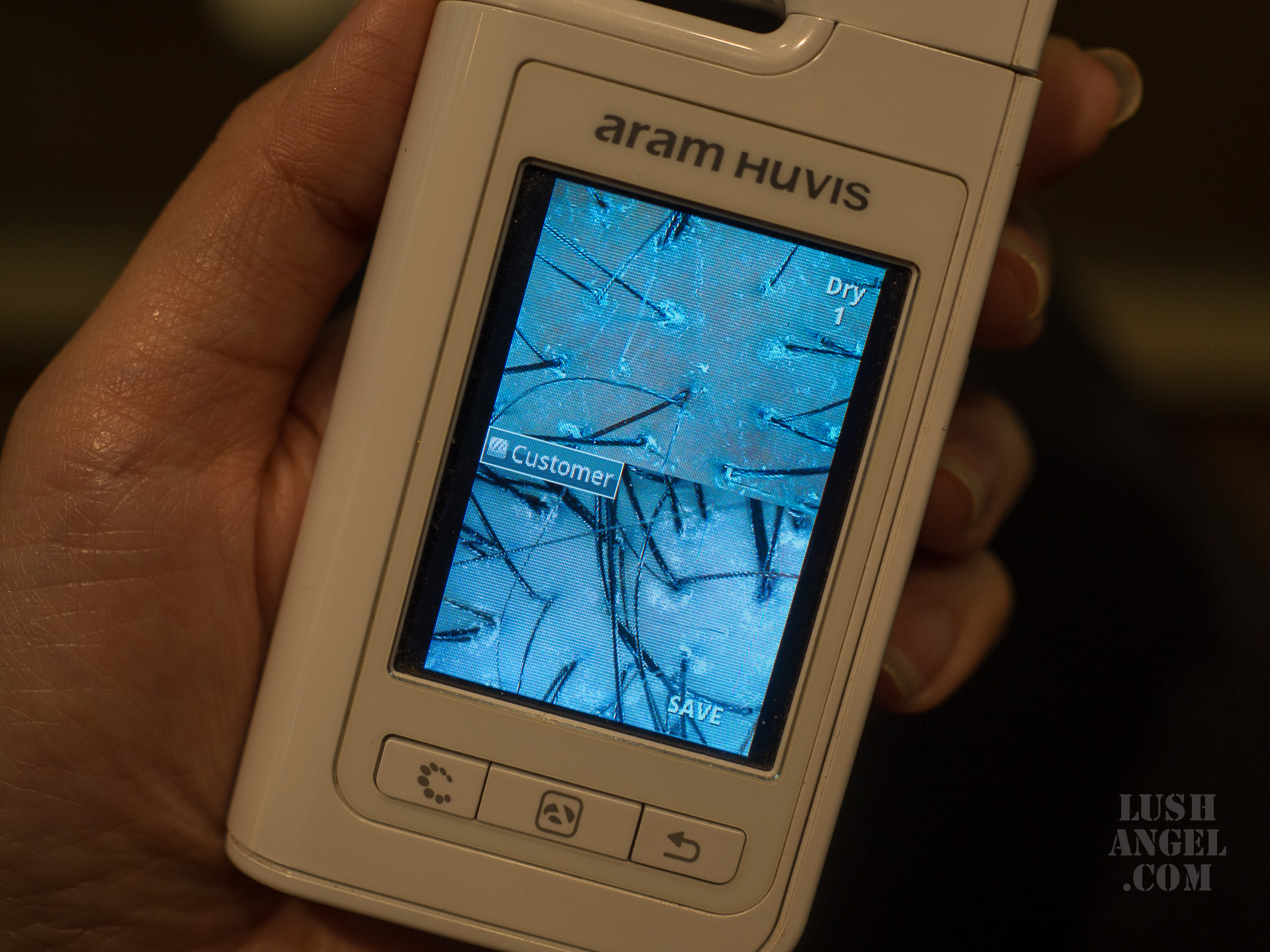 here's a comparison of a good scalp and my scalp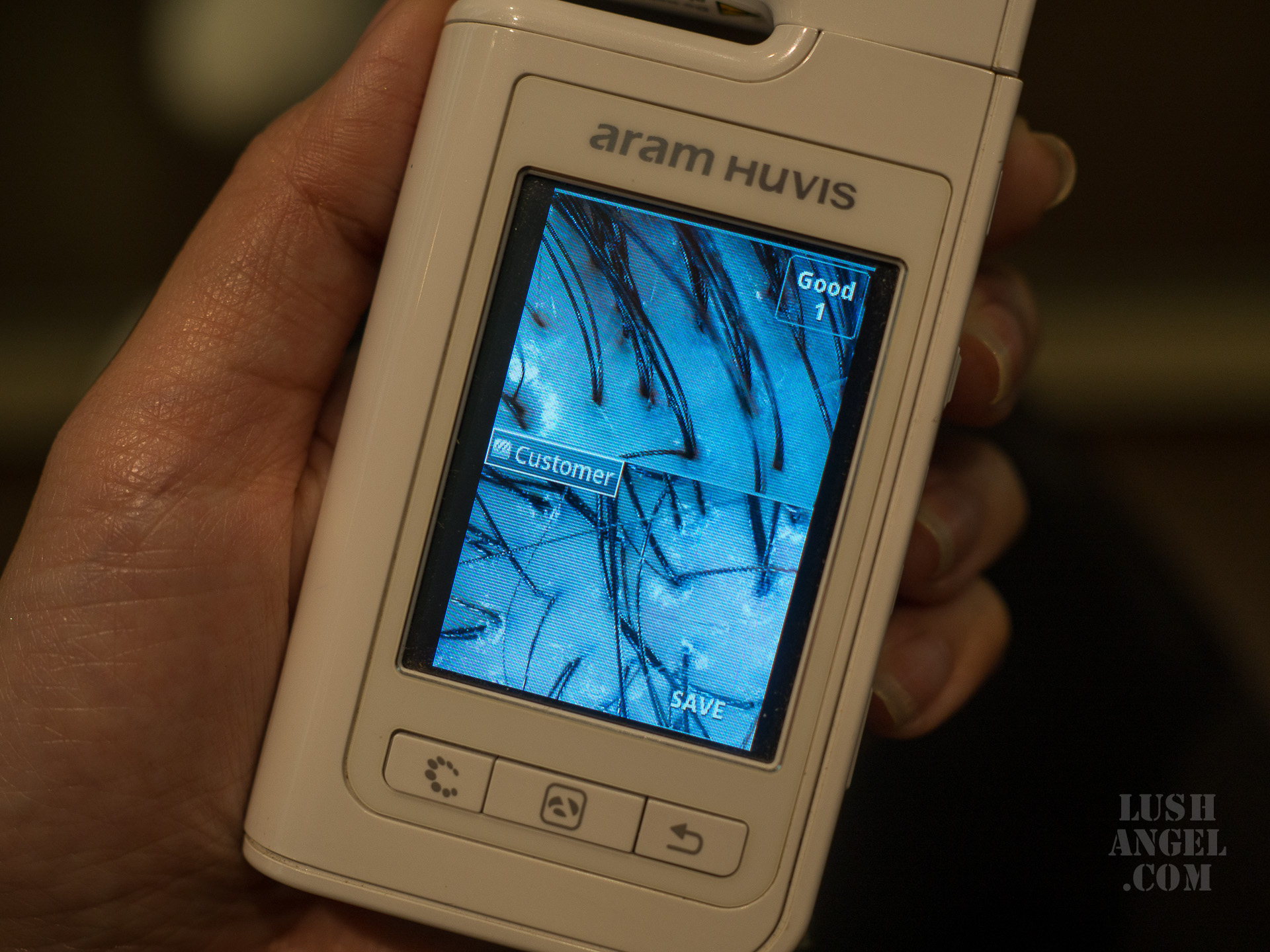 Mine looks like build-ups from products, making me a perfect candidate to try Aveda Invati Advanced products.
Aveda Invati Advanced System Results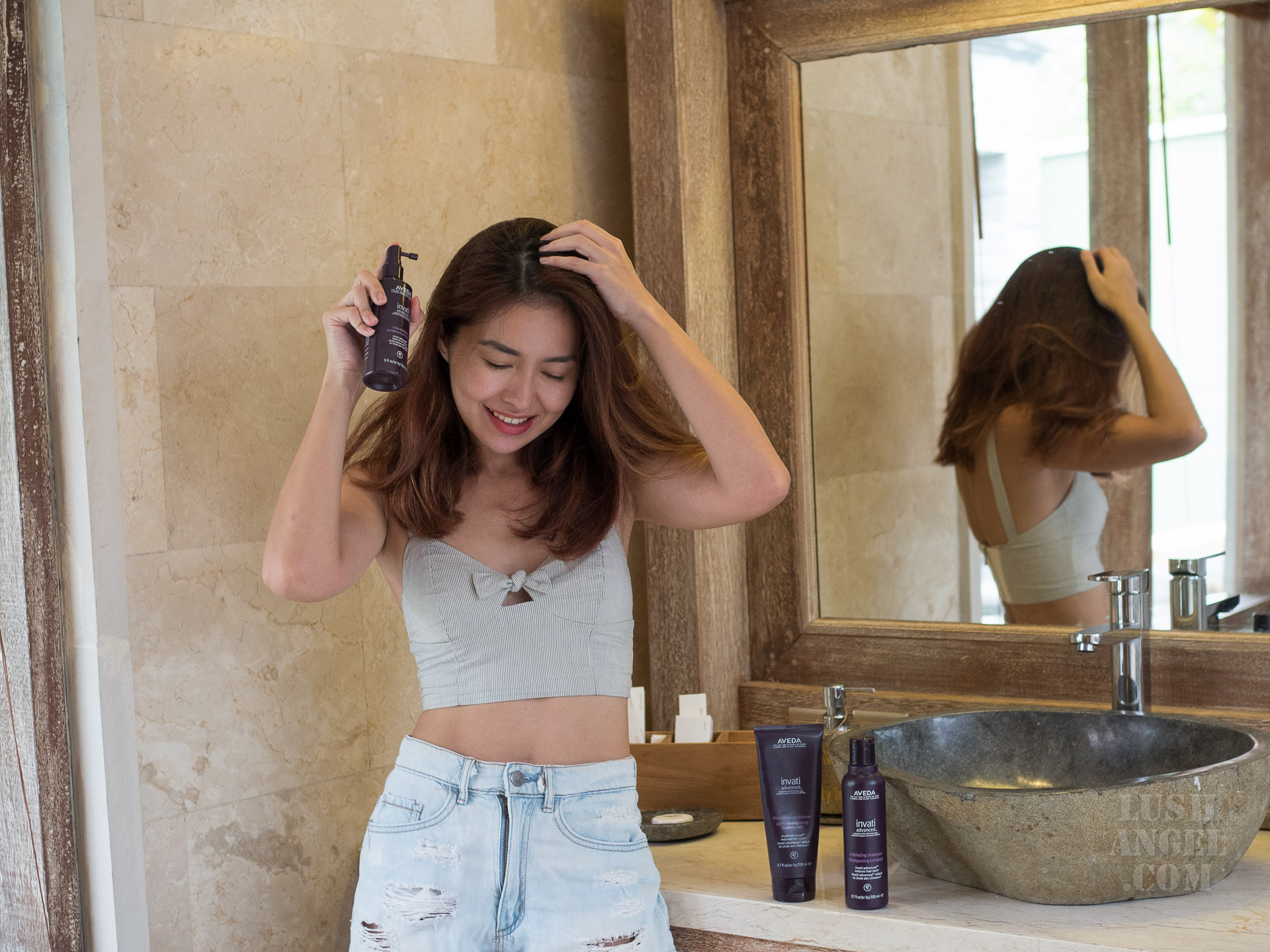 When I was introduced to the Aveda Invati Advanced System, I did not have high hopes. After everything I did, I was led to believe that hair loss is really not something you can prevent or stop. Worst comes to worst, I thought I'll just get a hair implant.
So here's a photo of my usual hair fall after washing my hair with shampoo and conditioner BEFORE I tried Aveda Invati products… I'm sorry this can be gross but this is the only way I can show the results.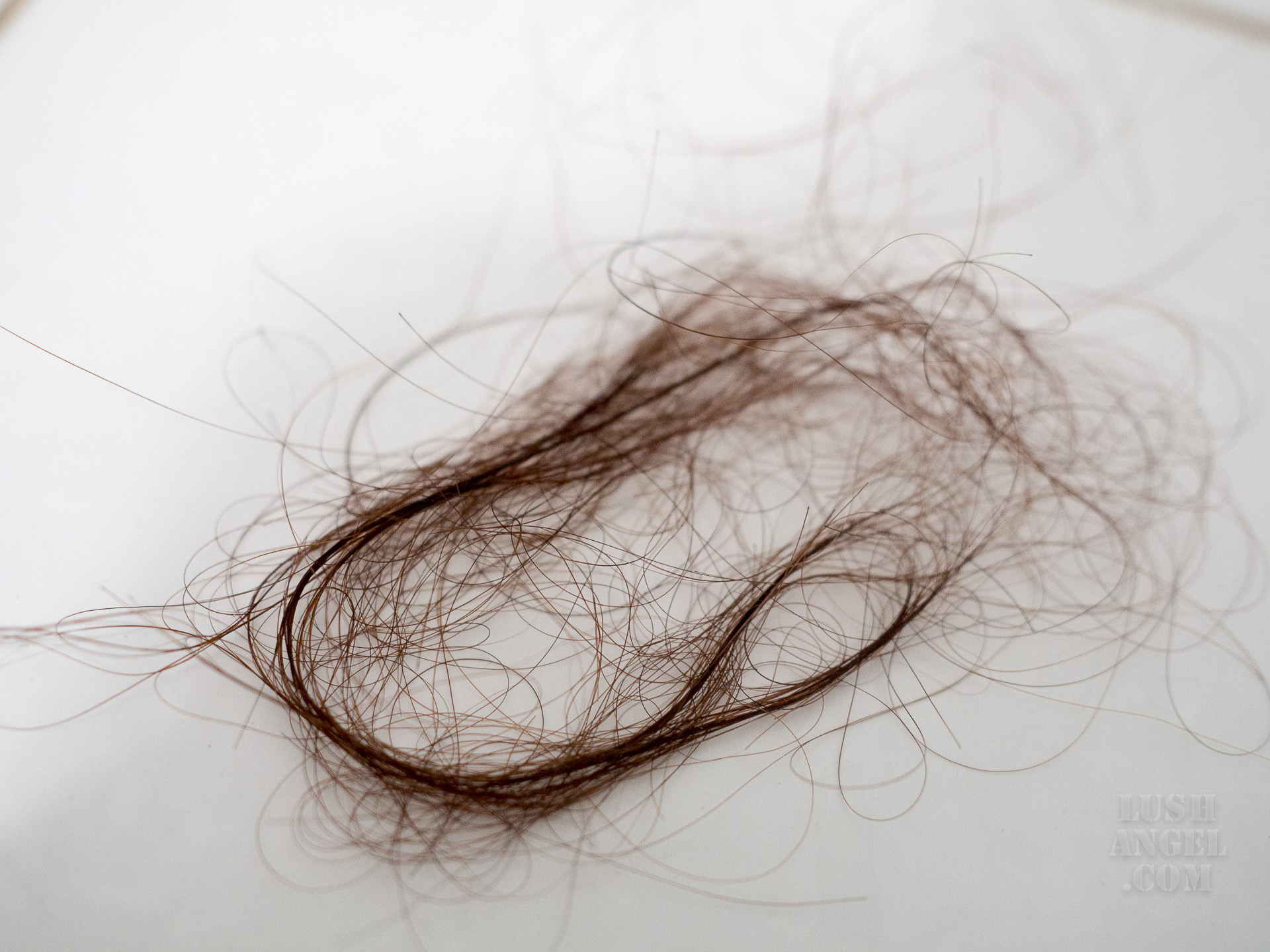 This is the amount of hair I lose in ONE shower! Take note, I even lose the same amount or even more for the rest of the day. I see it when I brush my hair, on the floor, bed, tables, chairs— seriously, hair strands are everywhere!
After 2 weeks of using Aveda Invati Exfoliating Shampoo, Thickening Conditioner, and Scalp Revitalizer everyday, here's the result…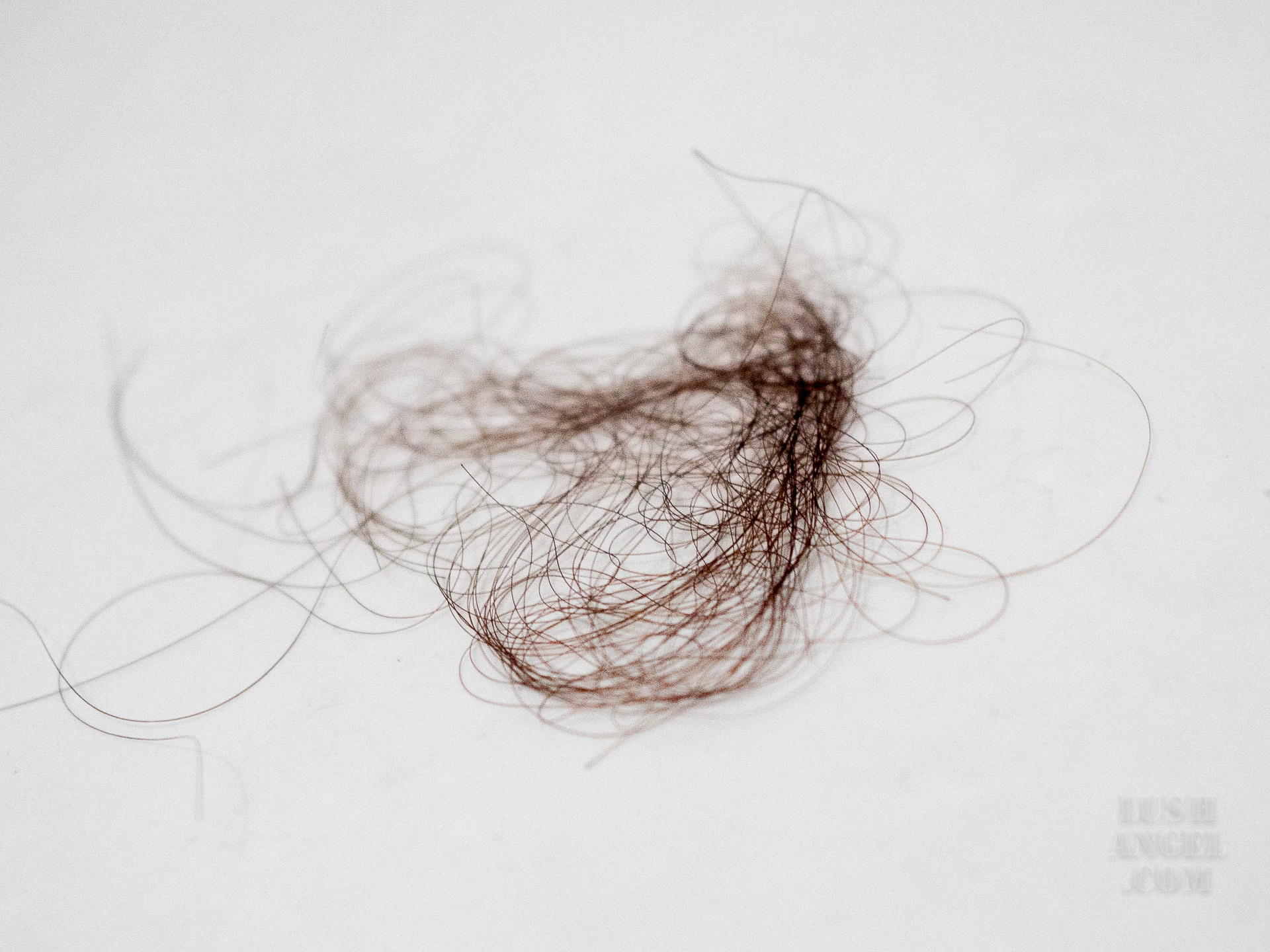 I already saw a difference in 2 weeks!
After 3 months of using Aveda Invati Exfoliating Shampoo, Thickening Conditioner, and Scalp Revitalizer everyday, here's the result…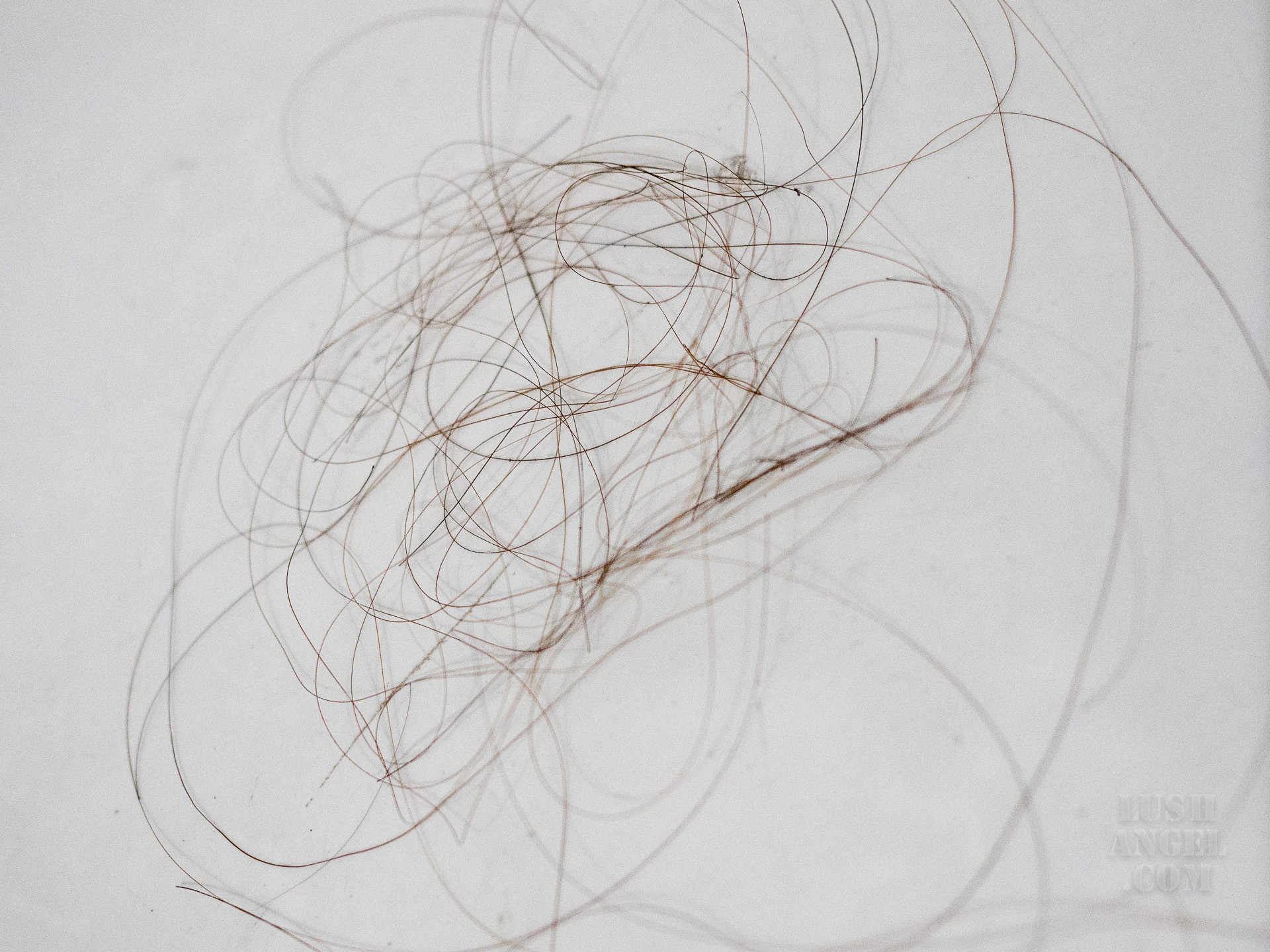 This is for real!!! I can't even believe it myself but yes, it is effective! I do not get much hair fall throughout the day as well even when I comb my wet or dry hair.
I did a scalp test again after my first month of using Aveda Invati products and my scalp has become normal/ideal. I forgot to take a photo of the result though because I got too excited. Sorry! But who doesn't get excited when you see results on products in just a month?!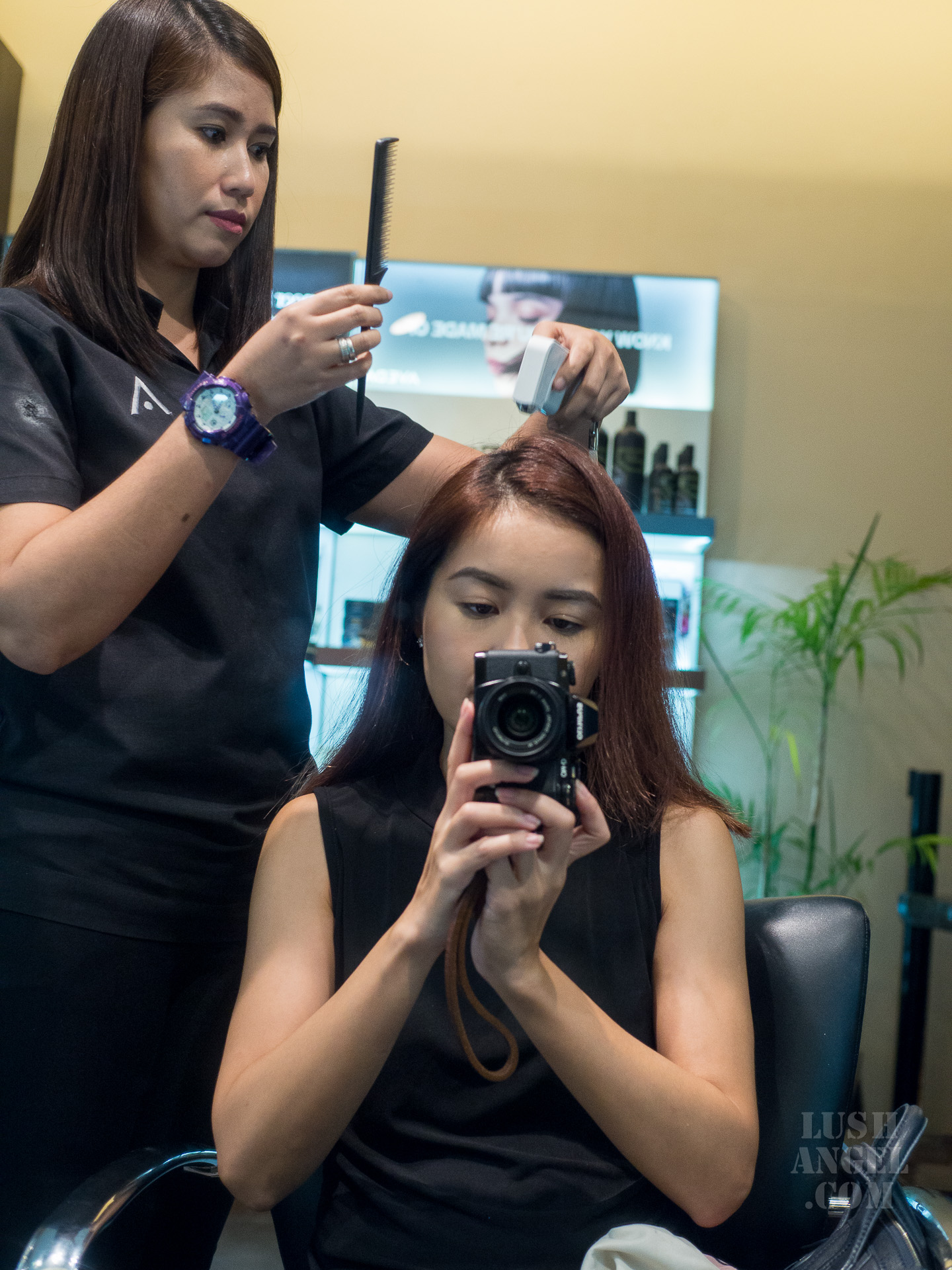 Aveda Invati Advanced System Verdict
First of all, I just want to say that taking a shower is now a relaxing experience for me, instead of being so stressed out seeing how much hair I lose whenever I rinse my shampoo and conditioner. As seen in the results above, using the Aveda Invati Advanced System everyday has reduced my hair fall.
As a reminder, hair fall can also be caused by too much stress, unhealthy lifestyle, or even your genes and other medical conditions. Aveda Invati Advanced System works on thinning hair or hair loss due to breakage. But to be honest, I did not know that this is the cause of my excessive hair fall too. From what I know, my hair strands do not easily break so I think whatever the reason of your hair fall, this is worth a try.
For my review for each product, here it is: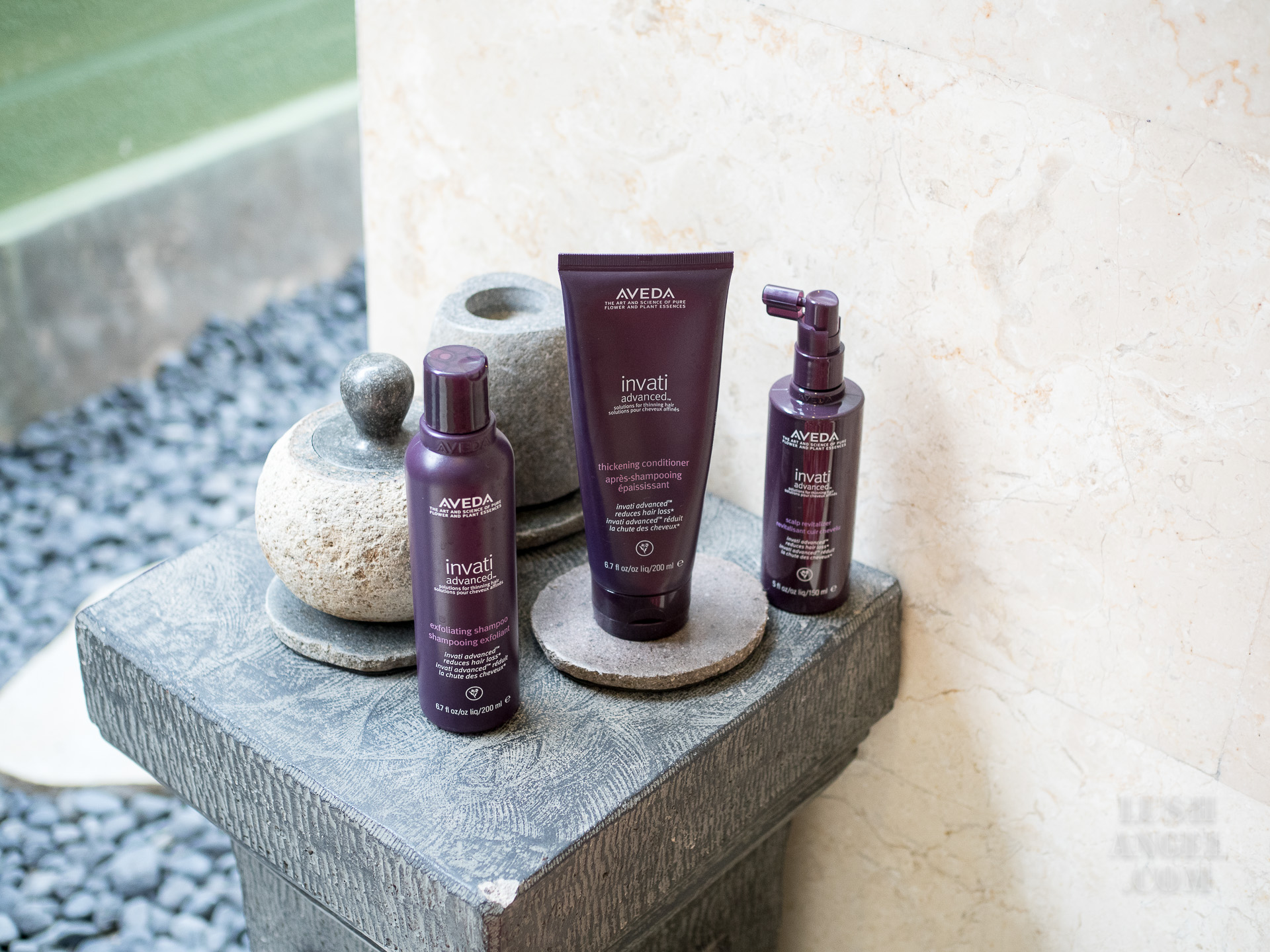 I can really feel how the Aveda Invati Advanced Exfoliating Shampoo cleanses my scalp and hair. My scalp feels fresh after shower. It does not foam too much though, giving me the tendency to use more shampoo. The 200ml bottle lasts me for only one month but you also have to take into consideration my hair length and thickness. I also love the aromatic scent that relaxes my senses. If you're not into products with fragrance, don't worry, the scent does not stick to the hair once rinsed BUT my hair does not smell anything even when I sweat in the gym. Oh, and if you have colored hair, it does not washout the color easily. Hair color fading is also another reason why I refrain from shampooing my hair everyday.
Aveda Invati Advanced Thickening Conditioner is a weightless conditioner and volumizes hair instantly. I have some friends who skip conditioner because it can make their hair lifeless. If you're one of them, you have to try this since it can add volume to the hair the entire day, at the same time, strengthen it. But obviously, it can be a problem to those with thick and coarse hair like I do. For descriptive purposes, I get that "lion hair" but I still use it since I need the strengthening benefit of the conditioner. As a solution, I just use a leave-in treatment, such as Aveda's Smooth Infusion, to give me a softer and smoother hair. The 200ml Aveda Invati Thickening Conditioner lasts for only about 3 weeks on my hair.
The Aveda Invati Advanced Scalp Revitalizer feels cool and refreshing on the scalp once sprayed. I apply this once daily after shower on damp or dry hair. I lift my hair in sections and spray. I really appreciate how the nozzle makes it easy to apply the product directly on scalp. I just massage the product and do not rinse. It takes about 14 sprays to cover the entire head so it took me over a month to finish the 150ml bottle. If you have limp hair, don't worry the revitalizer doesn't weigh down the hair. In fact, it also lifts the hair making it look fuller. As for the scent, not everybody is a fan. Some find it aromatic, while others think it smells like a condiment. I don't mind since the fragrance does not stay too long.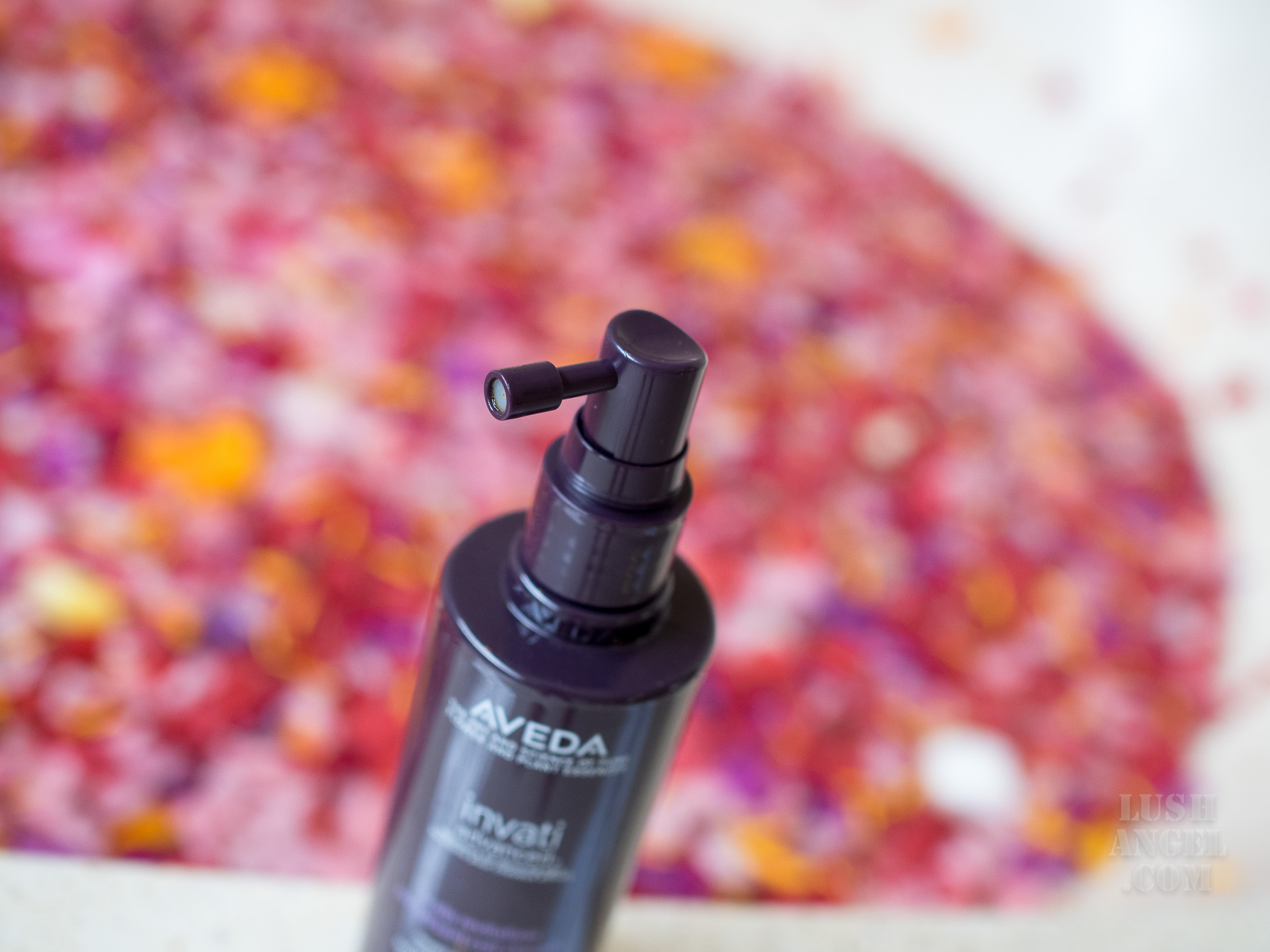 For the purpose of this review, I tried to use a different shampoo or a different conditioner while using the rest of the Aveda Invati Advanced products. On both instances, I got more hair fall than using the entire Aveda Invati Advanced line. Remember, Aveda Invati is a system; therefore, it is more effective when used all together.
The price of the set can be a setback to some but if you are suffering from hair fall, it is worth the investment. Our hair is our crowning glory. Once we get bald or once our hair thins, there's no easy way to conceal it unlike makeup for our face. Note though, this is NOT a hair grower. As previously explained, it stimulates the pore to produce more hair—as long as the hair follicle is still alive.
I recommend Aveda Invati Advanced System to those who are experiencing thinning hair or hair loss.
And if you care about animals and the environment, Aveda is a #CrueltyFree brand and pursuits environmental sustainability. All their products are manufactured with 100% wind power through renewable energy credits and carbon offsets balancing their electrical and natural gas usage. They also ethically source their natural ingredients, use post-consumer recycled packaging, and help community lifelihoods through their paper products.
Aveda Invati Advanced Exfoliating Shampoo (PHP 1,900 for 200ml), Aveda Invati Advanced Thickening Conditioner (PHP 2,100 for 200ml), and Aveda Invati Advanced Scalp Revitalizer (PHP 3,700 for 150ml) are available in Aveda boutique in Greenbelt 5, selected salons, and online (freyja.com)
For instant beauty, fashion, travel, fitness, or random updates from me, LIKE lushangelblog on FACEBOOK, FOLLOW lush_angel on TWITTER and lush_angel on INSTAGRAM.