Did you know that you have 65+ muscles in your face and neck and they naturally lose their tone and firmness as you age? But how can you exercise your face and neck? Facial workout or facial fitness has been a thing for quite awhile now with all the rollers and devices available in the market. Recently, FOREO Sweden released a facial fitness revolution, the new BEAR. It promises to feel like a facial and tone like a workout. How is this possible? Is it effective? What makes it different from others? Here is my BEAR by FOREO Sweden Review. Towards the end of the post, I also included how to use BEAR.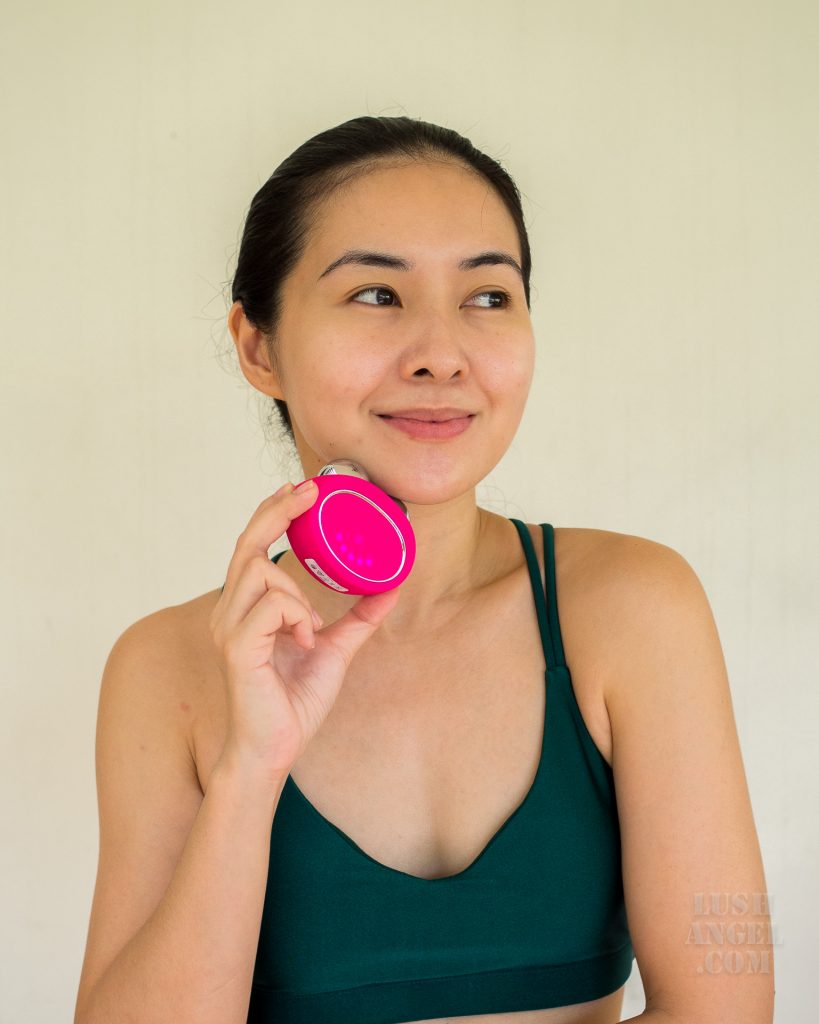 What can BEAR by FOREO Sweden do?
I'll keep this explanation simple. BEAR uses advanced microcurrent and T-Sonic™ pulsations to exercise your 65+ muscles in your face and neck.
The device is shaped like a bear, the metallic spheres being the ears.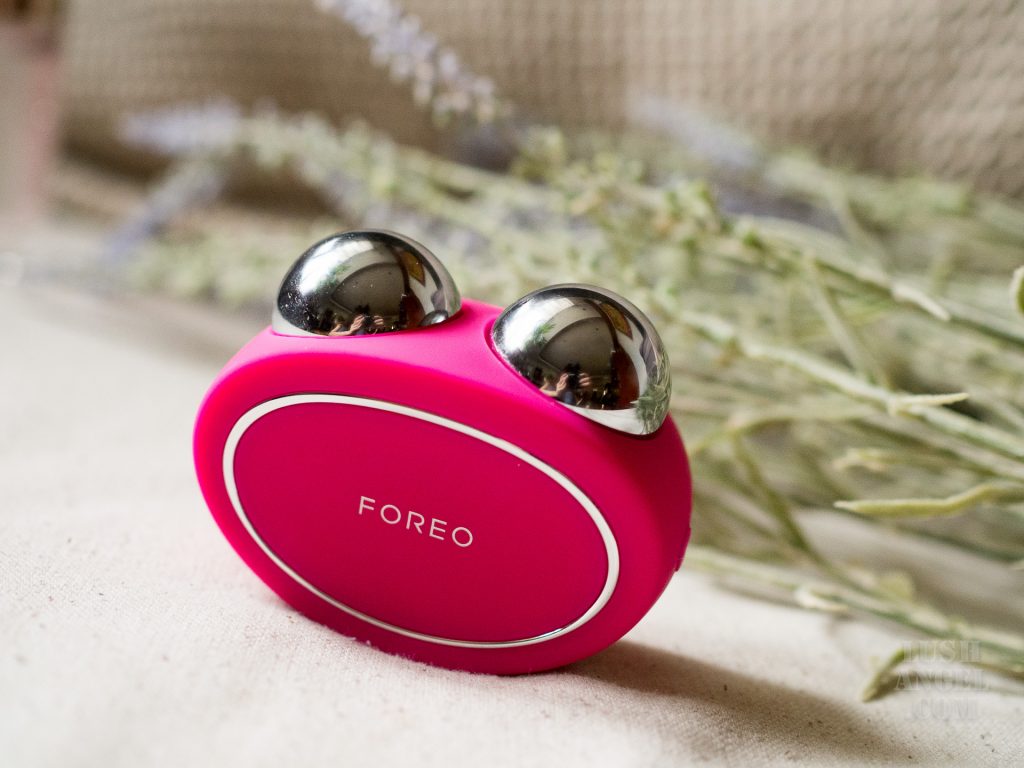 The microcurrent, which is a low-voltage electric current that mimics the body's natural process, is delivered through the metallic spheres to help build collagen, repair elastin, and tighten and contour the face.
The T-Sonic™ pulsations extend deep into the pores to increase circulation, eliminate toxins and ease facial tension to smooth out appearance of fine lines and wrinkles, resulting to smoother, softer and radiant skin. Plus, it enhances the absorption of the skincare products you use.
Pros: BEAR by FOREO Sweden
Super easy to use. (will discuss how to use BEAR by FOREO later on)
I like that I can use it manually too without the app. I just have to gently push on the button of BEAR and click on the same button to adjust the microcurrent intensity.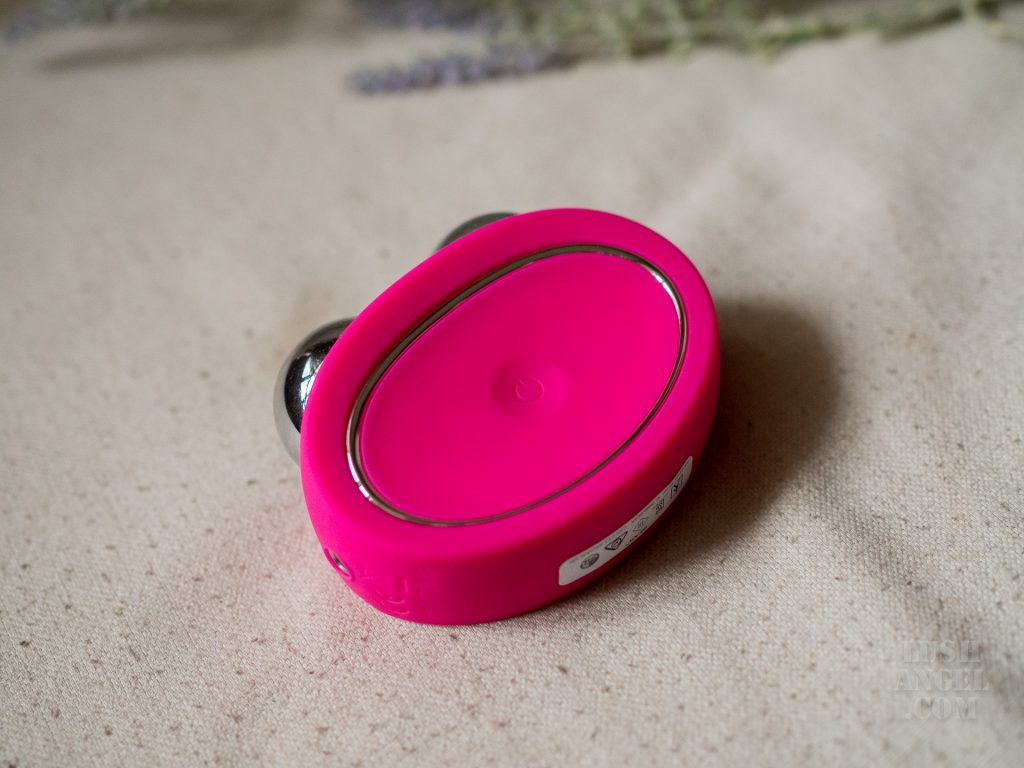 The entire treatment only takes 1.5 to 3 minutes so even if I am in a hurry in the morning or already close to falling asleep, I can definitely squeeze in this facial workout.
It feels very relaxing. I always end up repeating the treatment twice since I find 90 seconds a little too short.
I noticed that the skincare products I use after the treatment are absorbed by my skin quicker than usual.
Zero pain. Don't be intimidated by the word "microcurrent" because it is not painful at all. In fact, it's just like a facial massage.
My skin looked brighter after continuous use.
It can contour and lift the face after continuous use. See my before and after photos towards the end of this post.
I have been using it for 2 weeks and I haven't charged it since.
It's ergonomically designed. The 2 smooth spheres glide easily to fit facial contours. The device itself is also lightweight and is very comfortable to hold– it doesn't slip as I glide it along my face.
It's compact– I can bring it anywhere!
It's the world's safest microcurrent device. It has Anti-Shock System that measures skin's resistance to electricity and automatically adjust the intensity to eliminate any chance of shocking the skin.
Cons: BEAR by FOREO Sweden
No detailed instructions included. Although it's easy to figure out on your own when you have connected BEAR in FOREO's app, there could be some questions that are not easily addressed in the app.
It is recommended to use FOREO Serum Serum Serum as it transfers microcurrent from BEAR to your skin, but the serum dries up quickly and becomes quite sticky that I feel a bit of tug in the last few seconds of using BEAR. My tip: Use about 2-3 pumps of FOREO Serum Serum Serum. You can also use other gel-based serum.
There's a slight tingling sensation when I use it close to the hairline, but you can either opt to lessen the microcurrent intensity or completely avoid the hairline. I also felt the same tingling sensation when I glided BEAR over a popped pimple so I suggest to avoid gliding it over a broken skin.
If you have tried any treatment with microcurrent in your dermatologist or facial center, you might find BEAR very gentle or mild as there is no tingling sensation at all, except for the one I mentioned above. But this is expected since it is a portable home device. Also, this is probably because of the Anti-Shock System, which is actually a good thing, so it does not mean it doesn't do anything.
How to use BEAR by FOREO Sweden
As soon as you open the box, there's usually a factory charge to test the product but might as well charge BEAR to full battery. You'll be able to see the battery once you've connected the device through the FOREO app.
Download the FOREO app and register your device. Just follow the instructions on the app.
Once connected, you can start with the treatment by following the virtual step-by-step guide. Make sure you have cleansed your face and applied your toner and serum before using BEAR. I've been using FOREO Serum Serum Serum, a conductive serum, before I use BEAR but ANY gel-based serum will do. Note that you should never use BEAR without any conduct serum. If you're using FOREO Serum Serum Serum, I suggest to use about 2-3 pumps for your face and neck to avoid any tugging.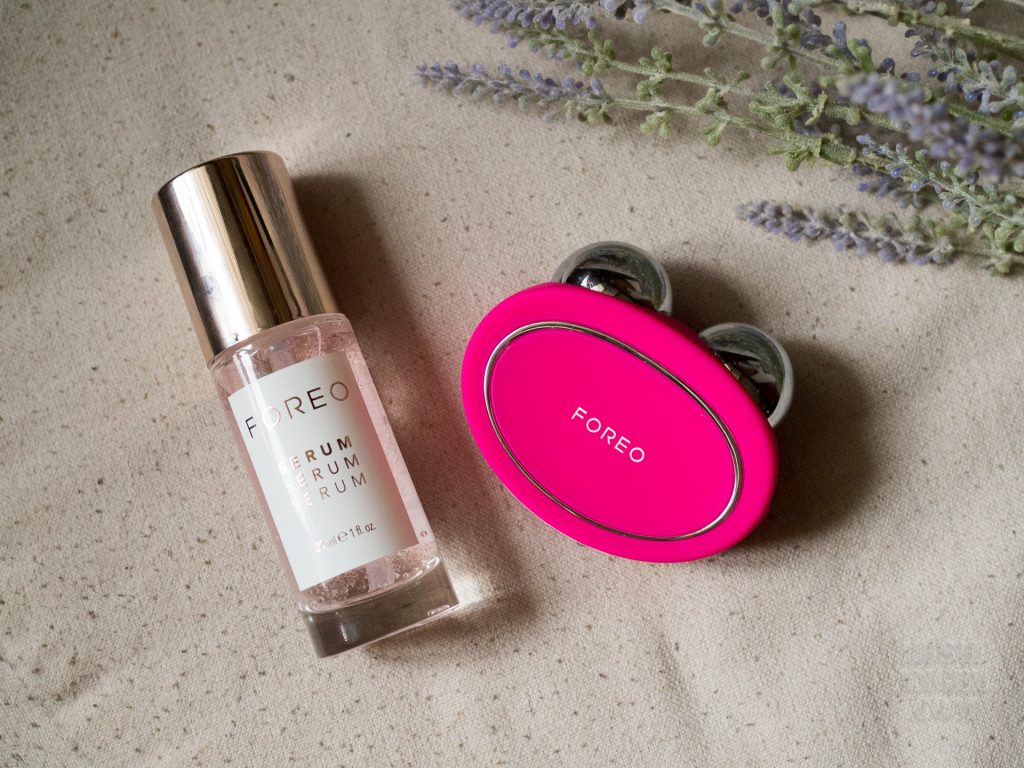 Always make sure the serum is fully absorbed and BEAR is completely dry before starting your treatment.
If it is your first time to use BEAR, start with the lowest setting so you won't be surprised with the sensation. The lights underneath the button of the device indicate the microcurrent intensity When you feel you are ready, increase the microcurrent intensity by doing a quick-press on the button once for each level.
Do not use BEAR if you have had laser treatment, chemical peel, or if you have any form of damaged or broken skin. Also, do not use BEAR around the eye area and while charging.
The device will automatically turn off once the routine is complete.
Once you've gotten used to the strokes of the facial workout routine, you can now use BEAR manually, no need to follow the app. If you want to use BEAR manually, just push on the button once. Again, increase/decrease the microcurrent intensity depending on your preference by doing a quick-press on the button. Meanwhile, you can turn off/on the T-Sonic pulsations by double pressing the button, but note that you can only adjust the pulse intensity through the app. Once you're done with your treatment, just press and hold button for 3 seconds.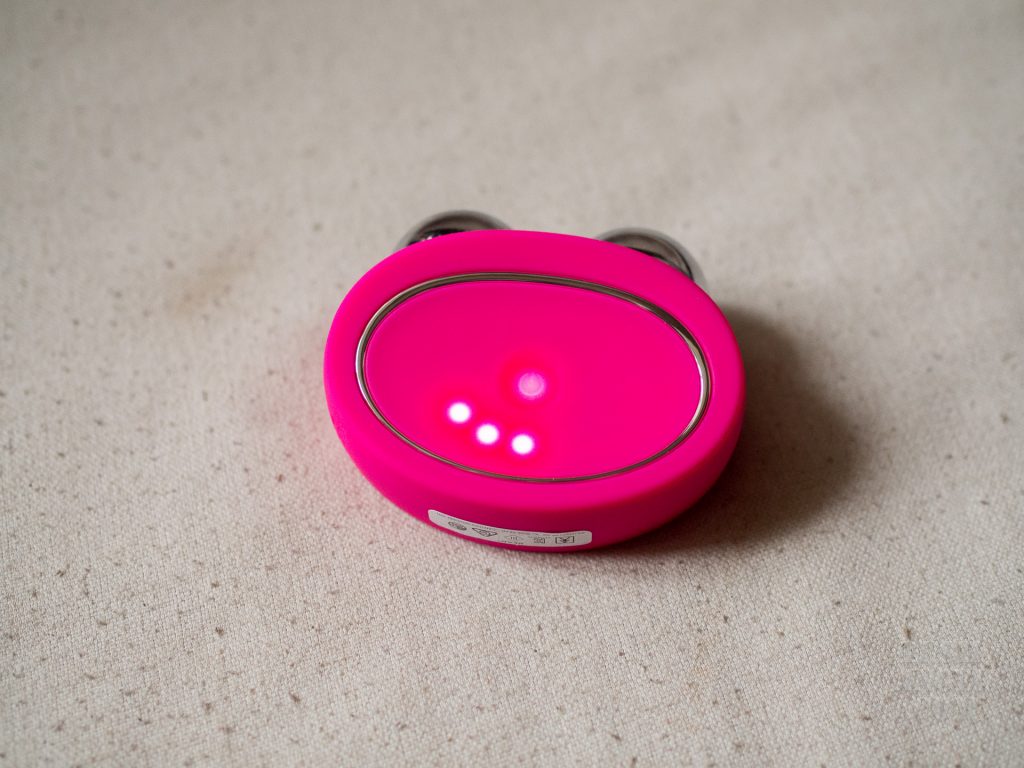 BEAR by FOREO Sweden can be used everyday, either morning or night. They recommend using BEAR once in a 24-hour period, not more than 3 minutes.
Apply any other skincare products of your choice after the treatment.
Always clean your BEAR after use. Wash the spheres and silicone surface with soap and water, then rinse with warm water. Pat dry with a lint-free and non-abrasive cloth or towel.
BEAR by FOREO Sweden Verdict with Before and After Photos
The question is– Is it effective? YES! It is definitely not a magic potion that you can see chiseled jawline in an instant. I'm far from that, BUT I saw a slight difference when I saw my before and after photos. My jawline is a little more prominent and my face looks lifted. See for yourself below…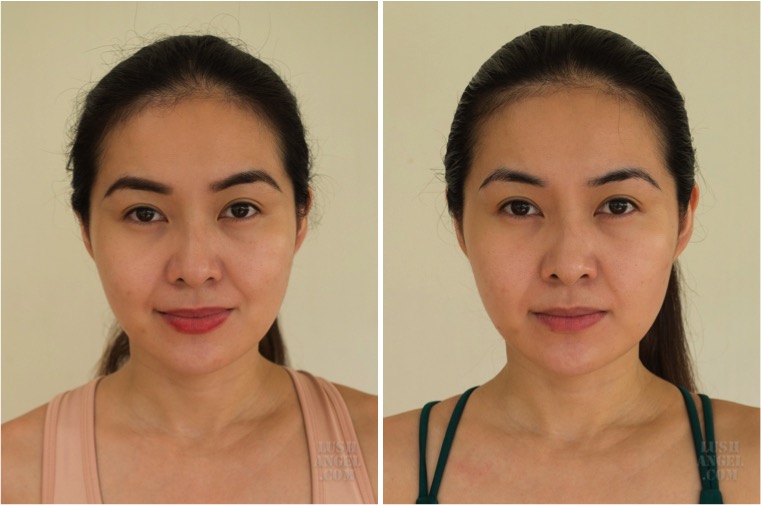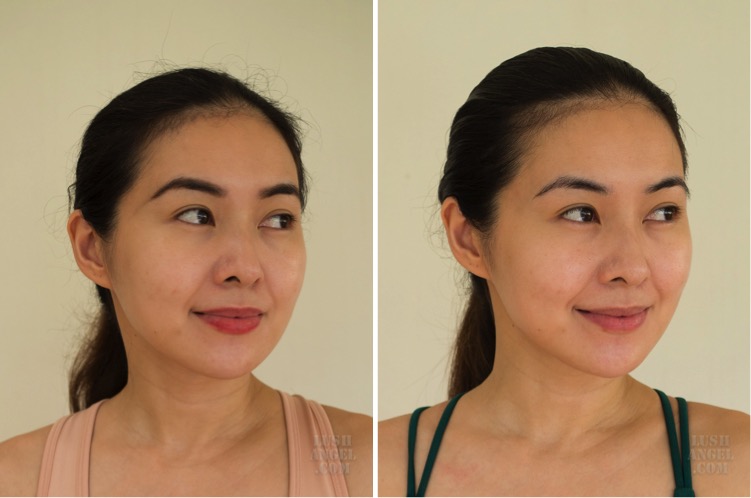 What I also noticed is that the skincare products that I layer after using BEAR are easily absorbed by my skin. As seen in the photos above too, my skin looks brighter– this I'm not sure if it is because of BEAR or because I get more out of my skincare products since they are absorbed by my skin. Either way, BEAR has definitely something to do with it. Lastly, I observed that my facial muscles are more relaxed after every treatment, thus reducing/preventing fine lines and wrinkles.
I recommend BEAR by FOREO Sweden to those who want to take anti-aging to the next level. For a device that you can use everyday and can help make your skincare products be more effective, I'd say it's worth the investment. Plus, with its innovative technology, you get a good facial workout in just 3 minutes. Although there are manual rollers out there, which I've been using before I tried BEAR, I find this device way more relaxing.
BEAR by FOREO Sweden is available at Sephora Philippines.
For instant beauty, fashion, travel, fitness, or random updates from me, LIKE lushangelblog on FACEBOOK, FOLLOW lush_angel on TWITTER and lush_angel on INSTAGRAM.