Since a lot of people I know are looking for a Covid-19 Booster shot, I'm sharing my walk-in BOOSTER shot experience here.
NOTE: I went to Makati Coliseum last January 3, 2022 and so this guide is specifically for that vaccination venue. Also, this is for booster shot, which means you should have gotten your second dose of the primary two-dose vaccine AT LEAST 3 months ago. So if you're thinking of getting a booster shot as walk-in, read on…
Makati Coliseum accepts walk-in (meaning no appointment needed) I THINK other Makati vaccination sites accept walk-in too, but please check My Makati FB page for updates.
Makati accepts even if you're from a different LGU or your first 2 doses are from another LGU. I got my first and second doses of vaccine in Quezon City.
vaccination card of your first 2 doses
valid ID
photocopy of your vaccination card
photocopy of your ID
ballpen
Before going to the vaccination site, I suggest you get the Makati QR code (this is for contact tracing when you enter the building) Go to umakemakatisafe.com
For the registration part, I'm not really sure if you can do this in advance for walk-in. I did this when I was already at the venue. It's a lot faster if you use your mobile data and register using your phone. It will take longer if you ask the staff to do it for you since there's a line. Just register here: www.covid19vaccine.safemakati.com (Choose Non-Makati LGU Vaccinated Individuals. Don't forget to click Okay when your confirmation number appears to make sure it goes in their system)
TIP: This you can do at home if you're going to register using your mobile phone at the venue— Save a photo of your valid ID with size less than 200MB. You'll need to upload this when you register. I used my phone to take a photo of my ID and it kept prompting me that I exceeded in the allowable file size. Anyway, I used InShot to reduce the size. Hehe!
Yes, you can choose your booster shot but depends on what's available. When I went last Jan 3, I chose between Astra and Moderna.
I went around 8:30am BUT they asked for a photocopy of my ID and vaccine card. I had to look for a nearby machine so I was able to go back around 9am and started with my registration. I left the building at exactly 11:36am. Not so bad!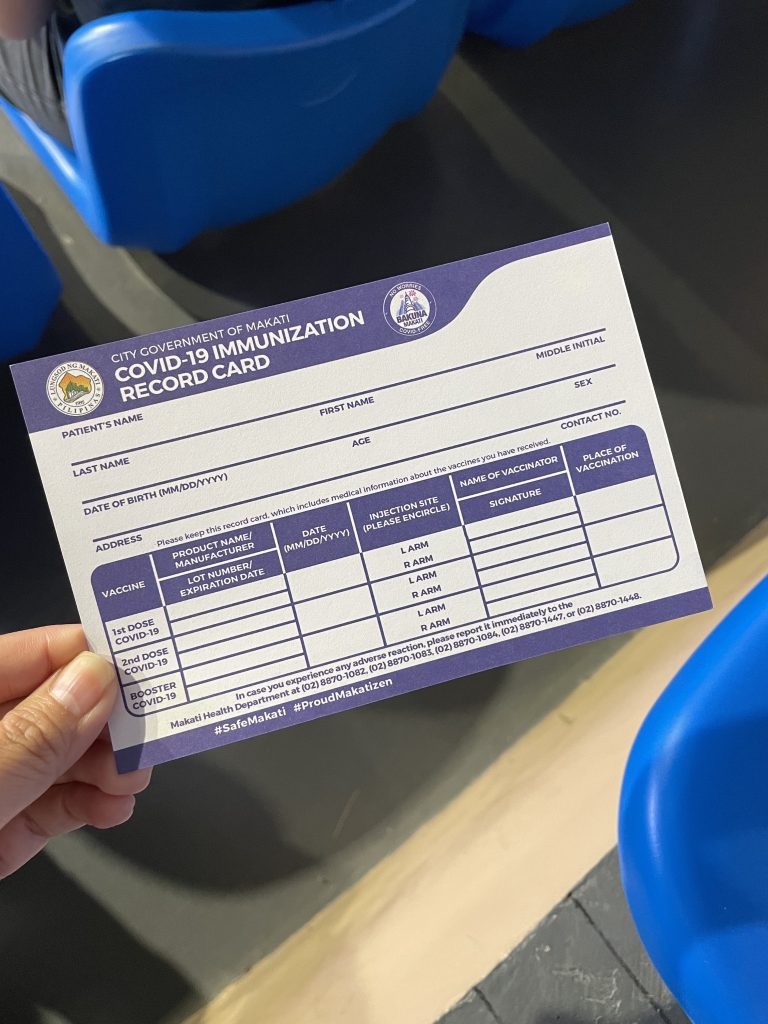 Only the printing and waiting of the vaccine card after registration took a while. I waited for almost 2 hours. But when I started the vaccination process, everything went on smoothly and quickly. It took me only 30 minutes to go through all the steps- health screening, pre-vaccination monitoring, consultation, vaccine administration, post-vaccination monitoring, data input.
Parking is quite hard! Street parking only. 
Side effects are normal. Every individual, different side effects. It will only last around 2-3 days so don't worry. 
Don't forget to thank the staff They're working tirelessly. Salute to them!
I almost forgot this reminder— OMG, DO NOT SKIP THE LINE!!! Bring lots of patience and again, do not skip the line! Sadly, there were some who did this while I was there. Geesh! Let's respect each other.
If you have other questions, just send me a message on Instagram @lush_angel. I'd be happy to help  Let's all get vaccinated, PLEASE! It's our way to keep our loved ones safe.