For those who know me well, they know that I can't live without chocolates. I am a chocolate lover that I want everything in rich, preferably dark, chocolate!!! I sooo love chocolate ice cream, chocolate cake, chocolate candy, chocolate dipping (for fruits and cookies), or probably anything with chocolate. Just don't give me weird looking or weird tasting food like chocolate pasta or chicken with chocolate. Eeeewww… that's just gross! I only meant something for dessert.
Anyway, I have great news for chocolate lovers out there… Royce will be in Rockwell soon. I heard they are opening this November!!! Although this has been available in a Japanese store, named Konbini, along Connecticut Street in Greenhills for some time now, it is still good news for me that it will be available in one of my favorite malls.
For those who are not familiar with Royce, here are some facts. It is a known chocolate in Japan. It contains rich cocoa butter which makes the chocolate quickly melt inside your mouth. Wow, that's just mouthwatering!!! And unlike other chocolates wherein you can simply buy a lot of them and store in your refrigerator, Royce chocolates are better eaten when new. It has a number of flavors such as milk, champagne, rum, and red tea. A box contains 30 squares of chocolates. I know that's quite a lot but hello for chocolate lovers like me, they are just eaten like chips! LOL! Ooohhh… we are just so lucky to have Royce here in the Philippines since currently they are only available in Singapore, Hong Kong, and of course Japan. Well, I just wonder how much they are going to sell the Nama Chocolate here. It shouldn't be that expensive. Oh by the way, I think they won't be selling cakes here since those are exclusively sold in Japan. But there will still be other delicacies available like Batons, Potato Chip Chocolate, a variety of cookies, etc.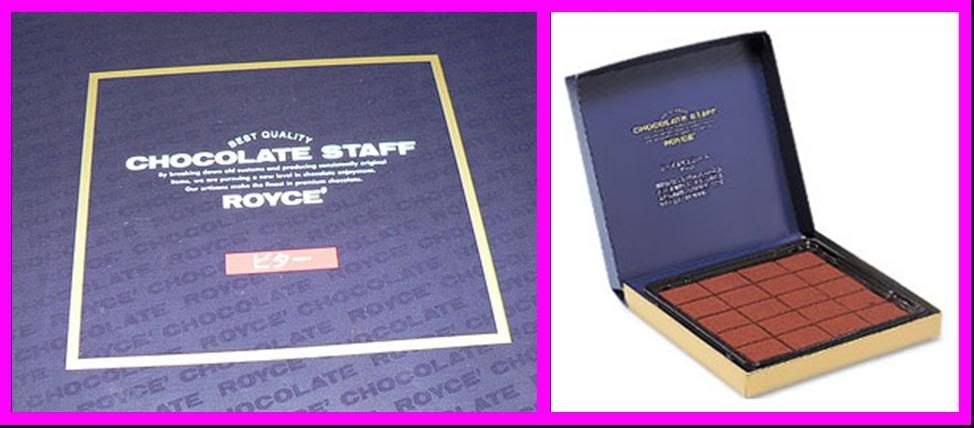 Don't get me wrong… I'm not saying that this is the best chocolate I have ever tasted. For me, chocolates I tried in Belgium are still exceptional!