Summer is fast approaching.  A great way to spend the summer is to go on a trip to the beach.  What beach you might ask?  Of course, no less than the world renowned Boracay!
During summer it is with no doubt the prices of hotel lodging in Boracay are high.  Here's a good find!  Island Nook! I know I have posted this before, but due to a number of requests, below are some more details.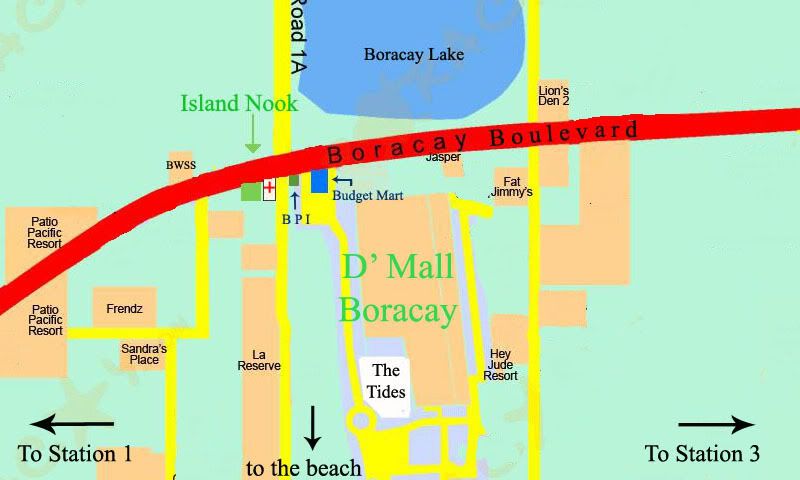 It is located along Boracay Boulevard beside D'Mall between stations 1 and 2 (click the map on the left side).  Island Nook is relatively new.  It opened during the last quarter of 2008.  Its prices are very reasonable.  Standard rooms with 1 double bed are only Php 1,500/ night, while the premier rooms with 2 double beds are only Php 2,500/ night.  Yes, you might say that there may be cheaper rooms in the island, but I don't think those cheap rooms can get any hipper than this (click on the picture below).  All rooms are air-conditioned.  They are equipped with a safety deposit box.  They have hot and cold showers.  They have cable channels.  And dig this, all rooms have a flat screen HDTV, and WIFI.  Not only that, they offer good rates of different kinds of water sports such as banana boat, flying fish, and jetski. Like I said earlier, Island Nook can easily be located along Boracay Boulevard, but if you still are worried and want to make sure you arrive at the place early, don't fret coz they offer hotel transfers too. So what are you waiting for?  Book now!
For inquiries, you can call or text 0922-880NOOK. That's 0922-8806665 and 0917-8929786
*Prices are subject to change without prior notice.