Fast cars and hot girls- they pretty blend well, huh?! But, what about combining what girls really love and what boys are into- that is fashion and cars? Hold on to your seats as this might blow you away. Check this out…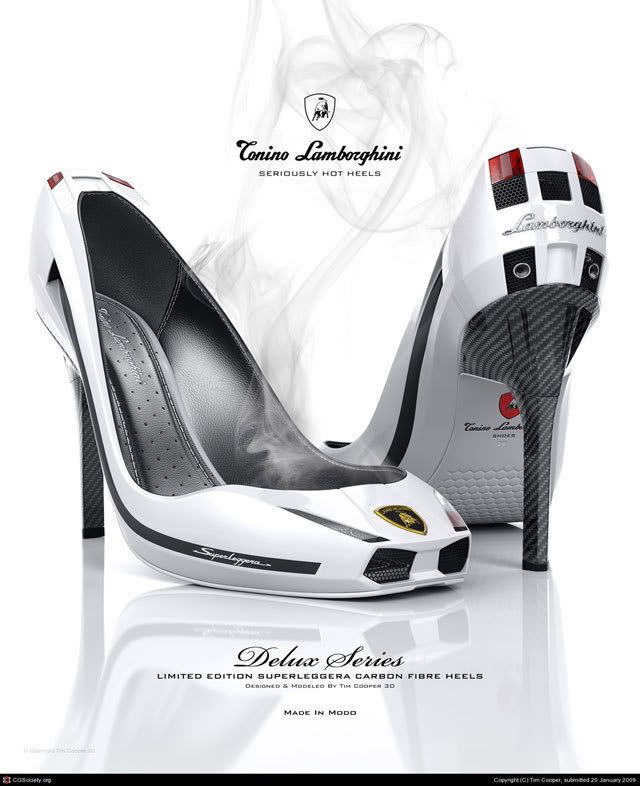 This photo is taken from autoblog.
OMG! It's one of my dream cars, Lamborghini, made into a hottie hottie pair of shoes! Yeah baby, it's specifically designed for women… Well, obviously since it has seriously hot heels! This Lamborghini shoes is extremely cool, don't you think?! But I honestly wouldn't wear such if I had one. Yes, it is something I would buy but I would have to display that in my room. I just think I could never pull off something like that- stilettos that resembles like a car! I just can't imagine myself wearing it in a mall or in a bar. I could only wear it for a photoshoot probably, but that's just about it!
This Lamborghini Gallardo Superleggera high heeled shoe is created by Tim Cooper. It has carbon fiber heels. Hmmm… I wonder how lightweight this shoe is! For those who want to get hold of this shoe, I'm so sorry to break the news but this is not out in the market. Yeah, there are things that money can't buy. Well, it's okay. I don't need a Lamborghini shoes. Driving the real Lamborghini is fashionable enough so I'm fine with buying and driving the real thing. LOL! In my dreams… 🙂