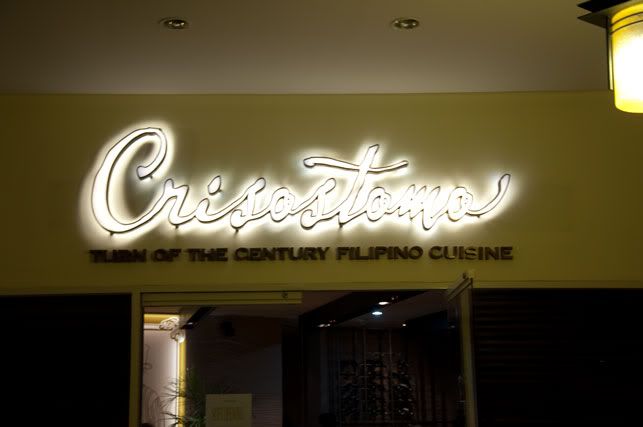 Last Sunday, my family and I tried Crisostomo, the new Filipino restaurant owned by the famous Chef Florabel Co, located in Eastwood mall. Hmmm… I can't help but wonder why there are a lot of sophisticated Filipino restaurants opening almost everywhere. Well, not that I'm complaining or anything. In fact, it's a well thought of idea since Filipino food taste really great! And this is something new for our family since at last, I'm able to drag my parents, specifically my mom, to eat Filipino dishes.
Anyways, we got there almost nine o'clock already and to my surprise, there were still a lot of people. The restaurant was actually full that we have to wait for a couple of minutes to be seated. When we were finally able to get seats, we were already starving. So these are the orders we ended up with: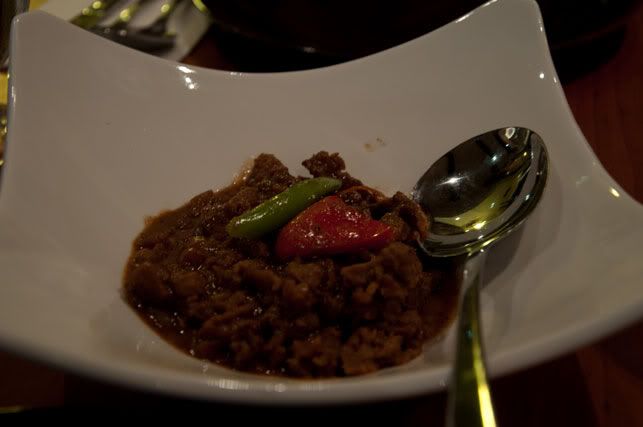 Binagoongang Baboy (pork with shrimp paste). As usual… It's our favorite dish. We never fail to order Binagoongan in every Filipino restaurant we dine. What's our verdict? Failed! Well, that's only because we do not like coconut. Crisostomo's Binagoongan has a hint of coconut, which is the only reason we didn't like it. Though, I am quite sure that if you eat coconut, you'll love this dish! It's not just our type. Oh, and the serving of this is quite small. It's only good for 2 persons.
Crispy Pata (deep fried pork knuckles). We shouldn't be ordering this since we are trying to avoid eating too much pork. Well, of course, not me… more of my parents. This was suggested by the waiter so we tried it since it's one of their specialties.  Well, I don't think you'll never go wrong with Crispy Pata, right? It is delicious. It's just that the pork skin (balat) is not so crispy. it should have been better if the skin is crispy.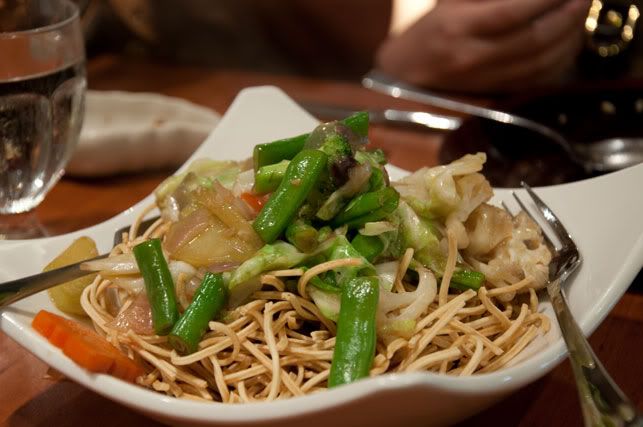 Escolta (Seafood Crispy Noodles). I'm not so fond of crispy noodles simply because I find the taste too blunt for me. This one is not an exception. Although for those who love eating crispy noodles, they would certainly love this dish (just like my sister) as they put ample amount of seafood, unlike other restaurants.
Adobo Rice. It's simply adobo flakes in other restaurants. Hehehe! As seen in the picture, it has the flakes on top. Well, nothing special but the serving is good for 2 to 3 persons already so not bad at all.
Pandan Rice. In other words, plain or steamed rice. I just had to include this since if you order their Pandan Rice, for Php 80 or 85 (not sure) it's eat-all-you-can! Definitely, great for big eaters.
After finishing all these, obviously, we were really, really full already, but the best has just yet to come! When we were about to get our bill since we were the last customers by that time, a waiter approached us and gave us 2 slices of their best cakes as complimentary- Choco Mani Pie and Mango Tart! Thank you so much! Oh my! They are ultimately delicious! Choco Mani Pie is made from real Chocnut so expect it to be really sweet. On the other hand, the Mango Tart has crushed Graham crackers on its base then layered with ripe mangoes, topped with cream. Sounds like the usual Mango Tart, right? For some reason though, this one tastes a lot different! It's so divine that we ended up ordering another slice! This Mango Tart is really a must try! You can also order one whole cake, which costs more than Php 1,000, but you have to inform them the day before.
Based on what we ordered,  I'm giving them a 3 out of 5. Well, I think we should be ordering their other specialties next time. Oh dear, Crisostomo is only one of the newly opened restos in Eastwood. We have yet to try the others! Oh noez… too much eating equates to fat!
Crisostomo
Turn of the century Filipino cuisine
2nd Level Eastwood Mall, Eastwood City
E. Rodriguez, Jr. Avenue (C5), Libis
Quezon City
Phone: +63(2) 7101693
Open Monday to Sunday from 11:00am to 11:00pm.