Again, as promised, here's the second part of my rugged look. Sorry, I just have too many photos. Please bear with me. LOL! 🙂
For the pictures below, I have exactly the same outfit as Part I, except for my top. I used a studded cropped shirt, which I got from Topshop about two months ago. Yes, it's only now that I'm wearing it! Why?! When I went to Bangkok, I freaked out when I saw this exact top in one of the stalls! Argh! I swear, it is my cropped shirt- the studs, the cloth, the color, the print, everything! When I asked how much they were selling it, I wanted to faint! I got mine at Topshop for more than PHP 1,000 bucks. The imitation was priced at about PHP 300! Great! 🙁 Actually, when I saw it in the mannequin, it was the only time I remembered I have that exact top that's why I had to stop and ask for the price. How I wish I just didn't ask! LOL! 🙂
Anyway, I just wanna forget that! When I saw my pictures wearing my cropped shirt, my PHP 1,000 bucks is worth it. Hahaha! Trying to console myself, eh?! Well, I'd say this outfit looks more rugged than my previous post. Obviously, it is because of the cropped shirt. Check out more pictures below.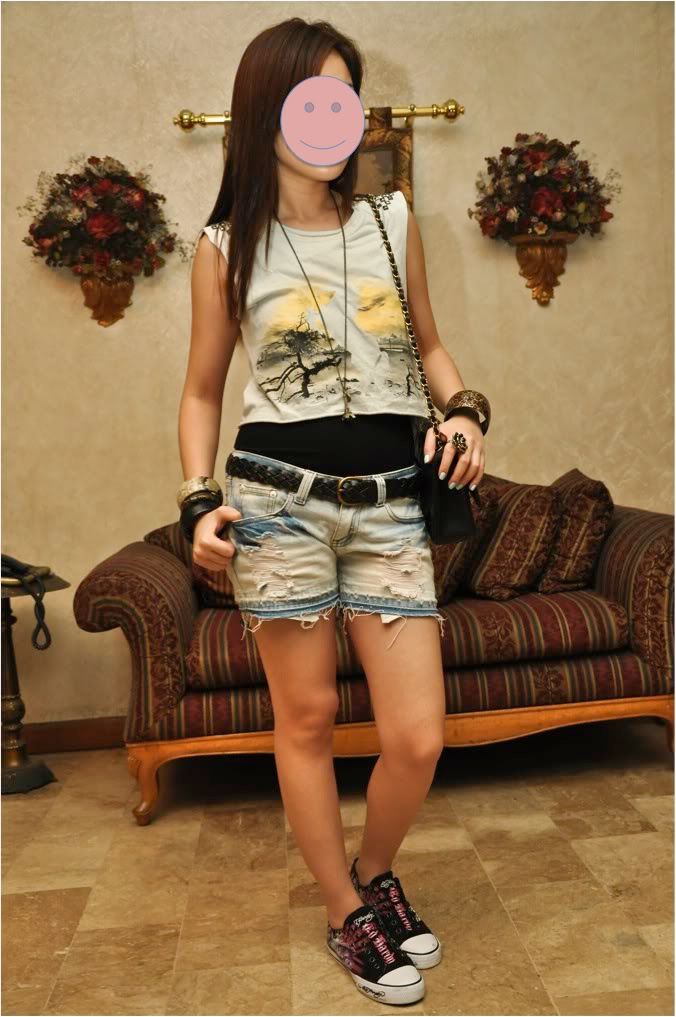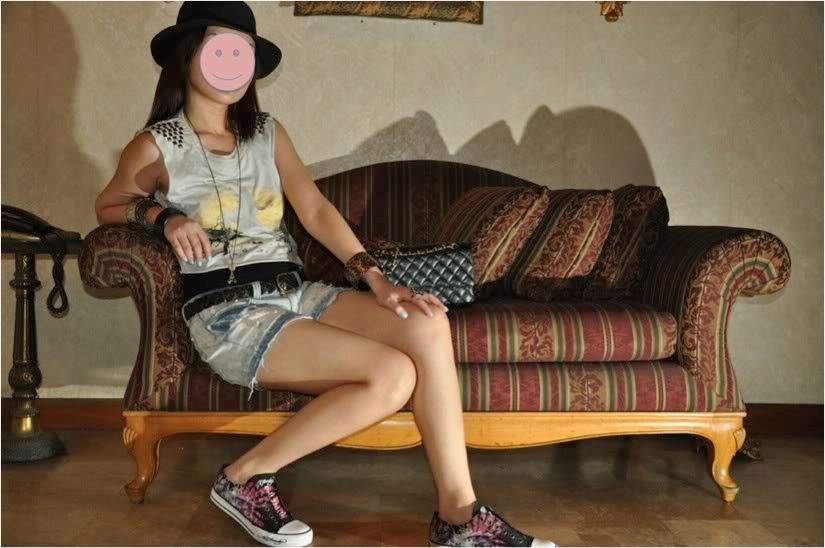 Promise, no more "happy face" below… LOL! 🙂
up close…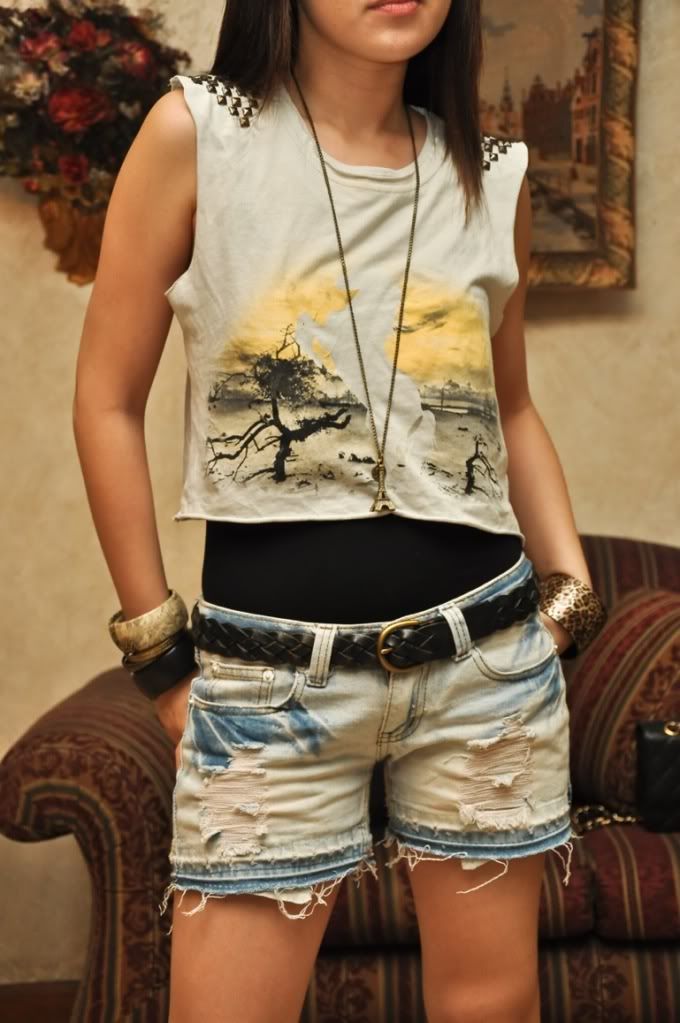 Have you noticed my nails? It's powder blue! 🙂 Chanel Cruise 2011 collection presentation  in St. Tropez, France showed powder blue nails, and so am I! Haha! 🙂 But this ain't Chanel! I saw a powder blue shade nail polish at Elianto, so I thought of getting it. 🙂
so drama…!!!
I'm now an ultimate Drama Queen!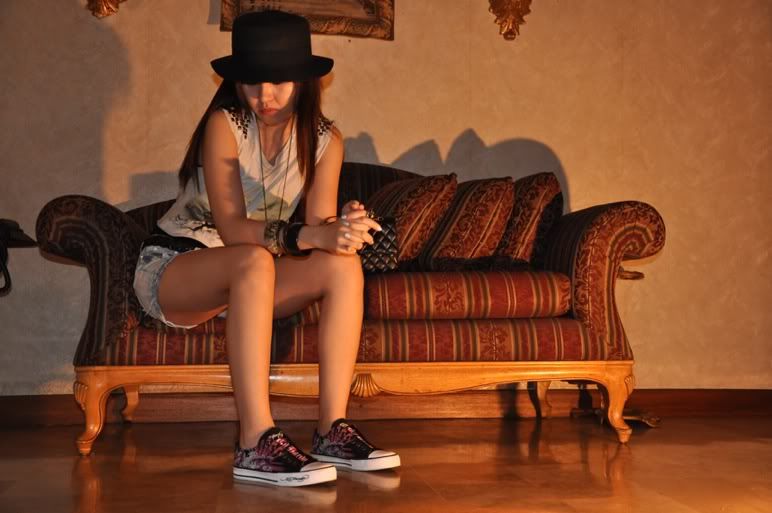 Hmmm… Thinking about it, I should have used my Balenciaga Giant City for this outfit to completely look rugged. Hehe! 🙂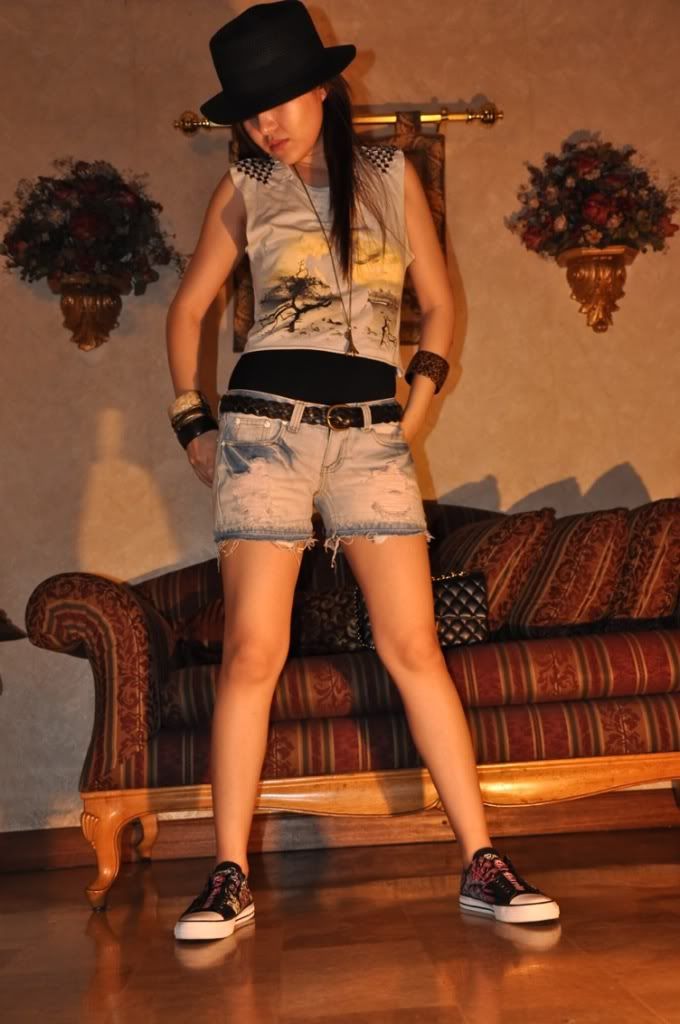 one last look…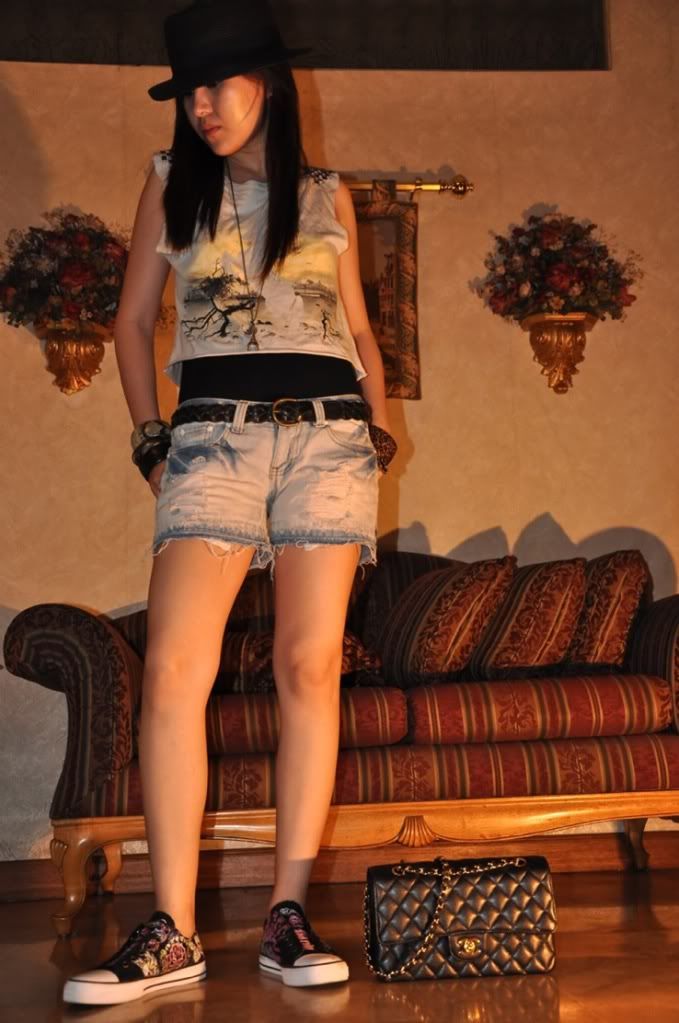 On Lush Angel: studded cropped shirt from Topshop; black tank top from Mango; distressed shorts from Pill (available at The Ramp); Ed Hardy Sneakers; braided belt from dear Atsi; Fedora hat and Eiffel Tower necklace from Bangkok; bronze bangles from H&M; leopard bangle from Primark in London; cocktail ring from Accessorize; Chanel 2.55 Medium Flap bag