Hello everyone! I'm still alive! 😀 Sorry for not being able to post anything these past few days. Sunday, I was out the whole day since it was Mother's Day. Monday, I finally got hold of the keys of a new pad- something I've been waiting for sooo long!!! 😀 It kept me occupied the entire day too. I had to inspect all the details and finishing of the unit and toured around the building for the amenities/ facilities, which got me even more excited. Hehe! And now, mom is asking me to furnish it and do the interior. Project interior decorating, here I come! 😀 Tuesday, the iPad 2 deliveries finally arrived for those who reserved through me. I had to coordinate to everyone almost the whole day, but I am so happy that I was able to extend even a little help to my friends and readers. At the end of the day, I received sweet messages thanking me and all excited to use their iPads. All sweat was worth it! 🙂 Well, for those who still want to get hold of the new iPad, I can still help in the reservations, as seen in this link. Don't worry, I'm not part of the gray market. Hehe! In fact, you'll pick up the iPad straight from iStudio once you're iPad is ready. Oh, and I can give some discounts from their published rates too. It's not much though, but at least I can assure you of being prioritized once their deliveries arrive. 🙂 For inquiries, just send me an e-mail at [email protected]. Anyway, that's how my Sunday to Tuesday went. At the end of the day, I couldn't even push myself to write anything because I had my migraine attack. Sorry!!! I'll try to make up for that with this outfit post. Hope you'll like it! 🙂
This is what I wore at the Christening of my godson, Antonio, last April 30.
OMG! Isn't he sooo adorable??? 😀 He's such a cutie! 😀 I want to pinch his cheeks!!! Hehe!
Now, as for my outfit, I chose to wear one of the bargains I got from Shanghai. It's a sheer dress with thin lining, which is just perfect in keeping me cool in this summer heat. It actually reminds me of the Chloé dresses, minus the hefty price tag. And how much was I able to get this lovely dress?
The lady said, RMB 600 (about USD 90).
I said, RMB 100 (about USD 15).
And yes, I went home with a RMB 100 Chloe-inspired dress. 😀 Wee! 😀
Its sleeves are TDF! I have always loved those kind of sleeves- loose that tightens at the end. It has that effortless chic vibe to it. Aside from the style and cut of the dress, I love the floral details on the neckline. It makes it look even more classy. And what made me fall in love with this dress is the color. It's warm. It's feminine. It's romantic. I love! 🙂 Who would have thought that this is a 15-dollar dress? 🙂
And since it's a loose dress, I clinched a belt around my waist to give me some form. Without the belt, it could look unflattering no matter how lovely the dress is.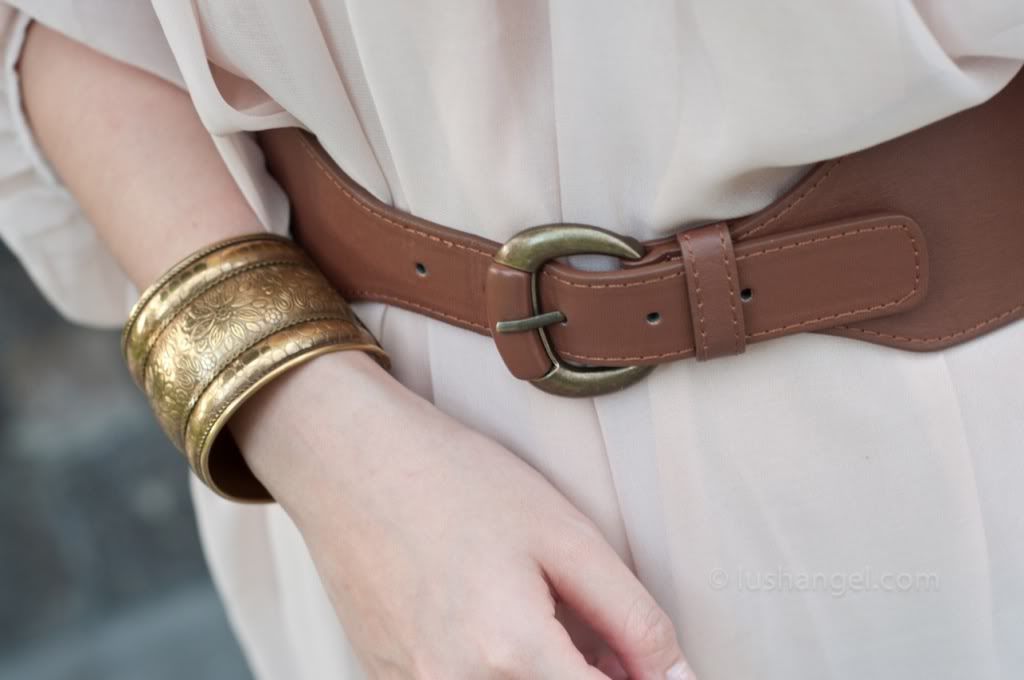 A leopard-skinned sandals would be a perfect contrast to a very feminine dress.
Dress: from China
Sandals: Pedro
Cuff: Cotton On
Purse: Chanel GST
Pearl earrings: from mom
Belt: Cotton On
My last shoot, Basil was on the look out. Now, check out who's roving around… 😀