As I've mentioned in my recent Bag Reveal post, I sort of window shopped for bags during my last Hong Kong trip. When I saw the Mulberry store in Gateway Arcade Harbour City, I just had to go inside and have a glimpse of my longtime love, Mulberry Alexa. It was actually my first time to really try it on. I've just been drooling over it when I visit their website or when I see someone carrying it in a mall or wherever. Ever since I've laid my eyes on it, I knew I wanted the Mulberry Oversized Alexa. I have always been into huge bags. For some reason, I love to pack a lot stuff inside my handbag and I'm not really sure why. It seems everything is essential. I have my wallet, mobile phones, and tons of paper- reason why I can't really bring a small bag for my everyday errands. This is why I instantly fell in love with the Oversized Alexa. I was somehow determined that I'll be getting one in the future, not until I tried it on… Why?
For the first time, I find a bag quite bulky. I was a bit disappointed when I carried it on my shoulder. This is weird because the size is quite similar to my Balenciaga Giant City. Well, probably that's the reason why I'm now leaning towards the smaller Alexa. For me, having one of the same size is enough. Of course, if moolah is overflowing, why not?! LOL! 😀
Oh, and if you read my Bag Reveal post, I was already tempted to get the Alexa BUT I was able to control and refuse. How and why? Well, as I've mentioned, I already fell in love with the Alexa more than the Oversized one. Yes, I love it, but it's something to think it over. The Alexa would definitely be perfect for me FOR NOW. Take note, an emphasis on the "FOR NOW". Why? It really does suits me well right now. I can just imagine tossing it around for my everyday errands and even pairing it with my most casual clothes. The problem is, will it still fit me when I grow old? When it comes to designer bags, I think of them as investments. Something I can use until I grow old. Something I can pass on to my children or even to my grandchildren. I just feel the size and the style of Alexa won't fit me anymore when I'm in my 50's. In fact, I even asked my mom to carry it. It looked awkward! But the Oversized Alexa, just like the Balenciaga, looks perfect on her. Since I'm not into the Oversized right now, maybe the Mulberry purchase should be on hold as of the moment. Take note of my words, "as of the moment". I don't wanna eat my words, you know! I don't wanna say, I won't be buying the Oversized Alexa ever! Better be safe! LOL! 😀
Anyway, enough of my blabber! It's already past 3am as I write this so I better stop. Here are the prices of the Mulberry Alexa and Mulberry Oversized Alexa in Hong Kong.
*Photos from Mulberry website*
Mulberry Alexa: HKD 10,500
Mulberry Oversized Alexa: HKD 12,500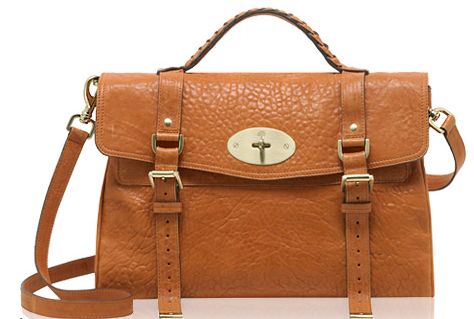 I asked these prices in the Mulberry store located in Gateway Arcade Harbour City, Tsim Sha Tsui, Hong Kong. Also, they were giving 10% discount at that time. I'm not sure though if it's because it was sale season when I was there, or they really give 10% off even on a normal day. 😉
Disclaimer:
Prices may change without prior notice. Prices are as of June 30, 2011.