To the fans of Angelica Panganiban or even to those who are just curious on how she looks, this is for real! You can now get a chance to meet her in person. I once met her face to face during the Pond's White Beauty Naturals launch, as seen in this post. I never thought she looked like a doll for real! Her skin was so flawless, as if she was "photoshopped". Her natural beauty is indeed very suitable to be the face of Pond's White Beauty Naturals. If you still don't believe me, you really have to take the chance to meet her in person! How? Read on…
Start by liking Pond's Philippines on Facebook. Pond's has created this new app called, Come Face to Face with Angelica.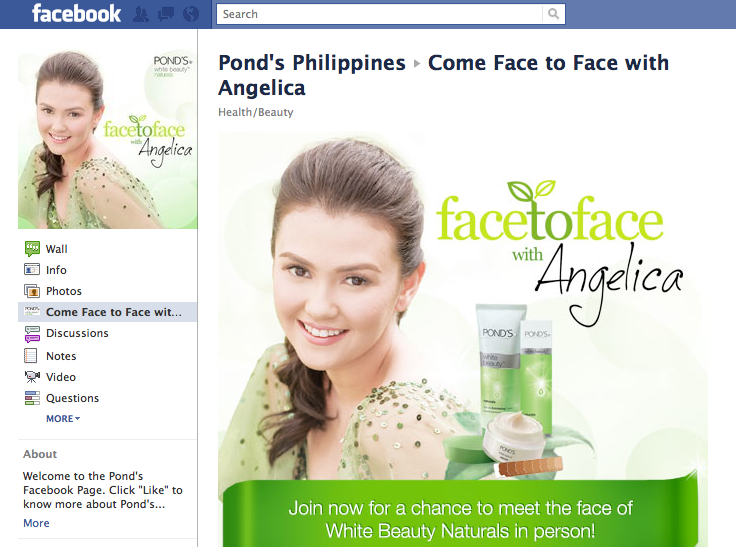 Just click on the app and you'll see the mechanics, as seen below.
1.) Nominate at least three girls you want to surprise.

2.) You and your friends will automatically get a FREE sample of Pond's White Beauty Naturals for each batch of nominations.

3.) Angelica will pick ten of the best nominations each month and surprise the chosen friends to a special limited edition Pond's gift package.

4.) Best of all, out of those selected nominations, three lucky winners and their friends will even get to meet Angelica in person!
Promise, the app is so cool! After nominating five of your friends, you would see a video with Angelica in it reading your e-mail. You'll see your face with your nominated friends in her laptop!!! Love it! Haha! At the end, you and your chosen friends would be receiving an e-mail from Angelica.
Try this cool app yourself and you might even get a chance to meet the gorgeous Angelica Panganiban face to face. 😀